A brief look into NFTs in China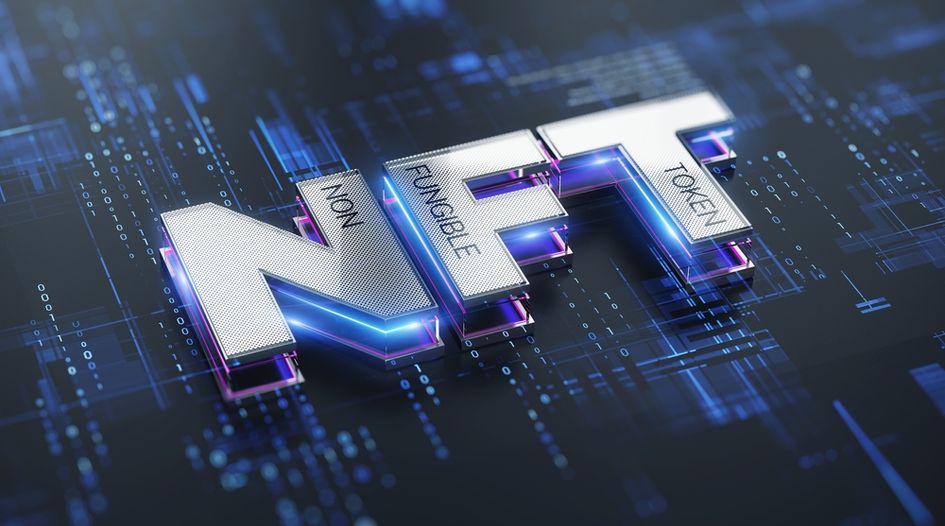 The first non-fungible token (NFT) was minted in May 2014, but they did not catch the world's attention until recently. While the world is beginning to understand and invest in NFTs, China is not far behind global trends, but has its own characteristics. NFTs have gained increasing popularity in merchandise, finance and other areas, but legal systems around the world are still grappling with how to deal with NFT-related legal issues. This article will briefly introduce NFT transaction models and characteristics in general as well as how China perceives them, combined with an overview of the first NFT infringement case in China to further discuss copyright and trademark issues involved in NFT transactions.
How NFTs work in China
NFTs can be seen as digital authenticity certificates that record the information of the initial creator, its issue date and every future transaction concerning the digital artwork on a blockchain. The process of creating an NFT is called minting, which involves the process of creating and uploading digital artwork as an asset on a blockchain. In China, NFTs are minted just like NFTs outside of China, but with some changes to the transactions.
First, China's initial trading platforms adopt the digital collectible concept when referring to NFT artworks to comply with the Chinese government's regulations. NFTs are not allowed to be uploaded to a public blockchain. They can only be uploaded to the consortium blockchain, which is co-managed by selected government-backed participants and private companies who have the ability to revise the data thereon when necessary.
Second, NFTs outside of China often have investment and financial value because the scarcity and tradability of NFTs affords them the attributes of securities. The Chinese government, however, controls NFTs from becoming securities. Many regulatory documents – such as the Notice on Further Preventing and Disposing of Hype Risks in Virtual Currency Transactions and the Initiatives Regarding Preventing NFT-related Financial Risks – have been issued to eliminate NFT-related hype, money laundering and illegal financial activities.
Third, the Chinese government does not allow NFTs to be traded on any secondary markets. Trading platforms – such as, for example, OpenSea – are not allowed to operate in China. The term 'digital collectibles' also suggests that digital artworks are only to be collected and are not tradable in China.
Despite obvious differences to global trends, NFTs in China are still based on blockchain technology where each digital artwork is mapped with a unique number on the blockchain, which may not be divided or replaced. Although blockchain technology makes NFTs unique and ensures the authenticity and accuracy of each transfer, it cannot ensure that the uploaded artwork is duly authorised or has the necessary authorship. If the artwork does not originate from the rights holder or its licensee, the NFT creator and the NFT marketplace that allowed the NFT to be uploaded could face infringement risks.
In April 2022, the Hangzhou Internet Court rendered an NFT infringement judgment in a case between Shenzhen Qice Diechu Cultural and Creative Co, Ltd (Qice) and Hangzhou Yuanyuzhou Technology Co, Ltd (Yuanyuzhou). This case was touted as being the pioneer NFT case in China, providing judicial insight on NFT transactions and protection of information network transmission rights.
NFT copyright infringement case
Qice sued Yuanyuzhou for infringing its right to disseminate the Fat Tiger Receiving Vaccination NFT works (the disputed NFT works) on the Internet without authorisation. Qice claimed that Yuanyuzhou infringed its rights by allowing a user on its platform to create and publish the disputed NFT works for which Qice holds the exclusive copyright from the original author. Yuanyuzhou argued that it is merely a third-party platform operator and the disputed NFT works were created and uploaded solely by one of its users. It complied with its responsibility as a platform operator to review after the fact and delete the disputed NFT works after notice.
The court began its analysis by explaining that NFT works are created, uploaded to a tangible network server and offered to the public on the Internet through NFT marketplaces. Every NFT transaction is processed through a smart contract mechanism for implementing a sales agreement between the NFT creator and the purchaser at a chosen time and place. Offering NFT works to the public through NFT marketplaces is carried out through network transmissions.
The court further clarified that NFT marketplaces are a new business model because they are associated with the blockchain and smart contracts. NFT marketplaces' trading mechanisms, technical features, control over minted NFT works and profit models have shouldered them with more responsibilities than those applicable to traditional network services providers.
First, during an NFT transaction, the property rights of an NFT are transferred. However, the copyright of that NFT remains unchanged. Therefore, not only should an NFT creator or seller be that NFT's owner, but it should also be the copyright owner or licensee of that NFT work. NFT marketplaces know or should know about such a mechanism and should take reasonable measures to prevent infringements.
Second, NFT marketplaces have relatively effective control over how NFTs are minted. Given how much NFT marketplaces are involved in the process of creating and uploading NFTs, they should have the capabilities to review NFT works without additional costs or labour.
Third, NFT marketplaces profit from charging gas fees (ie, directly receiving economic interests from NFT works). This profit model differentiates NFT marketplaces from general e-commerce platforms or network platforms that provide storage and connection services.
In the issue central to Qice v Yuanyuzhou, Yuanyuzhou had the responsibility as an NFT marketplace to take necessary measures to prevent Qice's rights from being infringed, but it failed to supervise and examine the authenticity and authority of the source of the disputed NFT works. The court held Yuanyuzhou liable for assisting the creator of the disputed NFT works infringing Qice's rights.
The court's discussions on its view of NFTs as well as its rulings are likely to set standards for future litigation on issues including but not limited to proper authorisation of NFT works and the responsibilities of NFT marketplaces.
How can NFTs be protected by copyright?
NFT works are essentially digital artworks and copyright of such digital artworks is created when completed. In particular, rights of publication, modification, creating derivative works, reproduction and information network transmission of such artworks may be infringed if these personal and property rights are not properly vested.
NFT creators should ensure that the uploaded NFT work is duly authorised or has the necessary authorship. For example, NFT creators should obtain reproduction rights from copyright owners because the process of minting NFTs essentially amounts to creating digital copies of artworks and uploading them onto an NFT marketplace for sale (ie, reproducing digital artworks from the real or virtual world to a blockchain). In addition, when minting NFT works, the rights to modify or adapt the artworks, and even the rights to protect the integrity of the artworks, should also be considered. Further, once NFT works are uploaded to a blockchain through an NFT creator's chosen marketplace, the rights of information network transmission of that artwork become critical for any distribution and circulation on the Internet. Article 10(12) of the Chinese Copyright Law specifically protects the information network transmission rights of copyrighted works that are made available to the public by wire or wireless means, so that the public may acquire the works at a time and place of their choice.
NFT marketplaces can be held liable for assisting infringement if they fail to perform their supervision and examination responsibilities to ensure that uploaded NFT works have a complete chain of authorisation or authorship because the characteristics of NFT marketplaces separate them from general network service platforms. To prevent potential liabilities, NFT marketplaces that operate in China should consider establishing mechanisms for reviewing copyrights of minted NFT works. The potential issues to be reviewed may include NFT forgery, exceeding scope of authorisation and potential infringement by the original author of the artworks.
Trademark issues
NFT minting and trading processes may involve trademark infringement issues. As these processes are generally performed on NFT marketplaces, NFT marketplaces should also pay attention to unauthorised trademark use by NFT creators. If NFT creators use or include a third-party trademark in creating their NFT works without authorisation or permission, trademark owners or relevant interested parties may bring trademark infringement lawsuits against NFT creators or even NFT marketplaces. Accordingly, it is recommended that NFT marketplaces conduct due diligence to verify whether NFT creators have the necessary trademark rights or licences to mint such NFTs for sale on their marketplaces to avoid potential infringement risks.
China has yet to have its first NFT trademark infringement case. However, in the United States, Nike sued StockX, an online resale platform, for trademark infringement. StockX recently created NFT works comprised of Nike trainers and logos. Nike alleges that such use constitutes trademark infringement because these NFTs are likely to confuse consumers and create a false association between the NFTs and Nike, thus diluting Nike's trademarks. StockX argues that their NFTs are minted for exchange of a physical product but has failed to corroborate this claim.
In another case, Hermès International filed a lawsuit against an NFT artist, Mason Rothschild, for offering for sale on OpenSea the iconic Hermès Birkin purse in the form of an NFT titled Metabirkins. Hermès claims that Rothchild made a fortune in a matter of weeks by using the Metabirkins mark, which can be confusing and dilutive in respect of Hermès' famous Birkin mark. Although still pending, these two cases raise important questions as to the scope of protection afforded to trademark rights in the metaverse and on a blockchain. In particular, how far should rights owners' existing trademark registrations for physical goods extend to cover virtual goods in the metaverse?
First and foremost, the question as to which class under the Nice Classification NFTs should fall into is worthy of discussion. The EUIPO provided its views on 23 June 2022 through a practice tip, which states that:
Virtual goods are proper to Class 9 because they are treated as digital content or images. However, the term virtual goods on its own lacks clarity and precision so must be further specified by stating the content to which the virtual goods relate (eg, downloadable virtual goods, namely, virtual clothing).
In the same practice tip, the EUIPO pointed out that:
The 12th Edition of the Nice Classification will incorporate the term downloadable digital files authenticated by non-fungible tokens in Class 9. NFTs are treated as unique digital certificates registered in a blockchain, which authenticate digital items but are distinct from those digital items.
The China National Intellectual Property Administration (CNPIA) classifies the metaverse or NFT-related goods and services into several classes – for instance, Classes 9, 35, 36, 38, 39, 41 and 42 for:
computer software for encryption;
security tokens (encryption devices);
online retail services based on virtual goods;
electronic funds transfers through blockchain technology;
virtual chat room services based on text messaging; and
services such as physical storage of digital images stored electronically, entertainment services for virtual environments and user authentication services using blockchain technology.
As there are a lot of NFT-related trademark filings being filed with the CNIPA, it is only a matter of time before the CNIPA announce its rules for NFT-related trademark applications.
Likelihood of confusion is the key criterion to determine trademark infringement in China and a great deal of factors should be taken into account, such as the similarity between the marks, the fame of the earlier mark, the relatedness of the goods at issue, the attention of the relevant public, the intention of the infringer and the actual confusion caused. If the above two US cases were tried in China, Nike or Hermès would need to focus on the similarity or relatedness of virtual goods associated with NFTs and the physical goods covered by their trademark registrations. Considering consumers that have purchased trainers and handbags would recognise identical or similar virtual goods in the metaverse, which suggests that virtual and physical goods overlap in some way, it would still be possible to argue that such trademark use would confuse consumers to believe that such NFTs were associated with Nike or Hermès. Even if virtual goods are considered to fall into Class 9 (ie, not covered by the classes into which physical goods fall), trademark owners may still request cross-class protection under Article 13 of the Chinese Trademark Law by proving that the identification function established by their well-known marks would be damaged or tarnished by virtual goods.
Finally, if NFT creators are found to have intentionally created the NFTs by taking advantage of others' reputation for their own unjustified gains and objectively caused consumers to believe that there are associations with trademark owners, such trademark owners may also rely on the Chinese Anti-unfair Competition Law to pursue the NFT creators' liability for free-riding and unfair competitive practices.
Conclusion
To prevail in trademark and unfair competition claims, it is critical to provide sufficient evidence proving that the earlier mark has obtained a certain influence in China before the date of use by the NFT works. Famous brands, like Nike and Hermès, could request courts to recognise the cross-class protections granted to their existing well-known trademark registrations for physical goods. Start-ups and emerging companies, however, may struggle to enforce their rights because they may have a tougher challenge in providing evidence that proves the fame of their marks. To the extent that no clear legal position has been adopted by courts in China and that China adopts a first-to-file system, brand owners should proactively broaden their trademark protection scopes by filing for NFT-related classes as early as possible.