Revealed: how controversial low-cost online trademark platforms dominate paid Google search results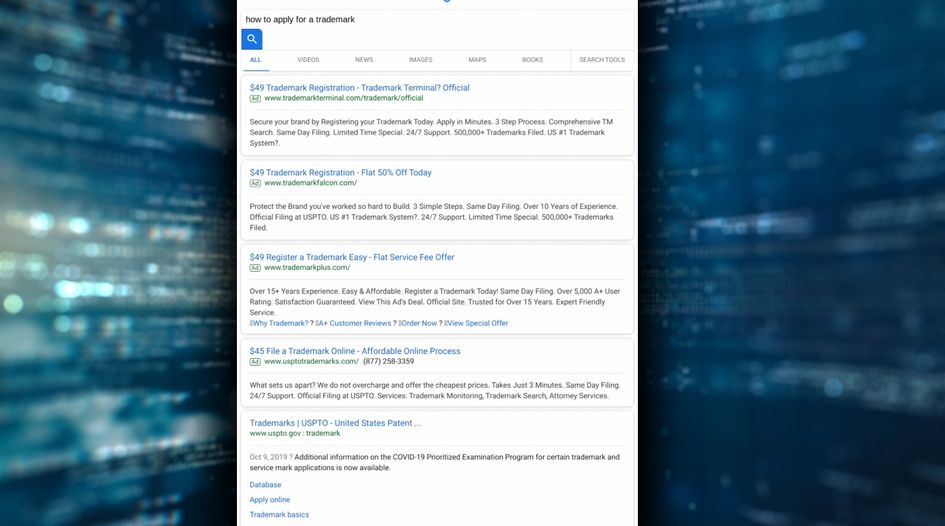 WTR investigation looks at paid Google ads on trademark-related keywords
Finds many entities advertising on Google are low-cost trademark agencies
Experts call for USPTO to take action or raise awareness of the issue
An exclusive WTR investigation has found that paid advertising on trademark-related Google search queries regularly feature notorious or allegedly fraudulent low-cost trademark agencies. In response, experts say that the findings impact the entire trademark sector and call for the USPTO to take action.
In recent months, WTR has reported on entities that claim to offer low-cost trademark services but have faced numerous complaints and, in some cases, allegations of fraud. Back in February, we reported on customer concerns around the offerings of agencies Trademark Terminal, Trademark Axis, Trademark Falcon, Trademark Funnel and Trademark Regal, with unusual activity discovered on thousands of trademark applications filed at the USPTO. A few weeks later, concern grew following the revelation of a money laundering criminal case in Pakistan, which included the running of allegedly fraudulent trademark agencies such as Trademark Funnel and USPTO Trademarks. In startling testimony, the accused are alleged to have forged USPTO certificates, posed as USPTO employees and scammed victims out of thousands of dollars. In our most recent report, the low-cost agency Trademark Plus has also faced a barrage of customer complaints.
An unanswered question throughout our reporting on these low-cost agencies has been how they have managed to attract a client base, especially in light of negative reviews and official complaints. However, data collated by WTR – made possible thanks to search analytics provided by SpyFu – reveals that all of the aforementioned agencies have been advertising on Google in recent months, with some spending thousands of dollars a month to appear higher up in trademark-related search results. In a number of instances, the paid-for ads include misleading claims, but often appear above the websites of official agencies and legitimate companies and firms.
For example, as the image below shows, a user recently searching for the term 'how to apply for a trademark' on Google in the United States may have seen any (or all) of these paid ads before seeing the USPTO's official website. Some of these ads include suspicious claims that they offer "official filing at USPTO", have filed "500,000+ trademarks" or provide a "$49 flat service fee offer" (with no mention of official government fees). Such marketing claims are often mentioned in subsequent reviews and complaints, especially around significant additional costs not mentioned in the ad copy. 
That is not to say that all paid Google ads on trademark-related searches are purchased by entities at the centre of controversy. As the table below shows, the leading advertisers for trademark keywords (including searches for 'trademark', 'register a trademark' and 'filing a trademark') on Google in the United States are LegalZoom and Trademark Engine – two legitimate low-cost service providers. However, as the data further shows, suspicious entities are also spending big on Google ads. For example, the aforementioned Trademark Plus and Trademark Terminal reportedly spend upwards of $16,000 a month on hundreds of trademark-related keywords.
Advertisers for trademark-related keywords in past 12 months (Google US)
| Agency name | Monthly paid keywords | Estimated monthly budget |
| --- | --- | --- |
| LegalZoom.com | 15,300 | $591,000 |
| TrademarkEngine.com | 1,700 | $43,200 |
| TrademarkPlus.com | 1,670 | $16,700 |
| TrademarkFalcon.com | 253 | $8,250 |
| TrademarkRegal.com | 258 | $5,160 |
| TheTrademarkCompany.com | 655 | $22,600 |
| TrademarkAxis.com | 371 | $3,470 |
| TrademarkTerminal.com | 628 | $16,600 |
| copyright-application-online.com | 674 | $7,250 |
| Trademarks411.com | 357 | $8,940 |
| JPGLegal.com | 299 | $15,000 |
| Trademarkia.com | 41 | $9,080 |
| USPTOTrademarks.com | 14 | n/a |
| TrademarkFunnel.com | 12 | n/a |
At the bottom of this list are USPTO Trademarks and Trademark Funnel, both of which were allegedly operated by the Pakistani entity implicated in the money laundering and fraud criminal case. According to SpyFu data, USPTO Trademarks began advertising in December 2020 and stopped in March 2021 – figures that match the timings of when the accused were arrested. Interestingly, while most of the Google keywords that USPTO Trademarks paid to advertise on relate to trademarks (eg, 'filing a trademark', 'what is a trademark' and 'trademark lawyer'), some also relate to the confusion between copyright and trademarks (eg, 'copyrighting a name', 'copyrights logo' and 'how to get logo copywrite [sp]').
While USPTO Trademarks appears to have focused on a relatively small number of paid keywords, Trademark Terminal has paid (and continues to pay) to appear highly in relation to over 2,000 trademark-related keywords on Google since November 2019. Of those that WTR has identified (the full list can be accessed here), 50 use the term 'copyright' and 80 use the term 'patent' – again suggesting that low-cost agencies are often targeting trademark consumers with low knowledge of intellectual property. Further, 16 use the term 'uspto' and 18 feature the term 'trademark office', revealing that users looking for the USPTO website are also being targeted. However, as the word cloud reveals, the most commonly used keywords and phrases are those that will typically be entered by individuals and small business owners seeking trademark services.
Trademark Terminal: most used keywords and phrases for Google Ads (November 2019-April 2021)
It is, of course, difficult to estimate just how much business these Google adverts generate. According to SpyFu, the most common trademark-related keywords – all of which have paid ads appearing on the first page of results – are searched tens of thousands of times each month on Google in the United States. With the average click-through rate for search ads on Google being 1.91%, that could translate to thousands of clicks for each keyword. If consumers are subsequently enticed by the (often misleading) low prices and marketing claims, the conversion rate for new business could also be significant. Indeed, according to the Pakistan criminal case, the entity behind USPTO Trademarks was allegedly making $2.5 million every month.
Trademark-related keywords: ranked by average monthly searches on Google in United States
| Keyword | Estimated monthly searches | Keyword | Estimated monthly searches |
| --- | --- | --- | --- |
| 'Trademark symbol' | 108,000 | 'Trademark' | 89,200 |
| 'Trademark search' | 74,100 | 'USPTO trademark search' | 28,200 |
| 'How to trademark a name' | 23,000 | 'Registered trademark' | 15,700 |
| 'Registered trademark symbol' | 13,000 | 'USPTO trademark' | 11,700 |
| 'US trademark search' | 10,300 | 'US patent and trademark office' | 9,600 |
| 'Trademark registration' | 9,500 | 'Trademark TM' | 9,400 |
| 'How to trademark a phrase' | 6,600 | 'Trademark logo' | 5,200 |
| 'Trademark a name' | 4,400 | 'Register a trademark' | 3,900 |
| 'How to trademark a logo' | 3,400 | 'Trademark lawyer' | 3,200 |
| 'Trademark filing' | 1,700 | 'Filing a trademark' | 1,200 |
| 'How to file a trademark' | 1,000 | 'File trademark' | 810 |
Time for action?
The findings appear to confirm that a significant number of paid ads on Google in the United States for trademark-related keywords are from entities that have been the focus of customer criticism or flagged for suspicious (or outright fraudulent) activity. Talking to WTR, trademark attorney Kevin Haynie says that this prevalence "negatively affects the entire trademark sector", while Gerben Perrott founding partner Josh Gerben contends that such ads are "harmful", expanding: "They create the impression that a trademark can be registered properly for less than $100, which is rarely the case. We receive calls from potential clients daily who balk at our standard fees, which are around $1,000. They are aware of the lower costs they have seen advertised and are convinced we are too expensive. Of course, there will always be downward pressure of pricing for products and services in today's online marketplace. Unfortunately, though, the folks seeking out bottom-of-the-barrel pricing are many times small, unsophisticated business owners – and these are exactly the types of individual that the platforms are targeting."
However, Google's role in halting such activity was debated by the trademark professionals that we spoke with. Gerben states that Google "has a responsibility to check for fraudulent entities among its advertisers", and that it is "in Google's interest to do so" because "the more illegitimate companies that advertise via Google Ads, the less people will trust and click on those ads". Haynie takes a similar approach, saying: "I can't speak to the legality, but from an ethical standpoint they should check for potential fraud among major advertisers. If you are Google, you have enough competition for keywords without having to include businesses that are outright scams."
More unsure of Google's responsibility to proactively monitor for fraud is The Ideas Law Firm managing partner Ryan Bethell, who says that it could have unintended consequences. "I do think Google should not knowingly promote services that they know are shoddy or scams, but that is different from having an affirmative duty to investigate," he explains. "Such a barrier to advertising would impose tremendous costs, the result of which being that Google would favour larger, more established businesses, even if the 'mom and pops' were of very high quality. However, once Google has been made aware of the fact that there is a fraud, they should blacklist the site from paid ads, pending an appeals process. I think that's just good business – if someone is scammed by a service that Google has promoted, they will have less trust in the other businesses that Google promotes over time."
For its part, Google currently allows anyone to report ads on its platform, although such a system is primarily designed to stop ads that breach IP law or promote the sale of counterfeit goods (WTR reached out to Google about the issues raised in this article, but the company did not respond).
While there are mixed views on Google's role in combatting potential fraud targeting trademark users, there is little doubt from experts that relevant industry organisations have a part to play. In fact, according to Gerben, two major players in the US trademark industry need to do more. "The USPTO and INTA have been ineffective in assisting the public and raising awareness around trademark scams – and I certainly wish they would do more," he says. "Someone with the appropriate megaphone and platform should be screaming from the rooftops and warning folks about this issue."
Indeed, action from the USPTO on suspicious agencies advertising on Google "would be a tremendous help", Bethell adds, because "the squeaky wheel gets the oil, and government agencies can 'squeak' pretty loudly". That point was reiterated by Haynie, who claims that "the responsibility lies with the USPTO to take any steps that it can to both shut these companies down and raise awareness about them".
However, with the growing backlog (and other issues) faced by the registry, it may be seen as a low priority. "If you look at the other potentially bigger problems that the USPTO is facing, it seems unlikely that anything beyond raising awareness will happen in the next year or so," Haynie adds. "While the trademark office should definitely point out fraudulent companies, I think you also have to rely on consumers to do their own research, which is difficult when there are so many companies that look and sound the same, allow fast and easy payment through their website, and are priced so low that extensive research likely isn't on the mind of the consumer."
Ultimately, agrees Bethell, consumers have some responsibility and must take precautionary measures, including checking reviews on websites such as TrustPilot and the Better Business Bureau. "Legal services are, by their nature, more complex than most things you buy on the Internet," he expands. "The fact that, for a similar price, a prospective client can approach an online law firm, a complete scam or a non-lawyer filing service is likely to cause some problems. Often, clients get duped and have terrible filings from other agencies (with glaringly obvious mistakes) and come to us afterwards to 'fix it'. It does damage consumer trust in the trademark process, but it's not unique. People have been getting scammed by unlicensed contractors (generally for more than a few hundred dollars) for decades, it's part of the consumer learning curve – caveat emptor and all that."
WTR has contacted the USPTO about the issues raised in this article. We will update if a representative responds.