Online marketplaces in Russia that should be on counterfeit enforcement radars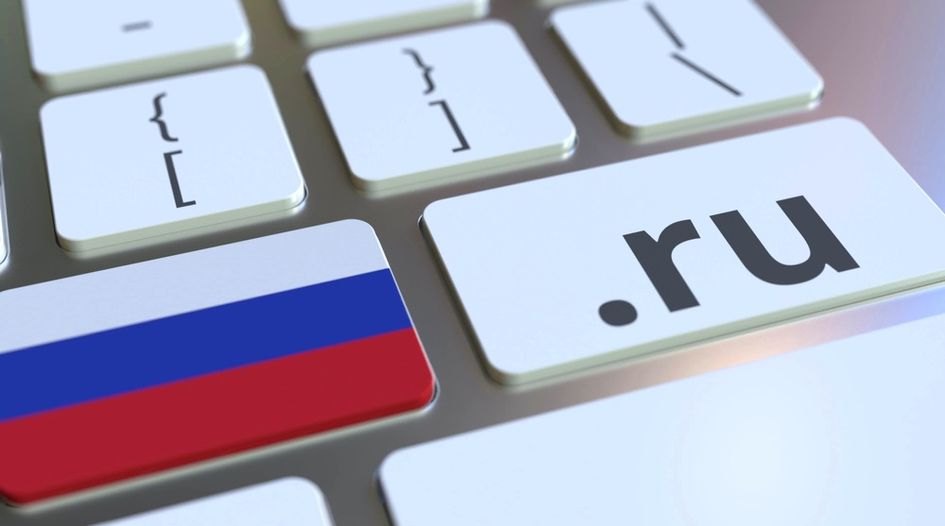 In a new regular series on WTR, we speak with leading law firms around the world to identify the digital marketplaces that brand owners should monitor as part of their global anti-counterfeiting efforts. In this second edition, we focus on online marketplaces that are popular in Russia.
Over $43 billion-worth of counterfeit goods are sold in Russia each year, according to a recent report. It is further estimated that 40% of all handbags, clothing and accessories sold in Russia are counterfeits, with 30% of consumers in the country telling a survey that they have purchased fake goods in the past year.
While much of the counterfeit goods in Russia are traded in physical markets across the country, many are purchased online. For that reason, we reached out to Maria Aronikova, partner, and Karina Skomorokhova, associate, from Gowling WLG in Moscow, for their experience of fighting fake goods in the digital environment in Russia. Below are their insights on what rights holders need to know, and the online marketplaces they look at during anti-counterfeiting enforcement work for clients.
Online anti-counterfeiting enforcement in Russia at a glance
In a nutshell, what should a rights holder know about enforcing against counterfeit goods sold online in Russia?
Civil, administrative or criminal liability is envisaged by the Russian law for selling of counterfeits. However, warning letters and further negotiations with the marketplaces remain the preferable option chosen by most brand owners. Article 1252 of the Civil Code provides a possibility for the protection of IP rights by sending a demand letter to the infringer directly, or to the third parties that are able to assist in seizure of the infringement. This provision is usually used by the brand owners to address the warning letter to a marketplace requesting removal of the infringing listing. The right holder may also refer to the regulation of operation of so-called 'information intermediaries' (Article 1253.1 of the Civil Code), as digital marketplaces are often qualified as one and can be found liable for IP infringement if they refuse to cooperate and remove the infringing content.
The complaint should be issued in written form and contain key information (eg, a detailed description of the infringement; proof of the title; identification of the infringed content, preferably in a form of a  link to the particular listing; counterfeit characteristics; contact details of the right holder or its representative; the power of attorney if the complaint is filed by the right holder's representative).
The perspectives of the court action against marketplaces varies depending on the role that the marketplace has in the sale of goods. In some cases, a marketplace may act as a direct seller of the product. Alternatively, it may just provide the infrastructure for third parties to sell their own products. While the liability of the marketplace in the first situation is not difficult to prove, the second case is more challenging. The courts have not yet developed a unified approach to assessing the status and actions of marketplaces in such cases. Thus, the perspective of the court action should be analysed in each case depending on the role of the marketplace in a particular transaction.
From our experience, the marketplaces in Russia have a different level of cooperation. While total refusals to cooperate are rather rare, some marketplaces can be slow in responding to enquiries – perhaps because they are trying to buy some time until the goods are sold out.
Finally, just to note, the marketplaces highlighted below are legitimate resources and normally sell authentic goods. However, counterfeits may appear on their platforms – and their popularity, significant volumes of sales and the risks of disclosing counterfeits make it worthwhile to include these marketplaces to brand protection monitoring lists.
Online hotspots where counterfeits can be found in Russia:
Avito
Description: The website can be found at 'avito.ru'. It is not a typical marketplace; rather, it is a platform where advertisements about goods, real estate, job positions and services can be posted. The goods are offered by the individuals as well as by the companies and private entrepreneurs. Despite that, Avito is sometimes associated with the resale of second-handed products and is often ignored by the rights holder's anti-counterfeiting monitoring. Nonetheless, we've found that counterfeiters sometimes use this platform in Russia.
Fakes alleged/suspected to be sold there: Counterfeit goods may appear in various categories. 
How to report counterfeits: It is possible to report a suspicious advertisement using a special button (circled in red in this screenshot). Alternatively, the right holder may fill the complaint form (available here).
Challenges of enforcement at this online marketplace: The advertisements can be easily published on the Avito platform. Therefore, if one infringing listing is removed, it may be placed again soon afterwards by the infringer.
Recommendations to brand owners: Considering the above challenge, the main recommendation for the right holders is to include Avito to the daily monitoring list. It may help to identify and report the infringing advertisements promptly. Normally, we find that Avito agrees to cooperate and takes measures against counterfeits.
Wildberries
Description: Founded in Russia in 2004 by Tatyana Bakalchuk, Wildberries has become a noticeable international e-commerce player working in many countries including Russia, Belarus, Poland, Germany, Slovakia, Armenia, Kazakhstan, Kyrgyz Republic and Israel.
In the beginning, the marketplace was focused primarily on clothing and footwear. Today, though, Wildberries offers many product categories including apparel, footwear, cosmetics, household products, children goods, electronics, books, jewelry, food and others. At the moment, Wildberries demonstrates impressive numbers, including:
50,000 brands are available on Wildberries;
780,000 are placed every day by 7 million visitors;
the number of regular customers is more than 27 million people;
100,000,000 goods are stored in warehouses and may be delivered to 7,500 delivery points.
Fakes alleged/suspected to be sold there: Counterfeiting issues on Wildberries may extend to various product categories, including famous brands. The most affected categories, we've found, are apparel and footwear.
How to report counterfeits: Wildberries does not appear to have developed a special brand protection policy yet. From our experience, in order to report a counterfeit case, it is necessary to send an email request via '[email protected]' and the complaint can then be transferred to the legal department.
Challenges: Wildberries normally agrees to cooperate, but we've found that it can take them significant time for a response. Wildberries typically explains the slow speed of takedowns by the necessity to carefully review each complaint, discusses the situation with the particular seller, and obtains a clear understanding that the goods are indeed counterfeit.
Recommendations: Considering the slow communication process, it is advisable to send regular follow-ups to the platform once the infringement complaint is filed. On top of that, it is also worth conducting a brief desktop investigation aimed at finding the actual infringer. The legal details of the particular entity or individual entrepreneur are provided in every product description. The references to the infringer may also be found in the consumers reviews or the pictures of the products. 
Yandex Market (and Beru)
Description: Yandex launched its market service in 2000. Being constantly developing during several years as a platform allowing customers to compare characteristics and prices of goods in several stores, in 2020 Yandex Market merged with another marketplace, Beru, to form a unified marketplace. Today, Yandex Market contains 100,000,000 listings from 20,000 stores, and the goods can be purchased directly on Yandex Market or on third party online stores.
Fakes alleged/suspected to be sold there: Counterfeit goods may be occasionally discovered in different product categories, including those by famous brands.
How to report counterfeits: Suspicious listing can be reported using a special form identified by a button (circled in red in this screenshot). Alternatively, right holders can send a hard copy of the complaint to the attention of the legal department of Yandex Market, or via the online feedback form.
Challenges: In our experience, Yandex Market follows a rather formalistic approach while considering the complaints. There could be a refusal to cooperate if technical requirements are not met, for example, if the power of attorney is missing. Slow responses are another challenge.
Recommendations: It is advisable to prepare the complaint, evidences and enclosed documents very carefully. This will help to avoid delays or even refusals.  Regular follow-ups may help to speed up the process.
OZON
Description: Established in 1998 as an online bookstore, OZON has become a leading multi-category e-commerce platform with its own delivery logistics network. OZON sells apparel, footwear, groceries, household goods, electronics and others. In terms of online sales in Russia, OZON demonstrates impressive numbers: 34,100,000 orders were placed on OZON in the first quarter of 2021.
Fakes alleged/suspected to be sold there: Counterfeits can be accidently found in various categories, but mostly among toys, apparel, electronics and mobile accessories.
How to report counterfeits: OZON has no special procedure for reporting counterfeits. The complaint can be reported via email ('[email protected]') or through the support chat on the personal account on OZON.
Challenges: OZON appears to be responsive, but delays and clarifying requests for additional information are possible.
Recommendations: OZON is attentive to the documents confirming IP rights for an item and evidence of infringement, so a complaint should be thorough and grounded. Further, OZON publishes legal details of sellers, which may be helpful in pursuing the infringement.
SberMegaMarket
Description: SberMegaMarket, which until earlier this year was known as 'Goods.ru', is a marketplace founded in 2016 by Mvideo and recently acquired and renamed by Sberbank, the largest Russian bank. Various product categories are offered on SberMegaMarket such as apparel, shoes, furniture, food products, household products, cosmetics, arts and hobbies products, and health products. Today, 2.5 million goods are offered across 8,000 stores, with 20,000 orders placed per day and may be shipped to 30,000 delivery points. SberMegaMarket does not have its own stores; it does not purchase goods from others. The strategy is to publish product cards to attract customer attention to listings, and then providing logistic services when the purchase is made.
Fakes alleged/suspected to be sold there: The counterfeits are sometimes found in different product categories.
How to report counterfeits: At present, no special counterfeit report form or counterfeit removal policy has been announced by SberMegaMarket. Therefore, complaints have to be reported via email ('[email protected]').
Challenges: SberMegaMarket is a relatively new marketplace, so it is advisable to monitor the website and check for when, or if, any special counterfeits removal system is introduced.
Recommendations: Similarly with other platforms, it is advisable to have a detailed and grounded complaint prepared and support it with evidence of infringement and title documents.
Lamoda
Description: Lamoda is one of the leading marketplaces in Russia and the CIS region, and has been operating since 2011. Today, 16 million users visit Lamoda every month, and it has listings of 3,000 international and local brands in various categories including apparel, shoes, cosmetics and household products. The goods can be picked up at one of 17,000 delivery points. Positively, Lamoda asks its sellers to provide permission to use trademarks from the brand owners, and also offers to provide a conformity certificate for a particular product.
Fakes alleged/suspected to be sold there: Counterfeits may be accidentally found in any product category.
How to report counterfeits: There is no special form or counterfeit removal policy. However, complaints can be sent via the feedback form on Lamoda website or by email (to '[email protected]' and '[email protected]').
Recommendations: The right holders are advised to file a detailed and well-grounded complaint with clear description of counterfeit issue and evidence of exclusive right.
The insights in this article are based on a local law firm's professional experience. Therefore, the information provided should be viewed as guidance for fellow professionals and not general information on the listed marketplaces.
Read previous articles from our online counterfeit hotspots series using the interactive map below: