"A very tricky position" – how the coronavirus epidemic could affect the 2020 INTA Annual Meeting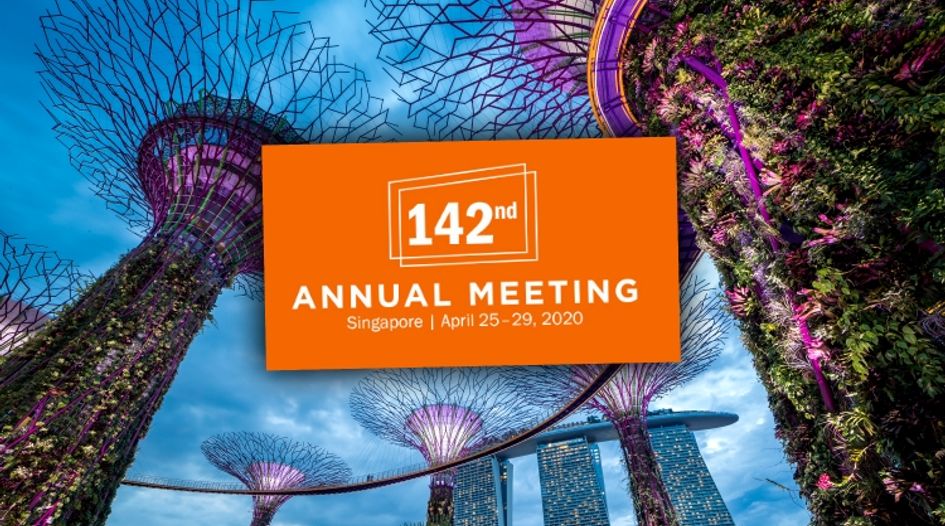 Coronavirus epidemic passes 1,000 deaths, INTA Annual Meeting status unchanged
Trademark experts tell WTR that INTA is in a tough situation with no clear answer
Some confirm they are cancelling their registration, others say they hope to go
With just 72 days until the 2020 INTA Annual Meeting is due to begin in Singapore, there is growing discussion over how the worsening coronavirus emergency will impact the event. WTR spoke with trademark practitioners from around the world to get their perspective.
When WTR first reported on concerns about the status of 2020's INTA Annual Meeting one week ago, the number of confirmed cases from the coronavirus outbreak stood at 28,000, with 565 deaths. Today, there are 60,411 confirmed cases and 1,370 deaths. In Singapore, there have been 58 confirmed cases, and the government has raised its alert level to the second higher level. From an event point of view, the Mobile World Congress in Spain – which was due to attract over 100,000 attendees from 200 countries – was cancelled earlier this week. Furthermore, at least two major Singapore-based events (including one scheduled for April) have now been cancelled. Currently, Chinese passport holders or anyone with recent travel history to China are barred from entering Singapore, while some countries (including Israel and South Korea) are advising against travel to the country.
For its part, INTA has extended the registration cancellation deadline and confirmed that it is closely monitoring the situation (and has a dedicated page on its website which is regularly updated). Last week, CEO Etienne Sanz de Acedo told WTR that, as of that point, the event "is definitely taking place in Singapore". Talking to WTR today, an INTA representative said there is "nothing further to add" beyond what is on the event website at this time, but would provide an update as further information becomes available.
From a registration point of view, according to the public attendee directory (which can only give an approximate figure as delegates can opt out from being included, meaning that the actual figure will be higher), registrations have slowed significantly since the coronavirus outbreak became a global issue. WTR took a look at the figures of registrations of the 2020 annual meeting against those from last year's Boston meeting and the 2017 meeting in Barcelona (to reflect figures from the previous non-US event). As of the first 37 days of registration being open, the Boston-based Annual Meeting had 6,223 attendees registered according to the public data, Barcelona had 5,697, and Singapore had 4,417 (again, these figures show an estimated trend and do not include delegates from before the date of opening or who opt out).
As the graph below demonstrates, when looking at the daily rate of sign-ups from the first day of registration opening (and removing the opening two-day spike), the registration rate was broadly the same from the third to the twentieth day – but as coronavirus fears increased, registrations for the Singapore event fell significantly compared to the rate of previous meetings. Of course, an Asia-based Annual Meeting has been expected to attract a lower attendance than US-based or even European-based exhibitions (as it did in Hong Kong in 2014) – but nonetheless, many practitioners are seemingly playing a waiting game before registering for the Singapore event.
INTA Annual Meeting daily registration rate
Of course, registration numbers could pick up significantly in the weeks ahead, especially if the epidemic begins to subside. But as Ed Conlon from Managing IP pointed out earlier today, even if attendance was half that of previous years, the precautionary measures that INTA would need to implement – which could include temperate screening before entering the conference venue – could be "inconvenient, hard to manage and potentially costly, and would certainly change the dynamic of the meeting (think: no shaking hands allowed, so creative alternatives required)".
With that in mind, we canvassed a number of IP professionals from different countries to get their perspective on the event and the situation INTA finds itself in.
"INTA is in a very tricky position"
We are playing it by ear, so our conference, flight and hotels are all still booked. Right now, I think that it is probably still too early to say, but I am becoming more uneasy about it, which I think is probably a common reaction. Considering the logistics, cancellation or postponement appear to be more feasible than moving to a new location, but considering the amount of money which the INTA may lose, even from a rough estimate of 10,000 delegates at $1,000, it is easy to see that INTA is in a very tricky position. Right now, I think that all INTA can do at this stage is keep attendees informed. On that count, I have not received a notification for a while, which probably means that it intends to proceed, for now. 
Chris McLeod, partner and trademark Attorney at Elkington + Fife in London, UK.
"I would be more than happy to attend"
I have been monitoring the situation closely and I think the INTA approach to wait and see is the correct one given all the alarmist reporting at the moment. By travelling by air, you are more likely to get any virus or infection. By going to a conference anywhere, anytime you are more likely to catch something. There is no major outbreak in Singapore at the moment, so it seems the biggest risk to healthy people that you have is that you end up being quarantined for two weeks because you are in a group with someone who has it.
I am used to travelling throughout the world, and I was in China once when they were screening everybody on the flight. I am perfectly fine going to Singapore, even if the event was being held in the next few weeks. There is no one in my immediate family or friends who is particularly at risk if I was infected. I would take hand sanitizer and be careful touching my face (but that is good advice during flu season). But if I am not feeling well, I will not go to the conference centre and will seek medical attention (also good advice at any time), and if I got ill during the period afterwards, I would seek medical attention (again, good advice). In the Netherlands, anyone returning from Wuhan who shows no symptoms is told to stay home for two weeks and to be vigilant. I think this is also in line with the WHO advice.
While two events have been cancelled in Singapore, the Singapore government also gave the option of allowing those events to go ahead with additional precautions. I think it will ultimately be up to the Singapore government whether the INTA Annual Meeting can go ahead – they need to balance their economic loss against the increased risk. Also, if the conference is cancelled, many of these trips will have to be made later in a more unregulated fashion as it is often the only time each year where we have face-to-face contact with our international partners. Therefore, I would be more than happy to attend following these additional checks and rules – this may become the new way of holding international conferences as it would reflect the general worldwide risk of spreading infectious diseases, wherever and whenever they occur. The head of WHO has been pleading for co-operation instead of isolation; let INTA be the first.
Pete Pollard is patent attorney at Fireball Patents in Eindhoven, Netherlands.
"If there are problems, it could tarnish the event's stellar reputation"
While we are monitoring the situation and will make a firmwide decision in the coming weeks, I and a few others [at the firm] have already made the personal choice not to go. While we do not have an official firm position on this, my personal view is that the event should be cancelled and INTA should make the Leadership Meeting in Miami a larger event that is open to all. INTA is in a tough spot. This event is its crowning jewel so to cancel it is a big deal, though if the event goes forward and there are problems, it could tarnish the event's stellar reputation.
Andrew D Price is co-chair of trademark, copyright and licensing at Venable LLP in Washington DC, United States.
"Attorneys are very cautious"
I suspect it will be cancelled. The reason is that attorneys are very cautious and that a decision must be taken early enough for maximum efficiency in order to limit taking undue risks, mitigate the financial loss regarding bookings, and not to waste too much planning time. Even if the pandemic subsides in April, it would still have been the safest option to take. If I were taking a decision affecting only a small number of individuals, maybe I would still go ahead. Obviously given the numbers of over 10,000, the risk would be too great. I would not like to be the person responsible for still going ahead with the event and for a Coronavirus-attributable death to arise following my unwillingness to cancel the event.
Ian Bishop is a chartered patent attorney at ip21 Ltd in London, UK.
"If attendance is significantly down at INTA, is it really still worth it?"
There is substantial doubt whether it makes sense for the INTA Annual Meeting to go ahead. Not so much because of the potential effect or consequence of the coronavirus, but because of people's fear and reaction to it. I'm aware of many in-house practitioners that were planning to pass through China on the way to or from the Annual Meeting. That's obviously not going to happen now, as you cannot go/return via China any more. That reduces the economies of scale for that trip – you could previously reason that you were doing IP training or meetings with China-based subsidiaries, but now the trip would solely be for INTA. If you cannot also visit colleagues in the region, and if attendance is significantly down at INTA, is it really still worth it?
The way things look at the moment (with the development of the cases and various international travel restrictions imposed on travellers with a China-nexus), it looks very much like I am likely to cancel for those members of our regional trademark team who are based in greater China. The reason for it is not because we think there is a danger in travelling resulting from the coronavirus, but we attend INTA to meet clients and  international colleagues/agents from across the world who want to meet us – and if you are from China, you are likely to be 'branded' and some people will have some trepidations in meeting you. I have already had clients cancelling pre-planned meetings and seminars at other events. This treatment is likely to apply, I imagine, to many practitioners from China or even from elsewhere in Asia.
From a China-based head of regional IP team at an international law firm.
"I have not registered, but still hope to go"
I have not yet registered, but still hope to go. INTA is my favorite conference and I enjoy it a lot – I can't remember an INTA which I did not enjoy. The energy is always high level and meeting old and new friends and colleagues from all over the world is a blessing.
Most of the people I know have registered and hope the conference will not be annulled. On the other hand, discussion on social media seems to indicate that the situation requires leadership from INTA. One can imagine that cancellation is not an easy decision, and would come as a damper on the joy of attending this great conference. It might also have severe practical consequences for all attendees who already bought tickets and made hotel reservations. On the other hand, a lot of companies which might also be INTA members themselves have travel restrictions. For example, I spoke this morning to a Dutch family who are migrating this week to New Zealand, traveling via Singapore. The husband works for a huge company which is definitely an INTA member, and their employees have received simple and clear advice: if you really don't need to go there, don't go.
Furthermore, one needs to take into account that we all have a task in preventing the virus spreading throughout the world and make our own effort to this end. From that perspective, annulling the conference in Singapore might be the most responsible and wise act. I am not sure if moving the location is a proper response in this situation, but as a plan B, it would and could be welcomed. It is a very difficult situation.
Gino van Roeyen is an attorney-at-law at LAWNCH in Eindhoven, Netherlands.
"The present 'wait and watch' policy is fine"
I think we should wait and watch. Next month would be a decider by when we expect things to subside and then the plan should go on. Many have booked non-refundable tickets and they would be at a severe loss. It is a very difficult thing to gauge between commercial loss and your health – obviously most would go for the latter. However, if the Singapore government increases the risk level, then I think it should be cancelled. In that event, obviously people who have booked on non-refundable tickets would suffer unless there is some leeway from the airlines.
I am aware that some people are expecting something more from INTA, but I guess they cannot do anything more with a conference of this magnitude; any knee-jerk reaction from INTA could have serious effects. Therefore, I think the present 'wait and watch' policy is fine. Probably in the next month, we should expect something concrete.
From an Asia-based trademark practitioner. 
For the latest updates from INTA about coronavirus and the 2020 Annual Meeting, head to the association's dedicated microsite. You can register to attend the event at this link.
If you'd like to add your perspective, you can send it by email.