Best response to a trademark invoice scam; new UK IP minister; crackdown on coronavirus applications – news digest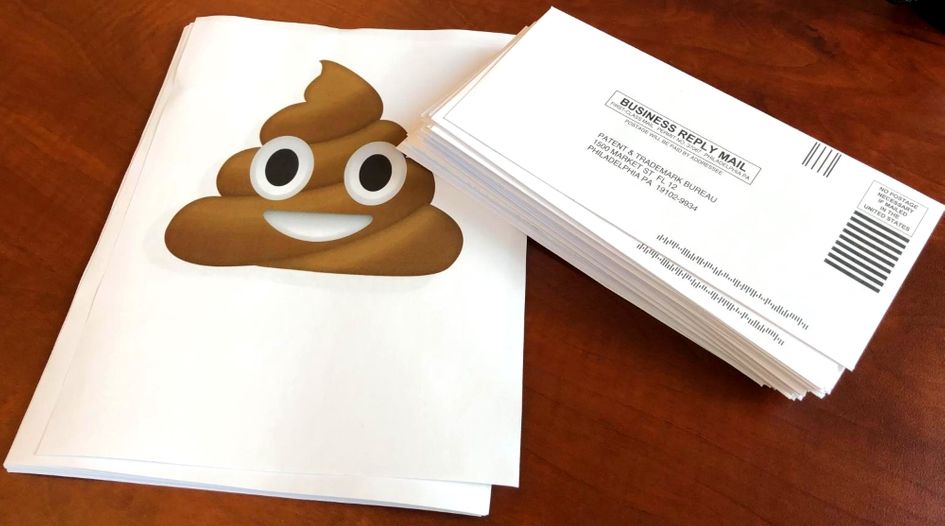 Every Tuesday and Friday, WTR presents a round-up of news, developments and insights from across the trademark sphere. In our latest edition, we look at how there has been a significant trademark filings drop from China to the US, how UK politicians continue to use major brands on social media, looking at a possible agreement on IP rights between the US and India, and much more. Coverage this time from Trevor Little (TL), Bridget Diakun (BD), Jonathan Walfisz (JW) and Tim Lince (TJL).
Market radar:
CCFN calls for strong stance on GIs – In testimony before the Office of the US Trade Representative (USTR) this week, the Consortium for Common Food Names (CCFN) has called on the administration to secure "firm and explicit commitments" with trading partners to assure the future use of "specific generic food and beverage names targeted by EU monopolisation efforts, and to reject the use of GIs as barriers to trade". CCFN senior director Shawna Morris testified: "There is a persistent push by the European Union and other European interests to dismantle competition and erect barriers to trade which must be more strongly combatted. Across all markets, but particularly those with which the United States has a free trade agreement or is in the process of pursuing a free trade agreement, we urge the administration to secure explicit commitments from our trading partners that build upon the positive precedent established in the US-Mexico-Canada Agreement (USMCA) whereby market access rights were clearly and definitively affirmed for a non-exhaustive list of common used product terms." Morris said the list of common terms in the USMCA was the type of tool that "should be carried forward aggressively by the administration in order to safeguard our World Trade Organization and free trade agreement market access rights in the strongest manner possible." CCFN provided written and oral testimony as the USTR prepares its annual Special 301 Report, expected to be released in the coming months. The call serves as a reminder of how GIs have become the key IP battleground in trade negotiations around the world. (TL)
New UK IP minister appointed – Conservative Party MP Amanda Solloway has been confirmed as the latest UK IP minister in what has become a revolving-door political role. Solloway has been an MP since 2015, and prior to that owned her own HR consultancy. In a letter confirming the appointment, Solloway says that "the UK is rightly recognised as having a world-leading IP environment", and that she is "looking forward to working together [with UK IP Office CEO Tim Moss] over the months months and years as we develop an exciting agenda for intellectual property". The suggestion that she will be in the role for years may be an optimistic one – in only the past four years, the role has been undertaken by Jo Johnson (2016-2018), Sam Gyimah (2018), Chris Skidmore (2018-2019), a return for Jo Johnson (2019) and a return for Chris Skidmore (2019). Even before that, when the IP minister role was launched in 2020, the average duration in the job has been less than two years. (TJL)
Legal radar:
Trademark filings from China to US plummets in February – According to data compiled by Gerben Law Firm founder Josh Gerben, trademark applications from China to the US Patent and Trademark Office (USPTO) "dropped off a cliff" in February. The data shows that in December 2019, 12% of all filings in the US originated from China, with that figure being 11.2% for January 2020. However, in the first few weeks of February, just 3.5% of US trademark applications have originated from China. Why? Gerben suggests it must be the effects of the coronavirus epidemic, with a significant proportion of businesses – including law firms – in China not able to work due to Chinese government crackdowns to avoid the spread of the virus. If, or when, the epidemic is contained in China, that percentage number is expected to increase again at the USPTO. (TJL)
Crackdown on coronavirus trademarks – The Chinese Trademark Office has announced it is "severely cracking down on malicious trademark registration applications related to the epidemic situation". Specifically, it confirmed that any trademark applications related to the ongoing novel coronavirus epidemic will be rejected, including "the names of the people involved in the epidemic, the signs of the epidemic virus and disease, the signs of the epidemic-related drugs, the signs of protective products, and other signs of the epidemic". For example, any trademark applications related to 'Vulcan Mountain Hospital' and 'Lei Shenshan Hospital' (two frontline hospitals in Wuhan) would "cause significant social adverse effects". Furthermore, the name 'Li Wenliang', an ophthalmologist at Wuhan Central Hospital who died unfortunately after contracting the virus, has also been rejected. Incredibly, the registry announced that "nearly 1,000 trademark applications related to the epidemic" have already been rejected. (TJL)
Office radar:
Nauru deposits instrument of accession to WIPO Convention – Nauru, the third smallest nation on Earth, has deposited its instrument of accession to the 'Convention Establishing the World Intellectual Property Organisation' (WIPO Convention). WIPO director general Francis Gurry presented his compliments to Nauru. The convention will enter into force on 11 May 2020. Nauru also deposited its instrument of accession to the Berne Convention for the Protection of Literary and Artistic Works. (JW)
Trump hopeful for US and India agreement on IP rights – US president Donald Trump has spoken encouragingly of India and the US's IP relationship after bilateral talks with prime minister Narenda Modi during his trip to India. The two countries signed an agreement on IP rights and the Indian union cabinet approved a memorandum of understanding (MoU) with the US on the subject. However, healthcare groups in India have expressed concern over the MoU, demanding the content be made public to ensure that India resists US influence over the country's IP legislation, reports Indicanews. The group includes the All India Drug Action Network (AIDAN), the National Working Group on Patent Laws, the WTO Campaign for Access to Medicines and Devices–India and the Third World Network (India) Drug Action Forum, Karnataka (DAF-K). (JW)
Media Watch:
The best response to a scam trademark invoice – As WTR has reported on extensively over the years, trademark solicitation scams are a blight on the entire industry. Recently, in a bid to highlight the issue, Erik M Pelton of Erik M Pelton & Associates posted a photo of a solicitation invoice he received next to a registered trademark certificate for the term 'IS THIS A TRADEMARK SCAM?'. In big, bold letters, the letter asks that question – with Pelton captioning the image, "Indeed, it is a scam". The trademark for the term was filed by Pelton himself. Industry figures praised the "beautiful" and "crafty" move by Pelton – who has consistently pressed IP offices and enforcement agencies to take more decisive action against trademark solicitation campaigns. Now, this week, another cheeky tactic emerged to raise awareness of the scam activity. Stephen Coates of Coates IP posted an image on LinkedIn on how he "likes to respond" to trademark invoice scammers. The photo was of a printed out image of the infamous poop emoji, which he sends in the pre-paid envelopes sent by solicitation scammers (ostensibly to receive cheques from unwitting victims of these scams). The move has also been praised by IP practitioners, with one in-house counsel saying it is the "best response possible" to invoice scammers. (TJL)
UK politicians continue brand use – Earlier this week, we looked at how a Conservative MP (and UK Chancellor) Rishi Sunak posted a Twitter image in which he posed with a bag of Yorkshire Tea, a popular British hot drink brand. Specifically, we looked at the response from Yorkshire Tea, which humanised the backlash that the company unwittingly received after the MP's post. "It's easier to be on the receiving end of this as a brand than as an individual – there's more emotional distance," the Yorkshire Tea social media representative said. "For anyone about to vent their rage online, even to a company – please remember there's a human on the other end of it, and try to be kind." The tweet raised the emotional toll that such backlashes can cause, and why politicians using major brands can have unintended negative consequences. Nonetheless, such usage continued again this week. Another Conservative MP, Jacob Rees-Mogg, proclaimed on Twitter that he is not a fan of artisan crisps and is "a Walker's crisps man or Pringles when I'm feeling extravagant", with a photo featuring both brand products added to the tweet. The brand responses to this tweet were less emotional and more humorous than the Yorkshire Tea reply. The Twitter account for Pringles, for example, asked, "Hey Yorkshire Tea, any tips for our Social Media Manager?". Meanwhile, artisan crisps brand Tyrells invoked another brand in its response, tweeting: "Our social media team has never been so chuffed to see someone eat Walkers crisps…". It's a reminder of why every brand needs an effective social media managers, as any company can be unwittingly involved in a viral online event. (TJL)
On the move:
Mayer Brown announces promotions as it strengthens its IP practice in Asia – Mayer Brown, which expanded its IP and technology, media and telecommunications practice in Asia last year, has just announced the promotion of two of its attorneys, as well as the hire of several other professionals to its brand management practice. Gabriela Kennedy, the head of the Asia IP & TMT practice, says of the firm's expansion strategy, "Our recent focus has been on internal promotion as well as the lateral hiring of talent with in-house experience both from the public and private sector. This has enabled us to increase our efficiency and elevate the quality of our services." Amita Haylock and Michelle Yee have received promotion, rising to partner and counsel respectively. Haylock focuses her practice on complex IP litigation, alternative dispute resolution, competition matters, as well as issues relating to telecommunications, broadcasting and cyber-security. Yee is experienced in brand management, copyright and transactional IP matters. Other additions to the team include Leigh Tong, Jacqueline Tsang, and Cheng Hau Yeo. (BD)
Nixon Peabody adds IP partner to Chicago office – Two partners have joined Nixon Peabody's Chicago office, one in the IP practice and the other in the complex commercial disputes team. Daniel J Schwartz is an IP trial lawyer for complex patent litigation. He has also handled cases relating to trade secrets, trademark, copyright and licensing. (BD)
April Weisbruch joins McDermott Will & Emery – McDermott Will & Emery has hired April E Weisbruch, who joins the firm's Washington, DC office as a partner within the IP practice. Weisbruch's practice includes large scale patent litigation and counseling. She is particularly experienced in the life science and high-tech industries. Weisbruch previously worked in Sheppard Mullin's and Goodwin Proctor's IP practice. (BD)
Arent Fox expands patent and life sciences practices – Arent Fox has announced the appointment of Daniel C Stelter and Laurence H Posorske to of counsel. Stelter and Posorske will join the patent practice and life sciences group in San Francisco and Washington, DC, respectively. Stelter previously worked at Cardinal Health, Inc., where he was the vice president and chief counsel of IP. At Arent Fox he will advise clients on managing their IP portfolios, handling issues relating to patent assets, unpatented inventions, trade secrets, trademark assets, copyrights, design rights, and internet/software rights. He also works on transactions and licensing matters. Posorske represents clients in issues pertaining to patents and technology licensing, and provides strategic counsel on the structure and enforcement of IP portfolios. He has a strong background in life sciences, having worked as an industrial research scientist in the fields of enzymology, biotechnology, food processing, papermaking, and biomass-to-energy conversion. (BD)
Abril Abogados and Jacobacci Group join forces to make super IP boutique – Spanish firm Abril Abogados and Italian firm Jacobacci & Partners have agreed to merge their Spanish office to provide a strong IP boutique offering in Spain. Abril Abogados has over 20 years of experience as a boutique IP firm in Spain while Jacobacci Group has expanded its European network to a total of 16 offices. (JW)
And finally...
WTR returns to Chicago next week for Managing Trademark Assets and Brand Protection Online – WTR is bringing Managing Trademark Assets USA and Brand Protection Online USA to the windy city next week. The back-to-back events on 3 and 4 March 2020 will provide an opportunity for attendees to hear best practice and insight from leading in-house counsel from the world's biggest brands as they discuss their approaches to critical areas, as well as share their own insights with peers and colleagues. The sell-out events' return to Chicago is not one to be missed. To sign up to attend Managing Trademark Assets USA, click here, and to sign up to attend Brand Protection Online USA, click here. (JW)