WTR's INTA highlights: remembering the 2023 Annual Meeting through 17 unofficial awards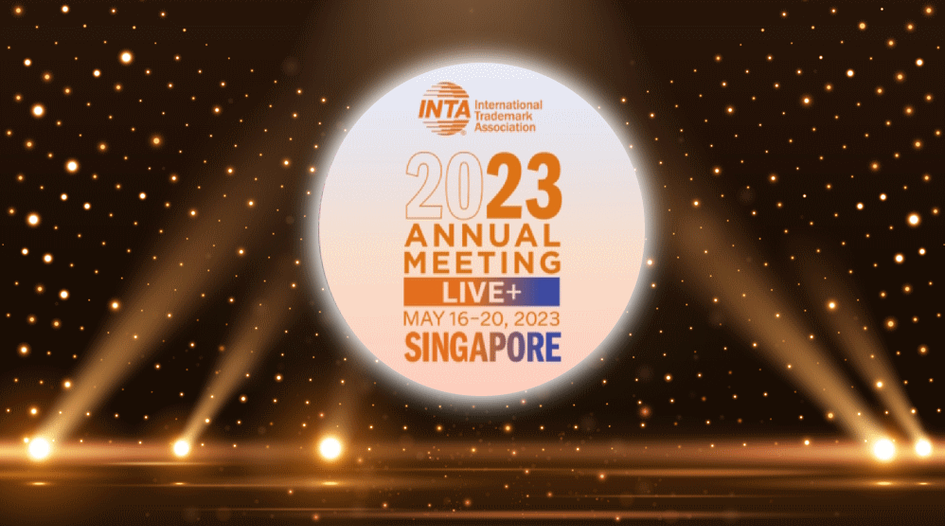 As the 2023 INTA Annual Meeting draws to a close, we reflect on a lively week full of memorable moments.
This week, we celebrated the sterling work carried out by in-house leaders at the WTR Industry Awards. But as a busy week in Singapore comes to an end, there is plenty more to celebrate. 
The WTR team therefore sat down to compile our own informal INTA awards, designed to recognise the special moments that make the INTA Annual Meeting the unique event that it is. And a few of the biggest 'fails'…
Best conference session WTR attended
One of the highlights of the Annual Meeting is to sit in on sessions and get the inside track on the latest trends, challenges and opportunities in the trademark world. This year, the team enjoyed a range of content, but one session in particular was met with great enthusiasm. 
Winner: "Delhi High Court IP Division – The Journey and the Way Forward", a session enthusiastically received by the Indian IP community, culminating in an impromptu photo of the panellists with their captivated audience.
Best speaker
For some, public speaking is torture. For others it is an art. With an array of sessions on offer, the WTR team saw some great presentations and sat in on some stellar discussions. So who owned the room this year? 
Winner: Jomarie Fredericks, with great respect from WTR for singing, too!
Most unlikely duo
We would be remiss not to mention another highlight of the opening ceremonies: the surprise appearance of Digital Danny, the digital avatar of Danny Marti, head of public affairs and global policy at Tencent. The unlikely duo had a 10-minute interaction that included multiple languages, facial reactions and theatrical routines, much to the delight of those in attendance – although WTR has it on good authority that the original iteration of Digital Danny was slightly more terrifying, and is intent on taking over the world.
Winners: Danny Marti/Digital Danny
Best soundbite
A good speech is often remembered by the most telling soundbite. Here's what inspired us this year.
Winner: "IP is the sphere that never stops, no matter what happens" – Dana Kaplunenko, Patent Law Agency IPK, Ukraine
Best informal soundbite
With around 8,000 INTA delegates in town for the week, the WTR team has been privy to – and had the joy of overhearing – a range of colourful conversations. But the most popular talking point has been the humidity. With a number of friends and colleagues making the mistake of taking a 10-minute walk between meetings, flushed faces and sticky shirts have become a familiar sight. For that reason, the quote of the year this year has to be that familiar opening…
Winner: "Sorry I'm so sweaty"
Best exhibition hall freebie
Journalists love two things more than anything else: a free drink and a free exhibition goodie. Some freebies can even create a waitlist. Our winner's bright pink, iridescent tote bag was so popular among attendees that there was a 50-long waitlist to grab one. Many were left disappointed when it came down to the last eight an hour before the marketplace closed on the final day. 
Winner: Huski.ai tote bag
Best exhibition stand gimmick
With around twice as many stands, the exhibition hall was significantly larger this year than in DC in 2022. Therefore, standing out from the crowd has been a tougher task. Among a number of valiant efforts, one stand in particular caught our attention – and kept us busy as we put our skills to the test.
Winner: TikTok's arcade-style claw machine
Honourable mention: Countercheck's mock parcel scanner
Best local dish
One of the best things about being in Singapore was the opportunity to enjoy the local cuisine. The WTR team was armed with a list of food to try, and managed to tick off quite a few. Although it is difficult to select the best tasting, two were group favourites. 
Winner: Singapore chilli crab
Honourable mention: McDonalds' McSpicy burger (yes, really!)
Biggest food faux pas
There was one downside to having so many delicious food options this year. Meetings over a meal can be fraught with risk. The winner here claimed a number of victims – namely, those consuming – but not expecting – soup-filled dumplings. More than one member of the WTR team observed the horror of liquid explosions as unwitting diners bit into their culinary treats. Clean up on table five!
Winner: Spilling soup-filled xiao long bao at Din Tai Fung
Best reception WTR attended 
To serve our subscribers, the WTR team made sure to attend as many receptions as possible. It's a dirty job, but someone has to do it. This is a tough category to judge, but our favourite stands out for the worthiness of its cause, and for inspiring so many in the community to take action.
Winner: Brand Action fundraiser in support of the World Central Kitchen and the Leleka Foundation 
Longest wait time for a reception
The one time that IP lawyers do not reconsider their billable hour is while waiting in line to enter a club. While 1,600 partygoers rocked to a party playlist in Zouk, by midnight about 50 more had been patiently waiting outside for nearly an hour to get in. 
Winner: Chadha and Chadha at Zouk Nightclub
Most star-studded reception 
Some have described the INTA Annual Meeting as one big party. But with multiple receptions to hop around, who hosted the one that nearly all the who's who of the trademark world turned up for? (Note: journalistic integrity prevents us from voting for our very own WTR Industry Awards.)
Winner: INTA president's dessert reception
Honourable mention: Elipe
Best reception nibbles
Regular meal times go out of the window when the INTA Annual Meeting kicks off, making reception nibbles the sustenance of choice. The king of the canapés this year?
Winner: CMS
Most popular venue
Most of the action happens outside the conference centre when the INTA crowds get together. Home of the famous Singapore Sling cocktail, one venue was the hottest place in town. And when you're meeting with colleagues from dawn 'til dusk, some delegates admitted that breakfast cocktails were not out of the question.
Winner: The Long Bar, Raffles Hotel
Most unexpected sight at a reception
The names have been redacted to protect the innocent, but one thing that is guaranteed during the INTA Annual Meeting is strange occurrences at receptions. Usually after a few drinks. One image in particular will stick with us long after this year's meet-up.
Winner: INTA CEO Etienne Sanz de Acedo riding the wild waterways of the Jurassic Park Rapids Adventure at Universal Studios
Best rumour of the conference
One of the most enjoyable aspects of INTA's annual extravaganza is catching up with old friends and – crucially – getting the latest gossip. This year's winner comes from a horror story one WTR reporter heard about an INTA delegate suffering the consequences of stepping out alone in a place where jaywalking is illegal.
Winner: Singapore police will track down jaywalkers to fine them, even if it means interrupting dinner
Biggest effort to be here
With INTA 2023 now at an end, all eyes are on Atlanta, Georgia for 2024. Many delegates will find that the US city is a slightly easier location for them to travel to. But who showed the biggest commitment to be here this year? Of everyone WTR spoke to, the longest journey clocked in at more than a day!
Winner: 29 hours, with two stopovers
And that brings WTR's live coverage of the INTA Annual Meeting 2023 to a close. But it does not end there. Our follow-up coverage will include an interview with CEO Etienne Sanz de Acedo on Monday and a discussion with Tencent about the company's takeaways as the platinum plus sponsor. 
Singapore has been a great host and we wish everyone a safe journey home.