WTR Industry Awards: the 2019 shortlisted teams and individuals unveiled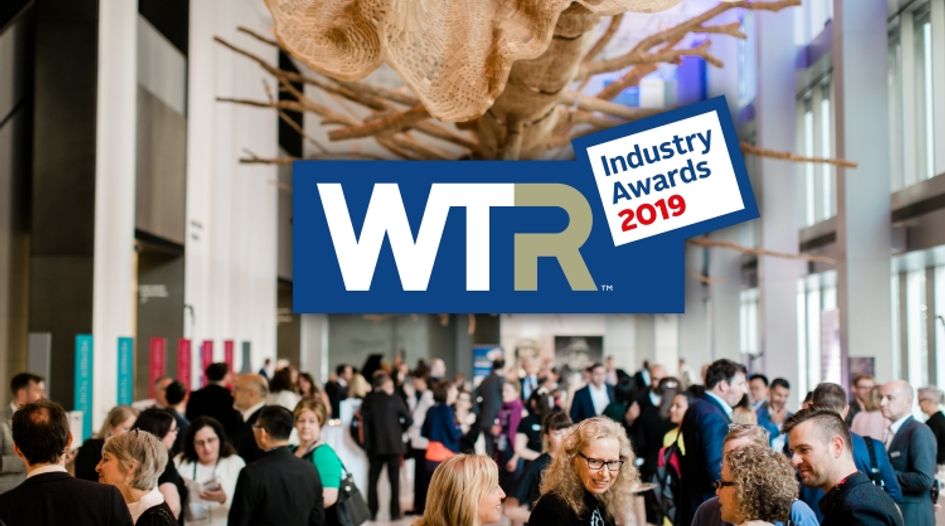 WTR is pleased to reveal the shortlist for the 2019 WTR Industry Awards. Among the corporate teams featured on this year's shortlist are those from Audi, Burberry, Danone, Dell, Groupon, Home Box Office, John Deere, Netflix, Pfizer, Richemont, Treasury Wine Estates and Under Armour.
The list of nominees is the result of four months of extensive research, with WTR surveying the global trademark community for nominations across key industry categories. The shortlist has been selected on the basis of a wide range of criteria, such as active prosecution and/or enforcement of trademarks; successful portfolio exploitation; strong industry/regional expertise; global attitude towards brand expansion and protection; and quality of internal organisation and in-house processes.
This year we have made two changes to the awards scheme. First, we have introduced a local team award, designed to shine the spotlight on excellence on the part of companies based in the host city (and its surrounds) of the awards reception. The second change is to the 'In-house Counsel of the Year' award, which we have renamed 'In-house Leader of the Year'.  The motivation for this change is a desire to be more inclusive and explicitly expand the remit of the award to encompass non-lawyers who are engaging in high-level trademark work. The criteria for shortlisting remains the same – to demonstrate excellence in strategic brand-related work, and demonstrate leadership through example.
The nominees for In-house Leader of the Year 2019 are Netflix's Ali Buttars, Courtney Laginess of Mars, Canada Goose's Geoffrey Marr, Judy McCool of Home Box Office and Daniel Zohny from the Fédération Internationale de Football Association (FIFA). The winner of that award, and the team-based categories, will be announced at a private champagne reception in Boston next month.
However, as is tradition, there is one award winner that can be unveiled in advance. The recipient of this year's Lifetime Achievement award is Jack Chang, currently special counsel to the chair of L Brands International. Over the course of his career, Jack has worked at Johnson & Johnson (where he established and led the IP protection office of its operating companies in China) and General Electric Company. Alongside his distinguished career in-house, Chang is one of the founders of both the Quality Brands Protection Committee (QBPC) and its predecessor, the China Anti-counterfeiting Coalition (set up in 1998). Between 2003 and 2018 he served the organisation – which has around 200 foreign IP owners as members and is dedicated to improving the IP environment and commercial rule of law in China – in a variety of roles, including vice chair, chair and honorary chair. Over the past two decades he has also provided, in person and writing, his observations on China's IP environment and forwarded recommendations to the China State Council leaders and employees.
The 2019 shortlist in full:
Asia-Pacific Team of the Year
Alibaba
Louis Vuitton Malletier
Danone
Tencent
Treasury Wine Estates
Europe, Middle East and Africa Team of the Year
Daniel Wellington
Jaguar Land Rover
Richemont
Sandoz International
The Swatch Group
Latin America Team of the Year
Enova Foods
Grupo Boticário
Grupo ZAP
Natura
PepsiCo
North America Team of the Year
Apple
Home Box Office (HBO)
Netflix
Starbucks
Under Armour
Fashion, Cosmetics and Luxury Goods Team of the Year
adidas
Burberry
Chanel
Christian Louboutin
Louis Vuitton Malletier
Financial and Professional Services Team of the Year
Mastercard
MetLife
NASDAQ
Nationwide Mutual Insurance Company
PayPal
Food, Beverages and Tobacco Team of the Year
Anheuser-Busch InBev
Mars 
PepsiCo
The Hershey Company
Treasury Wine Estates
Healthcare and Life Sciences Team of the Year
Novartis Pharmaceuticals
Pfizer
Sandoz International
Specsavers
Zoetis
Household and Consumer Goods Team of the Year
The 3M Company
Procter & Gamble
Reckitt Benckiser
Spectrum Brands
Unilever
Internet and Telecommunications Team of the Year
Comcast
Netflix
RR Donnelley
Sky International
Verizon Communications
Local Team of the Year
Bose
Dunkin' Brands Group
Harpoon Brewery
'47 Brand
Sage Therapeutics
Not-for-Profit Organisation Team of the Year
Conservation International
Rotary International
The American Red Cross
The Scotch Whisky Association
The Wikimedia Foundation
Retail Team of the Year
7-Eleven
Chewy
Inter IKEA Holding Services
lululemon athletica
Target Corporation
Software and Online Services Team of the Year
Airbnb
Amazon.com
Groupon
Honeywell International 
Nintendo of America
Sports, Entertainment and Media Team of the Year
Discovery
Home Box Office (HBO)
Nike
The Fédération Internationale de Football Association (FIFA)
Warner Bros Entertainment
Technology and Consumer Electronics Team of the Year
Apple
Dell
Google
Havells India
Intel
Travel and Leisure Team of the Year
American Airlines
Caesars Entertainment 
EasyGroup
InterContinental Hotels Group
Uber
Vehicles and Transport Team of the Year
Audi
BMW
John Deere
Toyota Motor Corporation
The Volvo Group
In-house Leader of the Year
Ali Buttars, Netflix
Courtney Laginess, Mars 
Geoffrey Marr, Canada Goose
Judy McCool, Home Box Office
Daniel Zohny, Fédération Internationale de Football Association (FIFA)
Lifetime Achievement Award