WTR heads to Brazil – IPBC Latin America 2019 unveiled with new focus on managing the IP lifecycle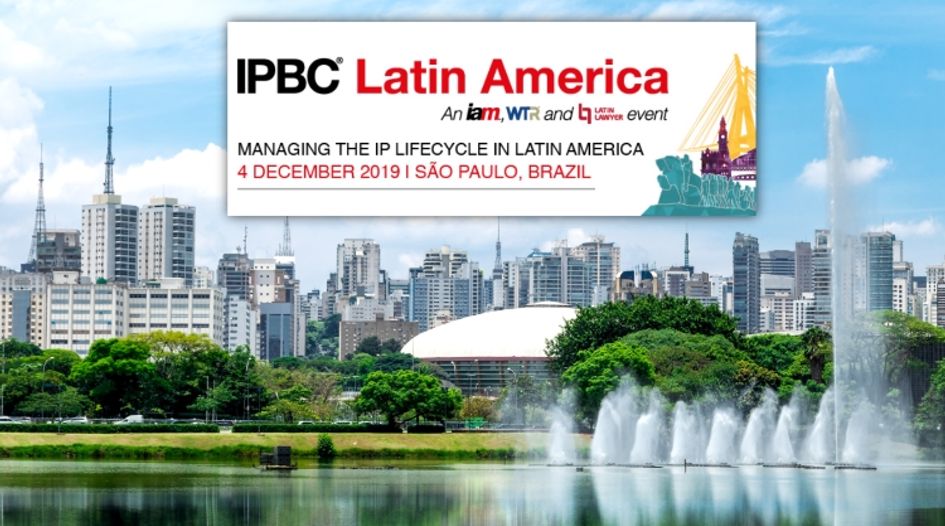 After a successful launch in Rio de Janeiro last year, IPBC Latin America heads to São Paulo on 4 December 2019 to showcase and explore winning strategies for managing the IP lifecycle. This year WTR is teaming up with sister titles IAM and Latin Lawyer on the event, which will include a focus on brands alongside patents and other IP rights. 
At this high-level gathering, which is also supported by The Latin American Corporate Counsel Association, rights holders from Latin America and beyond will delve into the best practice enforcement techniques and monetisation options that can be utilised to craft world-class IP management and value-creation programmes.
In the coming weeks we will announce the first speakers to our line-up of market experts. In the meantime, we can now reveal that the event programme will cover:
Keynote address: managing the IP lifecycle
A senior corporate executive describes their company's IP lifecycle and how it is managed to maximise value for the business overall
New approaches to strategic IP management
With budgets under constant pressure, close management of an IP function is crucial in keeping costs under control. But doing more with less is possible.
Cost-conscious planning: how not to sacrifice quality in IP operations
Maintaining regional and global coverage without cutting corners
Communicating the IP message to the business
The good, the bad and the ugly of IP enforcement
IP disputes, whether in life sciences, telecommunications, automotive, or any other sector, are a fact of life. Staying abreast of growing threats and potential change is vital if you are to enforce your IP effectively.
Building an effective IP enforcement strategy
The litigation climate in Latin America and beyond
International differences and changes on the horizon
Strategies for fighting counterfeits and copycats
The threat from counterfeits and copycats continues to evolve. IP owners need to constantly review their protection strategies, recruit new allies, and — crucially — ensure ROI on enforcement efforts.
Building an enforcement network: from border control to investigators
Cost control does not mean sacrificing results: juggling finite budgets
Choosing the right enforcement option in the right venue to achieve the right result
Keynote address: the role of IP investment and financing
Why, how and when IP-based investment and financing are coming to Latin America – and what this means for IP owners
Making money with your IP
Although often viewed as a cost centre and a strictly legal matter, the IP function can play a key role in business strategy, brand building and value generation. Identifying revenue opportunities and ensuring stakeholders across the business recognise the tangible value that IP can create is key.
Building value and identifying revenue opportunities: technology transfer, franchising and more
To license or not to license: risk versus reward
Turning the IP department into a profit centre
Managing IP risk in the global business environment
As one of the single most important assets a company can own, managing IP does not come without risk. Counsel need to prepare for the unexpected and unknown, position the business for success and identify opportunity in adverse circumstances.
Coverage conundrums: juggling business and legal concerns
Building in IP protection across the supply chain
Preparing for the unexpected
Delegate places at the event cost $595 but – until 13 September 2019 – a saving of $200 is available when using the following code: WTR200
(Note: the WTR200 discount code cannot be redeemed by IP service providers)