WTR Connect returns this spring with five days of strategic content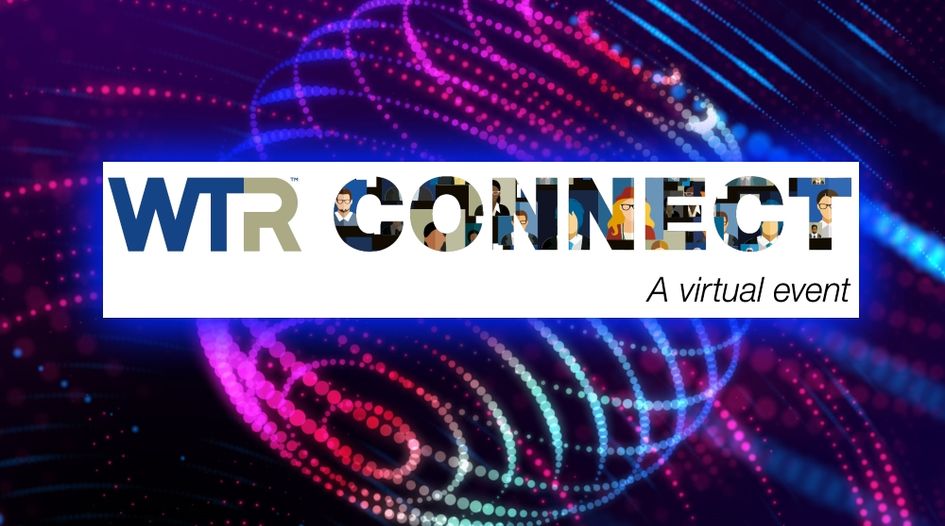 We are pleased to announce that the second WTR Connect series of digital events will take place in March 2021, with registration once again free to WTR subscribers.
In October WTR Connect presented six days of strategic content for trademark and brand professionals. Across two weeks, more than 500 participants from almost 70 countries, came together to participate in open discussion forums, masterclass explorations, solutions rooms and closed-door boardrooms, as well as to hear keynotes from senior leaders from the likes of Amazon, American Red Cross, the EUIPO and the USPTO  (coverage of some of the takeaways is available here). Based on the success of this virtual event series, WTR Connect returns to Zoom on 15 March 2021 for a week of purpose-built trademark and brand protection discussions with the world's leading experts. 
The event will offer more than 20 interactive digital sessions, each designed to facilitate discussion, benchmarking and the sharing of best practice around key topic areas and challenges facing trademark and brand leaders.
The theme for the event is 'exchanging cost-effective and resource-efficient best practices' and each day will start with a keynote address from a major industry figure, which is followed by live breakout discussions lasting for a maximum of 60 minutes. These will be in a variety of different formats including masterclasses, open discussions forums, solution rooms and closed-door, invite-only boardrooms.
Registration is free for WTR subscribers and participants can register for as many sessions as they like across the week, building their own schedule. In the coming weeks we will reveal the expert faculty leading the sessions, but for now, below is the programme for the week.
Monday 15 March 2021
Keynote address
Open Discussion Forum: The future of trademarks: lessons learned from 2020
Solution room: Using AI & new technologies to cost-effectively tackle counterfeiting & illicit trade
Boardroom: Incorporating design rights into brand protection
Tuesday 16 March 2021
Keynote address
Masterclass: Giving it back – mentoring the next generation of trademark talent
Boardroom: The ROI of brand protection efforts
Open discussion forum: A global view – the 'need to know' lowdown from the United States, Europe and China
Wednesday 17 March 2021
Keynote address
Boardroom: Trademark challenges in hospitality
Masterclass: Demonstrating trademark value within the business
Solution room: Confronting misuse in domains on a finite budget
Thursday 18 March 2021
Keynote address
Masterclass: Cost-effectively protecting and enforcing brands in the global environment
Boardroom: Trademark challenges around content creation and delivery
Masterclass: Monetisation in the "new normal" – licensing and commercialisation opportunities
Friday 19 March 2021
Keynote address
Masterclass: Riding the wave – aligning brands with social and political movements
Boardroom: Following the money – when and how to forego takedowns and instead think big picture
Masterclass: Staying ahead of online infringers despite budgetary constraints
For event timings, and to sign up to attend, please click here.