Dispelling counterfeit myths, prioritising budgets, navigating political conflicts – WTR Connect week one takeaways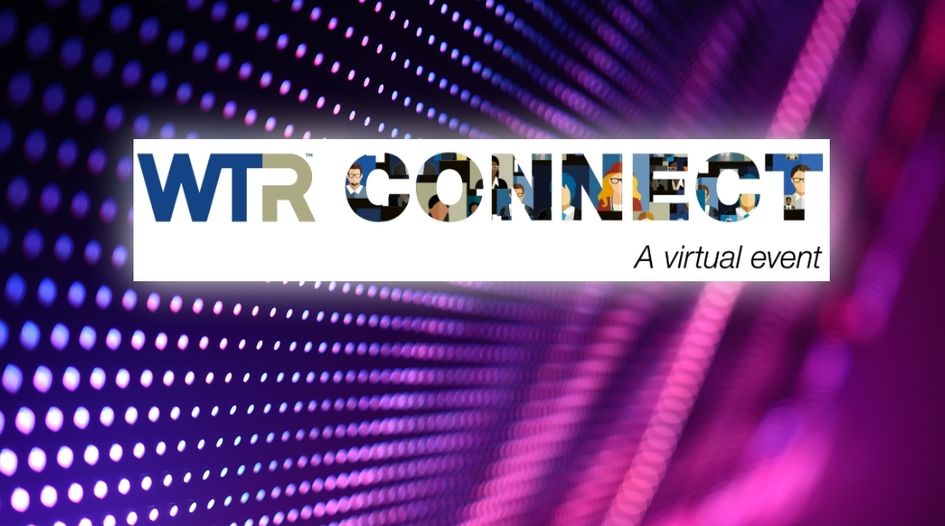 The inaugural WTR Connect virtual conference, bringing together the trademark community to share best practice with major industry figures, is underway. Some of the highlights and learnings from the first week of the event are collated below, including how to prioritise enforcement budgets, fight fakes on Weixin and navigate brands through turbulent political times.
At present, over 550 people have signed up to attend WTR Connect, representing more than 420 different companies in 67 countries. Attendees and speakers are not following the usual webinar model, but rather joining a series of hubs designed to facilitate discussion, benchmarking and the sharing of best practice around key topic areas and challenges facing trademark and brand leaders. There is still time to view the programme and register for next week's sessions. In the meantime, the WTR team has been in attendance throughout each keynote, discussion forum and masterclass. Below are some of the takeaways from the first few days.
Prioritise and plan to get the right enforcement budget – In Tuesday's open discussion forum Deborah Hampton, senior trademark programme manager at The Chemours Company, Stephanie Hall, trademark and brand counsel at Lyft, and Kevin Blum, senior counsel, brands and content, intellectual property at NBCUniversal, got into the detail of how to set up enforcement budgets and what they personally struggle with. For each of our experts, prioritisation was key. Hall suggested the creation of a flow chart matrix that outlines when it is necessary to take action – and when it is not. Blum agreed with the tactic of setting parameters for enforcement before challenges arise, as earlier conversations allow issues to be tackled immediately when they do crop up. Further, and while it might add to costs in the short term, Hall and Hampton argued for the use of online enforcement monitoring tools to act as counsel's "third arm". (BD)
Fakes on the rise everywhere – In the event's first masterclass on Tuesday, entitled 'The unexplored trenches', experts discussed some of the challenges of fighting counterfeit goods. A key message at the beginning of the session was on the increase in fakes caused by the ongoing covid-19 pandemic. For example, Louise Butler, global head of brand protection at Diageo (home of brands including Guinness and Smirnoff), revealed that the most copied brand globally for her is the Johnnie Walker brand, while noting that she has seen a rise in counterfeiting in most regions of the world. "If you'd asked me a year ago, I'd have said we don't have much of a fakes problem in Western Europe – but since the pandemic we certainly do." Furthermore, Lynn Schreier from Swarovski – which has an 11-person IP team covering virtually every facet of intellectual property – said that, in recent years, there has been a "definite increase in quality" of fake goods, both in terms of the product and the packaging. (TJL)
Improvements in LatAm – Elsewhere in the Tuesday masterclass, Diageo's Butler revealed the struggles that Diageo has recently had in enforcing its trademarks on online marketplaces in Latin America. A key issue, she said, was on the various platforms owned by MercadoLibre – the leading e-retailer in the Latin America region. "In the past, we used to get a very mixed response on MercadoLibre," she explained. "We have found engaging directly with the platform was very helpful and they have been incredibly respectful." In fact, such interaction saw MercadoLibre launch its own brand protection portal six months ago, she added, which sees enforcement now done on an 'entire platform' level rather than on a country-by-country basis. "That's been a huge improvement for our online enforcement in Latin America," Butler concluded. (TJL)
IP offices are there to help – even with anti-counterfeiting – Wednesday's sessions kicked off with a number of discussions timed for the Asia-Pacific market. In one, titled 'Managing critical relationships for success in international waters', Julie Herve, IP counsellor at the embassy of France in China, provided a reminder that sometimes IP offices can be key partners in the fight against fakes. Based in Beijing, she noted that the office's international service (currently comprised of 10 IP counsellors based in different embassies around the world) was developed in the 1990s to help French companies fight counterfeiting in particular regions. Over the years the mission has expanded significantly but that original aim remains. "As an example,  a few years ago the French Embassy organised, in liaison with French companies, some training for local Chinese authorities on counterfeiting. The idea was to create a link between the authorities and brands in the wine and spirits sector. A few months after the training, one of the IP owners was informed by Customs that more than 10,000 bottles had been seized. They asked them to confirm that they were counterfeiting, which they were. So the products were destroyed. This is a good example of what a facilitator can help you do – to create a link. Once you know the stakeholders, you can work with them in the future. But we know these links are not easy to establish and maintain." Thus the French IP office, and its IP counsellors, are there to help. (TL)
Fighting fakes on Weixin – In the opening keynote on Wednesday, timed for Asian attendees, JoJo Chen, senior manager, global brand protection at Tencent, provided an update on brand protection on Weixin (starting by noting that Weixin, for Chinese users, is via a different platform to WeChat, which is geared to international users). She noted that Weixin has become a way of life for many users – whether to chat with contacts, send voice messages, play games, order food and drink, pay for products or other purposes. By June 2020, across Weixin and WeChat, there were 1.2 billion monthly users. However, its nature (as a social messaging site rather than an e-commerce site) makes policing difficult. And often, brand owners mistakenly contact the company about counterfeiting challenges encountered elsewhere ("We often get asked to remove counterfeits from Weidian but it is not operated by Weixin. Weixin has no control over the content on Weidian"). However, she notes that there are options for rights holders, including the Weixin brand protection platform. She noted: "The platform allows users to submit clues on counterfeits, via the system, to the brand owner. The rights holder can then investigate the clues and inform Weixin." The company then conducts its own review and issues an enforcement decision. Last year, she revealed, over 300,000 infringement tips were passed on to brand owners, with over 60,000 accounts subsequently taken down. At present, nearly 400 brand owners have taken part in the programme. For those wishing to join the ranks, details on the programme are available here. (TL)
Offline enforcement is where the rubber meets the road – In a keynote on the second day, Graham Clemence, senior director, global IP enforcement and security, Alibaba Group, gave an update on enforcement actions and initiatives that the e-commerce giant has been engaged in. In terms of infringing listings, he noted that 96% of takedown requests are processed within 24 hours, while Alibaba's systems also engage in its own review of listings. Clemence explained: "In 2019, 96% of all proactive removals took place before there was a single sale, which shows our algorithms are learning all the time." However, he urged rights holders not to fixate only on listings, noting: "You can take down as many listings as you want but sometimes it is the source that matters. Going back a few years, a lot of brands  were very focused on listings. It was certainly great to show that you took down millions of items but offline enforcement is where the rubber meets the road." As to offline investigations, Alibaba has a three-pronged approach. First is generating leads and then cooperating with rights holders on law enforcement referrals. Second is that the rights holder provides leads, with Alibaba then helping to build a case for law enforcement cooperation. Lastly, sometimes enforcement authorities come to the company for assistance. As to results, in 2019 over 1,045 leads were passed to law enforcement, with 4,125 arrests subsequently made following leads from the company. This also resulted in 2,029 illicit manufacturing and distribution facilities being closed by law enforcement. In short, online matters but offline is where truly meaningful action can be taken. (TL)
Nothing is straightforward when it comes to navigating brands through political movements – Brands and businesses need to have a position on social issues in a way that they did not have to in the past. It is hard to pinpoint what caused this shift, but it is perhaps because of the rise of social media and the "instant brand engagement" that followed, or it is just the fact that there is far more interaction between companies and their consumers. Either way, brands are increasingly becoming more active in discussions around political and social issues. Some companies may voluntarily speak out on matters, but in some instances there is no choice and a problem is forced on them. The question, then, is how do brands respond to movements? The answer: it depends. The experts in this masterclass argued that how businesses support causes, or respond to movements, is dependent on the company as a whole or even the individual brands themselves. For example, Sharon Sorkin, formerly of Mars Wrigley and currently chief trademark counsel at Ford Motor Company, pointed to the Skittles campaign to recognise LGBTQ Pride month. Importantly, this was an authentic response that was a natural for the Skittles brand. One additional point that was raised by the experts was the fact that it was not the sole responsibility of the legal team to craft a brand's position or response to a political or social matter. While the speakers agreed that a trademark practitioner should be a stakeholder in these discussions, it ultimately needs to be a collaborative approach that includes public relations and the company's upper management. (BD)
Being an ally is not enough, we need to be accomplices too – Wednesday's open discussion forum saw Adraea Brown, director legal, trademarks and brand protection at Harley-Davidson Motor Company, Debra Hughes, assistant general counsel at Blue Cross Shield, Mary-Olga Lovett, senior vice president at Greenberg Traurig, and Tina Pompey, principal counsel, intellectual property at Walt Disney, come together to discuss recruitment, diversity and inclusion (D&I) in the trademark profession. Recent data may be indicative of a diversity problem in the field, but as Brown noted: "Part of the solution is at least recognising that you have a problem." The next step is to tackle it on a personal level. "D&I is personal," said Hughes. "It's not about what happens at a session like this, or the grand gestures law firms make, it's the intimate conversations you have with friends, at networking sessions or in the breakroom at the office." So how do you make a change personally? For starters, Brown recommends the American Bar Association 21-day racial equity habit-building challenge. "It's very different from other D&I training," she admitted. "It's personal." By reflecting in this way, you can start to take daily micro-actions that advance things further than a discussion can. To quote John Lewis, you have to "get in good trouble" said Pompey. This means having difficult conversations, speaking up for people when they are not in the room, and demanding more from firms and external partners in order to elevate others. This is the difference between being a passive 'ally' and an active 'accomplice'. Accomplices demand that teams not only have diverse participants, but that those participants have meaningful work. Summer internships that combine in-house and private practice experiences are one way to achieve this, as is threatening to withhold work if diverse attorneys are not represented on a firm level. Ultimately, we have to proactively support each other. For Hughes, this means reaching out: "When you see women attorneys at conferences, connect with them! When you see diverse attorneys at conferences, connect with them!" It is up to each of us to keep pushing forward. (VA)
How covid-19 has busted counterfeiting myths – Opening the third day of WTR Connect was Jeffrey Hardy, director general of TRACIT, who provided an address titled 'Fakes, frauds and fixing it'. In it, he noted that the covid-19 pandemic has highlighted the legitimacy of warnings that have been made to legislators and the public for a number of years: "We always come to governments with policy recommendations and we have cried out that organised crime is involved in counterfeiting and piracy. One of the observations that can be made due to the pandemic is that criminals have now exposed themselves as being really involved in this. The amount of criminal activity has never been as high as it is now. The second myth is that counterfeiting is a harmless crime and a major observation that can be made is that there is a lot of harm. We have seen that clearly recently." The key now is ensuring that law makers act on this knowledge and that the message is not forgotten post-pandemic. (TL)
Finding ways to justify the trademark budget – It's incredibly important that trademark professionals can ensure that their clients and companies see that offer a return on investment. However, explaining to people who don't understand what you do and why is a complex challenge. Niall Trainor, senior director, brand protection, family and brands at Entertainment One, notes that if there are tangible numbers you can find for a trademark's worth, that can be a helpful tool to demonstrate value. For Mark Bearfoot, legal director, global brand protection at Tommy Hilfiger, it's all about consistent and regular communication with management to better explain exactly what you do. You have to acknowledge IP infringement as a serious risk to the business and communicate what you are seeing in terms of real external threats to your brand. This can be done by framing counterfeits as competitors, but also by using consumer reports on how fraud impacts their experience and trust in brands. Turning to budgeting, Jennifer Chung, general counsel and chief legal officer for AccuWeather, warned that there is a risk that the business will not stop to think about legal's budget and allow it to function on autopilot. There is therefore a need to regularly review previous years' budgets to reassess how money has been used and what the future demands of the business are, in a bid to predict future needs. Trainor found that by budgeting for litigation as a contingency, the money brought back by damages can help balance the year's books. Chung also suggests that selling off some surprisingly valuable domains can be a good trick to opening up more funds. (JW)