Wrigley takes on THC-infused Skittles; Diablo trademark dispute; EUIPO launches SME support fund – news digest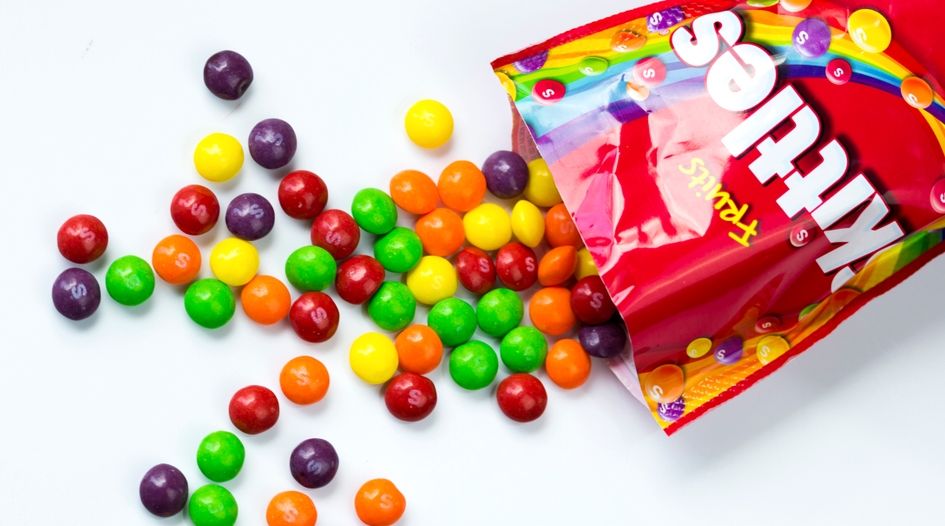 Every Tuesday and Friday, WTR presents a round-up of news, developments and insights from across the trademark sphere. In our latest round-up, we look at a court valuing the name and likeness of Michael Jackson, Anaqua acquiring SeeUnity, ICANN publishing its 'proposed for adoption' financial and budget plans, and much more. Coverage this time from Bridget Diakun (BD), Tim Lince (TJL) and Trevor Little (TL).
Market radar:
Anaqua acquires SeeUnity – IP management technology solutions provider Anaqua has acquired SeeUnity, a provider of API-based content integration and migration software products. The company states that the transaction provides Anaqua customers greater interconnectivity between its IP management software and other enterprise systems, and builds on SeeUnity's success in delivering enhanced connectivity solutions to the broader legal industry. All of SeeUnity's employees will join Anaqua as part of the acquisition, with SeeUnity co-founder and CEO Dan Anderson leading the business unit as vice president and general manager. Anaqua has stated that it will invest in growing the SeeUnity business and its core products. "Within IP and beyond, organizations need a simplified and secure way to access, manage, and interact with their enterprise content," explained Justin Crotty, COO of Anaqua. "Strong connectivity is essential for companies to be agile and successful, which is why we have selected a leader in API-based integration, SeeUnity, to connect our IP management software solutions to other platforms associated with the IP workflow, including document management, legal matter management, HR, CRM, collaboration, and finance systems." Providing a SeeUnity perspective, Anderson said: "Anaqua's investment in SeeUnity will enable us to better support our customers and partners globally and the R&D investment will allow us to accelerate the development of new features and data connectors to strengthen existing products. We are excited to join the Anaqua team and look forward to innovating together to keep delivering solutions that will help customers be successful in their practice." (TL)
NetObjex and Zortag team up on anti-counterfeiting and tracking – Software-as-a-service platform NetObjex has announced a partnership with security and authentication technologies maker Zortag, in order to collaborate on anti-counterfeiting. NetObjex has developed non-fungible tokens (NFTs) for digital, physical and dynamic assets, allowing unique assets – including digital and physical items – to be tokenised. Satya Sharma, president and CEO of Zortag, expands: "We have a patented technology at Zortag that is a powerful anti-counterfeiting solution, and when integrated with NetObjex provides customers with the peace of mind that the physical asset backing the NFT is in fact authentic." The NetObjex platform provides capabilities for creating digital twins of physical assets, associating that twin with an NFT on a blockchain and securing vaults for those wanting to warehouse their valuables. Additionally, wallets with Zortag scanning capabilities allow consumers to verify physical goods. (TL)
IPR Center launches community-based initiative to help SMEs – The National Intellectual Property Rights Coordination Center (IPR Center) – in partnership with Michigan State University's Center for Anti-counterfeiting and Product Protection (A-CAPP), the US Chamber of Commerce and the Better Business Bureau – has announced the launch of IP Protect. The initiative provides free resources to help SMEs protect themselves against IP theft and fraud, and increase cybersecurity awareness. This includes: direct points of contact for assistance or reporting tips related to IP theft, fraud, cyber intrusions, website fraud and trade secret violations; brand protection best practices; image and content rights protection guidance; software development protection; and guidance on trademark registration steps and resources. "Small and medium sized businesses face notable risks to their intellectual property due to their limited resources to detect and counter their exposure. Developing initiatives like IP Project, along with effective and economical tools and guides, can be a critical resource to support their protection," explained A-CAPP Center director Jeff Rojek. (TL)
Brand radar:
Jakks Pacific and Disguise to monetise PAW Patrol: The Movie – Jakks Pacific and Disguise, the Halloween costume division at Jakks, have been granted the rights to develop products in the United States for PAW Patrol: The Movie, reports License Global. Disguise will design, market, manufacture and distribute costumes for the label, while Jakks will handle PAW Patrol: The Movie-branded product lines. "Disguise is proud to be working with ViacomCBS Consumer Products for the very first time on costumes to support the massively-popular 'PAW Patrol' brand as it takes to the big screen for the first time," says Tara Hefter, executive vice president and general manager, Disguise. (BD)
Tiffany launches engagement rings for men – Tiffany & Co, recently acquired by French powerhouse LVMH, has unveiled a collection of diamond engagement rings designed for grooms, called the Charles Tiffany Setting. Women's engagement rings account for 26% of the company's total revenue, so its expansion into a men's line makes business sense. Few big brands or luxury houses offer this type of jewellery, meaning that it could be a way for Tiffany to distinguish itself from competitors. (BD)
Tyson expands Raised & Rooted label – Tyson is adding a vegan burger to its Raised & Rooted product line for the first time, reports Bloomberg. Other alternative protein products due to be launched include faux ground beef, as well as bratwurst and Italian sausage. The US meat manufacturer is looking to compete with the likes of Beyond Meat and Impossible Foods, two brands with a strong presence in the plant-based market. (BD)
Court values Michael Jackson name and likeness – In a new ruling on how much tax Michael Jackson's estate owed the US Internal Revenue Service (IRS) after his death in 2009, a court has valued the pop star's name and likeness at $4.15 million at the time of his death. This is significantly less than the IRS' valuation of $434 million and significantly more than the Jackson estate's valuation of $2,000 (which subsequently rose to $3 million). In his ruling, Judge Mark Holmes claimed that the argument from the IRS was "unreliable and unpersuasive", adding: "Jackson had outlived the peak of his popularity, but in the decades before his death he kept spending as if he had not. Just as the grave will swallow Jackson's fame, time will erode the estate's income. It resurrected and then sold what became its most valuable asset to Sony before trial. The value of what it has left, no matter how well managed, will now dwindle as Jackson's copyrights expire and his image and likeness shuffle first into irrelevance and then into the public domain." (TJL)
Legal radar:
Blizzard tells Fox to go to hell in Diablo dispute – Blizzard Entertainment has filed an opposition at the USPTO to prevent the registration of the trademark DIABLO. The application was filed by media company Fox in relation to a dog character's name in an upcoming TV show, HouseBroken. For Blizzard, Diablo is the name of one of its most popular, long-running video game series, which first launched in 1997 and has a new game in development. According to PC Games, Blizzard claims that the Fox trademark is "likely to cause confusion or mistake or to deceive". (TJL)
Wrigley takes on THC-infused products – Food company Wrigley, a unit of Mars Inc, has filed a lawsuit against online shops (including '2020ediblez.com', 'ie420supply.com' and 'oc420collection.com') that sell THC-infused products relating to a number of its own confectionery products. According to Crain's Chicago Business, some of the items that Wrigley claims infringe its trademarks are "Medicated Skittles", "Starburst Gummies" and "Life Savers Medicated Gummies". In the complaint, which was filed in a California federal court yesterday, the products "pose a great danger to the public as anyone, children and adults alike, could easily mistake the infringing cannabis-infused products for Wrigley's famous and beloved candies and inadvertently ingest" the THC in them. Wrigley is seeking $2 million in damages for each type of confectionery item sold. (TJL)
Office radar:
(For more of the latest coronavirus-related updates from national IP offices, please read our dedicated article which is being continuously updated.)
EUIPO opens latest SME financial support window – The EUIPO has opened the third application window for the Ideas Powered for Business SME Fund. The scheme offers financial support to SMEs, with reimbursements of up to €1,500 for IP costs. The scheme helps with basic application fees or pre-diagnostic services to help develop IP strategies, with the current window open until 31 May 2021. Two more windows are planned for June and September. Information on how to apply can be found in all EU languages here. Elsewhere, the office has announced the launch of a six-month pilot programme to replace attachments with links in official communications, commencing on 15 May 2021. If successful, the solution will be implemented as standard practice from mid-November 2021. (TL)
Domain Radar:
ICANN publishes 'proposed for adoption' financial and budget plans  – ICANN has published the Proposed for Adoption FY22-26 Operating and Financial Plan and the FY22 Operating Plan and Budget, which will be considered for adoption by the board in mid-May. Publishing the plans aims to ensure transparency by showing exactly what changed in the first drafts, prior to their adoption by the board. These versions have taken into consideration public comments and, where appropriate and feasible, these have been incorporated into the Proposed for Adoption plans. However, there were no significant changes to the FY22 Draft Plans posted in December 2020. The board is expected to consider the Proposed for Adoption FY22-26 Operating and Financial Plan and the FY22 Operating Plan and Budget during an upcoming board meeting in May. (TL)
On the move:
Neal Gerber Eisenberg adds IP partner – Neal Gerber Eisenberg has announced the addition of Emer Simic as partner in its IP practice group. Simic's practice focuses on pharmaceutical patent litigation, post-grant review, opinions and client counselling. She has additional experience in representing both patent holders and defendants in complex Hatch-Waxman and patent infringement disputes, including successfully arguing cases involving co-pending inter partes review proceedings before the US district courts and the US Patent Trial and Appeal Board. "We are excited to welcome Emer to the firm and our intellectual property practice," said Scott Fisher, managing partner of Neal Gerber Eisenberg. "As a veteran litigator in the pharmaceutical and biotech fields, Emer will be an invaluable asset for our growing roster of life sciences clients." (TL)
Brainbase unveils new hires – IP management software company Brainbase has announced that Courtenay Schreibeis and Thomas Rickard have joined the company as senior customer success managers. Schreibeis is a certified qualified licensing practitioner from Licensing International and has a decade of brand licensing experience, most recently at OpSec. Rickard has a customer experience background at organisations including Paypal, Oracle and LinkedIn. (TL)
Pashman Stein Walder Hayden appoints new IP practice chair – Lisa M Buckley has joined Pashman Stein Walder Hayden as partner and chair of the firm's IP practice, as well as a partner within its litigation practice. "We are thrilled to welcome Lisa to lead and help us grow our intellectual property practice," said managing partner Mike Stein. "She is a strong advocate for companies and individuals, with a well-earned reputation for her IP counsel to clients and her many litigation successes. Her arrival significantly strengthens the firm's full-service capabilities, and our clients across industries will benefit from Lisa's intellectual property experience." (BD)
And finally...
WTR launches major new Special Report series – Whether they are specific individuals or particular jurisdictions, the rise to prominence of mass filers over the past few years has had a significant impact on the trademark landscape. For the first of our new quarterly Special Reports, WTR has taken a deep dive into the data behind the trend, charting the rise of mass filers, analysing their activity, investigating the real-world effect that they are having and, crucially, exploring how rights holders and registries can mitigate their impact on brand development and protection efforts. The report is the first of a new series of quarterly offerings, which will deliver an in-depth exploration of a key theme or topic, with practical takeaways and unique insights. The full report is available exclusively to WTR subscribers here, and in the WTR Report Centre.