WIPO new deputy generals; Wish accused of counterfeits problem; Secerna and Xeros team up – news digest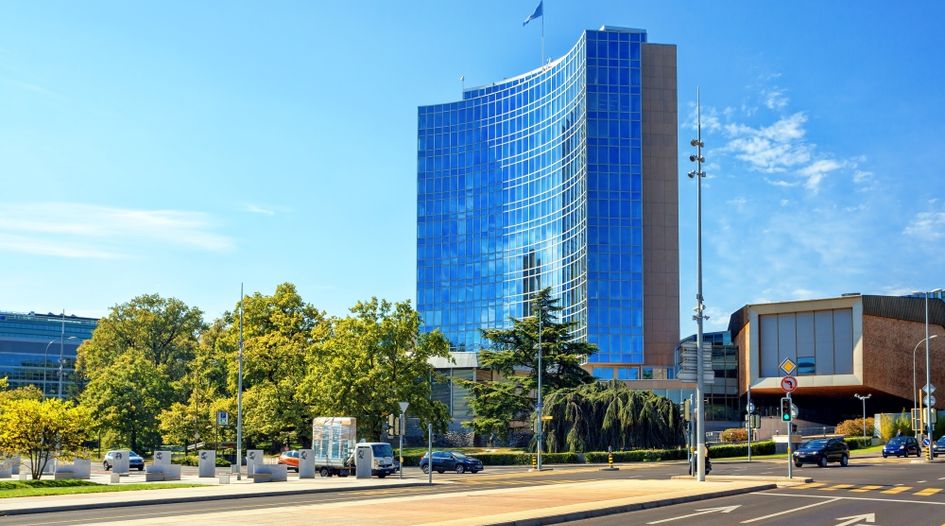 Every Tuesday and Friday, WTR presents a round-up of news, developments and insights from across the trademark sphere. In our latest round-up, we look at Create A Treat securing a licensing deal with Crayola, Ridestore AB acquiring the Dope clothing trademark, China moving towards establishing a fourth IP Court, and much more. Coverage this time from Trevor Little (TL), Bridget Diakun (BD), Jonathan Walfisz (JW) and Tim Lince (TJL).
Market radar:
Create A Treat secures licensing deal with Crayola – Create A Treat has signed a licensing agreement for the "conception, manufacturing and distribution of co-brand Crayola cookie kits". These co-branded products, such as cookie decorating kits and gingerbread houses, will be made available in the US and Canada. It is a good example of brands teaming up to get their logos and trademarks in front of key audiences, which is especially important at Christmas time when people are looking to do their holiday shopping. (BD)
Secerna and Xeros team up – Intellectual property specialist firm Secerna has been appointed by UK-based global technology group Xeros Technology to support the company's in-house intellectual property team. Xeros develops environmentally friendly technologies which are used in garment manufacturing, domestic and commercial laundry, and microfibre filtration. Attorneys from Secerna are now working alongside the team at Xeros to look after parts of the company's IP portfolio, covering a wide range of geographies including Asia, Europe and the Americas. Secerna Partner Jason Boakes stated, "We're thrilled to be partnering with the Xeros team, whose innovative technologies have created sustainable solutions in laundry and apparel manufacturing across the globe. The fact that they are a fellow Yorkshire business is the cherry on the cake." (TL)
Ridestore buys dope (clothing trademarks) – Snowboard, ski & streetwear brand Ridestore AB has announced the acquisition of the Dope clothing trademark in the USA and Canada from EPOD America. The Dope Cannabidiol business remains with EPOD America and will continue from 'www.dope.com', with EPOD America continuing to sell apparel through the site until 30 June 2021. "I'm ecstatic to sell the Dope clothing trademark to a strategic buyer which will be able to continue the legacy. This also will make it possible for me and my team to put our full focus on growing DOPE CBD, DOPE CBD Franchises and DOPE Cannabis in the future," stated Rob Gough, CEO of EPOD. (TL)
Wish accused of counterfeits problem – The French administration in charge of consumer rights and fraud has accused ecommerce platform Wish of "selling products, such as sneakers and perfumes, with images incorrectly showing the logos of famous brands", reports TechCrunch. The report, which was submitted to a court in Paris, is by the Direction Générale de la Concurrence, de la Consommation et de la Répression des Fraudes (DGCCRF), an administration that reports to the French Ministry for the Economy and Finance. (TJL)
Office radar:
(For more of the latest coronavirus-related updates from national IP offices, please read our dedicated article which is being continuously updated)
USPTO points to portal – The USPTO has issued an alert encouraging customers to submit requests for copies of certified and uncertified patents and trademarks using its Certified Copy Center (CCC) storefront on the USPTO website. Beginning 1 January 2021, the office will direct all email and fax requests to its CCC storefront. Customers may also visit the trademark page to search for and download uncertified copies of registered trademarks. The CCC storefront was set up in 2019 to replace the Order Entry Management System. Under the new system, customers can place online orders for certified and uncertified copies and track the order progression in real time. (TL)
Rospatent and SIPO sign memorandum of understanding – On 2 December 2020, the Chinese and Russian intellectual property offices (SIPO and Rospatent respectively) signed a memorandum of understanding. The signing, which occurred during a meeting between the prime minister of Russia, Mikhail Mishustin, and the premier of China's State Council, Li Keqiang. The document replaces a previous memorandum signed in July 2006. It will include provisions to cooperate on fields including geographical indications and appellations of origin, information technology and data exchange, and provides for the exchange of experience in the field of examination of patents and trademarks, training of personnel, and raising public awareness. (TJL)
OBI deploys new designs platform – The Industrial Property Organisation in Greece (OBI), with the support of the EUIPO's European Cooperation Service, has launched a new online platform for filing electronic design applications. The front office platform, available via the OBI website, launched on 1 December and allows users to take advantage of a set of new features, including user authentication, integration with an external e-payment system and integration with the existing OBI back office system for designs. An update from the EUIPO explains that the launch is the latest implementation of the Software Package, a set of tools developed and offered by the EUIPO to the EU's national and regional intellectual property offices. It expands: "This release is the result of work carried out by the EUIPO and its partners within the framework of the European cooperation projects. These projects support the intellectual property offices in developing more efficient, reliable and user-friendly tools and services for trademarks and designs within the European Union Intellectual Property Network." (TL)
China moves towards establishing a fourth IP Court – At the 78th Chairman's Meeting of the Standing Committee of the 13th National People's Congress (NPC) has suggested a review of the Supreme People's Court proposal to establish a fourth intellectual property court in China, reports the National Law Review. The proposal for the Hainan Free Trade Port Intellectual Property Court will take place at the 24th meeting of the NPC in Beijing from December 22 to 26. If established it will work alongside the specialised IP courts in Beijing, Shanghai and Guangzhou established in 2014. In 2017 20 IP tribunals were established and in 2019 the IP tribunal of the Supreme People's Court was established as part of the country's move to further improve its IP infrastructure. (JW)
WIPO announces appointment of new deputy and assistant directors general – WIPO director general Daren Tang has appointed eight deputy and assistant directors generals, many of which were nominees for the director general election earlier this year. Lisa Jorgenson, Wang Binying, Sylvie Forbin and Hasan Kleib have been appointed as deputy directors general. Kenichiro Natsume, Edward Kwakwa, Marco Alemán and Andrew Staines have been appointed as assistant directors general. Of the eight, Wang, Natsume, Kwakwa and Alemán were the director general nominees for China, Japan, Ghan and Colombia respectively. The group will start their terms on 1 January 2021. Tang said of the appointments: "This is the most gender diverse senior leadership in WIPO's history," and that the group "have not only experience, expertise and commitment, but also the ability to work as a team. We are looking forward to working with all Members and stakeholders to build a balanced, inclusive, forward-looking and dynamic global IP ecosystem". (JW)
Domain Radar:
Top Level Design hands out cash to .gay gTLD charities – Top Level Design, the registrar that runs the .gay gTLD has released a tranche of money to LGBTQ charities, reports Domains Incite. The company promised to give 20% of the money paid per domain to non-profits CenterLink and GLAAD. With $5 from every $25 gTLD given to charity, Top Level Design has handed over $124,400 to the non-profits since the September launch from 6,345 domains. (JW)
In memoriam:
Yin Xintian – According to China IPR, Yin Xintian (尹新天), the former director general of the law and treaty department department of China's State Intellectual Property Office (SIPO) passed away last month. He worked with SIPO from 1982, and has acted in various roles, including a senior member of the Patent Appeal Board and Director of Physical Appeal Chamber and deputy director general of the Administrative Department of Patent Examination. He also received education at the USPTO for six months, the German Federal Patent Court for six months, and carried out research in the IP Research Institute of the Max Planck Institute of Germany for six months.
Arnold B Silverman – A member of Eckert Seamans' intellectual property group, Arnold B Silverman, passed away on 19 November 2020. During a 58-year legal career, Silverman specialised in intellectual property law, and served as chairman of the firm's IP group for nearly 15 years. According to a blog post from Eckert Seamans, Silverman "derived great satisfaction from mentoring young attorneys and having a role in their professional development", and "enjoyed every aspect of his diverse and challenging legal practice". One highlight in the trademark space, says the blog post, "was a 35-year period in which he worked closely with the late longtime Pittsburgh Steelers broadcaster, Myron Cope, to protect and enforce the trademarks for 'The Terrible Towel' and many related products". According to the firm's CEO Timothy Q Hudak: ""we grieve the loss of Arnie Silverman – his contributions to Eckert Seamans, the profession, and our community are almost too numerous to catalog, and we will greatly miss his warm and gracious spirit.""
On the move:
Bird & Bird partner moves to Osborne Clarke – Tim Harris, formerly of Bird & Bird's London office, has joined Osborne Clarke. Harris has been appointed to partner within the firm's IP disputes team. He is an experienced patent litigator who specialises in matters relating to the life sciences, pharmaceutical and biotechnology sectors. "Our IP disputes team has experienced phenomenal growth in the last four years," said Leona Briggs, partner and head of Osborne Clarke's disputes and risk practice group. "Will James has done a great job of building our life sciences patent disputes offering in a relatively short time frame, as part of our broader IP disputes practice. We're thrilled to attract another high quality partner in Tim which brings additional bench-strength to our patent disputes practice, life sciences sector and clients." (BD)
Erick Robinson joins Porter Hedges – Porter Hedges has appointed Erick Robinson to partner within the intellectual property section of the firm's litigation practice group. Robinson is a trial lawyer, patent litigator and IP strategist with a background in computer science, electronics and biotechnology. He also has experience in patent monetisation and licensing. Robinson previously served as director of patents for Qualcomm, as senior patent counsel at Red Hat, and as a director of patent litigation at a top Chinese law firm. Commenting on the appointment, managing partner Rob Reedy said: "Erick's experience from working with some of the world's leading technology companies, both in-house and in private practice, and his knowledge of patent litigation strategies that includes monetisation transactions, fits perfectly with our plan to significantly grow our IP team. Erick is the third partner we have hired in our IP group in the last 18 months, and he will be an invaluable resource to our clients." (BD)
Polsinelli's Miami office gets a boost with double hire – Polsinelli has announced the appointment of intellectual property attorneys Rebecca C E McFadyen and Robert Rodriguez to counsel within the firm's Miami office. Registered patent attorney McFadyen will be a member of Polsinelli's national biotech/life science prosecution practice. Rodriguez joins the firm's national electrical engineering/computer sciences practice. He is an experienced patent attorney who's practice focuses on preparing and prosecuting US and foreign patent applications. (BD)
And finally...
Free-to-attend Brand Strategy China event takes place next week – WTR has unveiled the programme for the fifth annual Brand Strategy China event, which will provide attendees with a series of talks delivering practical, actionable takeaways for professionals tasked with protecting the integrity and maximising the value of their brands across Greater China. This year, the free-to-attend event will be held as a dedicated virtual programme comprising four sessions spread across two half days next week (10 and 11 December) and timed to facilitate evening attendance from US-based trademark professionals. All sessions will be bilingual with simultaneous English and Mandarin translations. Among the confirmed participants are experts from 3M, Amazon, Chanel and Richemont. To secure your place now, free of charge, click here.