WHOIS woes, IP mind maps, and understanding counterfeiters: takeaways on managing trademark assets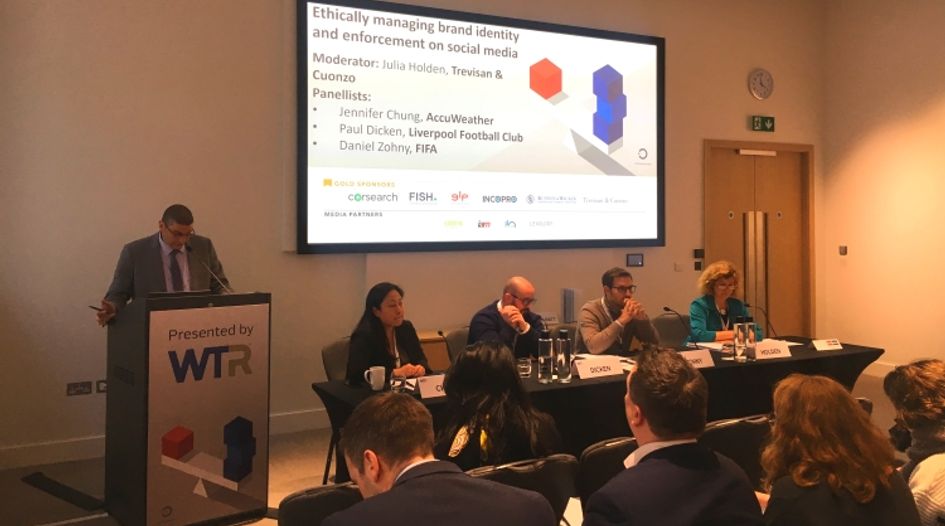 Yesterday, senior in-house and law firm brand professionals convened in London for our latest Managing Trademark Assets Europe event. The day resulted in a constant stream of takeaways, spanning budget management, brand communication, fighting counterfeits with limited resources, overcoming the challenges posed by WHOIS going dark and the ethical enforcement of rights in the social media environment. Here we present a selection of highlights.
If you can't say it in a memo, senior management may not listen
A recurring discussion point during the first two sessions was how to elevate the profile of the legal brand team to get the attention of other internal stakeholders. At the heart of these efforts is the need to position the legal team as a trusted business partner rather than just the 'legal minds' of a company. This can involve 'humanising' the relationship, with Antony Douglass, legal director – IP, data protection, marketing & digital strategy, Specsavers, observing: "The first step is to engage with marketing. I tend to sit with them, attend their events and have active conversations that are not about work. You don't want to be seen as just the lawyer. I've had people come to my desk and be visibly uncomfortable – you forget how scary that 'legal' sign can be." With regards to senior management, engagement may not always be possible (Douglass urging: "Don't obsess with getting access to decision makers, be the decision maker. It's all about being visible") but where dialogue is possible, conveying the financial importance of brand investment is key. Jan Zecher, principal at Fish & Richardson, observed: "What I have seen work, especially in tech-driven companies (where trademarks are seen as the poor cousins of patents), is to make the point that patents do not last forever. Brands do. And that brands also help with recruiting talent. Recruiting can be a challenge but if you have a strong brand, that gives you an edge." Whatever the message, though, the medium is all important. Mark Hodgin, chief counsel, trademarks, Mondelez International, agrees that "you need commercially minded lawyers with their hand at the tiller" but added that an understanding of how management digest information is required. In the past, for example, he has worked with executives who prefer information in 'mind map' formats. In short, simplicity is key: "If you can't fit it onto a page or a memo, you can't communicate it effectively to senior executives."
Want staff to help fight infringement? Give them an app
One of the key benefits of fostering buy-in to the trademark function is to enlist colleagues to the pro-brand cause. For those who are not specifically tasked with brand protection duties, reporting suspected infringement needs to be as easy as possible. At Mondelez International, the team turned to technology to allow staff around the world to interact with them. Hodgin explained: "Your sales teams really are your eyes and ears around the world so we created an app where they could take an image of products on a shelf and send it to us to investigate. We also developed a training programme for business lawyers to conduct with their brand teams as we can't be everywhere." The initiative was a successful one, but Hodgin observes: "You really need to be ready to handle the volumes of work that follow."  
Insourcing can be a 'win-win' scenario
When considering the cost-effectiveness of trademark operations, a key question is whether to insource or outsource work. At Specsavers, explained Douglass, the decision has been to insource more work – but he contends that this can also be a positive for law firms, who have specific expertise that they can bring to bear: "We have traditionally outsourced and recently decided to insource. This was dictated by a number of factors. The portfolio size is quite manageable and it helps in terms of speed and engagement with the business. When you have marketing, product and brand IP, it helps clearance move more quickly – the difference between inhouse and outside counsel is that I don't need to learn the business so I can move very quickly. But you can then use external counsel for the right work – the work where they add real value."
Treat counterfeiters as competitors
In a session focused on how to fight counterfeits when operating with a limited budget, Meena Sayal, former global brand protection director at Unilever, urged companies to conduct competitor analysis on counterfeiters. Speaking in a personal capacity (and not on behalf of Unilever) she explained: "If counterfeiters are using different business models, you need to figure out what those models are and unpick them. For instance, I previously found that counterfeiters followed the company's business model. They realised that, in order to make money from selling shampoo and soap, that you had to manufacture and transport in bulk. As we could understand their model, we could target the countries they were focusing on." This also allows you to go back to the business and more easily communicate the problem and explain why spend is required to fight it. This competitive analysis may also be used to dictate filing patterns, with Helen Saunders, chief product and customer solutions officer at Incopro, observing: You really need to overlay commercial decisions with knowledge of where and how counterfeiters are operating. For instance, we sometimes find that particular client brands are really important for enforcement purposes in particular jurisdictions. They may be among the least important for the business, but they could be crucial for enforcement purposes." At the end of the day, business intelligence is all-important.  
WHOIS as we knew it isn't coming back
The expedited policy development process (EPDP) team – tasked with deciding whether the Temporary Specification for gTLD Registration Data should become an ICANN consensus policy as is, or with modifications – is due to publish its Final Report this week. That date could slip but whenever it comes out, brand owners should not expect imminent clarity on future WHOIS access, warned Susan Payne, head, legal policy, at Com Laude and Valideus. Instead, the issue of access is set to be pushed to a later process, with Payne observing: "A return to the time when information was unmasked has gone – it won't be back." As such, brand owners are faced with a continuation of the current status quo, with Payne noting: "The temporary specification does require registrars to offer reasonable access, where there is a legitimate interest. So you can go to a registrar and ask for registrant information. The challenge, though, is that the specification doesn't say what reasonable access is, which leaves it to registries and registrars to decide. At the moment we have a fragmented approach and, frankly, some are more responsive than others." Brian Conchuratt, director of digital brand solutions at Corsearch did observe that "registrars are in a difficult spot as the data protection authorities are providing no guidance", meaning that they are forced to take a risk-averse approach. That is little comfort to rights holders though. It also means that brand owners need to engage with ICANN's review of the rights protection mechanisms available to them, in a bid to ensure that tools are not blunted further, with Payne noting: "You should comment because some of the crazy proposals being made." On that, Conchuratt added: "And the crazy element is very vocal at ICANN."
Sometimes 'foes' can become allies
The final session of the day focused on ethical enforcement on social media platforms. The dangers of cease and desist letters going viral have been widely reported, resulting in some companies adapting their approach to infringement. However, in addition to avoiding bad PR, sometimes a softer approach is just the right thing to do. For instance, FIFA IP head Daniel Zohny noted: "In around 85% of cases we see, the infringer hasn't really thought about what they are doing. They are often small businesses trying to ride with the excitement of the World Cup. If it's a bigger issue, we will send a cease and desist. But if it isn't, it's just a phone call. Fan sites also use our marks more often than not. Where they are editorial, unless they are really big and have a lot of followers, and give the impression they are official, we let them do what they do." In fact, sometimes the 'infringer' with a love for the brand becomes a positive for the company. Julia Holden, senior partner at Trevisan & Cuonzo provided one such example, where the owner of a Nutella fan site, which boasted over 40,000 followers, received a cease and desist letter from the brand. "The site owner had been on Canadian TV and thought she had received authorisation from Nutella in Canada and that it was OK". When she received the cease and desist, she posted it to her site. Holden recounts: "She explained the letter and said sorry to fans as the site would be blacked out in the coming days. But she was then approached by the company, who offered her a job!" Sometimes an infringer just loves the brand and that can be a useful asset to the company.
Local enforcement may require a more nuanced approach
The challenge of enforcing rights when the infringer is using your marks because they buy into them, rather than seek to maliciously exploit them, is particularly acute for sports brands. In such instances, geography can be all-important. This is the case for Liverpool FC, with brand protection manager Paul Dicken explaining: "We distinguish between counterfeits – and we do go hard against these – and the layer below that, where you have third parties using, for example, our liver bird mark. You have instances where businesses want to associate themselves with the city and they use it. Our first approach in those cases may be a phone call, not a legal approach. Locally we have a 'fans first' philosophy and will always look at issues from that perspective first." Of course, where counterfeiting is taking place or content being stolen, the team will be quick to act. Ultimately, the organisation takes a "three-tiered" approach to enforcement on social media: "First, we disrupt as much as we can. Then we have issues around education and collaboration – particularly in the Liverpool area."  While Premier League football clubs are international economic powerhouses, they are also rooted in their local communities. As such, Liverpool's thoughtful approach to trademark enforcement is one that others would do well to follow.
Details of the next Managing Trademark Assets Europe event will be released in due course. In the meantime, Managing Trademark Assets USA will take place in Chicago on 6 March, focusing on the cost-effective management of international portfolios. The day before, WTR will also be hosting Brand Protection Online: Strategies for Ethical Enforcement at the same venue, taking a deep dive into practical strategies for fighting infringement on ecommerce sites, navigating the changing domain landscape and managing reputation online. To register for Brand Protection Online (or both events) click here. To register for Managing Trademark Assets USA (or both events) click here.