Don't panic? What the UK government's second major Brexit defeat means for trademark owners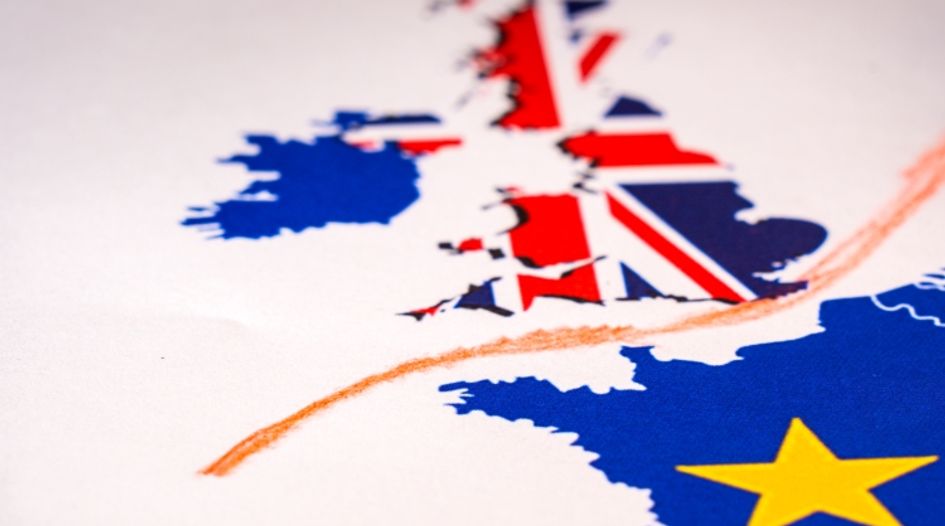 UK prime minister Theresa May loses second vote on Brexit deal by significant margin
MPs will now be given a vote on both 'nodeal' and whether to delay exit from EU
Experts tells WTR that IP practitioners mustn't panic despite continued uncertainty
UK prime minister Theresa May suffered a second catastrophic defeat in as many months as the House of Commons rejected her Brexit deal last night. For trademark owners, it adds another layer of uncertainty, in particular around the timings of planned rights cloning. However, one local expert suggests practitioners must not panic.
The second Brexit deal vote was held yesterday evening, with just 17 days to go until the UK is due to leave the European Union. While prime minister Theresa May urged MPs to "get the deal done", her deal was voted down by 391 votes to 242. The silver-lining for May, perhaps, is that the margin for defeat was less catastrophic than January, when the near-identical deal was voted down by a historic 230 majority. Following this latest defeat, May announced that MPs will now be given a free vote on whether the UK should leave the EU without a deal on 29 March, which will be held later today. Minister are expected to vote to rule out a no-deal, and May is also expected to vote to block such a scenario. On Thursday, MPs will further be given the opportunity to delay Brexit by requesting an extension to article 50.
For trademark owners, especially those outside the UK that do not necessarily follow the situation closely, this latest headline-grabbing vote will raise a number of questions and could be a cause for concern. However,  Lee Curtis, a trademark attorney at UK IP firm HGF, urges all practitioners to relax. "My basic message to trademark owners is not to panic," he told WTR. "I do not believe the government's second defeat in Parliament radically alters the landscape for trademark owners. There may be chaos in Parliament and the political situation is unclear and fluid but the legal provisions for Brexit and its applicability to trademark protection is very clear. Whether there is a deal, or a no-deal and whether there is an extension of Article 50 or not, EU trademark rights will be cloned in the United Kingdom."
Indeed, while yesterday's Brexit deal defeat was significant, tomorrow could be even more critical, says Chris McLeod, partner and trademark attorney at Elkington + Fife in London. "Yesterday was an interesting day, to say the least, but I think that we are no closer yet to knowing whether the UK crashes out on 29 March or not," he tells us. "Parliament voting for a no-deal seems highly unlikely, given yesterday's result, so I think that tomorrow will be the critical day. For trademarks and designs, and for UK practitioners, there is no further clarity, but I feel that an extension to Article 50 is the likely outcome, which may push the transition period beyond the end of 2020. This would be positive for UK practitioners and for business, I would say, as it would substantially reduce the current uncertainty."
Tomorrow's vote, then, could be the first step to delaying the UK's exit from the EU from 29 March to an undetermined date in the future. This could have a direct impact on brand owners, says Curtis. "The uncertain political situation impacts the timing of the IP rights cloning process, not whether it will happen or the basic mechanics of the process," he says. "If there is a no-deal on 29 March 2019, the cloning process starts then. If there is an extension to Article 50, whether for a few months or much longer and then there is a no-deal, the cloning process starts then. If there is a deal, there will be a transitional period – presently envisaged to end in December 2020 – but it could not be longer now and then the cloning process starts then."
The only scenario that will cause major change to the IP rights cloning process is if the UK ends up not leaving the EU, Curtis adds. "Only if there is a second referendum and there is a vote to remain will the trademark landscape radically change, and to be frank that is still probably the least likely outcome at present," he concludes. "However, as Harold Macmillan once said politics is about 'events dear boy events' and Harold Wilson said 'a week is a long time in politics'."
Yesterday's vote – and the further votes today and tomorrow – have certainly not helped to clear the fog when it comes to the future IP implications of Brexit (especially around the rights of representation for UK attorneys). For trademark owners, there's little that can be done right now except to sit back, relax and hope that both the EU and UK's preparations will be sufficient to maintain effective brand protection.