WeChat is the world's fastest growing brand, origin of the Tesla trademark, and cops swoop on fakes: news digest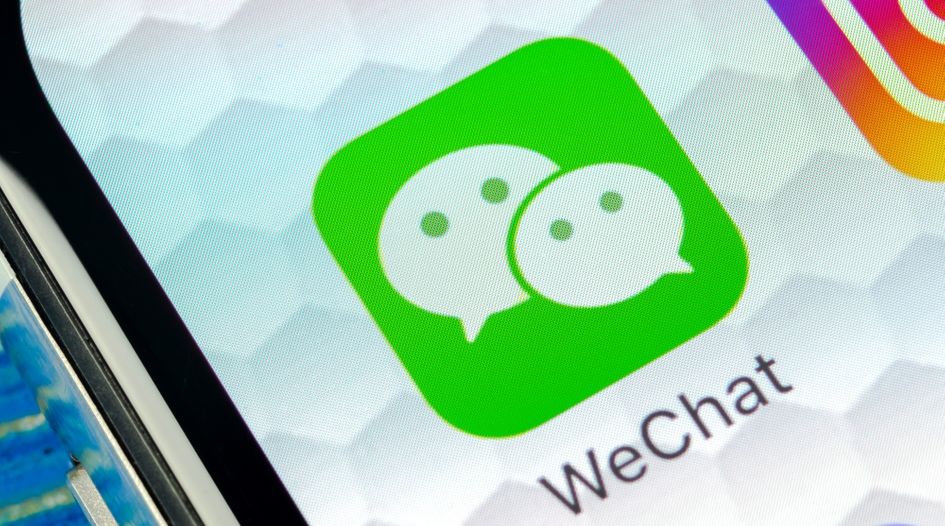 Every Tuesday and Friday, WTR presents a round-up of news, developments and insights from across the trademark sphere. In our latest edition, we look at Honeywell launching an anti-counterfeiting app, SME guidance on fighting parasitic brands, the EUIPO releasing new image recognition technology, and much more. Coverage this time from Trevor Little (TL), Bridget Diakun (BD), Jonathan Walfisz (JW) and Tim Lince (TJL).
Market radar:
WeChat revealed as world's fastest growing brand – WeChat has claimed the title of 'the world's fastest growing brand', with a 1,540% rise in value over five years, according to the latest data from Brand Finance. The inaugural Brand Finance Fastest Growing Brands 2019 ranking compiles data from previous Brand Finance Global 500 rankings to uncover the brands experiencing the most rapid rise in value – with Chinese entities dominating the top ten:
WeChat (China)
Country Garden (China)
Evergrande (China)
NetEase (China)
Facebook (United States)
Porsche (Germany)
Moutai (China)
Huawei (China)
Wuliangye (China)
 Yanghe (China)
Together, Chinese brands claim two out of every three spots in the top 30, and with their combined worth accounting for 48% of the total brand value in the top 100 ranking and equating to a $856.8 billion. Slightly behind China, US brands account for 40% of the total brand value in the ranking, at $727.3 billion. Porsche is the fastest growing brand from outside China or the US, and the only European brand in the top 10. Meanwhile, the sector with the largest presence in the ranking is banking, which boasts a total of 15 brands among the world's top 100. Shanghai Pudong Development Bank has recorded the highest 5-year brand value growth in the industry at 397%. Alex Haigh, valuation director, Brand Finance, commented: "Chinese banks have thrived in the face of turbulent times, shielded by implicit government assurances and benefitting from servicing large state-owned enterprises. A looming question, however, is how long they may continue to enjoy these comfortable conditions. With the US-China trade war reaching peak tensions, Chinese banks may have to look for completely new expansion strategies to continue on their steep trajectory of growth." (TL)
Real Deal 'Fake Free Markets' celebrates birthday – The Real Deal 'Fake-Free Markets' charter, an initiative of the UK's National Markets Group for IP Protection (NMG), marks its tenth anniversary this week. The NMG is made up of a partnership of law enforcement, government and industry stakeholders, supported by the National Association of British Market Authorities (NABMA), and this initiative permits participating local market, car boot sale or selling groups to the 'Real Deal' logo to reassure consumers that they are selling legitimate products. Since 2009, more than 500 local markets have signed up voluntarily to the charter via their local Trading Standards service, helping to stamp out rogue traders and potentially harmful counterfeit products. Patricia Lennon, national coordinator of the 'Real Deal' Campaign for the NMG, said: "The Real Deal charter has proved to be a huge reassurance for shoppers. We cannot praise highly enough the commitment we have seen from markets and Trading Standards across the UK who have jointly signed up to the charter to protect their customers from buying untested, poor quality, potentially unsafe counterfeit products." (TL)
SME guidance on fighting parasitic brands published – The British Brands Group, in collaboration with IPTogether, has published a guide for SMEs on how to tackle parasite brands. As well as putting in place IP protection at an early stage, it recommends that businesses monitor competitors' activities, stating: "If you are unfortunate enough to be faced with a parasitic copy, do not sit on the fence and do nothing. Your packaging is your voice to your shopper and the copy intends to disrupt that, at your expense. The faster you act, the stronger the message you send that you are serious. However, make sure that your first response is persuasive (this is where all your pre-planning and IP protection come to the fore)." The issue of parasitic brand packaging has been one that the British Brands Group has long been focused on. While copycats of major brands often grabs the headlines, it is a challenge that can be faced by businesses of all shapes and sizes. (TL)
Honeywell launches anti-counterfeiting app – Technology company Honeywell has launched an application for its Genetron refrigerators to allow consumers in Saudi Arabia to check for authenticity. According to trade title Technical Review, "Genetron-branded products have been a target for counterfeiters in the Middle East region", with the app hoping to make it more difficult for counterfeiters to fraudulently mislead consumers. The free app is available on iOS and Android. (TJL)
Legal radar:
Legislation mooted to combat fraudulent applications – Ahead of today's Senate Subcommittee on Intellectual Property on 'Fraudulent trademarks: how they undermine the trademark system and harm American consumers and businesses', Representative Hank Johnson, chair of the House Intellectual Property Subcommittee has floated the idea of legislation to combat fraudulent trademark applications. Bloomberg reports that Johnson is pondering measures that include an accelerated cancellation process to expunge unused trademark registrations and directing courts to presume that continued infringement would cause irreparable harm when considering whether to grant preliminary injunctions during trademark litigation. The outlets quotes him as stating: "Legitimate trademarks allow consumers to have confidence that they can trust the source of the products they buy," Johnson said in the statement. "Particularly from a consumer protection standpoint, the trademark system does not work if enforcement of those rights does not result in enjoining bad actors." The issue of fraudulent applications is one that we have reported on at length on WTR, with the USPTO itself introducing measures to combat them. The effectiveness of these measures is still being assessed – today's hearing will likely provide insight into whether legal experts feel enough is being done. (TL)
Office radar:
EUIPO launches new image recognition tech – The EU Intellectual Property Office (EUIPO) has announced the launch of a new artificial intelligence solution as part of its image-based search for designs and trademarks. These new algorithms will apply to eSearch Plus and TMview. According to the registry: "The new algorithms can make Locarno and Vienna class suggestions based on uploaded images, thus making searches for trade marks and designs easier." (TJL)
Media watch:
What's in the Tesla name? – On Sunday, Tesla founder and CEO Elon Musk revealed the difficulty that the company faced when securing the trademark rights to the Tesla name. "Tesla was almost called Faraday, as original holder of Tesla Motors trademark refused to sell it to us," he tweeted. "We sent the nicest person in the company to sit on his doorstep until he at least talked to us and then he said yes." As The Independent expanded on, the company eventually purchased the trademark for $75,000, while the Faraday name was subsequently used by a rival electric car startup. On top of that, the company ended up purchasing 'tesla.com' for $11 milion, which allowed the company to more effectively shorten its brand name from 'Tesla Motors' to 'Tesla' in 2017. The lesson? If you're seeking to buy or license a trademark and the owner isn't keen, send an employee to sit outside their home. On second thoughts… (TJL)
Domain Radar:
Cops swoop on fakes (and over 30,000 domains) – Over 30,500 domain names that were used to facilitate the sale and distribution of counterfeit and pirated items have been seized during Operation IOS X. The operation saw law enforcement authorities from 18 EU Member States and third parties team up with Europol and the US National Intellectual Property Rights Coordination Centre, with facilitation by Eurojust and INTERPOL, to take down sites offering counterfeit pharmaceuticals and pirated movies, illegal television streaming, music, software, electronics, and other bogus products. During the investigation, officials arrested 3 suspects, seized 26,000 luxury products, 363 litres of alcoholic beverages, and many hardware devices. They also identified and froze more than €150,000 in several bank accounts and online payment platforms. (TL)
On the move:
Andersen Global debuts in North Macedonia – Tax and legal services company Andersen Global has signed a collaboration agreement with Law Office Pepeljugoski, marking the debut of Andersen Global in North Macedonia. Andersen Global is an international association of legally separate, independent member firms, with Law Office Pepeljugoski is a multidisciplinary law firm that specialises in business law, intellectual property rights, litigation, customs law and finance. (TL)
And finally...
Managing Trademark Assets returns to London – Following the success of this year's event, WTR's  Managing Trademark Assets Europe is returning to London on 28 January 2020. The event provides an opportunity for attendees to hear best practice and insight from leading in-house counsel from the world's biggest brands as they discuss their approaches to critical areas, as well as share their own insights with peers and colleagues. For the upcoming event we are also increasing the interactive nature of the programme, introducing informal, small-group discussions on dispute resolution scenarios - allowing participants to workshop possible responses with their peers and colleagues. Among the other areas to be explored are budget management, dispute negotiation tactics, best practices around diversity and team building, and how to fight counterfeits on a finite budget. The current registration rate for the event is £395 (excluding VAT). To sign up to attend Managing Trademark Assets Europe, click here. (TL)