"We remain strong" – INTA CEO pledges togetherness as 2020 Annual Meeting begins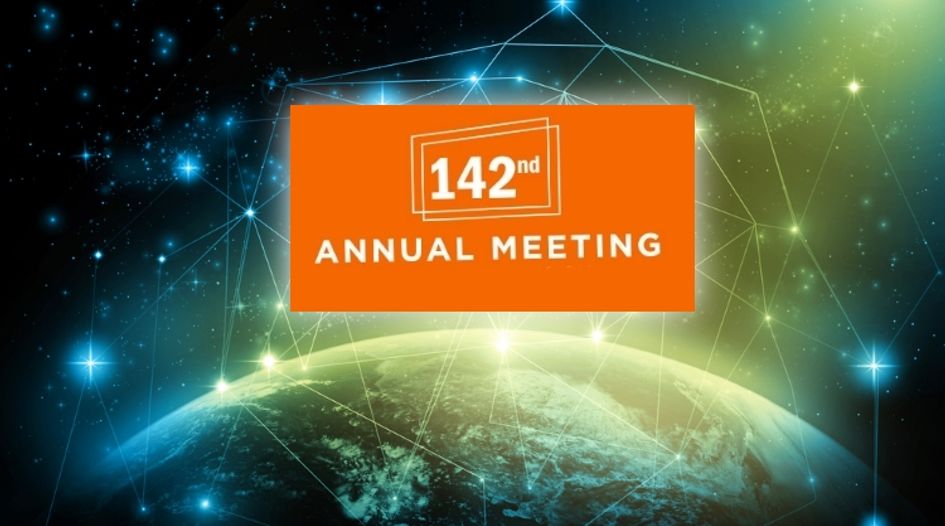 INTA Annual Meeting kicks off with 3,340 registrants from 110 countries taking part
With move to virtual environment, association had to "evaluate, respond and innovate"
New WIPO director general Daren Tang revealed priorities and challenges in the role
The 2020 INTA Annual Meeting officially kicked off earlier today, with the association's CEO declaring that "not celebrating the Annual Meeting has never been an option" and declaring that 2021 looks "bright" for the industry.
The Annual Meeting had been set for Singapore in April but the covid-19 pandemic saw a pivot to Houston in May before it was announced that the event would be combined with the Leadership Meeting and take place in Texas in November. In May it was subsequently confirmed that Houston had been replaced with an online environment. After months of planning, last week saw the two-week combined gathering kick off with a day of Leadership Meeting content taking place on Friday.
Opening the show, INTA CEO Etienne Sanz de Acedo was in a reflective, but positive, mood – looking back on "all that we have achieved in 2020, despite 2020". Thus, despite the impact of covid-19, he pointed to a series of INTA achievements, including the organisation of over 200 meetings and virtual delegations, more than 100 submissions and testimonies, the filing of seven amicus briefs, two board resolutions, the creation of a number of studies and a new in-house practitioners benchmarking study. This week the association will also release three think tank reports, focused on the future of the IP office, in-house and law firm environments.
"There is another project that will remain with us forever – the Women's LeadershIP Initiative," Sanz de Acedo added. "We have also put together in 2020 a presidential taskforce that has been looking into how to be an IP all-star practitioner. At the same time, we have been able to move virtually with our New York conference, that took place in June, and with this Leadership and Annual Meeting – and also two moot courts." He concluded: "All in all, together, we have been able to evaluate, respond and innovate. We have stayed true to our mission and strategic plan and – more importantly – have shown resilience, strength and a lot of optimism."
Opening the Annual Meeting portion of the two-week event, he was in a visibly cheerful mood, declaring: "The journey to get here has been a complex one, but here we are, all together." He went on to provide numerous reasons to celebrate, including the fact that the event has attracted more than 3,340 registrants, with almost 600 corporate members, more than 110 countries represented and 340 officials from around the world. "In 2020 we have incredible achievements. First and foremost we are all here and we are all together. We remain a community and are a strong community," he reflected, before turning to the year ahead: "We are getting to the end of the year and are looking into 2021 and have an extremely bright future ahead of us. What is more important is we remain as a community, we remain as a family, we remain strong and we continue doing so."
For many delegates, the focus is on the close of 2020 - a year that has been a tumultuous one. As 2020 INTA president, Ayala Deutsch, executive vice president and deputy general counsel at NBA Properties, has steered the association through unprecedented change. For her opening welcome to INTA Leadership on Friday, she reflected on the three ways that the association has navigated a year of change.
The first has been "changing by choice", choosing to change rather than being forced to. Thus, she noted that INTA had made the decision to implement changes before covid-19, moves which in hindsight "helped us greatly over the past few months". For instance, the association included "embracing innovation and change" as one of its strategic pillars, which has manifested itself in a number of ways – including the digital transformation project and new website launched earlier this year.
The second way that the association has navigated change has been to let its values guide it. For instance, Deutsch noted: "One of the most important decisions we had to make was how we host the Annual Meeting in 2020. First, the health and safety of our members and other registrants is always our top priority. Second, INTA is first and foremost a community. No doubt holding a virtual meeting is a remarkable change for us, but here we are together as a community in an engaging, innovative but safe and secure space. And we are here today because as leaders we are guided by our values through the difficult decisions we have had to make." Finally, she stated: "We didn't change course, we changed in order to stay on course."
Bringing intellectual property to the "man on the street"
Daren Tang's keynote, which followed Deutsch's opening speech, was one of his first public speaking engagements since taking up the role as director general of WIPO last month. For that reason, it was a significant opportunity for rights holders to hear Tang's perspective on the challenges and opportunities that he sees in what is arguably the top job in the IP world.
First off, however, he noted his disappointment at how the pandemic has affected the year's events – and specifically that the Annual Meeting could not be held in Singapore as originally planned. With his previous role as chief executive at IP Singapore, he had envisioned welcoming INTA delegates to the country "with chicken rice, laksa and all the delicacies we have to offer". Nonetheless, even in the virtual format, Tang noted that it was important he speak at the Annual Meeting as "INTA and WIPO have a long history of collaboration".
With that in mind, he spoke of various opportunities that he foresees for the two organisations to work together in the future. A key issue, he said, is in taking advantage of the ongoing shift from tangible to intangible assets taking place in various economies. "At present, we don't quite know how to value and collateralise these intangible assets – and I think this is a gap that presents an opportunity for WIPO to work with INTA and other associations to better understand this," he said. "We need to involve those outside of the IP community as well, such as industry leaders and political figures, to look at IP from a broader economic perspective, and how it attracts investments and helps social vibrancy."
Of course, a key part of Tang's speech was outlining his approach as head of WIPO. "I promise to build a balanced and inclusive IP ecosystem," he pledged. "For too long, IP has been seen as something that supports only the biggest companies and most advanced economies. That's not true anymore."
As part of that drive, he will urge national IP offices across the world to reinvent themselves "from IP registries to innovation agents" (a phrase he used nearly four years ago in an article for WTR as part of our annual IP Office Innovation Ranking). What does that mean in practice? One element he noted is when IP offices help users with the commercialisation of their intellectual property, an offering that "gets IP into the market", he says.
While advancing the IP agenda was one theme of Tang's speech, another was translating it so that it can be better recognised. "We must broaden the role of what we do as an IP community – taking the expertise we have to make sure IP is understood and relevant to the man in the street."
The opening speeches at major industry conferences are rarely negative or gloomy in tone. Perhaps this year, amid a global pandemic and tough economic challenges across the globe, such a tone would have been forgiven. However, across the first three speeches that opened this year's Annual Meeting, there was genuine and resounding positivity – that despite the shift to the virtual environment and ongoing anxieties surrounding covid, the community has managed to come together and can now look at building a better IP world for the years ahead.