"We can't produce anything" – how the coronavirus epidemic is affecting the counterfeits industry in China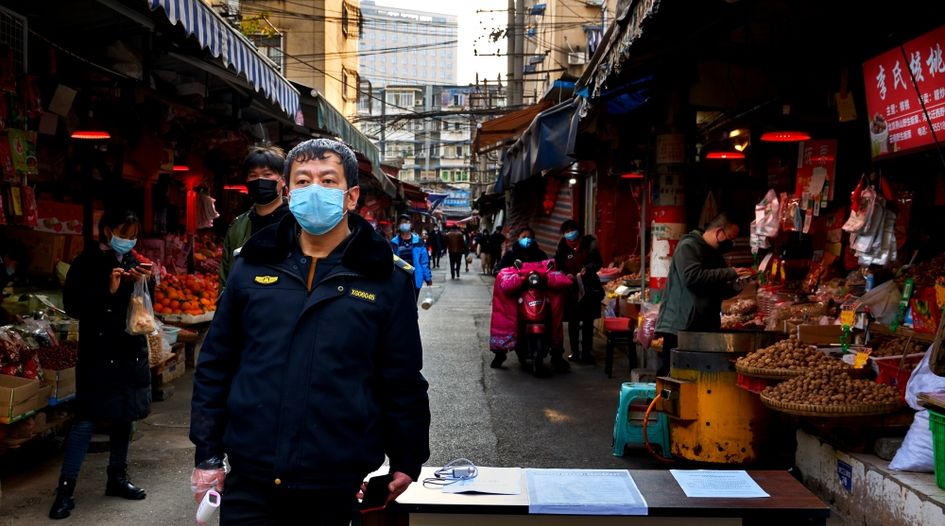 Cases of novel coronavirus nears 80,000 in China, with most businesses shut down
WTR speaks with counterfeit producer, who confirms production of fakes has halted
Companies ordered to resume; IP owners must expect rise in counterfeit deliveries
As the novel coronavirus continues to spread across the globe, WTR investigates how the worsening epidemic is having an impact on the production, delivery and monitoring of fake goods by counterfeiters and enforcement authorities in China.
At the time of publication, the number of confirmed cases of the coronavirus (COVID-19) has surpassed 80,000 globally, with 77,600 of them in China. Of those, there have been 2,664 deaths, with 9,126 patients in serious or critical condition. The Chinese government has taken strong action to try and contain the outbreak, including putting a number of major cities on lockdown, encouraging the general public to stay at home and mandating that businesses freeze trade. Local authorities are also introducing regulations for companies if they want to resume trading, such as providing two masks for every worker each day – a difficult proposition with masks being sold out across China, meaning that many companies must remain closed.
With a vast majority of counterfeit goods originating from China, the novel coronavirus has unsurprisingly had a significant effect on the production and trade of fake goods. Talking to WTR, one producer and seller of counterfeits (primarily of garments from a major fashion brand) explained that the coronavirus has had "a big impact" on the entire counterfeiting industry in China. "Staff can't go back to factories, so factories can't actually open yet," they expanded. "Furthermore, the fabrics markets are all closed so we can't get any fabrics. The impact means delays to our shipment and our production of goods. Right now, we can't produce anything at all."
This information was reiterated by a representative at a Chinese IP firm (who preferred not to be named). Going into more detail about how enforcement efforts have also been affected by the ongoing crisis, they explained that most IP agents "are still working from home", while investigators and informants – who would usually be looking for counterfeit sightings – "have not resumed their normal operations".
"Many enforcement authorities have been assigned to assist with quarantine work," they added. "At the moment, these enforcement authorities seem to be only interested in tackling fake face-mask cases."
Clearly the manafacturing of, and enforcement against, counterfeit goods is at a near-standstill in China right now. So too is delivery, says the representative, with "courier services being delayed due to large volumes of medical supplies being shipped, and medical supplies being shipped as priority" – with further evidence that fewer people are ordering fake goods to be delivered "in order to avoid unnecessary exposure to the coronavirus via delivery personnel". The trade of fakes in physical stores is also significantly lower, with most malls and marketplaces closed across China (and "even those that are open have a majority of their stores within closed"). Indeed, we reported last week on a video showing fake markets in the Chinese city of Guangzhou being near-empty and closed.
However, there are signs that indicate that production and delivery of fake goods may be beginning to pick up again. As The Guardian reported this week, Chinese authorities are "encouraging citizens to return to work" in an effort to "support a faltering economy". It is expected, then, that factories and other entities that are part of the counterfeiting chain will re-open in the days to come. For example, WeGoBuy, a shipping agent popular with fake goods communities, has announced that its warehousing and logistics services resumed from 17 February in a limited capacity, with capacity expected to increase day by day. Further, WTR has confirmed with one counterfeit producer that their warehouse re-opened on 21 February and they have been authorised by DHL to ship overseas orders from 24 February.
What is clear, then, is that brand owners tackling fake goods in China should be on red alert, with activity set to pick up significantly in the near future. One option could be ensuring that customs enforcement officials are made aware of the potential for a sharp rise in small package counterfeit orders in the next couple of weeks. While China is still battling to return to some form of normality, the fight against fake goods continues.