WallStreetBets subreddit trademark anger; Corona licensing fight; Planters brand sold – news digest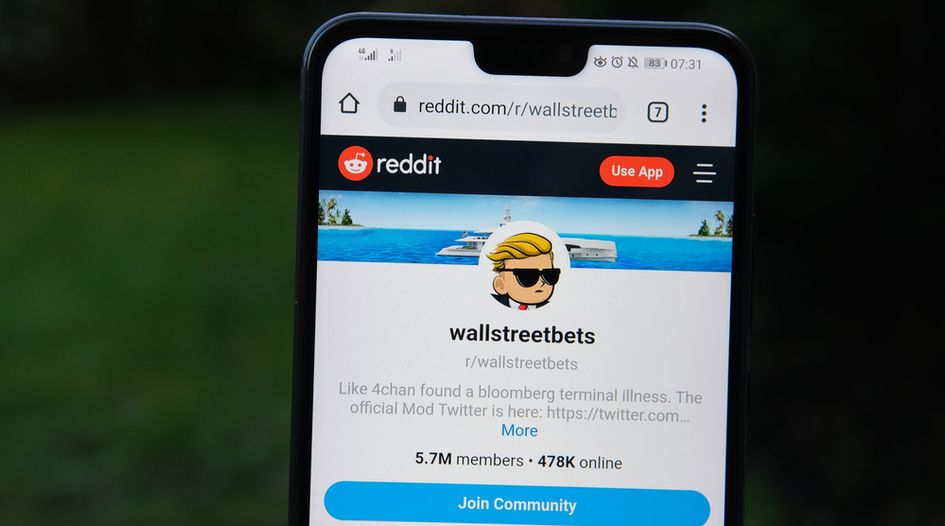 Every Tuesday and Friday, WTR presents a round-up of news, developments and insights from across the trademark sphere. In our latest round-up, we look at the Queens District Attorney's Office seizing 1.7 million fake 3M masks, Mondelez launching CoLab, the EUIPO executive director meeting with the Portuguese IP office president, and much more. Coverage this time from Trevor Little (TL), Bridget Diakun (BD), Jonathan Walfisz (JW) and Tim Lince (TJL).
Market radar:
Corona licensing fight brews – The Mexican arm of Anheuser-Busch InBev has filed a lawsuit against US firm Constellation Brands over an alleged breach of a licensing deal for its Corona brand, according to Reuters. Constellation has used the Corona brand name for a sparkling water alcoholic drink called Corona Hard Seltzer. According to AB InBev, though, the licensing arrangement for Corona extends to only beer products and not other alcoholic beverages. For its part, Constellation claims to be "very surprised" by the lawsuit, and that it had "fully and completely" complied with the sub-license agreement. The development is the latest headache for the Corona brand over the past 12 months – as WTR looked at previously, the ongoing coronavirus pandemic initially resulted in a massive rise in online searches for 'corona beer virus', with some people seemingly connecting the two. At the time, though, a Constellation Brands spokesperson told us that "consumers, by and large, understand there's no linkage between the virus and our beer business". (TJL)
Planters to go for $3.35 billion – Hormel Foods Corp has agreed to buy Planters snack brand from Kraft Heinz Co for $3.35 billion, reports Bloomberg. It will be Hormel's largest purchase to date and will expand the company's portfolio that already includes Skippy peanut butter and Spam. Planters is the top-selling nuts, seeds and trail mixes brand in the US but its market share is shrinking. Kraft Heinz chief executive officer Miguel Patricio said on a conference call that it had decided to sell in part because of competitive concerns. "Planters is one of the brands most affected by private label in our portfolio," he said. Hormel said that Planters had net sales of about $1 billion in 2020 and the company intends to grow out the brand. (BD)
Queens District Attorney's Office seizes 1.7 million fake 3M masks – An investigation by the fraud bureau of Queens District Attorney Melinda Katz's office has resulted in the seizure of 1.7 million counterfeit 3M N95 respirator masks from a Long Island City warehouse.  Detectives from the office arrested Zhi Zeng of Dyker Heights on charges of trademark counterfeiting and for possessing and selling fake 3M labeled medical masks. Queens District Attorney Katz said: "We are living in a horrible pandemic with more than 450,000 Americans dead from Covid-19. This defendant allegedly sold false hope and security and was set to sell more of these counterfeit masks to whomever would pay his price. Masks are life-saving equipment for our medical professionals. Every day these essential workers are putting their lives – and their family's lives –  at risk providing healthcare to those affected by this heartless disease. We have confiscated the bogus merchandise and none of these unsafe masks will be distributed to the public or healthcare workers going forward." (TL)
Mondelez launches CoLab – Mondelez has launched a program for early-stage snack brands called CoLab through its SnackFutures innovation and venture hub. According to Food Dive, since SnackFutures' was established in 2018 the division has created and launched five brands in the US and Europe and has also made minority investments in Uplift Food, Torr and Hu. Its CoLab initiative will focus on companies that fit into its growth strategy. It will be selecting businesses that generate at least $500,000 in revenue, have high growth potential and align with the company's innovation priorities. "SnackFutures is in a unique position of both creating our own brands and investing in startups, so we can offer participants empathy and understanding from our own experiences along with the rigor, discipline and insights of a global snacking leader," Brigette Wolf, global head of SnackFutures at Mondelez, said in a statement. The author of the article, Christopher Doering, points out that large consumer companies are good at innovating and evolving their existing brands, but startups are oftentimes more knowledgeable about food trends and have the ability to pivot faster. It is for this reason that most big name brands, such as Danone and General Mills, have set up a venture capital arm or worked with an organisation that helps startups grow. These relationships provide an opportunity for major players to learn from the industry's up-and-comers. Further, it can lead to acquisitions, such as when Mondelez bought Hu Master Holdings after having taken a minority stake in the brand through SnackFutures nearly two years prior. (BD)
Commission welcomes Trade Enforcement Regulation update – The European Commission has welcomed the entry into force of "robust" new trade enforcement rules that it argues will strengthen the EU's toolbox in defending its interests. It notes that, with the update of the EU's Trade Enforcement Regulation, the EU is empowered to act to protect its trade interests in the World Trade Organisation and under bilateral agreements when a trade dispute is blocked despite the EU's good faith effort to follow dispute settlement procedures (the regulation previously only allowed action after the completion of dispute settlement procedures) and benefits from an expanded scope of possible trade policy countermeasures to services and certain trade-related aspects of intellectual property rights (the regulation previously only permitted countermeasures in goods). Executive vice-president and commissioner for trade, Valdis Dombrovskis, said: "The European Union must be able to defend itself against unfair trading practices. These new rules will help protect us from those trying to take advantage of our openness. We continue to work towards our first preference, which is a reformed and well-functioning multilateral rulebook with an effective Dispute Settlement System at its core. But we cannot afford to stand defenseless in the meantime. These measures allow us to respond resolutely and assertively." (TL)
Legal radar:
Hendrix Music Academy free to play on – Last month we reported that Jimi Hendrix's brother Leon Hendrix and niece Tina Hendrix (and the latter's tuition-free 'Hendrix Music Academy') had been found in contempt of court for violating a permanent injunction against use of their relative's trademarks, with the Hendrix Music Academy. The origin of the dispute is in the Jimi Hendrix trademarks that were owned by the musician's father Al Hendrix's company Experience Hendrix. Al Hendrix "expressly excluded Leon Hendrix and his family from that management team". In the latest development, the contempt order against Tina Hendrix and the Hendrix Music Academy (HMA) has been vacated. Reflecting on the United States District Court Southern District of New York order, which in part was due to the "limited (and now-severed) ties between HMA and Leon Hendrix", Tina Hendrix stated; "We are grateful the court has reconsidered and vacated the contempt order against us. Our music and our mission will continue – and we will remain Hendrix Music Academy. All I have ever wanted to do is help kids in our neighborhood – in the same neighborhoods my uncle loved. And being able to celebrate my uncle's legacy and music at the same time is truly an honor. I know he would be proud of all that we've accomplished, and that we will continue to share his love of music with children from all walks of life." (TL)
Office radar:
(For more of the latest coronavirus-related updates from national IP offices, please read our dedicated article which is being continuously updated)
Finding The IP Link – The EUIPO has released a seven minute short film, titled The IP Link, which was made with the help of over 80 EUIPO staff members and aims to illustrate how intellectual property rights are used and registered by companies. The IP Link is part of the office's move to make IP information more user-friendly and relevant for companies, and can be seen on the 'About EUIPO' page and the Ideas Powered for Business section of the EUIPO website. (TL)
EUIPO executive director meets with INPI president – Christian Archambeau, executive director of the EUIPO met with Ana Bandeira, president of the directive council of the Portuguese Institute of Industrial Property (INPI). During the virtual meeting, both leaders discussed the success of cooperation activities between the two offices such as the first results of the newly launched SME fund, as well as the future implementation of cooperation initiatives liked the SME programme – part of the EUIPO's Strategic Plan 2025. (JW)
Media Watch:
Anger over WallStreetBets trademarks – Over the past few weeks, the Reddit forum 'WallStreetBeets' has been in the media spotlight following a short-squeeze on GameStop that raised the retailer's stock by 1,700%. Questions have since been raised on what other brands could be the next target of the forum's millions of followers. As with most things that skyrocket in popularity, trademark applications have been filed hoping to capitalise on the WallStreetBets name and reputation. Some, though, have been lodged by Reddit itself. The social network originally filed an application for WALLSTREETBETS at the USPTO in May 2020, it filed three more last week (here, here and here) to cover more goods and services. However, since 28 January 2021, more marks have been filed in both the US and Germany related to the forum. In the US, at least three trademarks for WALLSTREETBETS have been filed by third-party entities The Tank LLC, Pilling Intellectual Property LLC and Next Computer Inc. In Germany, two trademark applications have been filed by individuals named Denis Klassen and Jan Berger (the latter being for the subreddit domain 'r/wallstreetbets'). Some of these third-party trademarks have already been identified by users on the WallStreetBets forum. In one post, the applicants are described as "parasites", with calls to "boycott" anything seeking to monetise the name and reputation of the forum (such as a proposed movie on the GameStop saga). There is also debate on the merits of Reddit seeking to register the name, with users claiming the company is seeking to profit from a user-generated community, while others acknowledge that it is probably a good move for the forum. "In fairness, registering it can be simply a defence against someone else registering it," one user said. "I wouldn't be surprised if they have some automated service that checks when someone tries to trademark the name of a sub." However, one user claimed that Reddit's move goes against its own TOS, explaining: "Whoever created the subreddit could block these [trademarks] for prior claim, especially the Reddit ones. The Reddit terms of service specifically state that 'you retain any ownership rights you have in your content, but you grant Reddit the following license to use that content". The downside is that their response might be a takedown of the sub." Debate will no doubt continue, and time will tell whether any of the marks reach registration. (TJL)
3M speaks out about fight against fake masks in Minnesota – In an article for CBS Minnesota, Haley Shafer, part of 3M's fraud-fighting group has detailed the work to hold counterfeit N95 mask producers accountable. She recalled how her team confirmed to Minnesota department of administration commissioner Alice Roberts-Davis that a potential shipment of N95 would be fakes. "Demand still continues to exceed supply and that has led to an opportunity for bad actors to take advantage of consumers," Haley Shafer said. To date, 3M has filed 29 lawsuits and sent over 165 cease-and-desists over counterfeit N95 respirators and has collaborated with the FBI. "Our collaboration with corporations makes us understand what the threat is. We can adjust our investigative priorities based on what they tell us," Special Agent John Bonhage said. (JW)
And finally...
WTR Connect returns next month with five days of strategic content – The second WTR Connect series of digital events will take place the week commencing 15 March 2021. The event will offer more than 20 interactive digital sessions, each designed to facilitate discussion, benchmarking and the sharing of best practice around key topic areas and challenges facing trademark and brand leaders. The theme for the event is 'exchanging cost-effective and resource-efficient best practices' and each day will start with a keynote address from a major industry figure, which is followed by live breakout discussions lasting for a maximum of 60 minutes. Registration is free for WTR subscribers and participants can register for as many sessions as they like across the week, building their own schedule. For event timings, and to sign up to attend, please click here.