Volkswagen drops '.brand' new gTLD; Ice Cube likeness claim fails again; Watercress added to UK GI list – news digest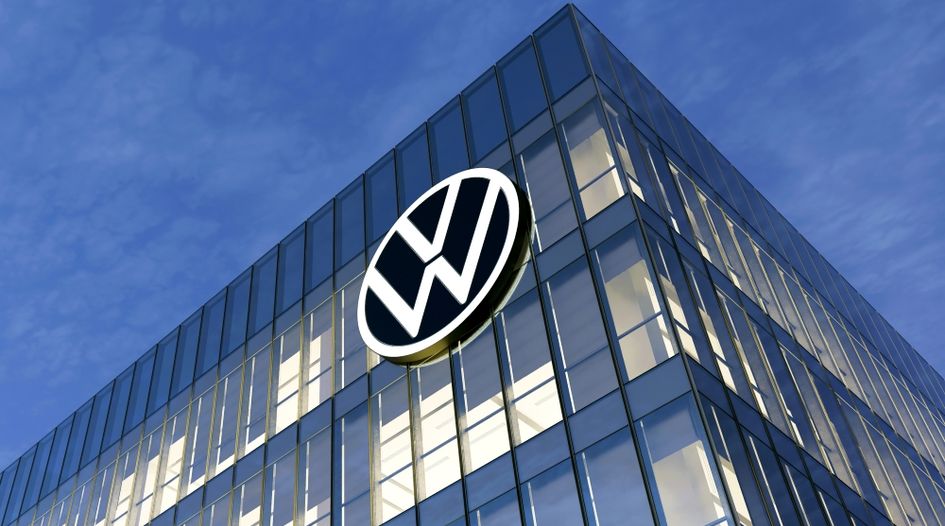 Every Tuesday and Friday, WTR presents a round-up of news, developments and insights from across the trademark sphere. In our latest round-up, we look at how verification sticker labels are reducing counterfeit seed cases in Kenya, Nodwin Gaming acquiring an IP portfolio, the first international industrial design being filed in Belarus, and much more. Coverage this time from Victoria Arnold (VA), Tim Lince (TJL) and Trevor Little (TL).
Market radar:
ConvaTec signs with Anaqua – IP management technology provider Anaqua has announced that global medical products and technologies group ConvaTec will use its AQX platform to help manage its valuable patent and trademark portfolios. Specifically, ConvaTec will use Anaqua's AQX platform for patent and trademark management, annuities and renewals (in conjunction with Anaqua Services), and patent analytics through integration with Anaqua's AcclaimIP. "Our company vision is to pioneer trusted medical solutions to improve the lives we touch," explains Christina Allegrini, vice president, deputy general counsel and global head of intellectual property at ConvaTec. "As part of this, one of our key strategic pillars is to innovate in our work and solutions, supported by increased investment in R&D. Therefore, it is critically important that we manage our innovation and IP effectively and efficiently – and Anaqua will help ensure we do that." The announcement comes days after Anaqua revealed that healthcare product company Bausch Health Companies Inc has selected its AQX platform to deliver enhanced IP management across its global operations. (TL)
Watercress and Welsh Cambrian Mountains lamb added to UK GI list – The United Kingdom has added watercress and Welsh Cambrian Mountains lamb to its post-Brexit protected geographical indication (GI) regime, reports the Guardian. Since its launch, 91 British products have been added to the GI scheme, which is independent from – and therefore not recognised by – the EU GI regime. These cover 81 agricultural products, five wines and five spirits. UK Prime Minister Boris Johnson said that the scheme should incentivise customers to buy British products. "Our British farmers and food producers are among the very best in the world and I want people, both at home and abroad, to be lining up to buy British," he stated. (VA)
Verification sticker labels reduce counterfeit seed cases in Kenya – Verification sticker labels are helping to reduce the sale of counterfeit seeds in Kenya, a study by the African Seed Access Index and national news outlets have reported. The number of counterfeit seed cases relating to maize, beans, sorghum and cowpea (which cover 84% of Kenya's harvested land area) fell by two-thirds from 36 in 2013 to 12 in 2019. "Seven cases were associated with agro-dealers, one with a seed company, and four with unauthorized individuals masquerading as seed sellers," the study found. Kenya's Seeds and Plant Varieties (Seeds) Regulations stipulate that all certified seeds sold in packets of up to 5kg must include a verification sticker label on their packaging. Farmers then scratch the labels to reveal a 12-digit code, which they send via toll-free SMS to receive an instant message confirming whether the seeds are genuine. However, "more efforts are needed to ensure the trend towards zero counterfeits continues", said researcher John Mburu. A study commissioned by the Seed Trade Association of Kenya revealed the average awareness of the labels to be 85% across eight counties, while an Agile Consulting report found an average uptake of 35%. The study therefore recommends increasing awareness of the seed sticker labels among agro-dealers to further convey their benefits to farmers. (VA)
Brand radar:
Nodwin Gaming acquires OML intellectual property – E-sports company Nodwin Gaming has acquired the gaming and IP business of entertainment firm OML Entertainment, reports VCCircle. The acquired intellectual property includes Bacardi NH7 Weekender, YouTube Fan Fest and Indian hip-hop league Breezer Vivid Shuffle. The move comes after Nodwin received a private equity investment injection from South Korean gaming firm Krafton. "What we have been seeing over the past few years is that there's a big convergence happening between comedy, music and gaming," Sidharth Kedia, chief executive of Nodwin, told VCCircle. "We're getting access to some of the IP that OML has created specifically for the youth, where there is a big crossover of gaming, music and comedy." (TL)
Crayola and bath accessories company make a splash with kids range – Crayola has teamed up with H&A, the United Kingdom's leading supplier of bath accessories and kids toiletries and gifting, to create a new collection of products to inspire children to be more creative. The collection, which includes hand gel, bath soap crayons, bath crystals, body puff, bath fizzer blocks and body sponges, will launch as part of a Crayola Poundland event. "At H&A, we pride ourselves on creating fun, innovative and affordable products. We are excited to be working with Crayola and look forward to continuing this partnership to make kids' bath time routines full of colour and imagination," said Livy Coare, licensing and marketing manager at H&A. (VA)
Legal radar:
Ice Cube likeness claim fails again – The US District Court for the Northern District of California has dismissed Ice Cube's false endorsement claims against stock-trading app Robinhood Markets Inc for a second time, this time with prejudice, reports Reuters. The rapper was given 21 days to file an amended complaint in June, when the court ruled that he had failed to show that Robinhood's use of his likeness and play on his lyrics ("correct yourself, before you wreck yourself", rather than "check yo self before you wreck yo self") implied that he endorsed its products. Ice Cube repleaded the claim, citing Congressional testimony and US Securities and Exchange Commission filings to argue that the newsletter was meant to "lure in" and confuse users. However, the court has found that the new complaint "falls for the same defect found in the original". "Ice Cube is a celebrity. If the unauthorized use of his image suggested his endorsement of Robinhood, then he would suffer injury in fact," the judge said. "But the image and phrase are not an endorsement: they illustrate a point in the newsletter about a market correction in tech stocks." The new claims therefore fail to add facts that create any likelihood of confusion. Responding to the ruling, Ice Cube's attorney, Michael Taitelman of Freedman + Taitelman, stated: "The judge is wrong… You cannot take people's lyrics and likeness as an endorsement without permission." (VA)
Office radar:
(For the latest coronavirus-related updates from national IP offices, please read our dedicated article, which is being continuously updated.)
UKIPO delivers Manage IP update – The UK Intellectual Property Office (UKIPO) has provided an update on its One IPO Transformation Programme. The Manage IP project – a single service enabling customers to view and manage all their intellectual property in one place – commenced work in March. The discovery phase is now complete and the office is moving to the Alpha phase. Here, it will start to build and test the parts of the service that are most challenging. This includes building prototypes to test and trial features of the new service, as well as testing how to marry up customer accounts with the intellectual property that they own. The office will also explore the use of application programming interfaces to allow customers to send data to the UKIPO via their own IP management software. It adds: "In September we also started our second transformation project – Secure IP. Secure IP is where customers can do everything involved in securing their IP rights. This includes applying for it, examination and registration or granting of IP rights. As with the Manage IP project, we will be starting this with a discovery phase. This will allow us to understand what customers need from this part of the service." It is now calling for users to participate in its research and testing. (TL)
First international industrial design filed in Belarus – A blog post from the Belarus National Centre of Intellectual Property has revealed that the first industrial design filed under the Hague System has been registered in Belarus. The registration was filed by Apple for the design of a remote control. Belarus became a member of the Hague Convention on 19 July 2021. (TJL)
Domain Radar:
SC Johnson and Volkswagen to drop '.brands' – News has broken over the past week that two major corporates no longer wish to keep a number of their '.brands'. On Domain Incite, Kevin Murphy reported that Volkwagen has asked ICANN to terminate the contract for its Chinese-script '.brand' gTLD, which has been in the root for five years but never used. Yesterday Domain Name Wire's Andrew Allemann spotted that SC Johnson has told ICANN that it wishes to terminate the remainder of its '.brand' TLDS, specifically '.glade', '.scjohnson', '.afamilycompany', '.off', '.raid' and '.duck'. "Given the generic nature of some of the strings, it's possible that another company might be interested in picking up the mantle and would likely pay SC Johnson to do so. But that might not be worth the company's effort," Allemann writes. (TL)
Victoria Beckham in UDRP win – Victoria Beckham has won control of 'usbeckham.com' after lodging a UDRP complaint with WIPO, The Telegraph's Steve Bird reports. The site previously resolved to a website offering for sale clothing, handbags, shoes and fashion accessories "at high discounted prices", It included the title "BECKHAM Official Online Boutique" and a prominent BECKHAM header in a sans-serif font similar to the font used by Beckham on her legitimate site. The panel found that the disputed domain name was being used in connection with the promotion and sale of fashion products in competition with the complainants, and the respondent had no rights or legitimate interests in the domain. Thus, it found that the domain had been registered and subsequently used in bad faith. "It is important to us that our brand is protected; we need to ensure our customers can fully trust that the products they purchase are authentic," a spokesperson for Victoria Beckham Limited told Bird. (TL)
Law firm radar:
Greensfelder adds IP litigator – Greensfelder, Hemker & Gale has announced that Jared E Hedman has joined the firm as counsel in its IP practice group. Based in the Chicago office, Hedman is a litigator with an engineering technology background, which includes an engineering technology degree and a consulting role in the food, beverage, personal care and distribution industries. He has participated in multiple trials and arbitrations in federal venues with litigation involving patent, copyright and trademark transactions, trade secrets and breaches of contract. "Jared's experience in a wide range of roles and industries will support our clients and help guide practical and business-driven solutions," said Greensfelder president and CEO Kevin T McLaughlin. "He is an outstanding addition to our IP practice and the firm as a whole." (TL)
And finally...
WTR events to take place in Europe and the United States – WTR is hosting a series of one-day events in London, San Francisco, Chicago and New York this December. WTR Live: The Future of Trademark Management and Brand Protection will facilitate discussion, benchmarking and the sharing of best practice around key topic areas and challenges facing brand leaders. Crucially, it will offer a glimpse into what industry leaders expect the future of trademark practice to look like. Registration is free to in-house brand professionals. Spaces are limited and should we be unable to host the event, registration fees will be fully refundable. While on site, we will be adopting the All Secure Standard to ensure that all attendees can continue to do business effectively and network with their peers safely. For full details, and to reserve a place, see the official event page.