Virtual networking: how trademark practitioners are connecting during coronavirus lockdown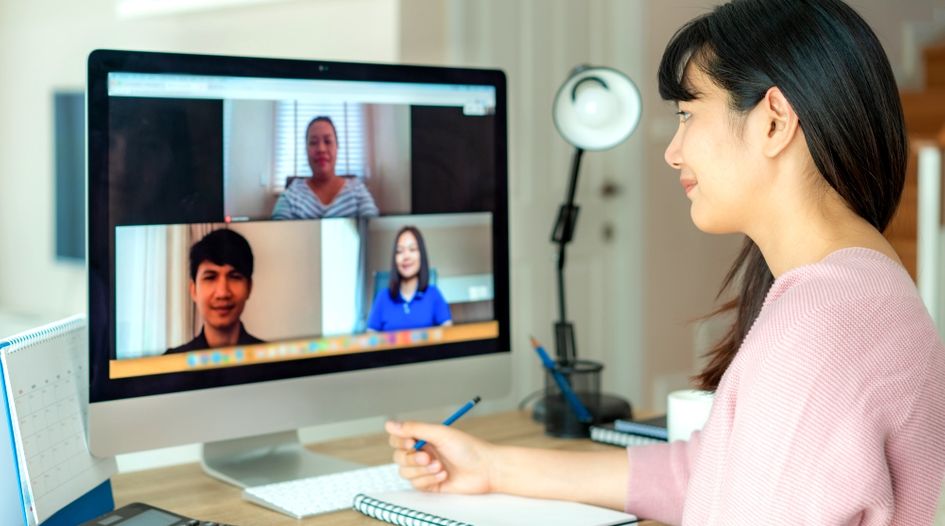 With lockdowns around the world, physical networking opportunities vanish
In response, associations and service providers are launching virtual networking
MARQUES begins weekly virtual coffee break; Alt Legal launches virtual happy hour
With much of the trademark community unable to engage in in-person communication with colleagues or professional acquaintances, WTR takes a look at some of the innovative virtual networking initiatives from various associations and service providers.
For the past few weeks, many trademark counsel have been working remotely due to quarantine measures implemented by governments across the world. On top of that, travel restrictions and fears over the spread the coronavirus mean that virtually every major IP event planned for the first half of 2020 has been cancelled or postponed  – including, of course, the INTA Annual Meeting (which was originally set to take place this upcoming weekend), as well as the IACC Annual Conference, ICANN's Mexico meeting, the ECTA Annual Meeting and the MARQUES Spring Meeting.
This means, of course, that in-person communication opportunities are broadly unavailable right now – with many practitioners relying on platforms such as Skype, Microsoft Teams and Zoom to communicate with colleagues and clients. While the ability to network with professional acquaintances has proven to be a challenge, some associations and services providers have stepped up to the plate to launch regular networking opportunities for the trademark community.
One example is European association MARQUES, which recently launched a weekly 'virtual coffee break' to allow members (representing thousands of trademark professionals) to join an "informative and entertaining" forum and share tips and tricks on how to work more effectively from home. The virtual coffee break is being held every Wednesday, with members invited to send in advice and photos by email ([email protected]) to be included in the next week's e-event.
Talking to WTR, MARQUES chair Susie Harris, who is also general counsel at Plum Guide, explained that the decision to create a virtual space for members was rooted in ensuring that the association continues to foster a "community" of practitioners. "We were careful to keep in mind the balance between staying connected and not overloading people with more emails and so we set up a V-Team to spend some time thinking about some creative initiatives," she says. "We approached all our members to ask whether they would provide us with a peek into their home office by sending us some photos of them in their new 'offices', as well as requesting any 'tips and tricks' for home working, books to read, and playlists. It is a way to keep our members connected, virtually, to one another and just a bit of fun."
Crucially, Harris adds, the challenge of virtual networking projects like this is "getting the balance right", expanding: "We must respect the fact that many people are personally very impacted by covid-19 but also that people want to read about something else as well occasionally. We have a good set-up with the executive team, council, teams and secretariat structure, which enables us to adapt to these new challenges at short notice and we also have a wide pool of very enthusiastic volunteers from around the world which certainly helps in times of crisis. So far, our members have embraced this idea and we have already received some great submissions."
Elsewhere, INTA has introduced 'virtual speed networking' (beginning tomorrow), through which members and non-members can make new contacts through an online video platform. Each one-hour session will give every participant the opportunity to contribute, with all sessions (to date) being given in English. This initiative from INTA replicates the successful speed networking aspect of its Annual Meetings.
On the more casual side, service provider Alt Legal is hosting a 'virtual happy hour' for trademark law professionals every Thursday. On the event page for the first social gathering, Alt Legal states: "Viruses and shelter-in-place orders are heavy stuff, so let's keep this lighthearted! Wear a silly hat, drink from a silly cup, show off tiny humans and fuzzy family members. We'll have a little fun while we get to know each other, talk trademark law, and share tips for the business of trademark law."
The aim of the event, Alt Legal CEO Nehal Madhani tells WTR, is to "bring the trademark community together for networking and knowledge sharing", explaining: "Given our current climate of social distancing, our community has particularly embraced these virtual social hours and webinars to connect with each other. We expect to continue our virtual events because so far they are drawing in a global audience that we would not otherwise bring together and people become more comfortable with virtual forms of networking."
Indeed, the question of how these initiatives could shape future networking in the trademark community is a key one. While virtual networking cannot replace the conversations had over dinner or at an event reception, it is allowing practitioners from around the world to connect when they would not have otherwise done so. MARQUES' Harris is hopeful that such initiatives continue post-coronavirus: "I am a big supporter of using technology in a smart way, so am really pleased to see remote-working functioning effectively at such an unprecedented level – and it's far easier now with so many great video conferencing technologies. Therefore, I believe that some of these habits we are developing will continue after the crisis is over."