USPTO urged to halt applicant email requirement following revolt by trademark attorneys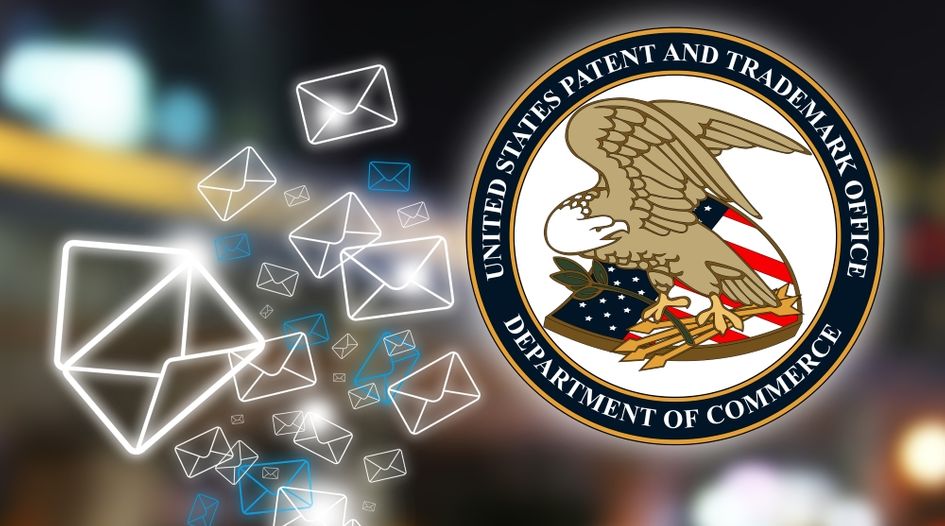 USPTO announces new examination guide will be effective from 15 February 2020
New guide will require email address to be submitted by all registrants and applicants
Group of attorneys voice concerns, including over privacy, in a letter to the registry
The US Patent and Trademark Office (USPTO) is facing a backlash from users following an announcement that all trademark applicants and registrants will need to provide an email address that will be publicly viewable. With concerns around the privacy implications and a potential rise in scams, a group of attorneys have penned a letter to the registry urging a rethink.
Last Friday (February 7), the USPTO sent out an alert to users that a new examination guide will be effective from 15 February 2020. The new guide, entitled 'Mandatory Electronic Filing and Specimen Requirements', has a number of significant changes, including new exceptions for filing paper submissions and additional requirements for specimens of use. The move follows new rules implemented in August 2019 requiring all applicants not domiciled in the United States to engage US licensed attorneys to file and prosecute trademark applications, in an effort to combat fraudulent filings and deadwood on the register. Those rules were criticised due to a requirement for applicants to submit their physical address – with claims that it "puts many individuals at significant risk of personal harm".
Fast forward six months, and the USPTO is again facing claims that its new rules are putting users at risk. The new examination guide states that new applications "must include an email address for each applicant" even if there is an appointed attorney. This email address, which has to be monitored by the trademark applicant, will not appear in the Trademark Status and Document Retrieval (TSDR) status tab, but it will be viewable in the filed document from the TSDR public platform. There are a number of stipulations for the email to be acceptable, including (but not limited to):
It can be a personal email address;
It can be an email address created for the purpose of communicating with the USPTO that is personally monitored by the trademark owner;
It can be an in-house counsel's email address;
It cannot be an outside counsel's email address;
It cannot be a foreign law firm's email address;
It cannot be an email address that the applicant or registrant does not have direct access to monitor.
The new rule has met with a furious reaction from US trademark counsel – with some claiming it is another example of the USPTO not considering the privacy of its users, especially in light of new data protection and privacy laws in California (CCPA) and the European Union (GDPR). "I continue to be concerned about the privacy issues – and I've still not received a response to the petition I filed last September [requesting that one of my clients be allowed to use a 'care of' address instead of his home address due to significant security concerns]," comments Stacy J Grossman from the Law Office of Stacy J Grossman PLLC. "I appreciate the trademark office's efforts to prevent fraud, and its need to have necessary information to contact trademark owners. [However], I don't understand why this information has to be published in a public database, and why the failure to include a proper email address could cause a trademark applicant to lose its filing date."
That view was reiterated by Peter J Riebling of Riebling Law, who tells WTR that the issue is especially problematic for well-known public figures. "We have heard from numerous counsel overseas who represent celebrity clients, who are genuinely concerned about the privacy aspects and the extra burden of having to file a petition to the director of the USPTO for a special waiver of the rule," he states. "Yes, a petition may be filed to redact the applicant's email address in the TSDR documents tab in an 'extraordinary situation'. And yes, an applicant being a celebrity – and the related privacy and safety concerns – will likely qualify as an extraordinary situation to waive the rule as allowed under TMEP §1708. But is not every applicant a 'celebrity' in some way or form, if even in their own mind? What is the legal test the director will use for who is and not a celebrity? Where is the line?"
As well as unanswered questions, Riebling points out a "serious procedural flaw" that arises from the new rule: "At the outset, the application form will not even advance to the next screen without an applicant's email address being listed. Therefore, there will be a significant gap between the time of disclosure of the celebrity's email address on the document publicly available for all the world to see in TSDR at the time of filing – simply to get a filing date – and the time of any eventual grant by the director of the petition to waive the rule and have the email address redacted. "
One way to circumvent this flaw, and to protect a user's privacy until the ruling on the waiver petition, could be for an applicant to submit a knowingly false email address (and then update it once a redaction is granted). However, says Riebling, that creates an unusual situation for the USPTO. "The irony is that the rules were spawned to reduce false information being submitted to the USPTO," he tells us. "But in the context of those celebrity or other applicants who need to file a petition for a waiver to avoid disclosure, it may end up actually encouraging and increasing false information provided on the application form. Time will tell."
Privacy is not the only issue causing concern; Grossman further claims that it could lead to a significant rise in scamming activity targeting trademark owners. "There are bad actors who send purposefully misleading notices to trademark applicants and owners, fooling them into paying unnecessary fees [a problem the USPTO itself warns against] – and this problem will surely grow if brand owner email addresses are readily available. Furthermore, another concern has to do with filings that US trademark lawyers make on behalf of foreign companies, sometimes at the request of companies directly and sometimes upon instructions from foreign law firms. Many foreign trademark owners are reluctant to disclose private information and might not want to be contacted directly by the USPTO; they might prefer communications to be directed to their attorneys."
A letter to the office
The level of concern over the new guidelines escalated over the weekend, leading to a letter posted on the Ant-like Persistence blog managed by Carl Oppedahl, partner in Oppedahl Patent Law Firm. As well as arguing that nine days between publication of the new examination guide and implementation of the new rules is "an inadequate amount of time to permit meaningful dialogue between the office and its practitioner community on this extremely important issue", it claims that publication of this data means it could be "harvested electronically in an automated way by data miners and scammers and spammers and spear-phishers".
Going further, while "a petition may be filed to redact the email address in the TSDR documents tab in an extraordinary situation", the letter laments a lack of guidance on what would be judged as "extraordinary". Additionally, there is concern over the ban on "third party email addresses,", one question being whether this means a ban on email addresses such as '[email protected]', '[email protected]' or '[email protected]', which it states "would have a profound and harmful effect on small businesses and individual applicants, many of whom do not have personal Internet domain names".
Finally, the letter looks at the events that the examination guide cites as necessitating an applicant email, offering an argument against each. For example, one is in case the designated attorney is suspended or excluded from practicing in trademark matters. The report notes that, if the approach was to obtain an email from the applicant but mask it in the TSDR system, they could still contact the applicant without having made their details public.
Thus, the letter concludes that there "very few fact patterns or events… [which] would justify such invasive collection and publication of applicant email addresses" and urges: "As an interim measure, applicant email addresses absolutely must be masked from public view and harvesting not only in TSDR but also in all other public-facing databases and APIs."
That letter, at time of writing, has been signed by 29 attorneys who "collectively represent about 12,000 trademark filings and prosecutions-to-issuance over ten years" and "represent about $15 million in fees paid to the USPTO over ten years". It is also available for other concerned parties to add their support. The letter will then be sent to the acting Commissioner for Trademarks, Meryl Hershkowitz, who is serving in that capacity until 2 March when, as we reported last week, David Gooder takes on the role on a permanent basis.
Indeed, Gooder's arrival has potentially complicated the situation, Oppedahl writes. "On the one hand, if the actions of the office are to be influenced between now and February 15, this means the letter needs to be sent to the commissioner much sooner than February 15," he says. "But it means it has to be addressed to a mere 'acting' commissioner who is unlikely to feel much of a mandate to make big changes that might or might not match the wishes of the incoming newly appointed commissioner."
We have contacted the USPTO for comment on the new examination guideline and the pushback from the community. As it stands, action will need to be taken this week if changes are to be announced before the new rules come into force on Saturday. However, this will likely be an issue that continues to be the centre of community focus in the coming weeks – and potentially one of the first things for Gooder to turn his attention to once he is ensconced in DC.