USPTO suspends prolific trademark attorney Jonathan Morton for numerous breaches of conduct rules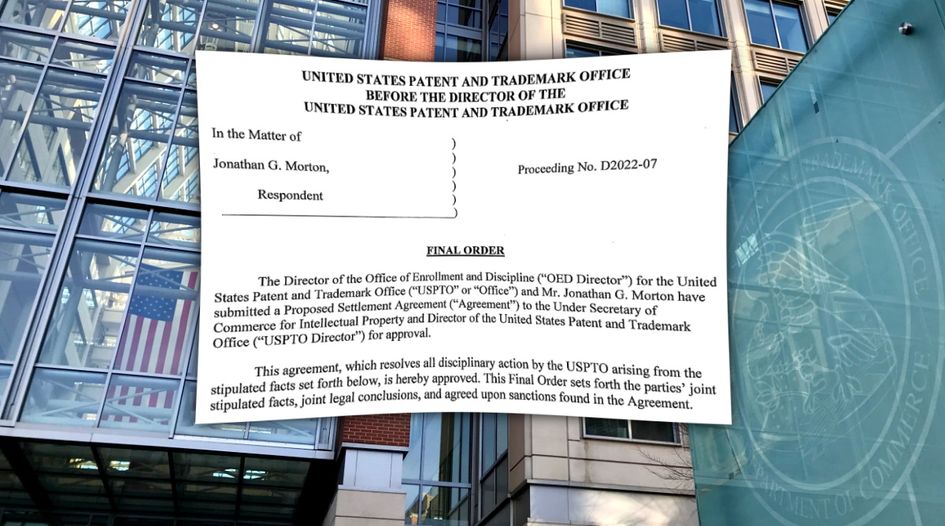 US attorney Jonathan Morton penalised for USPTO rules violation
Morton admits reviews of foreign trademark filings were often "sloppy"
Suspended for two years, with 12-month probation and training required on ethics/professional responsibility
Trademark attorney Jonathan Grant Morton, who is agent-of-record on over 36,000 trademark applications worldwide, has been suspended from practising before the USPTO for two years after breaching six of the agency's rules of professional conduct. The order was handed down by the USPTO's Office of Enrollment and Discipline (OED).
Morton first came to prominence as the attorney for multi-millionaire Michael Gleissner, who amassed a brand portfolio of over 4,400 trademark applications and 5,300 domain names in recent years. Morton went on to expand his client base and, after a sudden explosion in filing activity, became the leading representative of trademark applications at the USPTO – even surpassing Trademarkia owner LegalForce by overseeing 21,956 applications in 2020. Of those, 21,440 originated from China, while over 11,000 individual businesses submitted applications through him, 8,500 of which filed just one mark. On more than one occasion, Morton was named as the attorney of record on over 400 US trademark applications in a single day. He is currently the representative on over 32,000 US trademark applications.
In a 2020 interview with WTR, Morton claimed that he and his team "work enormous hours every day, seven days a week," adding: "In the end there is only one way to do the work – painstakingly going through each submittal one by one until I was personally satisfied with each and every application."
However, this week's final order confirms that the OED was not satisfied with every one of those applications. Thousands of them were not filed with sufficient attention and care, it found. In the sweeping order, the USPTO stated that Morton worked with "several non-practitioner entities" that sought trademark services in the United States for their "foreign-domiciled trademark customers". When that practice began in August 2019, it is understood that Morton "did not limit the volume of his incoming trademark work to ensure he could provide his trademark clients with quality representation". This quickly led to signing thousands of applications from trademark services companies located in China, with Morton (who cooperated with the OED's investigation) acknowledging that he spent "between 2.5 to 10 minutes reviewing each trademark application". These reviews were often "rushed and sloppy", he admitted.
The investigation concluded that Morton violated six of the USPTO's rules of professional conduct, namely that he:
accepted a large volume of clients such that he could not devote sufficient time to review their trademark filings and did not have a system in place to check for conflicts of interest (37 CFR § 11.101);
failed to devote sufficient time to client matters and failed to adequately review trademark applications, including failing to properly review specimens-of-use to confirm the mark showed actual use in commerce (37 CFR § 11.103);
allowed non-practitioners to prepare and file trademark documents with the USPTO on behalf of clients without properly vetting such documents prior to their filings (37 CFR § 11.503);
did not adequately review legal work performed by his non-practitioner assistant before documents were signed and filed with the USPTO (37 CFR § 11.505);
signed declarations attesting that clients' marks were in use in commerce (or that the specimen showed such use in commerce) but had not always performed a reasonable inquiry to check if that was accurate (37 CFR § 11.804(c)); and
engaged in 'other conduct' that adversely reflected on fitness to practise before the agency in trademark matters (37 CFR § 11.804(i)).
For those breaches, Morton was suspended from practice before the USPTO for two years. He may seek reinstatement (via a petition for reinstatement) in 18 months. If reinstatement is granted, he will need to serve a 12-month probationary period, as well as attending six hours of training on ethics/professional responsibility. According to Clarivate's Robert Reading, it is understood that the thousands of applications in which Morton is the representative will not be affected, with no large-scale cancellation action announced. "Only pending (ie, alive but not yet registered) records will be impacted, to the extent that they will need to find a new representative (amounting to approximately 3,000 applications)," Reading adds.
The sanctions are a dramatic change in fortune for Morton, who until recently was reaping the rewards of a large foreign-filing practice.
In a comment to WTR, Morton says the order "correctly reflects the USPTO's findings" (on not limiting client intake and not doing conflict checks), but concluded: "It doesn't reflect how hard I worked for each client despite the large filing numbers nor my consistent communications with the Chinese trademark community educating them on US law and ongoing wrongdoings which need to be corrected. I was hoping for a warning or a few months suspension, but it didn't work out that way."