Exclusive: USPTO releases revised examination guide following backlash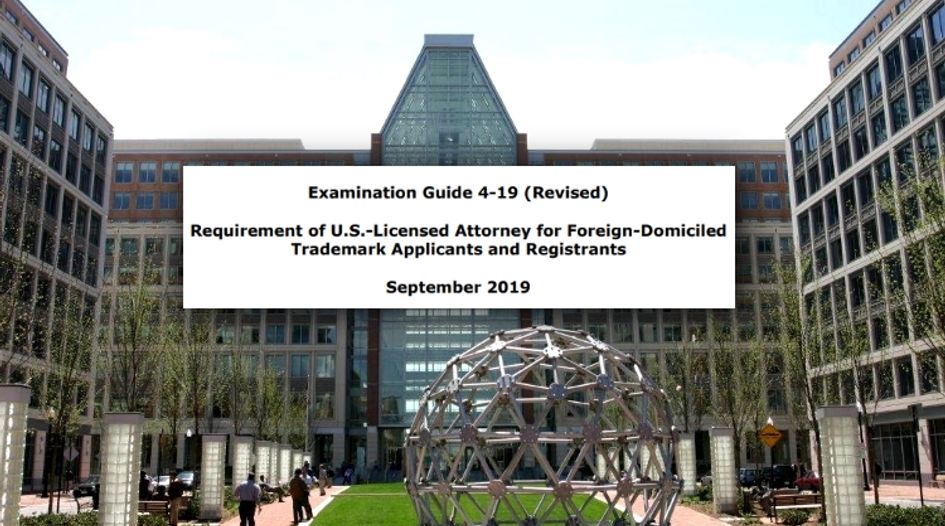 USPTO releases heavily revised examination guide following recent backlash
Concerns stemmed from requirement that applicants give proof of legal US residence
Revised guide clarifies documents that may be required, and waiver of public domicile
The US Patent and Trademark Office (USPTO) has released a heavily revised examination guide that clarifies the registry's new rule wherein foreign trademark applicants and registrants require US counsel representation. The revision follows backlash due to examination instructions that required some applicants to submit proof of legal residence in the United States.
As we reported last week, the USPTO faced criticism following new rules – implemented on August 3 – that would require all applicants not domiciled in the United States to engage US licensed attorneys to file and prosecute trademark applications. It followed alleged fraud by some Chinese applicants, which we have widely covered. Instructions were subsequently issued with Examination Guide 4-19, explaining how examining attorneys would approach the new rules. One particular section caused some concern. In section 3, the guide stated: "Foreign citizens must comply with US visa immigration laws to claim the US as their permanent legal residence. When the applicant or registrant is a foreign citizen/entity with a US street address, it is necessary to determine whether the US street address is the applicant's or registrant's domicile."
It was reported, originally by WGBH News, that the new instructions caused a "backlash" from some USPTO examining attorneys. For example, there were claims that some US immigrants would not be able to attain registered trademark protection. "Trademark examiners are now required to ask questions about the immigration status of applicants living in the US that have never been asked of applicants before," one examiner reportedly said. "Any immigrant who does not have a green card will likely be unable to obtain a trademark registration, even if they hire an attorney in compliance with the new rule requiring US counsel."
There were other concerns too. Talking to WTR, some IP experts claimed that the USPTO could be on "shaky legal ground" due to the "unintended consequences" the new guidelines may cause. Those unintended consequences include the guide's tougher rules on private mailboxes, due to the requirement that applicants must include their permanent legal residence on a trademark application. "Many people in the US have PO boxes for entirely legitimate reasons," John E Ottaviani, partner at Partridge Snow & Hahn LLP, told us. "Domestic violence victims often use PO boxes and do not disclose their home address for fear of being victimized again. Ultimately, there is no need for the USPTO to become involved in requiring disclosure of the physical addresses, and in some cases, such disclosure could cause harm."
Revision released
It is just over a week since the backlash was reported on, and the USPTO has responded swiftly. The office has today released a heavily revised examination guide that it hopes will quell concerns. Talking exclusively to WTR, the USPTO's commissioner for trademarks, Mary Boney Denison, said "the reason we're revising the guidance is because we've had multiple requests for additional clarification on the US licensed attorney rule", adding: "We want people to understand that the key to determining whether you need a US lawyer or not is where you are domiciled."
The revised examination guide 4-19 – which is available to view here – is vastly different to the previous guide. It is 27.6% longer, and has wholly removed and added entire sections. For example, the aforementioned section 3 text has been removed, and there is now no mention of the words 'immigration' and 'visa' in the entire guide.
Diving deeper, the new examination guide goes more in-depth to exactly what each section means and what documents may be required. In fact, the guide even includes a specific section to define what 'domicile' means ("the term 'domicile' means the 'permanent legal place of residence' of a natural person or the 'principal place of business' of a juristic entity") to ensure that is not misunderstood. It then clarifies that if a US domicile is listed in a trademark application, the USPTO may require documentation for reasons including if an address appears to be incorrect. Documentation that can be used to prove that an individual has a US domicile includes a current signed lease or mortgage agreement, a current insurance policy, or a recent utility bill. For businesses, documents can include a recent annual report or a certificate of good standing from a federal or statement government agency.
The new examination guide also adds an entire section on how applicants can make their domicile private. "We are offering information on how to request a waiver on the requirement to make the domicile public" Denison tells us. "We are also clarifying that, in most cases, a post office box address is not a domicile because you can't live in a PO box."
The public domicile waiver allows applicants or registrants to enter a petition in the street address field of a trademark application, and then separately file a petition to make their domicile address private. The USPTO has not listed exactly what "extraordinary" situations will grant such a petition, but it is understood that it mostly includes safety situations, such as celebrities and domestic abuse victims.
It is clear, then, that the USPTO hopes this revised examination guide will put to bed concerns that examining attorneys and users have had. For Denison, it's a particularly busy time – especially as it was confirmed last month that she is due to retire at the end of the year. "The next thing we have is a TPAC fee hearing on September 23, and that is a big deal for us," she tells us. "We are also working feverishly to implement mandatory electronic filings as well as log-in."