USPTO highlights role of government subsidies and mandates in growing tide of trademarks from China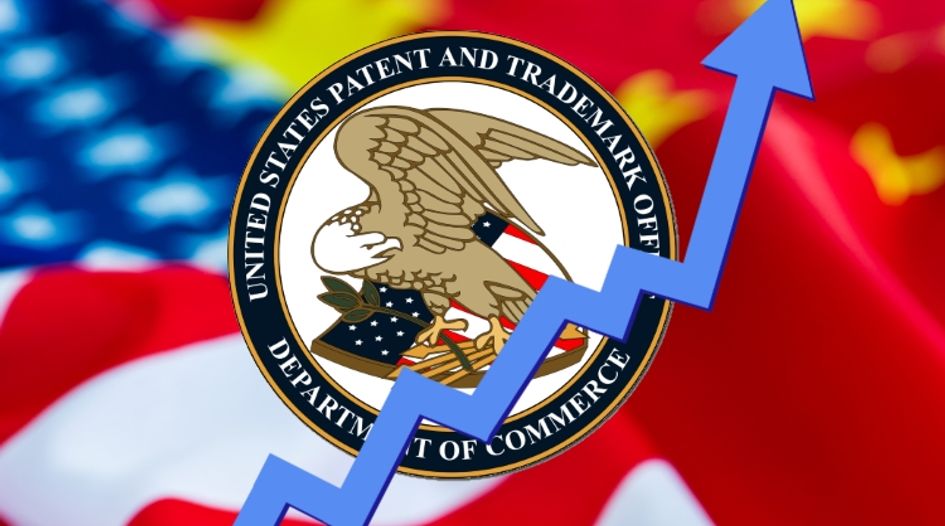 USPTO releases report on filing trends, with concern over applications from China
Highlights role of subsidies and government mandates in increasing registry clutter
New rules on expungement and reexamination procedures expected this month
The US Patent and Trademark Office (USPTO) has published a scathing report into the influx of trademark applications from China, claiming that many "lack value and clutter the trademark register". The report is the latest in an ongoing effort to tackle overload, with new rules set to be proposed at the end of January.
As WTR has reported on extensively over the past few years, the USPTO has experienced a massive growth in trademark applications originating from China, with concern over the legitimacy of a significant number. While the registry has taken some steps to try and quell the influx – including introducing new rules and revised examination guides – the number remains significant. Yesterday, then, USPTO released a report entitled 'Trademarks and Patents in China: The Impact of Non-Market Factors on Filing Trends and IP Systems'.
In it, the USPTO reveals the huge spike in trademarks it has received from China-based applications since 2013. As the graph below shows, there were just 4,706 applications from China in 2013, and by 2016 it had grown to 28,919. Three years later, it stood at a massive 76,566. That number is expected to be significantly higher in 2020 – just in September 2020 alone there were 31,876 applications from Chinese brand owners.
USPTO trademark filings from China (and percent growth): 2013-2019 
This is not to say that the phenomenon is itself negative. However, the office is concerned with escalating clutter and threat to the integrity of the register posed by fraudulent filings within this group, the report stating: "A cluttered registry complicates clearance searches and can narrow the scope of protections available to mark holders engaged in the legitimate sale of goods and services. Many of the same observations apply to trademark applications filed in bad faith. Rather than serve as a useful source identifier for goods and services, bad-faith registrations are obstacles to legitimate commerce. The practice also gives rise to defensive filings of unused marks."
The challenge of fraudulent applications and suspicious specimens is ,as noted, not a new phenomenon but what is, in terms of response, is the focus of this paper. in particular marks that are "motivated by non-market factors" such as the so-called Shenzhen subsidies'.
While it notes a number of factors driving filings (including filers acting in bad faith, and filers employing good-faith countermeasures), subsidies and government mandates are clearly seen as facilitating the filing frenzy that results in bad faith filings.
Expanding, the report states that China has reportedly adopted more than 70 sub-national trademark subsidy measures, including measures for domestic and foreign applications and registrations. Crucially, because the amount of these subsidies often exceeds the cost of registering a mark, it provides a financial motivation to apply for a trademark even where there is no intention to use it in commerce.
As an example, it notes: "In 2013, Shenzhen issued operating procedures that allowed applicants to seek a subsidy of RMB5,000 (approximately $750) for trademark registrations in eligible foreign countries, including the United States. After the USPTO lowered the fee for its lowest-cost, fully electronic applications to $225 in 2015, the cost to file at the USPTO was substantially lower than the amount of the subsidy. In four years (fiscal years 2013–2017), US trademark filings from China increased by 1,264%,, with applications from Shenzhen accounting for more than 42% of applications from China in fiscal year 2017."
As well as subsidies, the USPTO notes that, in March 2020 the government directed its state-owned enterprises to increase trademark filings under the Madrid System by 50%, "this government mandate an example of a second non-market factor driving trademark applications."
From a Chinese perspective, such moves are intended to further bolster both the innovation environment in the country and the ability of domestic companies to project internationally. Speaking to WTR, Elliot Papageorgiou, partner at Clyde & Co, notes that "China is trying to encourage Chinese companies to be outward looking" and part of that is a recognition that, "if you don't have IP rights, you may be at the mercy of your competitors in international trade".
Thus the government wants to both encourage and reward companies that are innovative, and one way to do that is through subsidies – Papageorgiou noting that countries such as Germany have numerous subsidies available to IP-rich companies. He expands: "Over the last 20 years, China has embraced the concept of IP and it tries to 'assimilate' the best aspects of other systems, like the ' Borg'. Thus it has sought to raise the level of IP ownership and awareness about it. If means that a material amount of it  may not be productive IP, but some of it will be - and arguably the multiplier of what is productive is higher than from subsidies to, say, support the car industry".
For its part, though, the USPTO is clearly now concerned with the role government mandates and subsidies are playing - and the potential role the Chinese authorities can play in ending the phenomenon. By highlighting the impact of this activity on China's own trademark environment, stating that "subsidy motivated trademark applications also stretch the capacity of China's trademark examiners and review authorities, and clutter China's trademark registry", the message to China appears to be: 'Ending this practice will be beneficial for both countries'.
Reflecting on the report, Josh Gerben, founder of Gerben Law Firm, states: "The fact the USPTO is publicly tying the subsidy programs to fraudulent filings is good news. With the weight of the USPTO behind this finding, It will hopefully enable higher level government officials to address the issue with their Chinese counterparts.  So long as it is a profitable enterprise for Chinese individuals and businesses to fraudulently file US trademark applications, I have no doubt the filings will continue." 
As to what else the office has in store to address the spike in filings, following the passing of the Trademark Modernisation Act of 2020 (TMA), the USPTO is now tasked with coming up with new procedures to allow third parties to "more readily challenge pending applications and issued registrations that may be spurious". It is understood that this stipulation was added because of the Chinese applicant influx. It is believed that draft rules could be drawn up by the end of January – with trademark practitioners urged to have their input.
It is clear, though, that whatever rules are implemented by the USPTO will only play a part in quelling the flood of applications originating from China. It appears in this week's report that the registry sees Chinese government policy as a more long-term, definitive solution to this exponential and unsustainable growth.