US Supreme Court postpones sessions; Gibson and Heritage guitar spat; domain name coronavirus response – news digest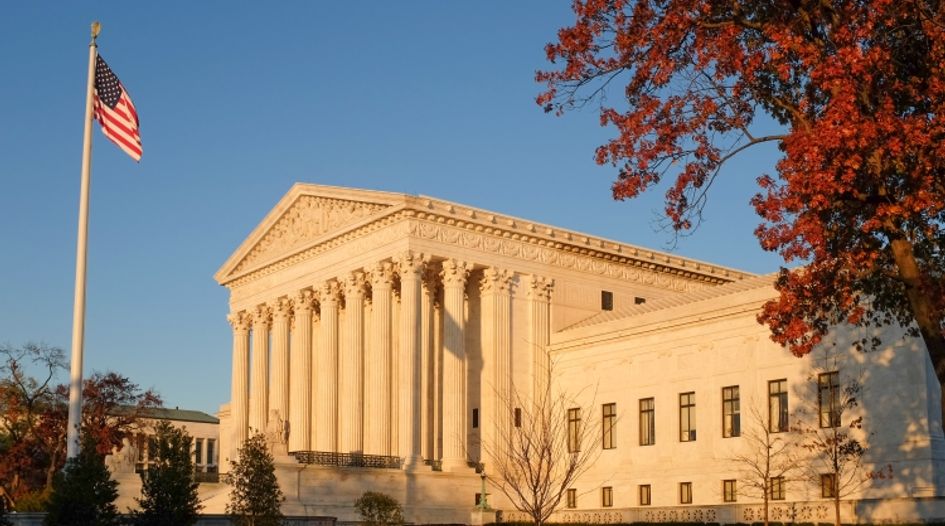 Every Tuesday and Friday, WTR presents a round-up of news, developments and insights from across the trademark sphere. In our latest edition, we look at counterfeit coronavirus test kits, Canada squeezing in the USMCA before the suspension of parliament, Dubai destroying nearly 50,000 fake goods, and much more. Coverage this time from Trevor Little (TL), Bridget Diakun (BD), Jonathan Walfisz (JW) and Tim Lince (TJL).
Market radar:
Counterfeit Covid-19 test kits seized in the US – It is depressing; but not surprising, that infringers are trying to capitalise on panic surrounding the ongoing Covid-19 crisis. US border patrol confiscated a package containing fake coronavirus test kits at Los Angeles International Airport on Thursday. The shipment was arriving from the United Kingdom and had been labeled as 'Purified Water Vials'. The US FDA and FTC have also had to send joint warning letters to companies who are selling products that are falsely claiming that they cure, treat, or prevent Covid-19. Elsewhere in the world there have been individuals claiming to have access to a vaccine. Where there is catastrophe, there is always someone seeking to make a fast buck (BD)
Luxury brands hit hard by pandemic – Travel restrictions have grinded international travel to a halt, with tourists opting to stay home and splash cash on groceries rather than pricey luxury products. Bernstein and Boston Consulting Group have estimated that in the immediate wake of the coronavirus outbreak the luxury market will lose as much as $32-43 billion this year alone. The shutdown of stores and malls has been significant, but there is also the issue of the drop in international travel, which was when Chinese consumers were most likely to shop for luxury goods. Another problem, argues The Fashion Law, is that airport shopping has dropped off. While brick-and-mortar retail has largely suffered over the past few years, duty-free shopping has escaped unscathed, with travellers from Asia in particular going to airport outposts for luxury products. It is a critical segment for luxury brands, and LVMH even has a majority stake in Hong-Kong-based duty-free shop operator DFS. Travel rates will undoubtedly return to normal levels in due time, but in the short-term luxury brands can expect to take a financial hit. LVMH is one brand that is actually using the current situation to reach out to the community and help build its brand reputation. The company will help combat the coronavirus in France by manufacturing hand sanitiser at three of its cosmetic facilities. The hand gel will be given to French health authorities for free. (BD)
Dubai destroyed 48,000 fake items in Q1 2020 – Local media outlet Emirates 24/7 has reported on the latest data from Dubai Customs, in which it was confirmed the destruction of 48,000 counterfeit items in recent months. Those figures were primarily made up of Apple products (42,184 of them). In a statement, the director general of Dubai Customs, Ahmed Mahboob Musabih, said: "Dubai Customs fights counterfeiting and piracy to protect the rights of brand owners and help them sustain their business through the exchange of expertise and cooperation with other partners and countries. We work towards a vision of becoming the leading customs organisation in the world supporting legitimate trade through full compliance with international legislation that protects brand owners from counterfeiting." (TJL)
Bunnings most trusted, Facebook most distrusted brand in Australia – New research from Roy Morgan has looked at the brands that are most trusted and distrusted by consumers in Australia. It finds that retail is the most trusted sector overall, with Bunnings, Aldi, Woolworths, and Coles being the most trusted brands in Australia. In terms of distrusted, mining and petroleum was the sector with the least consumer trust. However, the most distrusted brand is Facebook, followed by Telstra, AMP, NAB and News Corporation. According to Roy Morgan CEO Michele Levine, the lack of trust in a brand is a "previously invisible force" that can cause tangible damage to brands: "It's not uncertainty or even an absence of trust. It is something separate and more powerful, an active sense that we were foolish to trust too much, and it cannot be ignored. For brands and businesses, it leads directly to customer churn, loss of market share, and a plummeting share price." (TJL)
Legal radar:
'THE' trademark fights back – Last year, Ohio State University hit the mainstream media with an attempt to register a trademark for the word 'THE' at the USPTO. Although the efforts were unsuccessful, the university has fought back against the USPTO's refusal, reports Ohio State News. The university claims that its defensive action in response to an application from fashion designer Marc Jacobs for a similar mark which would encroach on the university's use of 'THE'. Benjamin Johnson, director, media and public relations at The Ohio State University said: "Ohio State's application is for clothing and is only concerned with applications of 'THE' when used in ways that are associated with the university and its brand… Trademark and licensing interests generate about $15 million in revenue each year to support the university's students, faculty and staff and our core academic mission of teaching and research." (JW)
SCOTUS postpones March arguments – In reaction to the COVID-19 pandemic, the Supreme Court of the United States (SCOTUS) has postponed the oral argument session that was scheduled to start on Monday 23 March. There has been no official date posted for when the session's 11 arguments will now take place. The court only stated that it "will examine the options for rescheduling those cases in due course in light of developing circumstances". On Thursday, the SCOTUS announced it was closed to the public "until further notice". Other work at the SCOTUS will continue such as the justices' private conference on 20 March to consider new cases for their docket. With six of the judges over 60, this may be conducted over the phone. Of the arguments postponed is USPTO v Booking.com. The trademark community will therefore have to wait a little longer to find out if a '.com' is a suitable modifier to make the 'booking' term a registrable mark. (JW)
Canada squeezes in USMCA before suspension – On Friday, prior to the suspension of Parliament until late April, Bill C4 (an act to implement the Agreement between Canada, the United States of America and the United Mexican States) received Royal Assent from the governor general of Canada. The third reading of the bill in the House of Commons, as well as senate readings, all took place on 13 March, before the bill being granted Royal assent. On WTR we have covered the USMCA – in particular its IP provisions – at length. This news brings implantation in Canada a significant step closer. (TL)
Gibson sued by Heritage Guitars for trademark infringement threats – Heritage Guitars has filed a defensive suit against guitar manufacturers Gibson after they threatened Heritage with legal action over alleged trademark infringement, reports Guitar.com. In the suit, filed at the US District Court for the Western District of Michigan Southern Division, a confidential agreement from 1991 states how, after Heritage was formed out of former Gibson employees in 1985, the company was allowed to continue making its own well-known guitars. However, Heritage claims that when Gibson was sold to hedge fund Kohlberg Kravis Roberts (KKR) following its bankruptcy in 2018, Gibson demanded Heritage cease its business due to its violation of the agreement. In the last year, Gibson has been involved in multiple other trademark disputes including against Dean Guitars, Warwick/Framus and Kiesel Guitars. Heritage is not seeking to challenge any of Gibson's trademarks, but to return relations to the previous status quo. Gibson responded to Heritage's suit with an official statement which notes that "Gibson is not suing Heritage Guitar, which is co-owned by BandLab (a Singapore based company who owns Guitar.com and Guitar Magazine) and a Chicago based real-estate group." Additionally, it claims that Gibson's original notice was due to a recent selection of guitars released by Heritage which "clearly did not respect, nor adhere to, the original contract". (JW)
Office radar:
(for the latest coronavirus-related updates from national IP offices, please read our dedicated article which is being continuously updated)
Domain Radar:
Domain industry coronavirus responses – On WTR we have been providing regular updates on how IP offices are responding to the Covid-19 emergency, in terms of procedures, deadlines and staff protection. Over on Domain Incite, Kevin Murphy has reported on how companies in the domain industry are adapting. For instance, in Italy, local ccTLD registry 'Registro.it' has noted that there may be delays in the processing of legal and administrative procedures in the coming days, while Com Laude said that it has updated its business continuity and disaster recovery plans to account for the pandemic threat, including providing remote-working solutions for its staff. Murphy concludes: "I've not heard any reports yet of members of the industry with confirmed infections. So that's good." His full report is available here. (TL)
On the move:
HGF unveils new partner –  HGF has announced the arrival of Nick Manley, who joins the firm's Manchester office as a partner as of 17 March  2020. In addition to being a Chartered Patent Attorney and European patent attorney, Manley is a registered trademark attorney and holds a Higher Courts Litigation Certificate. He advises clients of all types, including start-up companies, universities, SMEs and large multinational organisations, and boasts particular experience in the engineering and automotive sectors, and of oil and gas exploration devices, medical devices, radiation treatment devices and optics. (TL)
Duane Morris welcomes veteran IP partners – Jennifer M Lantz and Philip W Woo have joined Duane Morris's Silicon Valley office as partners in the intellectual property practice group. Lantz and Woo are Silicon Valley veterans with decades of experience, including at global law firms. Lantz advises innovators at all stages on managing and protecting their valuable brands and other IP, while Woo has been in practice for 25 years, working in all areas of patent law including litigation, prosecution and contested proceedings before the Patent Trial and Appeal Board. (TL)
And finally...
Your 'go to' resource for finding trademark expertise – The 2020 edition of the World Trademark Review 1000 – The World's Leading Trademark Professionals is currently available to view online. The publication identifies the leading trademark practitioners and firms from around the globe. As well as illustrating the depth of expertise available to rights holders as they seek to protect their brands, the guide serves as the definitive tool for locating top-calibre trademark expertise worldwide. Click here to access this year's edition.