Urgent call for USPTO to secure filing system after warning sent to attorneys over solicitation email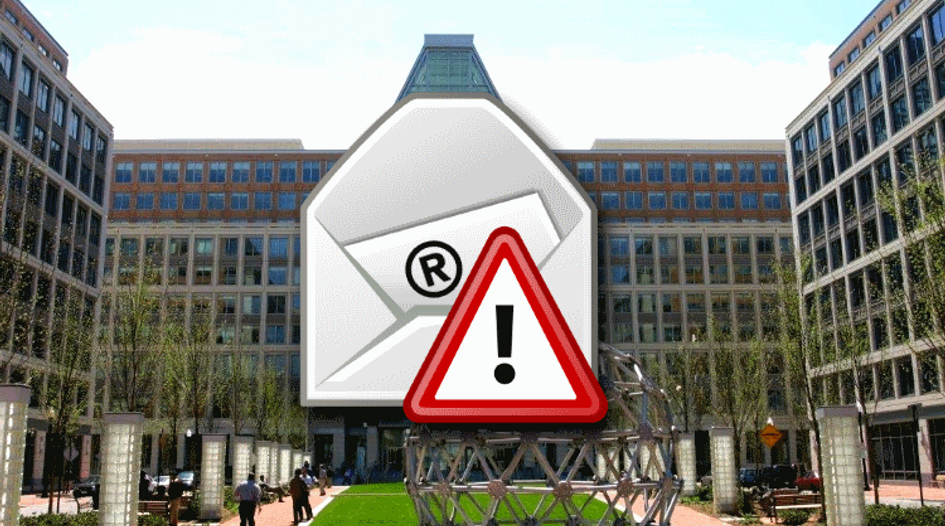 Warning issued after email sent to attorneys asking to use their details in filings
Move appears to be designed to circumvent proposed new roles on representation
Expert calls on USPTO to add security to its filing system or face further fraud
The United States Patent and Trademark Office (USPTO) has issued an alert over solicitation emails from parties wishing to use the name and address of US attorneys when filing trademarks at the office. However, such a move may not be enough, with a legal expert calling on the USPTO to add security to its filing system, warning that failure to act could see third parties fraudulently using attorney names when applying for trademarks.
Last week we reported on the USPTO's proposal to change federal trademark law to require foreign-domiciled trademark applicants, registrants and parties to Trademark Trial and Appeal Board proceedings to use an attorney who is licensed to practice law in the United States. Additionally, US-licensed attorneys representing clients before the USPTO would be required to confirm they are an active member in good standing of their bar and provide their bar membership information. The proposed change is designed to confront the problems posed by "foreign trademark applicants who purportedly are represented pro se… and who are filing inaccurate and possibly fraudulent submissions that violate the Trademark Act and/or the USPTO's rules".
Those rules are not yet in place, but on Thursday WTR was contacted by a US practitioner who had – along with a number of her colleagues – received a solicitation email asking if they would be willing to act as attorney of record on filings that the third party in China was responsible for. We then contacted other US attorneys and it came to light that a number have also received the same approach, which read as follows:
Can I use your attorney address? We help customers apply for US trademarks, but we need you to provide attorney information and US recipient address. About submit US trademark, and reply to review comments are submitted by us, authorized email also writes us. Just use your attorney information, how much is it for one class/one trademark? I am looking forward to your reply. Thank you very much.
Given how many lawyers had received the email, WTR contacted the USPTO to see if they were aware of the emails and asking for reaction. We are still awaiting that comment (and will update this article if received) but 24 hours later the office issued its own alert, stating that it had "learned that US attorneys are receiving emails from people in China and perhaps elsewhere, offering to pay to use their information in trademark filings".
In addition to asking for such solicitations to be reported (via the [email protected] email address), the USPTO warned: "Agreeing to such arrangements would likely be aiding unauthorized practice of law and violating federal rules, including the USPTO Rules of Professional Conduct, 37 C.F.R. Part 11. Attorneys who violate these rules may receive discipline, including exclusion or suspension from practice before the USPTO, reprimand, censure, or probation. Attorneys disciplined by the USPTO may also be reciprocally disciplined by their state bar."
In light of the solicitation email doing the rounds, WTR spoke to Josh Gerben, principal of Gerben Law Firm. While he did not himself receive the email, he observed: "While using a 'local counsel' is something that is commonly accepted (where a foreign counsel can manage a case and local counsel can advise and make the relevant filings), it would not be an acceptable arrangement to just let someone else use your name for the purposes of making filings with the USPTO". 
Kelly P McCarthy, partner at Sideman & Bancroft, received the solicitation email and states: "As an attorney who frequently works with clients to navigate the US trademark register and assess risk levels for proceeding with new applications, registrations which are clearly fraudulent require trademark owners to use resources that they could be saving for other matters. Entities like this one, who appear to be clearing looking for ways to undermine the integrity of the USPTO's systems, are really problematic. The idea that as a result of the recent USPTO announcements, the response was to spam a large number of attorneys to assist with this type of fraud is concerning and indicates that maybe this is even a bigger problem that many of us think."
In terms of response, Gerben suggested that the USPTO has a responsibility to consider how its own systems can be exploited by those seeking to get around the proposed new rules: "In light of this potential rule change, I believe the USPTO needs to urgently add security to its filing system. It would be incredibly easy for a 'bad actor' to simply use an attorney's name without his or her knowledge. For example, when we submit filings to the USPTO, we simply type our firm's information on the filing and there is no verification whatsoever that it is indeed our firm making the filing. This is a massively antiquated system in a digital environment that is rife with fraud. The USPTO should immediately implement technology which would require a 'log-in' for attorneys so the identity of the person making the filing is at least verified through a password protected portal. I fully anticipate the fraudulent use of attorney names if no such security system is implemented." 
Whether the office considers such a system remains to be seen. However, Gerben warns that this could just be the start of a new phenomenon, concluding: "Since this is just a proposed rule, it will likely take some time to get implemented. My guess is that the bad actors who will try to get around the rule will likely go into high gear around the time the rule is implemented."