Unicorn brand portfolios, EUTM top filers and diversity challenges: WTR 80 out now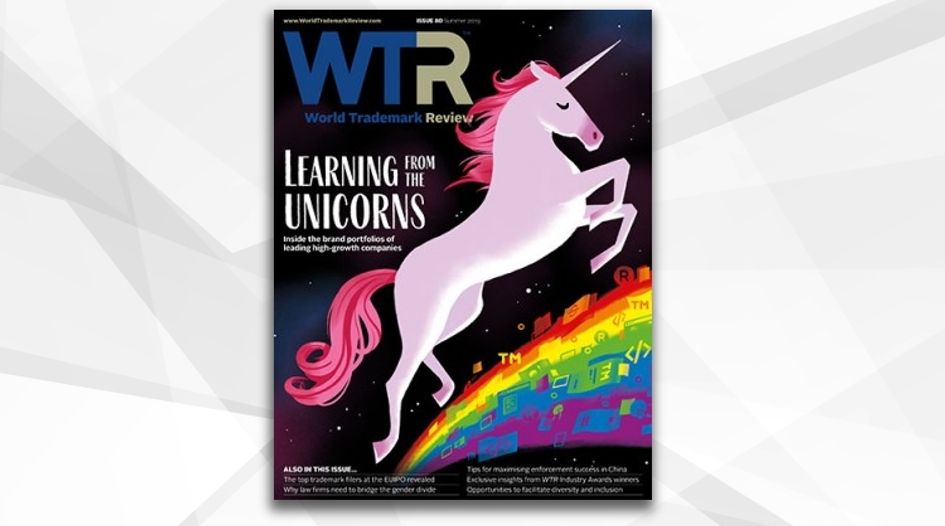 The Summer 2019 edition of WTR is now available online to subscribers, revealing the top filers at the EUIPO, presenting exclusive interviews with award-winning corporate trademark teams and taking a deep data dive into the brand portfolios of some of the world's leading unicorns.
A recent study has found that start-ups and small-to-medium enterprises (SMEs) that invest in trademarks have a much higher chance of experiencing high growth, yet only a small proportion of such businesses seek these protections. With that in mind, our cover story focuses on some of the world's most successful unicorns to explore the extent of their brand portfolios, consider how these may have contributed to their rapid growth and shed light on some of the reasons why trademarks are overlooked by SMEs.
Staying in the world of corporate brand management, we also present profiles of the winning teams and individuals at this year's WTR Industry Awards – with professionals from such companies as 7-Eleven, Alibaba, Caesars Entertainment, Daniel Wellington, FIFA, Intel, MetLife, Reckitt Benckiser and The Scotch Whisky Association providing critical insight into trademark management best practice.
Turning our attention to the wider IP landscape, we present analysis of one firm's efforts to combat gender inequality in the legal world, while three alumni of the Leadership Council for Legal Diversity explain why now is the time for the trademark community to grasp opportunities in diversity and inclusion. We also take a deep dive into EUIPO operations, revealing the top filers at the office and providing updates direct from Alicante. 
In addition, the issue contains an overview of the landscape for non-traditional trademarks in Latin America; exclusive insights from the head of the Russia Patent and Trademark Office; a roundtable discussion exploring trademark litigation strategies; and tips on how to enhance enforcement success in China. Finally, the Country Correspondents consider the treatment and exploitation of pharmaceutical trademarks in their respective jurisdictions.
Subscribers will receive their hard copy issues shortly. In the meantime, the issue is available online here.