UDRP misuse warning, non-traditional tips, and the danger from subtle copies: insights from MARQUES 2018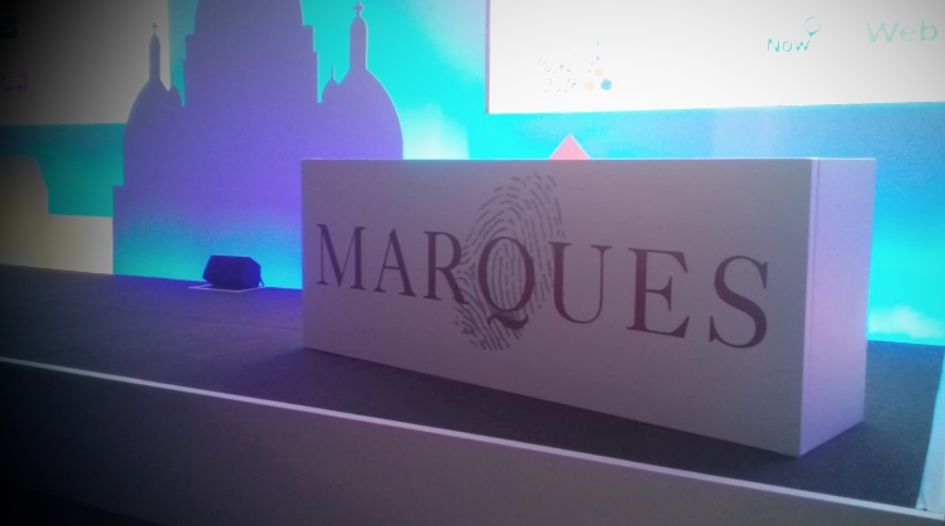 This week's MARQUES Annual Conference in Paris draws to a close today. We present some of the key insights and takeaways from the conference sessions, including insight into the standoff around WHOIS data access, the one Brexit-related question you need to be asking, and much more.
Subtle imitations pose the most risk to brands – Common perceptions of trademark enforcement priorities were challenged by Femke van Horen, associate professor of marketing at Vrije Universiteit Amsterdam and an expert on the psychology underlying consumer responses to copycat products. Speaking in the 'Design Your Mark' session, she explained that blatant imitations do not constitute the greatest risk to a brand's reputation or market share, contrary to what most trademark lawyers may think. Whereas highly similar copycats evoke specific and often unfavourable comparisons with the superior original product in the minds of consumers – what Van Horen termed a "contrast effect" – subtle imitations trigger broader and more positive psychological associations (quality, reliability, luxury) with the branded product (an "assimilation effect"). Therefore, moderately similar copycats are perceived most positively by consumers and have the greatest capacity to free-ride on the reputation and goodwill of original products. Furthermore, subtle copies are more likely to damage a brand's reputation. Elaborating, she noted that these effects also apply to product categories: copycat products in related, but not identical, product areas are perceived more positively by consumers than imitations in either the same or an unrelated category. Research shows that, for example, a 'Tropicala' product (an imitation of Tropicana juice) was evaluated more positively by consumers as a fizzy soft drink than as an orange juice. Clearly, then, subtle copycats need to be high on the enforcement agenda.
Question to ask in the lead up to Brexit – As at all European IP gatherings over the past two years, Brexit has been a key talking point in Paris. At this week's event, Taylor Wessing's Roland Mallinson provided an update on the current state of play. Crucially, he highlighted one particularly important question you need to ask in the months leading up to the UK's departure from the EU: will my trademark registration or opposition proceedings be completed by 29 March 2019? Despite continuing uncertainty about the exact nature of the trademark system following Brexit, he said, it is now fairly certain that registered EU rights will be matched by comparable UK trademark rights. But if your trademark registration is still pending on 29 March, it is presumed that will need to reapply to the UKIPO; opposition proceedings still ongoing at this point will also need to be re-filed. Applicants will not lose their priority date in such instances, but if there is any doubt that a registration will be completed by the UK's departure, it is probably worth filing for a UK trademark sooner rather than later.
Use UDRP proceedings for what they are intended! – In-depth discussion of the Uniform Domain-Name Dispute Resolution Policy (UDRP), the mechanism intended to help owners to reclaim domains from 'hijackers', led to a simple call to action – keep within the remit. Since its introduction in 2009, UDRP proceedings have been used in cases relating to over 100,000 domain names, with 2018 on-course to set a new annual record. However, the mechanism is currently under review by an ICANN working group, which may propose amendments. The UDRP has served brand owners well over the past 19 years; without the policy, many brands would have been held to ransom by squatters or been forced to engage in costly court litigation. However, Aimee Gessner of BMW stressed that the tool should only be used in straightforward cases, where evidence can be presented easily. This was echoed by Ploum Lodder Princen's Willem Leppink, a WIPO domain names panellist, whose advice to brand owners was "keep it simple, stupid!". Going further, fellow panellist Georges Nahitchevansky urged that the UDPR not be used too broadly by rights holders. Expanding, he noted that WIPO panels are not equipped to deal with complex contractual disputes, and questionable cases undermine the credibility of the system. This is particularly important in light of the ongoing review, which – given the range of stakeholders involved – risks blunting an effective tool for brand rights enforcement. "The UDRP is working and we ought to leave it to do its job," commented WIPO's Brian Beckham. Action point one? Use it only for the job it was intended or risk giving ammunition to those who wish to change it.
"Things are not looking good": inside the WHOIS deadlock – When it comes to online enforcement, perhaps the most pressing issue is the impact of the EU GDPR on WHOIS access. The GDPR placed new restrictions on the use and storage of data, including the information previously available to brands seeking to identify the people who have registered trademark-infringing domain names. ICANN has established an Expedited Policy Development Process team, drawing on a range of stakeholders, to shape its policy on the treatment of WHOIS data in light of GDPR. The team has been tasked with making proposals at the end of a one-year process but things are not looking good so far, according to WIPO's Brian Beckham. He told delegates that sources inside the process had informed him that a deadlock had emerged between law enforcement/brand owner representatives and other civil society stakeholders, who favour a more restrictive approach to data use. The team is thought to be unlikely to deliver its proposals within one year, he said, and a professional mediator is being hired to attempt to break the stalemate. This is clearly one to watch closely.
Tips for registering and protecting non-traditional marks – A recurring theme at this year's conference was non-traditional marks and how best to protect them, with a range of relevant strategic insights being shared. Sandrine Royer of Nestlé explained that obtaining design rights and using a distinctive design over several years was her favoured approach to having a shape mark recognised. Key to success, she expanded, is working closely with marketing to ensure that designs are used consistently in new products. Sometimes colour variations are unavoidable and Stefan Völker, of Gleiss Lutz, observed that Nivea has maintained rights to its blue branding, despite its marketing of a variety of different coloured items, by consistently adopted a circular blue logo on its products. What was consistent was the sense that non-traditional marks will only grow in importance – with recent changes to EU trademark regulations providing a boost for rights holders. Dimitris Botis of the EUIPO noted that, as of October 2017, there is no longer any requirement to submit a graphical representation of a mark in an EU trademark application, widening the range of rights that can be registered. Trademarks can be represented in "any appropriate form", so long as rendered in a "clear and precise manner"; position, pattern, motion, multimedia and hologram marks are now explicitly recognised by the EUIPO, in addition to other forms of non-traditional rights. However, the requirement for marks to be able to be represented by "generally available technology" does make scent or texture marks difficult to register at the European level.
Own it or risk it: lessons in copyright stategising – Thursday morning's proceedings concluded with a session about copyright law, which had some interesting takeaways for brands. It was pointed out that copyrights can provide an extra form of protection for creative elements of a company's branding and have been used successfully in Europe to oppose trademark applications. It was stressed, however, that European copyright laws are harmonised only to a minor extent, and so national legal differences must be borne in mind. Christian Schumacher of Schoenherr also highlighted the risks that arise from a company not having creative rights to its branding. Many brands, he noted, commission others to design their logos. It is important to have a clear agreement as to who owns the copyright, and, if an outside party owns it, how, where and how long such branding can be used. Otherwise, a brand owner may face restrictions or be the subject of litigation.