Truth Social: Trump's global launch plan could face EU legal hurdle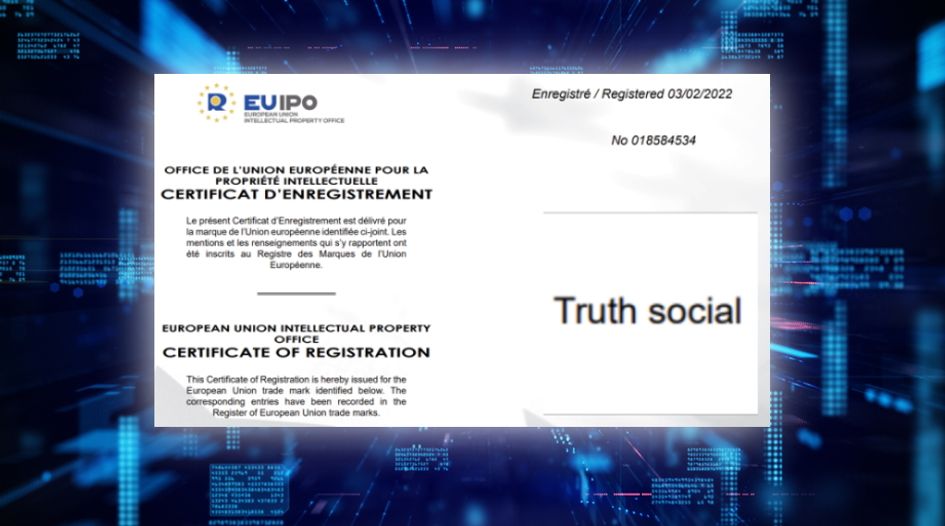 Donald Trump company launches social network app called Truth Social
WTR identifies two registered trademarks for the term TRUTH SOCIAL
Expert says registrations 'could be a hurdle' if app launched in Europe
Former US president Donald Trump this week launched his highly anticipated social network app 'Truth Social' to users based in North America. With plans to launch globally at a later date, WTR can reveal at least two registered trademarks for TRUTH SOCIAL covering the EU and Sweden, with one legal expert claiming they "could be an obstacle" if the platform rolls out to European users.
Launched on Monday, Truth Social is a social media platform developed by Trump Media & Technology Group, a company formed by the former president and reality TV star. It comes 12 months after Trump was banned by Facebook and Twitter, and the platform pledges to be a "champion of free speech" (although, curiously, its terms of service bans users from 'disparaging, tarnishing or otherwise harming' anyone behind the platform). The app is based on a free and open-source social network called Mastodon, with reports noting that its interface is nearly identical to Twitter. It has been downloaded approximately 170,000 in its first 48 hours.
At present, Truth Social is only available on Apple devices for users based in the United States and Canada, with a wider launch planned in the future, according to its homepage. In comments over the weekend, the CEO of Trump Media & Technology Group, former congressman Devin Nunes, said the aim is for the app to be "fully operational" by the end of March 2022.
There are currently question marks over whether the Truth Social platform could become a threat to brands (its terms of service states that it "respects the intellectual property rights of others" and brand owners can send copyright/DMCA infringement claims to a dedicated legal email address – with trademark claims not mentioned). As with any major social network, proactively registering brand-related usernames is advised, and subsequent monitoring for copycat accounts (especially those that may claim to be an 'official account') could be helpful, especially for brands that have been targeted by Trump in the past.
However, there could also be IP challenges for Trump Media & Technology Group. WTR can reveal that at least two trademarks for TRUTH SOCIAL have reached registration in the past month covering the jurisdictions of the EU and Sweden. Both registrations cover goods and services related to social networks, and were filed within a week of Trump's announcement of the impending launch in October 2021. The Swedish mark was registered in December 2021, while the EU trademark was registered earlier this month. Neither faced any opposition.
The Swedish trademark was filed by Stockholm resident Hassan Ferdowsi and the EU trademark was filed by Luxembourg resident Claudio Lopes. The reasoning behind both filings is currently unclear (WTR has contacted Ferdowsi and Lopes). However, the registration of the marks means that both individuals hold intellectual property rights in their respective jurisdictions that Trump Media & Technology Group will need to be aware of.
The most significant challenge will be the EU registration, due to the jurisdiction's huge population (of 447 million) indicating it as an obvious market for the Truth Social app to expand into. Talking to WTR, HGF trademark director Lauren Somers claims that the EUTM registration "could be an obstacle", expanding: "Lopes could allege that Trump's use of the identical trademark in relation to identical services infringes his EUTM registration."
Of course, with the timing of the trademark filing and its goods/services, it appears both of the trademark registrations were likely spurred by Trump's Truth Social announcement. In that case, any trademark dispute could hinge on that link. "Trump's retaliation would likely be that Lopes' registration was filed in bad faith so should be invalidated," Somers states. "Trump's team would therefore need to convince the EUIPO that Lopes was aware of Trump's plans for the mark and that he acted dishonestly in filing the application for registration."
Any argument of bad faith could be bolstered if Lopes seeks financial compensation from Trump's company for either purchasing the registration or surrendering the rights. As the EUIPO guidelines dictate, Lopes cannot use the trademark "for purposes other than those falling within the functions of a trademark" – and any monetary move could bolster an argument for bad faith. It is also understood that Trump Media & Technology Group could seek to establish goodwill and common law rights in certain common law EU territories (such as Ireland) as a basis for invalidity, but with Truth Social's limited launch (to users within the US and Canada), such a claim is unlikely to succeed.
The two trademark registrations are not the only IP-related issue for Trump Media & Technology Group. On Monday, within hours of the app launching, British sustainable energy company Trailar claimed that the Truth Social logo is suspiciously similar to its own branding design. "Great to see Donald Trump supporting a growing sustainability business! Maybe ask next time?" a tweet stated, which subsequently went viral with over 1,000 retweets. In further comments to The Independent, a Trailar spokesperson said the company "was now seeking legal advice to understand next steps and options available to protect our brand". Of course, any claim – which would presumably be based on copyright law as WTR was unable to find a registered trademark of the logo – would require proof of copying, so would be challenging to pursue if Trump's company can prove it was designed independently. WTR has contacted Trailar and Trump Media & Technology Group for comment.
For now, Trump will be happy with the download numbers, with Truth Social currently the most downloaded free app on Apple devices. However, if the plan is to imminently launch in Europe, there could be a legal battle ahead.