Trump's Patriot Party: prior trademarks could be "significant hurdle" to new political venture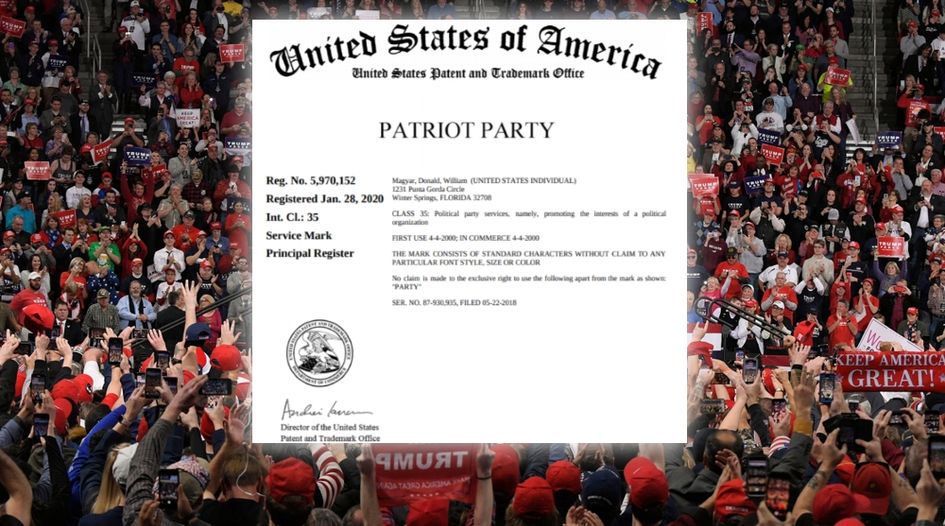 Former US president Donald Trump reportedly considering new political party
Preference of Trump is to call it the Patriot Party; trademarks exist for term
Legal expert says that registered trademarks could be "significant hurdle"
Former US president Donald Trump is reportedly considering a launch of a new political party, with the name 'Patriot Party' rumoured to be the preferred name. However, trademark registrations at the US Patent and Trademark Office (USPTO) could prove to be a stumbling block for Trump's Patriot Party plans.
As first reported by The Wall Street Journal, Trump is said to be considering creating a political party that better reflects his own beliefs than the Republican Party. Business Insider notes that it is "unclear" whether the new party would run candidates at elections or operate "as a media and merchandise empire" for the former president. However, what is clear – at least from sources familiar with the matter – is that Trump "would like to call it the Patriot Party" (going against his usual branding trend of naming products and services after himself).
Trump is well aware of the importance of trademark protection (his family owns over 1,000), but he could face a challenge in securing the rights to his preferred party name due to the existence of numerous trademarks on the US register for terms related to 'patriot party'.
Mostly recently, a trademark application was filed last month for the term THE PATRIOT PARTY by an Arizona company called 'BOS4LLC', owned by Queen Creek resident Lauren Bostock. That application is seeking registration in class 25 for hats, sweatshirts, and T-shirts. At the time of writing, it has not had a first office action from the examining attorney.
It is older filings, some of which have reached registration, that will be of more concern to Trump and his team. Back in March 2006, Florida resident Donald Magyar filed a trademark for the term PATRIOT PARTY in class 8 for 'membership in a political party'. In October 2007, it reached registration. However, a decade later, the registration was cancelled due to an 'unacceptable' declaration filing. For Trump, that cancellation would be a relief – that is, if it Magyar hadn't returned to the USPTO in May 2018 and filed two more applications for PATRIOT PARTY (here and here). These applications cover political services and membership organisations, and both reached registration in January 2020.
Outside of the applications, Magyar has operated a 'Patriot Party®' website since at least 2009. On it, he urges people to "join the patriot revolution" and reject the Democratic and Republican parties. In a statement on the website, Magyar says: "Akin to the 39 signers of the US Constitution in 1787, 39 heroic billionaires will fund the Patriot Revolution to save America. Working as a team, we will restore the Constitution, take the big money out of politics, apply the correct psychology to social problems, and ensure America's sovereignty, solvency, exceptionalism and leadership position."
Interestingly, some of the "10 planks" of Magyar's Patriot Party are similar to views that have been espoused by Trump. Examples include "establishing English as America's official language", "encouraging legal immigrants to assimilate so we unify society", "rejecting socialistic policies", "correcting the anti-America bias in public schools", and "reminding citizens of all ethnicities [that] we are Americans first" – the latter pledge mirroring one of Trump's key slogans.
On LinkedIn, Magyar is listed as "chairman at Patriot Party", suggesting the venture is a priority for the Florida resident. Elsewhere, on SlideShare, he has uploaded a 261-slide manifesto on "how to save America from self destruction" – including revealing a formula that he claims is the political equivalent of E = mc2. There's a musical side to Magyar that suggests further political leanings, with an album uploaded to Broadjam that includes the tracks 'The Looney Left' and 'Right is Right, Left is Wrong'.
What is unclear, after over a decade of operating his Patriot Party website, is whether Magyar plans to further evolve it into a serious political endeavour (WTR has reached out to Magyar for comment). With relatively recent trademark filings, though, there is evidence that Magyar feels strongly enough to put hundreds of dollars into the venture.
How, then, could the existence of Magyar's Patriot Party affect the creation of a potential Patriot Party led by former president Trump? Talking to WTR, Erik Pelton, founder and managing attorney of Erik Pelton & Associates, says: "The registration and apparent use of PATRIOT PARTY for identical services does present a significant hurdle to any efforts by Trump or anyone else to use that phrase in connection with a political party or related services."
There could be options – especially for someone with coffers as deep as Trump's – such as offering to buy the rights or licensing the trademark from Magyar. However, with some similar political views, Magyar could seek to gift the rights to Trump in exchange for a role in the new party.
It is clear, though, that if Trump wishes to pursue a political venture called the 'Patriot Party', another Donald in Florida could be a roadblock that needs to be overcome.