Trump's Nickelback copyright takedown is a reminder that legal teams must prepare for 2020 election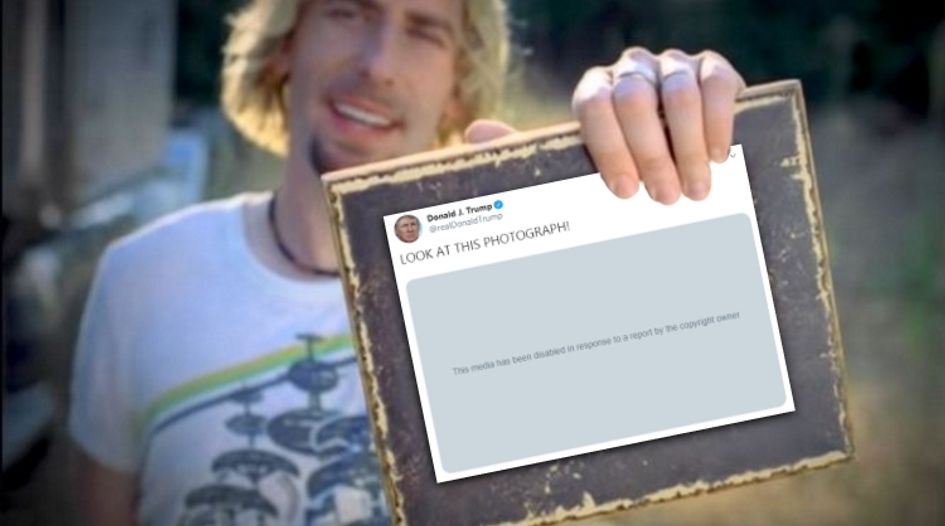 POTUS Donald Trump has video featuring rock band Nickelback removed from Twitter
The removal appears to 'stand in contrast' to Twitter policy regarding Trump's tweets
Copyright report came within 12 hours; legal teams should prepare when to report
US President Donald Trump has had a video removed from Twitter following a report of copyright infringement. The video, which featured rock band Nickelback, was taken down within 12 hours of being posted and is the second such removal so far this year. The move is a reminder that brand misuse could increase significantly during the 2020 US presidential election, and rights holders should be prepared.
As has been widely reported, Trump yesterday posted a tweet taking aim at Democratic presidential candidate Joe Biden. It featured a clip from the music video of the Nickelback song 'Photograph', with an image of Biden digitally inserted into a photo frame. However, within 12 hours of being posted, the video was replaced with a notice saying the media "has been disabled in response to a report by the copyright owner".
A few hours later, BuzzFeed News confirmed that, according to the Lumen database, the takedown notice was lodged by Warner Music Group, the parent company of music label Roadrunner Records, which produced the Nickelback song. A representative for Warner Music Group has said the company "is not going to comment" on the takedown.
This is the second time in 2019 that Trump has had content removed on Twitter due to a copyright infringement notice. In April, a Trump campaign video that featured music from the movie 'The Dark Knight Rises' was taken down after a report was lodged by Warner Bros. At that time, a spokesperson for the movie studio said: "The use of Warner Bros' score from The Dark Knight Rises in the campaign video was unauthorised. We are working through the appropriate legal channels to have it removed."
Interestingly, according to The Guardian, both removals appear to "stand in contrast to Twitter's policy about Trump's tweets". As described by Twitter's own public interest explainer, certain government officials with over 100,000 followers will be exempt from Twitter's content rules. However, when it comes to IP infringement, it appears that exemption does not apply.
Preparing for political brand misuse
Of course, Trump's latest copyright notice is not the only brand-related incident featuring the US President in recent years. Back in July, he fiercely criticised left-leaning brand boycotts, even claiming that "two can play that game". Despite that criticism, Trump is an apparent fan of calling for boycotts. Just on Twitter, he has called for boycotts of Apple, AT&T, Chinese products, CNN, Fox News, Glenfiddich, Harley Davidson, HBO, Italy, Macy's, Mexico, the NFL, Rolling Stone magazine, and TV channel Univision. As well as calling for brand boycotts, he also frequently criticises specific brands, including Amazon, Boeing, General Motors, Rexnord, T-Mobile, and Toyota.
There are also numerous examples of Trump using entertainment properties for political or campaign reasons. Most famously, in November 2018 he tweeted a Game of Thrones-inspired poster featuring the term "Sanctions are coming", using the style and font used on marketing for HBO's big budget TV show. At that time, HBO was praised for its brisk and canny response – just over two hours after Trump's tweet, HBO's responded by asking, "How do you say trademark misuse in Dothraki?", referring to the fictional language used in the show. Nonetheless, Trump re-used the poster a couple of months later and in April 2019 tweeted out another image heavily inspired by Game of Thrones.
As the 2020 Presidential Election kicks into gear in the coming months, such brand-related incidents are likely to increase. Why? Both major brands and entertainment properties are cultural touchstones that are widely recognised by the broader public (ie, voters). Furthermore, use of brands (either through criticism or parody) by a major politician is sure to garner more media coverage than most other social media content. On top of that, the previous US presidential election had dozens of brand-related incidents – most famously when Trump's son compared terrorists arriving in the United States as part of refugee programmes to a single 'poisoned Skittle' in a bowl of sweets. In response, Wrigley took a strong tone: "Skittles are candy. Refugees are people. We don't feel it is an appropriate analogy."
It is for that reason that a new survey from Morning Consult recommends that brand owners must prepare to navigate the "choppy waters" of the 2020 Presidential Election. "The 2020 election is presenting a whole new set of challenges for companies," the study states. "Engaging with Trump is still a complicated tightrope for political activism among brands. Issuing a statement about Trump – whether positive or negative – is likely to draw a major backlash."
A key question, then, is how a legal team should respond if a major figure like Trump drags a brand inadvertently into the political fray. When is reporting a post appropriate? What other departments need to be drafted in to decide what response is necessary? Could a public comment jeopardise potential legal action? Does the response depend on the politician who posted it? Could a legal response lead to a PR backlash? All of these questions would need to be answered briskly. "Organisations should specify exactly how certain crisis situations may be spotted and efficiently escalated up the management chain to a level at which they can be dealt with," crisis experts Andy Holdsworth and Stuart Leach told us in 2016. "Any crisis management team should include the key aspects of the organisation – such as operations, legal, communications and human resources – and at the onset of a potential issue, all should consider how this could impact on the organisation from their viewpoint.
For Eric Fingerhut, trademark practice group leader at Dykema, there is one primary consideration that must be followed: "Trademark counsel must ensure the brand is in the best position to speak out and prevent commercial misuse of the brand."
The 2020 Presidential Election looks to be more aggressive, passionate and unpredictable than the 2016 campaign – and with that comes increased risk for brands. Preparation for different circumstances (such as calls for brand boycotts and unauthorised use of media assets) is key.