Trump weighs in on rebrand; Reddit acquires Dubsmash; USPTO director talks designs – news digest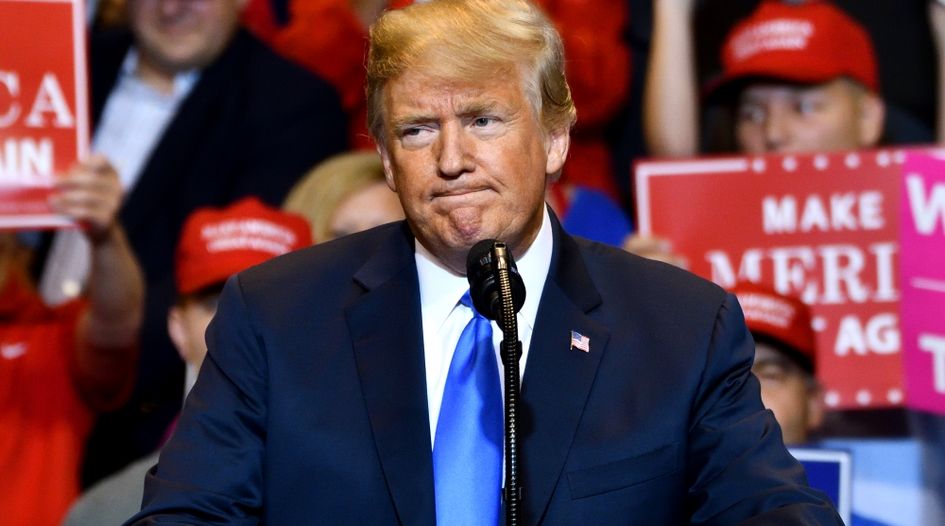 Every Tuesday and Friday, WTR presents a round-up of news, developments and insights from across the trademark sphere. In our latest round-up, we look at the IPR Center recognising Alibaba's IP efforts, a battle for Arcadia and Debenhams brands, brand enforcement lessons from a fake Dr Fauci, and much more. Coverage this time from Trevor Little (TL), Bridget Diakun (BD), Jonathan Walfisz (JW) and Tim Lince (TJL).
Market radar:
USPTO director talks designs – Speaking at the Design Law 2020 Symposium, USPTO director  Andrei Iancu has provided an update on design applications levels, revealing that in FY2020 (which ended in September) the office received almost 47,500 design filings, an increase of 4.2% from 2019.  As a result, the office hired 38 new design examiners over the period, bringing the total number to over 200. Looking ahead, he noted that there are plans to improve US design patent rights, explaining: "At the USPTO, we are already putting in place AI tools to assist our patent examiners searching prior art that is being generated at an accelerating rate in the United States and around the world. This is just the beginning, as the office will be making increased use of AI tools across the board…. Turning to policy considerations with respect to digital designs, the United States needs to consider a new, modern approach that takes into account the realities of current and future technology trends. To that end, the USPTO is reviewing the 'article of manufacture' requirement of Section 171, as well as other policy considerations surrounding the patentability of digital designs, including virtual and augmented-reality designs. The prevalence and importance of digital designs continues to explode. Virtual platforms are now used daily in our business transactions, and design interfaces are critical. They are often the most important component for the commercial success of certain products and services.". His full remarks are available here. (TL)
IPR Center recognises Alibaba's IP efforts – The National Intellectual Property Rights Coordination Center, the US Department of Homeland Security's key investigative branch and 23 other federal agencies have officially recognised Alibaba Group for its efforts to combat IP theft and safeguard consumers, reports Alizila. "We are proud to recognize the company's unwavering commitment in protecting intellectual property rights and consumer health and safety," stated IPR Center director Steve Francis in a virtual ceremony, at which Alibaba was the only non-American marketplace to win an award. Alibaba's vice president and head of global IP enforcement, Matthew Bassiur, reflected that the company collaborates with other external stakeholders "because it's the right thing to do, regardless of borders", adding: "We know who the bad guys are, and when we work together, we are a heck of a lot stronger than when we work siloed." (TL)
There may be a battle for Arcadia and Debenhams brands – On Thursday of last week, Frasers Group confirmed its interest in purchasing brands from the Arcadia retail empire which recently collapsed into administration. Arcadia's portfolio includes Topshop, Burton and Dorothy Perkins. Frasers Group is further still in discussions around potentially buying the British department store Debenhams. While chief financial officer at Frasers Group, Chris Wootton, made it clear that the business is interested in Arcadia's brands, he said, "the process has only just started so there's a long way to go as to ascertain what - if anything - we look at with that". Frasers Group may want to speed things up though, with a weekend announcement that Authentic Brands Group (ABG) is looking at a double takeover of Debenhams and Arcadia Group. According to Reuters, ABG was in talks with the administrators of both stricken companies. ABG has already picked up the brands of bankrupt Brooks Brothers and Lucky Brand this year. (BD)
Trump weighs in on brand name change – US President Donald Trump has tweeted an opinion to his 88 million followers about The Cleveland Indians dropping its controversial name. Earlier this week, it was announced that the baseball team would be removing 'Indians' from its name after a long-running dispute with Native American groups. According to the New York Post, "those frustrations became more prevalent with the US in the midst of a reckoning on racism and social injustice following police shootings involving unarmed black men and women". It is understood the team has not yet decided on a new name, with the new baseball season set to begin in April 2021. Responding to the announcement, Trump tweeted: "Oh no! What is going on? This is not good news, even for 'Indians'. Cancel culture at work!" With the US President weighing in on the rebrand, it has brought the issue to the top of the news agenda – and the ire of many Trump supporters with it. (TJL)
AAFA welcomes Biden's USTR pick – The American Apparel & Footwear Association (AAFA) has praised the nomination of Katherine Tai for US Trade Representative by President-elect Joe Biden. Tai currently serves as the chief trade counsel to the US House of Representatives' Ways and Means Committee, having been named to the position in 2017 after serving three years on the committee as trade counsel. She took on that role after seven years at the USTR's Office of the General Counsel.  Steve Lamar, president and CEO of the American Apparel & Footwear Association, stated: "Katherine Tai has great mastery of the contours – both economic and political – around which US trade policy is created and effectively implemented. She is an experienced trade lawyer, has demonstrated experience forging trade policies that reflect input from a variety of stakeholders, and is known to strike a careful balance between enforcement and facilitation. As our economy recovers from covid-19, it is urgent – now more than ever – that we enable smart, responsible, and effective trade policies that remove barriers, advance our principles, and benefit American businesses, workers, and consumers. We believe Katherine is the right pick to hit the ground running on this critical task." (TL)
Reddit acquires Dubsmash – Social network Reddit has purchased short-form video platform Dubsmash, a rival to TikTok. According to a post on the Reddit blog, Dubsmash will retain its own platform and brand, but Reddit will also integrate its video tools into its own platform. According to Reddit CEO Steve Huffman, the two brands share a similar ethos that should work well as one: "Both Reddit and Dubsmash share a deep rooted respect for how communities come together. Dubsmash elevates under-represented creators, while Reddit fosters a sense of community and belonging across thousands of different topics and passions. It's clear that our missions closely align and that our community-focused platforms can coexist and grow as we learn from each other." (TJL)
Office radar:
(For more of the latest coronavirus-related updates from national IP offices, please read our dedicated article which is being continuously updated)
INTA releases 2020 In-house practitioners benchmarking report – INTA has released its annual benchmarking report for in-house practitioners. The report provides an insight into the realities of in-house trademark teams across the industry through a collaboration between INTA's in-house practitioners committee, research advisory council and staff. The report compiles the responses of 509 in-house practitioners. Through the use of research firm Corona Insights, the report highlights that the average in-house legal team has six people and manages around 4,500 total trademarks in its portfolio. These teams are, on average, made up of 50% lawyers and 33% paralegals. 91% of respondents agreed that their organisation appreciates the value and importance of trademarks with 64% saying the right amount of money was being invested in the area. The most work among in-house practitioners was prosecution tasks, taking up 37% of a team's time on average. However, the most common work was enforcement/litigation/oppositions, with 90% of respondents saying they did that kind of work. In terms of how in-house teams collaborate with external counsel, 87% said they utilise external counsel for enforcement/litigation/oppositions, 82% for prosecution, 62% for clearance, 61% for maintenance, and 56% for anti-counterfeiting. In money terms, 86% of respondents said they use an hourly rate fee structure for external counsel, and 88%, a fixed fee structure for outside collaborators. The medium in-house team budget was between $1 and $2 million, with 55% saying their team's travel budget had decreased over the past three years. (JW)
Media Watch:
Lessons from a fake Dr Fauci – On Sunday, a Twitter account (@Fauci) was suspended after impersonating Dr Anthony Fauci, an American physician who has served as the director of the National Institute of Allergy and Infectious Diseases since 1984 – and who has emerged as a figurehead in the ongoing fight against covid-19 in the United States. It is understood the @Fauci account on Twitter sent its first tweet over the weekend despite the account being created in 2009. Further eyebrows were raised when the account retweeted the Biden-Harris Twitter account, despite Fauci currently being part of the Trump administration. When the account was suspended by Twitter, it was assumed that was the end of it. However, researchers have analysed the situation and presented them as a 'tutorial on detecting impostor accounts'. "We looked at old tweets tagging @Fauci, and most of them don't appear to have much to do with virology or any other medical topic," the research says. "Some are in Indonesian, which as far as we have been able to discern, the real Dr Fauci does not speak. Finally, @Fauci's first followers are mostly fashion-themed, including an account named @FauciVintage. We suspect that the @Fauci account was originally focused on fashion, but was repurposed to impersonate Dr Fauci, either by the original owner or by someone who took it over." The thread is a reminder, perhaps, of the risks that well-known individuals and brands have on social media – that confusingly-similar account names can become problematic even if they appear dormant or inactive at one point in time. (TJL)
Burger King France makes social media available to restaurant owners – Last month on WTR, we reported on Burger King making headlines for a campaign telling consumers to order from its big rivals. The 'Order from McDonald's' campaign, launched in France, was designed as a show of support by Burger King's towards the food service industry, which has been highly impacted by the national lockdown in the country.  the fast food giant is now going further, promoting visibility for independent French restaurants on its Instagram account (which has 328,000 followers). In a campaign conceived by agency Buzzman, "to continue to show its solidarity with the sector" Burger King will stop posting pictures of its burgers until its restaurants reopen on 21 January 2021.  Instead, "every day, the brand will highlight several restaurants with: their menus, their addresses and their promotions". To participate, restaurant owners need  to post a photo of their signature dish with the #WhopperAndFriends and Burger King France will repost them. (TL)
On the move:
Adam Siegartel joins Cowan, Liebowitz & Latman – Adam Siegartel has left Haynes and Boone for Cowan, Liebowitz & Latman, where he will be part of the intellectual property and litigation practices. Siegartel will primarily practice in the firm's trademark and litigation & early dispute resolution groups. He advises clients on brand management, domestic and international trademark searching and clearance, intellectual property enforcement and defense, as well as negotiating and drafting licenses, sponsorship agreements, endorsement agreements, and other intellectual property content agreements. Siegartel will also continue to handle lawsuits involving trademarks, copyrights, cybersquatting, the rights of publicity, and other intellectual property and commercial disputes. Additionally, part of Siegartel's practice includes advertising clearance and claim substantiation, sweepstakes and other promotional programs, counterfeiting, and other intellectual property issues. (BD)
McKool Smith hires USPTO veteran – McKool Smith has announced that Nicholas Matich, former acting general counsel of the USPTO will join the firm as a principal in its intellectual property practice. During his time with the USPTO, Matich supervised the provision of legal advice and litigation on IP and administrative matters for the agency, including providing legal advice on patent, trademark, and copyright matters. "We are thrilled to have Nick join the firm," said David Sochia, McKool Smith's Managing Principal. "He obviously has a wealth of experience at the USPTO, which is an important venue for our clients and our practice before the Patent Trial and Appeal Board (PTAB). He also has significant appellate and administrative law experience and will be instrumental in helping our clients navigate regulatory changes and advance their IP monetisation and protection strategies." Prior to working at the USPTO, Matich was deputy general counsel at the Office of Management and Budget within the executive office of the President. (TL)
Hinshaw & Culbertson announces new partner hire – Jonathan D Jay, a trial attorney with over 25 years of experience, has been appointed to partner within Hinshaw & Culbertson's business litigation practice group. Jay was formerly a partner with Hellmuth & Johnson, where he led the intellectual property and insurance defense litigation groups. "Jon brings a unique mix of insurance coverage and intellectual property experience that offers another dimension to Hinshaw's national insurance practice," said chairman Peter Sullivan. Jay defends clients who are accused of alleged infringement in a wide variety of intellectual property disputes, ranging from patent and trademark to trade secret matters. (BD)
And finally...
WTR Connect returns this spring with five days of strategic content – We are pleased to announce that the second WTR Connect series of digital events will take place the week commencing 15 March 2021. The event will offer more than 20 interactive digital sessions, each designed to facilitate discussion, benchmarking and the sharing of best practice around key topic areas and challenges facing trademark and brand leaders. The theme for the event is 'exchanging cost-effective and resource-efficient best practices' and each day will start with a keynote address from a major industry figure, which is followed by live breakout discussions lasting for a maximum of 60 minutes. Registration is free for WTR subscribers and participants can register for as many sessions as they like across the week, building their own schedule. For event timings, and to sign up to attend, please click here.