Trump trademark blow; Iancu speaks at ARIPO event; protecting clown faces – news digest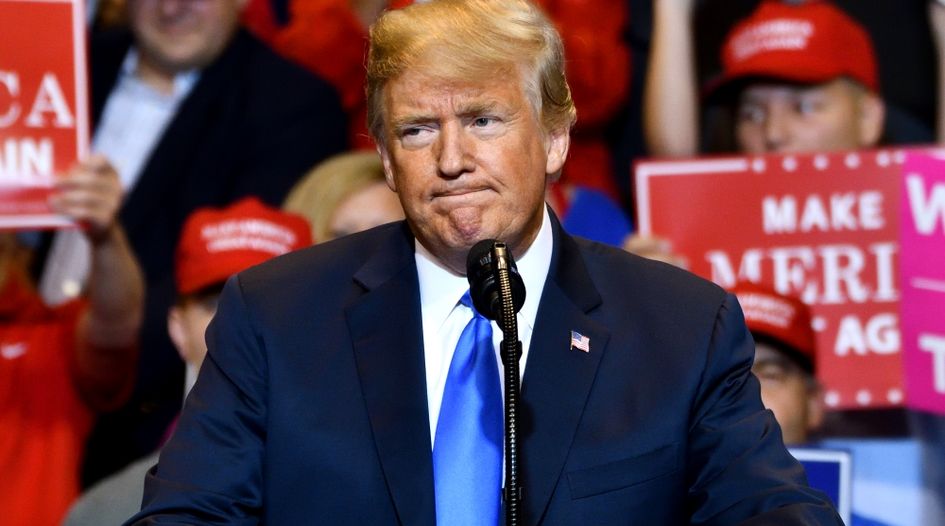 Every Tuesday and Friday, WTR presents a round-up of news, developments and insights from across the trademark sphere. In our latest round-up, we look at Ascena Retail Group finding a buyer for the Justice brand, INTA presenting this year's Tomorrow's Leader award, and much more. Coverage this time from Trevor Little (TL), Bridget Diakun (BD), Jonathan Walfisz (JW) and Tim Lince (TJL).
Market radar:
Ascena Retail Group finds buyer for Justice brand – Ascena Retail Group is one of the many retailers which filed for Chapter 11 bankruptcy in the US since the start of the coronavirus. Like other businesses in a similar position the company has been selling off its intangibles either in a bid to raise capital or make an attempt at restructuring. Ascena Retail Group sold the Dressbarn brand in October of last year (prior to its bankruptcy filing) to Retail Ecommerce Ventures for about $5 million. It also put its plus-size chain Catherine up for auction, which was sold to FullBeauty Brands for $40.8 million. The latest news is that the auction for Ascena Retail Group's tween brand, Justice, has closed. Justice Brand Holdings, an entity formed by brand management company Bluestar Alliance, was the successful bidder. It will acquire the intellectual property of the Justice brand and other Justice brand assets, as well as assume certain liabilities, for total consideration of approximately $90 million. (BD)
INTA presents California attorney with Tomorrow's Leader award – INTA has announced that Bita Kianian, associate at Knobbe, Martens, Olson & Bear, is a recipient of its 2020 Tomorrow's Leader award in recognition of her early leadership merits in the IP industry. Irvine-based. Kianian, who has worked at the firm for two years, focuses on trademark prosecution and enforcement, copyright, unfair competition, and licensing and has co-authored numerous articles for prestigious publications. In addition, the association notes that she has performed extensive pro bono work, including volunteering at El Centro Legal, a student-coordinated network of volunteer legal aid clinics at the University of California, Los Angeles, and at the Legal Aid Foundation of Los Angeles, where she represented individuals who had been wrongly denied government benefits. "Through her impressive practice and pro bono work, it is clear that she is a rising star in the IP world. We're excited to see how she continues to build upon this honour and expect her to positively impact the community for years to come," said INTA president Ayala Deutsch. As an award winner, Kianian can serve on an INTA committee and be mentored by an association member. She also receives complimentary registration for this year's virtual 2020 Annual Meeting & Leadership Meeting, as well as the 2021 Annual Meeting.(TL)
DoorDash to go public by the end of the year – US food delivery start-up DoorDash, which is backed by SoftBank, made its regulatory filing for an IPO on the New York Stock Exchange public as of last Friday. The company filed for an IPO of $100 million, although this is a placeholder amount and the figure is expected to change. Given the timing it's looking like the company could float its shares by the year's end. The food delivery industry is highly competitive with the major players battling it out for market share. While DoorDash is competing with some well-established heavyweights, like Uber Eats and GrubHub, it has no doubt experienced a business boost because of the coronavirus pandemic. It is likely capitalising on this opportunity to target new consumers and build stronger relationships with existing customers. (BD)
Airbnb set to make initial public offering – Despite the impact of the pandemic on its business model, Airbnb has filed the paperwork to make its initial public offering (IPO) this year. The paperwork reveals it turned a profit of $219 million on $1.34 billion in revenue during Q3 this year. This is somewhat of a reduction considering their 2019 Q3 performance of $227 million profit from $1.65 billion in revenue. Airbnb suffered greatly in H1 this year due to the pandemic and reported net losses of $916 million. While Q3 was a success by comparison, new waves of covid-19 have seen the company decline and cancel more bookings again. The company announced it would make an IPO in September 2019. Over a year later, the company is still committed to making its Wall Street debut. (JW)
Whole Earth Brands purchases Swerve – According to an announcement by DLA Piper, which represented Whole Earth Brands in the deal, the healthy foods manufacturer Whole Earth Brands has acquired Swerve for $80 million. The purchase will help Whole Earth brands to expand its offerings in the alternative sweetener space. The transaction closed on 10 November 2020. (BD)
Legal radar:
Trademark blow for Trump – The Scottish Sun has reported on an EUIPO decision which has seen the cancellation of marks for branded merchandise at US President Donald Trump's Scottish golf resorts. The development came after Luxembourg-based Anthee SARL challenged Trump's right to exclusive use of the marks – linked to his businesses at Turnberry, Ayrshire, and the Menie estate in Aberdeenshire – across Europe, following its previous revocation actions against marks help by Trump. The firm argued that the Trump-branded marks had not been put to a "genuine use" for a continuous five year period. The outlet reports that, while Trump's representatives submitted photographs of branded items they said were on sale at his courses in Scotland and online, they did not provide detailed receipts showing that any of the goods had been sold. The decision stated: "According to the proprietor, the goods that appear in the documents were available for sale in the pro shop at Trump Aberdeen, Trump Turnberry or through the online Trump Store webpage or the well-known retailer Amazon. There is, however, no evidence that this was the case." (TL)
Office radar:
(For more of the latest coronavirus-related updates from national IP offices, please read our dedicated article which is being continuously updated)
Iancu speaks to the Administrative Council of ARIPO – USPTO director Andrei Iancu spoke virtually at the 44th Session of the Administrative Council of the African Regional Intellectual Property Organisation (ARIPO) this week. He congratulated the organisation on the addition of the Republic of Mauritius and praised the work of director general Fenando dos Santos. Iancu particularly noted the update of the protocol on marks, the Banjul Protocol. (JW)
Media Watch:
Clowning around with IP protection – The Mail Online this week threw the media spotlight on the unorthodox approach to avoiding IP conflicts adopted by clowns, in a bizarre piece that perhaps serves to highlight how not to evidence the creation of protectable work. Titled 'It's like a horror movie!' Social media users are left 'terrified' after discovering clowns trademark their make-up designs by painting them on Eggs', the piece was sparked by a Twitter user's discovery, in a London Gallery, of more than 200 hand-painted eggs, which have been especially created as "a file of faces so that clowns can avoid copying one another". The tweet remarked: "Sometimes I remember that if a clown wants to trademark their makeup they have to paint it on an egg that is stored in a special clown egg warehouse and then I have to go lie down." The collection is purported to show the make-up copyright for members of Clowns International. However, as the piece notes, painted eggs do not result in a right that can be wielded in legal enforcement efforts. Perhaps, at a time when law firms are seeking new business development opportunists, there is serious money to be made offering professional IP advice to the world's clowns. (TL)
On the move:
Keith Grady joins Tucker Ellis – Keith Grady has been appointed to partner within Tucker Ellis' intellectual property department. Grady is an experienced litigator having represented publicly traded companies and major manufacturers in patent litigation across various industries. He also counsels clients in litigious matters relating to trademarks, trade secrets, unfair competition, internet domain names, and trade dress. Intellectual property department chair, Carlos Garritano, commented on the hire saying, "Keith's three decades of invaluable government and private-practice experience will be a huge benefit to our clients in developing, enforcing, and defending their intellectual property". Grady can be found in Tucker Ellis' St Louis office. (BD)
Mathys & Squire expands trademark capability – Mathys & Squire has announced the appointment of Robin Richardson as associate to the firm's trademark practice, bringing the team headcount to a record high of 13 across its London, Birmingham and Manchester offices. Richardson is an attorney of the High Court of South Africa, a qualified trademark attorney and soon to be UK qualified solicitor. He has several years of experience in trademark, domain name and copyright protection, working with clients ranging from large multinationals through to newly formed startup companies. Commenting on his appointment, partner and co-head of the Mathys & Squire trademark team,Gary Johnston said: "We are delighted to welcome Robin to the firm as our trademark practice grows. His extensive trademark skills and international experience will further augment the capabilities of our trademark practice. Robin has a strong passion for solving domain name, trademark, copyright and internet based legal issues which will add to our offering to clients. He will be a great asset to the firm." (TL)
Reichman Jorgensen boosts team with trial lawyer – IP trial lawyer Jodie Cheng has joined Reichman Jorgensen as counsel in its Silicon Valley office. Cheng's practice focuses on complex IP disputes and counseling related to patents and technical trade secrets. She advises clients in patent prosecution, IP portfolio management, risk assessment, due diligence, and pre-litigation strategies. "Jodie is an incredibly talented trial lawyer who really understands the interplay of IP issues and global business strategy," said Christine Lehman, head of Reichman Jorgensen's ITC practice and managing partner of the firm's DC office. "When you consider her trial prowess, background in technology and economics, and her overall business savvy, it truly sets her apart from her peers." (BD)
Ulmer & Berne strengthens litigation bench – Ulmer & Berne has hired Paul J Linden to its intellectual property and technology practice group. Linden is a registered patent attorney and an experienced litigator. He handles federal court litigation relating to patents, trademarks and trade secrets. Linden also represents clients in adversarial and post-grant proceedings at the USPTO, as well as actions at the US ITC and the Federal Trade Commission. He will be based in the firm's Cincinnati office. Notably, this is Ulmer's fifth IP attorney hire of the second half of this year. Brian E Turung and Rita Kline have been added to the firm's roster in Cleveland, Courtney J Miller in Columbus, and Douglas A Gastright in Cincinnati. (BD)
And finally...
Free-to-attend Brand Strategy China event – WTR has unveiled the programme for the fifth annual Brand Strategy China event, which will provide attendees with a series of talks delivering practical, actionable takeaways for professionals tasked with protecting the integrity and maximising the value of their brands across Greater China. This year, the free-to-attend event will be held as a dedicated virtual programme comprising four sessions spread across two half days (10 and 11 December) and timed to facilitate evening attendance from US-based trademark professionals. All sessions will be bilingual with simultaneous English and Mandarin translations. Among the confirmed participants are experts from 3M, Amazon, Chanel and Richemont. To secure your place now, free of charge, click here.