Trump trademark approved in Argentina; Beijing IP Court update; Gucci 'fake not' collection – news digest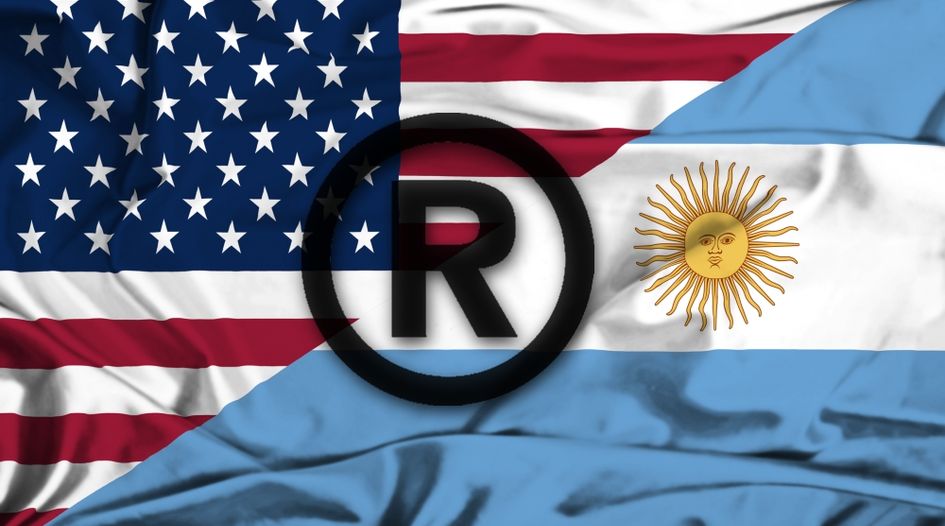 Every Tuesday and Friday, WTR presents a round-up of news, developments and insights from across the trademark sphere. In our latest round-up, we look at outrage over a WWE order about names and likenesses, Bumble announcing plans to go public, how counterfeiting remains a problem on Taobao, a Nigerian startup helping to tackle fakes in Afghanistan, and much more. Coverage this time from Trevor Little (TL), Bridget Diakun (BD), Joyce Ng (JN), Jonathan Walfisz (JW) and Tim Lince (TJL).
Market radar:
New Gucci 'Fake Not' collection makes fun of counterfeits and imitations – Gucci has introduced a 'Gucci Fake Not' motif on the runway at the Gucci Autumn/Winter 2020-21 men's fashion show. Conceived by creative director Alessandro Michele and inspired by the appropriation of logos in streetwear, the collection features the words 'Fake' and 'Not' in yellow with a red and green bicolour strip on shoes, outerwear, scarves and other accessories. This is similar to the fake Gucci logo, which first emerged in the 1980s. The luxury brand calls this "an ironic take on distinctive House codes" and the green and red stripe "a reinterpretation of the Web" that "further enriches the design, reinforcing the symbolic connection to the House". Gucci had previously showcased a tongue-in-cheek commentary on counterfeits and imitations for its 2018 Cruise collection too, when Gucci became "Guccy" to reflect a trend of imitation goods featuring misspelled names. (JN)
Bumble announces plans to go public – Bumble, the dating app that lets women make the first move, is preparing an IPO early next year, according to Bloomberg. The platform could seek a valuation of $6 billion to $8 billion, but no plans have been finalised. Bumble is the second-most popular dating app in the US and has had success in branding itself as a safe place for online dating. WTR has previously analysed Bumble's brand and trademark portfolio, and found that the company has a highly diversified portfolio that expands well beyond key classes 9 and 45. It appears the company is preparing the brand for many potential products and business opportunities, including in cosmetics and food/drink products. (BD)
Counterfeiting remains a significant problem on Taobao – A report in JingDaily has found that luxury brands may be "losing the battle against Alibaba's counterfeiters". In the article, it is claimed that Taobao continues to be a major source of fake goods, alleging that "Taobao's algorithm goes so far as to promote counterfeit goods" – with an Alipay landing page allegedly featuring counterfeits on its landing page. The article concludes that the platform may need a rejig to combat the scourge of fakes: "When it comes to combating counterfeits, Alibaba need to let go of Taobao's slogan "make it easy to do business anywhere" (让天下没有难做的生意) and make it even harder for counterfeiters to proliferate. The company can't fix China's counterfeiting problems on its own, nor can it catch every counterfeiter before they make a sale, but it could improve its algorithm and make its rules stricter, so as not to indirectly incentivize sellers who infringe." (TJL)
Nigerian start-up to tackle Afghanistan's counterfeit medicines – Chekkit, a Nigerian anti-counterfeiting start-up, has signed a memorandum of understanding with Afghanistan's Ministry of Public Health to aid in the fight against the trade of counterfeit medicines. Chekkit's platform tracks the movement of products and parties from warehouse to distributor through a blockchain system that provides unique ID labels through QR or numeric codes. The MOU provides Chekkit with the opportunity to enter Afghanistan's market for a three-month pilot to track and verify all medicines sold in the country. The company's smart labels will be attached to 80,000 pharmaceutical products sold in Afghanistan. The start-up is also tackling the African market through a partnership with multinational pharmaceutical company Merck. Together, Chekkit will increase smart label production to reach 10 million consumers on the African market in the next six months. (JW)
Trump adds another trademark in Argentina – Lobbying firm Citizens For Responsibility and Ethics in Washington (CREW) has revealed that the Trump Organisation recently received approval for a trademark in Argentina. The development "is the company's first foreign trademark in six months", the organisation added. The expansion of international trademark activity by the Trump Organisation "creates a massive conflict of interest when it comes to American foreign relations", CREW claims, adding: "Trump may have already altered US foreign policy in Argentina to receive last year's trademarks [as] the application and registration dates of the November 2019 trademarks show that they coincide with the Trump administration's action on tariffs on Argentina." According to a WTR investigation in October 2019, the Trump family has a global portfolio of 1,179 trademarks across approximately 80 countries. (TJL)
Legal radar:
Beijing IP Court closed 33% more cases in August compared to last year – According to Chinese IP news site IPR Daily, the Beijing IP Court accepted 2,291 and closed 2,428 cases in August, a 16% (1,963) and 33% (1,820) increase from last year. Among them, 353 technology-related cases were concluded, a 62% year-on-year increase compared to 217 last August. Despite the coronavirus pandemic, the court ensured that it could function efficiently so that litigating parties will not have their case filing needs affected. For instance, the public could file cases by mail or online, though on-site case filing services has since resumed. The court also seized upon the slowdown of filed cases to focus on hearing tough IP cases, especially difficult and complex technical ones. (JN)
Office radar:
(For more of the latest coronavirus-related updates from national IP offices, please read our dedicated article which is being continuously updated)
Clarivate collaborates with the Benelux Office for Intellectual Property – The Benelux Office for Intellectual Property (BOIP) has partnered with Clarivate to improve its trademark research services. Specifically, by integrating AI-driven image recognition software from Darts-ip, which was acquired by Clarivate last year, combined with technology from TrademarkVision, BOIP's Trademark Register now offers an enhanced search functionality, in particular for researching image marks. Hugues Derème, deputy director general, BOIP, explains: "Innovation is at the core of our organisation, driven by the wish to anticipate and exceed our customers' expectations. Being able to search for trademarks, including figurative trademarks, in an easy and reliable manner, is one of the regularly requested improvements by our users. As a public service provider, we continuously seek to improve our online services and make them a growing source of added value for the IP industry, within the Benelux and beyond. Partnering with Clarivate allows us to take trademark searching to the next level and offer our users a genuinely improved experience." (TL)
African IP cooperation project holds first steering meeting – The AfrIPI has held its first steering committee meeting to decide on its strategy for the next few years. The project's partners, The African Regional Intellectual Property Organisation (ARIPO), the Organisation Africaine de la Propriété Intellectuelle (OAPI), the African Union Commission (AUC), the European Commission and the EUIPO, met to discuss the plan. Fully operational this year, the AfrIPI will focus on supporting the registrations of geographical indications in Africa and the EU, the development of IP guidelines for OAPI and ARIPO member states, as well as training IP examiners on international frameworks. "The reason why cooperation is so important is that IP rights are closely related to economic wellbeing – in particular sustainable development, the creation of quality jobs, and of balanced trading conditions. In a globalised economy, especially with the internet by-passing physical borders, it is essential that IP rights are understood in a common way and also protected," said Christian Archambeau, EUIPO executive director. (JW)
Media Watch:
Outrage at WWE name and likeness order – Over the weekend, it was reported that World Wrestling Entertainment (WWE) had informed its performers via email that "they are prohibited from using their names and likenesses with third parties in ways that the company deems detrimental", with a report that it is giving talent until 2 October to stop using services including Twitch and Cameo. According to ProWrestling columnist Jason Powell, the move has caused an uproar: "WWE talents are said to be upset because they made additional revenue from these third party services. In many cases, they used their real names rather than their character names, so it's very interesting that WWE is trying to enforce this. If these talents feel strongly about it, now is the time for them to take action rather than just grumble amongst themselves about it." On Reddit, the move became a frontpage thread, with over 16,000 upvotes and 1,100 user comments, with the most contentious issue seemingly being that the WWE claims to own the 'real names' of its performers. One expert on Wrestling Observer Radio noted: "The one that has a lot of people upset was them telling people that they own their real names because everyone knew that WWE owns your stage names, of course. That's a given. But the idea that they own your real names, I don't know what that means and it hasn't been explained." Indeed, one of the top-voted comments on Reddit claimed it was a trademark issue, saying "WWE doesn't own real names in perpetuity – they literally can't". The move also led to high profile responses from outside of the wrestling world, including a viral post from former Democratic presidential candidate Andrew Yank, who called for the WWE to "at least let [wrestlers] make a living off their own names". Perhaps in response to the blow-back, WWE released a statement addressing the idict, saying: "Much like Disney and Warner Bros, WWE creates, promotes and invests in its intellectual property, ie, the stage names of performers like The Fiend Bray Wyatt, Roman Reigns, Big E and Braun Strowman. It is the control and exploitation of these characters that allows WWE to drive revenue, which in turn enables the company to compensate performers at the highest levels in the sports entertainment industry. Notwithstanding the contractual language, it is imperative for the success of our company to protect our greatest assets and establish partnerships with third parties on a companywide basis, rather than at the individual level, which as a result will provide more value for all involved." Whether this statement lessens the outcry remains to be seen. (TJL)
On the move:
Potomac Law Group adds patent litigator to New York office – Pablo Hendler has joined Potomac Law Group in New York as a partner. Hendler is an experienced patent litigator who specialises in the life sciences field. He is the fifth attorney to join the firm's intellectual property and litigation practices in the past five months. Michael J Lennon and Douglas E Ringel, formerly of Kenyon & Kenyon, Julia Anne Matheson, from Hogan Lovells, and Shailendra Maheshwari, from Pillsbury Winthrop Shaw Pittman, have all joined the team at Potomac Law since April. (BD)
Steven Anzalone joins FisherBroyles' IP offering – The latest addition to innovative law firm FisherBroyles' IP practice is Washington DC lawyer Steven Anzalone. Previously a partner at Winston & Strawn for seven years and with 20 years' experience at Finnegan. He comes with experience acting for major tech players HTC before the Supreme Court. (JW)
Mathys & Squire promotes partner trio – Mathys & Squire has promoted David Hobson, Juliet Redhouse and Andrew White to partnership, bringing the firm to 30 partners across the UK and Europe. Hobson works on the life sciences team and has a background in biochemistry. He handles the drafting and prosecution of patent applications as well as providing freedom to operate and validity advice and handling opposition proceedings before the EPO. Redhouse is also a member of the firm's life sciences team, specialising in molecular biology, pharmaceuticals and biotechnology. Her practice focuses on the drafting, prosecution and management of global patent portfolios.. White is part of Mathys & Squire's IT and engineering team. He has extensive experience managing international portfolios in the med-tech, software, telecoms, and automotive sectors, with a specialty on electric vehicle and AI-based technologies. (BD)
And finally...
How WTR is connecting trademark leaders next month – WTR recently unveiled the first  participants for WTR Connect, a series of high-level online events taking place across two weeks in October. Experts from companies including Abercrombie & Fitch, Burberry, Novartis, Starbucks, Under Armour and Walmart joining the roster, with Christian Archambeau, executive director at the EUIPO, and David Gooder, trademark commissioner at the USPTO, confirmed to deliver keynotes. The ground-breaking digital concept offers a series of individual interactive digital sessions organised around major themes. Comprised of a series of hubs, each session is designed to facilitate discussion, benchmarking and the sharing of best practice around key topic areas and challenges facing trademark and brand leaders. Each day will start with a keynote address from a major industry figure. This will be followed by live breakout discussions lasting for a maximum of 60 minutes. These will be in a variety of formats including masterclasses, open discussion forums, solution rooms and closed-door, invite-only boardrooms. To find out more and to secure your place at WTR Connect, click here.