Trump riffs on Game of Thrones (again), INTA gives back, and rise of heritage brands: news digest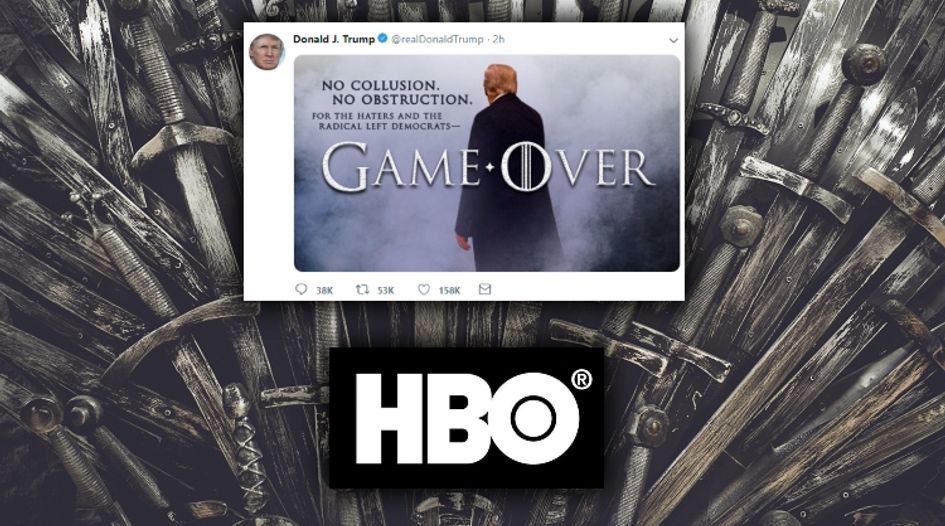 Every Tuesday and Friday, WTR presents a round-up of news, developments and insights from across the trademark sphere. In our latest edition, we look at Glennfiddich losing a battle over Glenfield whisky, how a slew of fake Amazon reviews are boosting brands, the Martha Stewart brand selling, KIPO assisting in IP crime enforcement, EU judges getting darknet training, and much more. Coverage this time from Trevor Little (TL), Adam Houldsworth (AH), Bridget Diakun (BD) and Tim Lince (TJL).
Market radar:
Incopro partners with Beijing East IP – Online brand protection provider Incopro has unveiled a partnership with Beijing East IP LTD and Beijing East IP Law Firm (BEIP). As part of the relationship, BEIP will offer a range of legal services to Incopro customers, from test purchases to offline investigations and litigation support. Commenting on the tie-up, Dr Lulin Gao, chairman at BEIP, said: "History has proved that science and technology are primary productive forces. Incopro pioneered in combating new problems on Internet with cutting-edge technology. We are proud to be the major partner in China and will fully utilize our local knowledge to help increase customer value." (TL)
INTA gives back – Earlier this week, we reported that INTA is to host a Pro Bono Trademark Clinic in Boston on 20 May, timed to coincide with its Annual Meeting. The association has also now highlighted other 'Giving Back' initiatives it will be hosting while in Beantown. The association notes: "Opportunities to give back to the local community include building bikes for kids, packing and sorting items at a food bank, and donating accessories for job interviewees". Full details on the various corporate social responsibility initiatives – and how to get involved – are available here. (TL)
Martha Stewart's brands sell for $215 million – Sequential Brands Group has sold off Martha Stewart's brands, including for her home furnishings, kitchenware, among other products, for $215 million to Marquee Brands. This came at a loss for Sequential, which sold at $140 million less than what it had purchased it for. However, there is clearly still power in the personality brand of Martha Stewart, who joins the Marquee Brand board and will continue to guide the brand she founded. (BD)
Slew of fake Amazon reviews are boosting brands – Which?, a consumer watchdog, has warned that there are 'tens of thousands of suspicious reviews' appearing on Amazon every day, which it argues undermines the platform. Due to the amount of these reviews, random brands are receiving a bump in their search engine optimisation (SEO), which is the process of increasing the visibility of a website or a web page to users of a web search engine. According to an investigation, there is a large volume of positive five-star reviews being posted by unverified users each day, which has helped to wrongly push forward listings for unknown brands. The scope of the issue was seen when a search was conducted to find that 71% of products on the first page listing for headphones were given five-star reviews, with a majority coming from unverified users. (BD)
European food fraud increased last year – There was a 30% year-on-year rise in the number of requests made to the EU Food Fraud Network for cooperation on instances of fraud in 2018, Securing Industry has reported. According to the network's annual report, 234 requests were made by member states up from 178 in 2017 and 157 in 2016. Germany made the largest number of requests (58), with France, Belgium, the UK, Italy, Denmark and Sweden also making a significant number of referrals. But just five percent of these requests related to IP infringements, with 42% concerning mislabelling and 20% relating to document falsification. (AH)
Counterfeit Juul pods enter a fast-growing market – Fake Juul pods from Chian are reportedly entering the e-cigarette market at lightspeed. The electronic cigarette industry has grown exponentially over recent years, with the Centers for Disease Control and Prevention estimating that 16.2 million devices were sold in 2017. Young adults have driven the demand for these products, enjoying the flavours offered as well as seeing this as a healthier alternative to tobacco cigarettes. Although there is nearly no difference between the counterfeits and the real products in terms of packaging, the liquid in the fake pod has a yellow tinge, while the actual pods have clear liquid. The matter is considered to be of higher importance considering the potential health and safety risks involved. (BD)
Legal radar:
Glenfiddich loses battle over Glenfield whisky – An Indian businessman, Vivek Anasane, has prevailed against an opposition to his GLENFIELD UK trademark application for use on Scotch whisky. The application was opposed by drinks company William Grant & Sons, which owns the Glenfiddich brand of whisky. The company argued that the applied-for mark was highly similar both visually and phonetically to its own, and would "cause detriment" to the reputation of Glenfiddich. Anasane contended in response that a large number of registered UK trademarks begin with "Glen", which cannot be the exclusive right of any company because it describes "a narrow valley, expecially mountain". The UKIPO agreed with the applicant, stating the view that that similarities between the marks are "more than offset by the differences between the marks", and that the "the applicant's mark will not even bring the opponent's mark to mindd let alone confuse the consumer into believing the goods sold under the respective marks originate from the same or linked undertaking". (AH)
Office radar:
EU judges and prosecutors get darknet and advanced web training – According to a press release from the EU Intellectual Property Office (EUIPO), judges and prosecutors from various EU Member States and the General Court of the European Union had training this week on advanced internet technology. The hands-on training looked at aspects of the online ecosystem that are sometimes overlooked in digital training, including the darknet, forensic data, metadata, the Wayback Machine, virtual currencies, cloud technology and blockchain. Such an initiative is a positive one – and arguably one that all judges and prosecutors across the world should have, as infringers get increasingly sophisticated in their strategies. (TJL)
KIPO to assist in IP crime enforcement – The Korean Intellectual Property Office (KIPO) has announced further details about how it will be helping law enforcement on IP-related crimes. It follows a legal amendment on March 19 that grants officials at the KIPO permission to investigate patent, trade secret and design infringement crimes. Therefore, the office states, "the scope of work of the Special Judicial Police at the [registry], which was investigating only trademark infringement crimes such as 'fakes', has been greatly expanded – [this has seen] the KIPO recruit eight additional investigators with experience in judging and judging in preparation for the increase in work, and will continue to expand the workforce and organisation". According to Park Won-joo, head of KIPO: "Crime against infringement of intellectual property is a big obstacle to innovation growth and realization of a fair economy, and we will establish a close cooperation system with prosecutors and police agencies." (TJL)
Media watch:
Champion resurgence a sign of popularity of heritage brands? – An article earlier this week on Bloomberg has looked at fashion brand Champion, and how it "accidentally hit the fashion jackpot" because it is now "cool again". The article describes how the century-old brand, which was previously known for basic gym attire, is "experiencing an unlikely revival" after seeing significant growth in recent months, including sales and on social media (eg, Champion's Instagram account grew from 200,000 to 4.9 million followers since 2016). The reason for this is, broadly, unknown – although helped, the article notes, by celebrities such as Rihanna and the Kardashians wearing the Champion brand in paparazzi photos. But another factor is that "consumers have recently embraced brands with long histories and classic logos" – with Italian sporting brand Fila and US-based Russell Athletic also referenced as finding newfound popularity. The article is an interesting look at how heritage companies, some that have been waning for years, could quickly be revived by an appetite for historical, classic-style brands. (TJL)
Trump continues Game of Thrones inspired tweets – Back in November, US President Donald Trump tweeted a Game of Thrones inspired posted to his millions of followers. The poster used the term "Sanctions are coming", and also used the style and font used on marketing for HBO's big budget TV show. At that time, HBO were praised for their canny response; just over two hours after Trump's tweet unleashed a social media storm, HBO's Twitter account responded by asking, "How do you say trademark misuse in Dothraki?" – referring to the fictional language used in the show (and book series). They also released a statement to the media confirming that the company would be taking "no further [legal] steps". In January, Trump re-used the same poster, although that time it was blown up into a poster and taken to a cabinet meeting. This week, minutes after US Attorney General William Barr defended Trump in the wake of the release of the redacted Mueller report, the US President tweeted out another Game of Thrones inspired poster. This time, it featured the term 'Game Over', again using a font used on marketing for the hit show. Popular replies to the tweet urged HBO to "sue", with others clearly hoping for another HBO social media response. Indeed, HBO did respond within hours, posting a statement that mirrors the reply from November: "Though we can understand the enthusiasm for Game of Thrones now that the final season has arrived, we still prefer our intellectual property not be used for political purposes." What is clear from this week's tweet is that Trump likes using Game of Thrones imagery and will (probably) continue to use it in the future. (TJL)
Domain radar:
Brexit and security actions hit domain registration numbers – In its latest annual report, URid – the registry behind the 'eu' TLD – revealed that, compared to 2017, the total net number of registrations decreased by 130,305 (from 3,815,055 to 3,684,750). It explains: "The decline in the overall number of registrations can be attributed both to a reduction in the number of new registrations in the UK (mainly due to the UK's withdrawal from the EU, which resulted in the UK falling from being the No 4 market for '.eu' to No 6 in one year), and to the increased efforts of EURid to build a trustworthy and secure '.eu' namespace, which resulted in over 35,000 domain names being suspended in H2 2018." Indeed, one of its named highlights for 2018 were such efforts to combat cybercrime, the report pointing to the its collaboration with the International Anti-Counterfeiting Coalition, which aimed to help clear the registration database from fraudulent domain names and to establish a more secure domain space for Internet users. (TL)
'.amazon' TLD negotiations set for extension – Earlier this month we reported that ICANN was set to take control of the fate of the '.amazon' TLD after a mutually agreed solution between Amazon and the Amazon Cooperation Treaty Organization (ACTO) failed to emerge (ICANN having previously set a deadline for negotiations in a bid to end the stalemate over the future of the TLD). However, this week – after ACTO had highlighted "a firm belief that an agreement could still be reached if the parties were given more time to work together in good faith", with Amazon confirmed its commitment to a "single, unified proposal" – ICANN has now asked the two parties to agree a timeframe for a negotiations extension, stating: "If you are able to reach a mutual proposal for more time with the Amazon Corporation, this should, in practice, extend the date to no later than 7 June 2019, to afford the ICANN Board time to review such a proposal before ICANN 65". That meeting takes place in Marrakech on 24-27 June. As it stands, then, a summer resolution is on the cards. (TL)
Friday catch-up:
Every Friday in our news round-up we will provide a quick rundown of the latest news, analysis and intelligence posted on WTR. Over the past week we:
And finally…
Free-to-view intelligence on protecting brands online now available – WTR has published the sixth edition of Online Brand Enforcement: Protecting Your Trademarks in the Electronic Environment. Available now, the free-to-view publication offers the latest guidance on brand management best practice, as well as insight into proving a return on investment in protection activities. Topics covered in this edition include explorations of the impact of new legislation, insights into online brand protection in the Italian and Russian markets, consideration of how to prove that protection brings a return on investment and know-how on social media takedowns and tactics. The future of online enforcement is also considered in light of the ongoing review of rights protection mechanisms. The 2019 edition of Online Brand Enforcement is available here.