Trump defeats Gleissner in trademark case; UKIPO warns activity risks bringing entire system into disrepute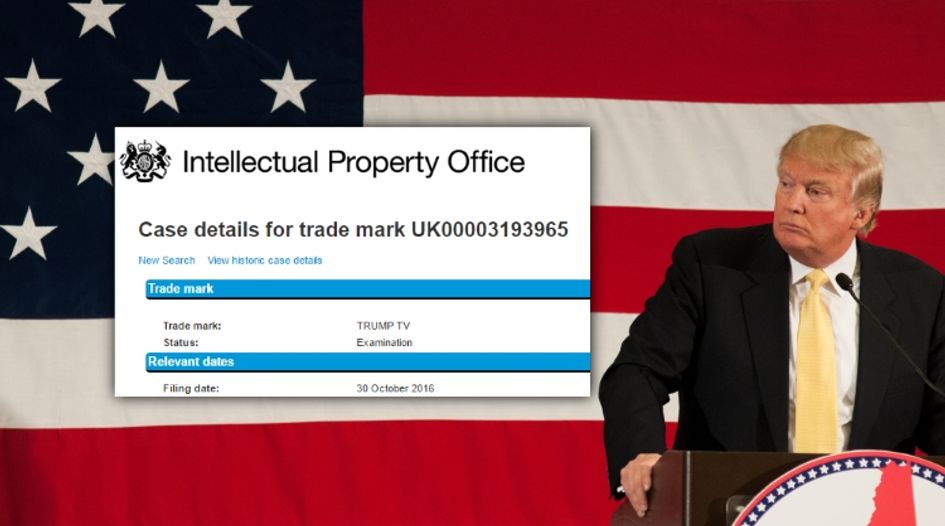 Michael Gleissner has appeal against TRUMP TV opposition decision dismissed
Entrepreneur hits out at "speculative writing and published commentary" on his filings
Comptroller general intervened, raising concerns at UKIPO of Gleissner activity
The England and Wales High Court of Justice (Chancery Division) has upheld a UK Intellectual Property Office (UKIPO) decision that a trademark for the term TRUMP TV, owned by "infamous trademark troll" Michael Gleissner, was filed in bad faith. As part of the case, the UKIPO comptroller general intervened to decry Gleissner's "gaming" of the trademark system and warn that, if left unchecked, it could bring the entire system into "disrepute".
In October 2016, an entity called Trump International, which is owned by multi-millionaire businessman Gleissner, filed a UK trademark application for the term TRUMP TV  in class 38 (telecom services) and class 41 (production of radio and TV shows). Unsurprisingly, DTTM Operations, a New York-based entity that handles and protects the intellectual property of US President Donald Trump and his family, opposed the application. In July 2018 the opposition decision was handed down, with DTTM Operations successful based on the grounds of bad faith and Gleissner's entity ordered to pay costs of £15,100. The opposition was particularly unique for the scathing criticism of Gleissner's legal activity from hearing officer Matthew Williams, who blasted the entrepreneur for having "a disdainful disregard for the opposition costs of the other side".
Gleissner's entity Trump International appealed, and last Friday the latest decision was handed down. According to the ruling, Trump International was represented by IP barrister Denise McFarland, who laid out allegations including that the hearing officer allowed "prejudice and bias to permeate his thought processes" due to accepting evidence concerning "unrelated actions" concerning Gleissner which was "damaging to the personal reputation" of the entrepreneur.
Part of the evidence presented in the original opposition, and presumably referred to by McFarland, included articles from WTR. Over the past three years, we have reported extensively on Gleissner and he has become notorious to trademark owners for his rampant filing activity. We originally reported in 2016 on over 1,000 UK company names in which Gleissner was the sole director, with those entities subsequently used as the applicant name on over 4,000 trademark applications in at least 38 jurisdictions (we subsequently compiled these applications, plus more than 5,000 Gleissner-owned domain names, into The Gleissner Files). In January 2019, we revealed how the entrepreneur has stepped up his portfolio-building activity in recent months, and compiled over 1,000 more marks filed in Latvia. We continue to remind readers that his activity is entirely legal, but that his motivations remain mysterious (including the apparent targeting of the EUIPO) and numerous brands – both big and small – are finding themselves impacted. Indeed, WTR articles on Gleissner have now been submitted into evidence in dozens of oppositions in both Latvia (eg, 1, 2, 3, 4, 5, 6, 7, 8, 9) and the UK (eg, 1, 2, 3, 4, 5, 6, 7, 8, 9).
Turning back to the appeal, it was also claimed that the hearing officer "erred in law or in principle in failing to make any findings in relation to the other grounds of opposition". Trump International also relied upon a witness statement from Roman Popov, a lawyer who has worked closely with Gleissner to negotiate contracts, register trademarks, and assist with litigation. Interestingly, Popov revealed Gleissner purchased the domain names 'trump.org' and 'trump.tv' for $50,000 in May 2017 (with claims that they were planned to be used for a "satirical online publication"). Gleissner himself provided a witness statement, wherein he decried his business strategy being the subject "of speculative writing and published commentary" and that he has "not traded in a secretive or illegal manner". Referring to the mystery behind the massive filing activity, he claimed: "His business investment model is to invest primarily in entities that possess unrestricted and unfettered global intellectual property rights to their brand, particularly so following the advent of the internet."
However, Justice Henry Carr described the grounds of appeal as "diffuse and repetitive" and the appeal was dismissed. In laying out the reasoning, Carr said that the suggestion the hearing officer was biased is "obviously unsustainable" and "should not have been made in the present case", adding, "I note Mr Gleissner's concern to vindicate his reputation, but he should have thought of that well before this appeal". On the mark itself, Carr said: "Trump International had applied to register a trademark which was plainly associated with Mr [Donald] Trump, with whom it had no connection. That, of itself, required a very clear explanation to refute an inference of bad faith. The similar fact evidence was not mere rumour or supposition. It raised some very serious matters, which required a detailed explanation and refutation, in evidence."
Carr also took aim at Gleissner's witness statement: "He stated that his business is complex with hundreds of ongoing matters simultaneously [and] having outside counsel advising on and managing each one would increase costs and the administration substantially. Mr Gleissner asserted that he attempted to manage the matter himself," Carr wrote. "I do not accept these explanations. [...] It is untrue to assert that Trump International was not legally represented at first instance.  [...] Nor do I accept Mr Gleissner's evidence that he decided to manage the matter himself. The document was obviously drafted by a person with considerable experience of European trademark law."
Unusually, the comptroller general of patents, designs and trademarks was granted permission to intervene in the case to explain why it raised "general issues of concern" for the UKIPO. That concern is rooted in the "substantial risk" that Gleissner's filing activity, if left unchecked, "will bring the trademark system into disrepute", adding: "'Gaming' the system of registration and the procedure before the registrar by filing unmeritorious applications time and time again through a myriad of non-trading and impecunious corporate entities is an abuse of the process of registration."
As well as the sheer number of applications, other facts were laid out. For example, it was revealed that "companies controlled by Mr Gleissner have not paid 49 costs orders, which amounts to about one-third of the entirety of unpaid costs orders". On top of that, "even where costs orders are paid, in general, costs before the IPO in opposition proceedings are only awarded on the basis of a scale of costs, which may represent a small proportion of the costs actually incurred". Indeed, WTR has previously  spoken to small business owners who claimed that opposing or seeking cancellation of Gleissner-related marks was financially burdensome. To that end, the comptroller general asked for "guidance from the court as to how the IPO should deal with such applications in the future", and also reminded brand owners of other remedies that can be taken beyond oppositions, including preliminary injunctions that can be "granted rapidly" and have "wide powers in respect of costs".
Responding to the intervention, Elkington + Fife partner Chris McLeod told WTR that it "gave useful insights into the volume of UK applications which Gleissner has filed, the number of costs orders which he has ignored and allowed the judge to confirm that possible remedies exist beyond opposition".
Going forward, then, it appears that – at least in the UK – figures at every level of the trademark community, from small brand owners to judges at the High Court, are becoming increasingly aware of Gleissner's activities. However, the motivations behind this multi-million dollar domain and trademark portfolio remain shrouded in mystery.