TripAdvisor's musical enforcement letter, China's IP progress lauded, and brands adore Love Island: news digest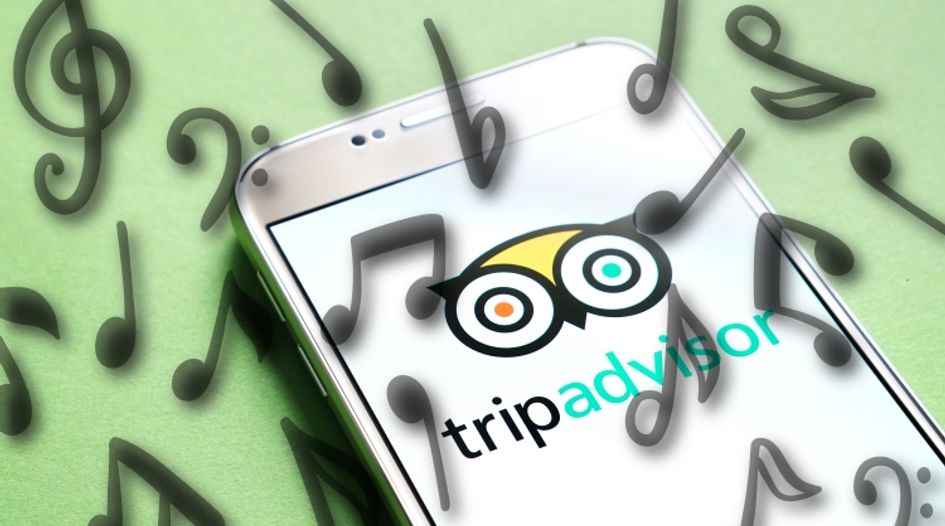 Every Tuesday and Friday, WTR presents a round-up of news, developments and insights from across the trademark sphere. In our latest edition, we look at the Hamleys brand being sold, a study identifies what makes a brand 'cool', two big counterfeit hauls in China and Hong Kong, an '.eu' domain U-turn, and much more. Coverage this time from Trevor Little (TL), Bridget Diakun (BD), Jonathan Walfisz (JW)  and Tim Lince (TJL).
Market radar:
TripAdvisor's musical cease and desist – We have written extensively about the use of creative cease and desist letters, deployed to pass on enforcement requests while avoiding accusations of being heavy-handed. To date, Jack Daniels and Netflix have set the standard, but over the past week TripAdvisor has been generating positive buzz over a letter it sent to Super Happy Fun America. The organisation had listed the travel website as being in negotiation as a "potential sponsor" for its Straight Pride Parade, something that TripAdvisor stated was "completely false". The letter was not the only one sent to the organisers of the perceived anti-LGBT+ event (Netflix itself sent one reportedly stating: "Our legal department is here, it's queer, and it's telling you to steer clear" when it became aware of its logo being used in association with the event), but it has been widely praised for incorporating the lyrics of a plethora of gay anthems in its cease and desist. For instance, the letter stated: "I'm Coming Out and saying this clearly: you are infringing upon TripAdvisor's intellectual property rights… TripAdvisor's trademarks are protected in many countries around the world and Over The Rainbow… We have become a well-known brand for our reviews of hotels, restaurants, experiences and even the occasional YMCA, but we weren't Born This Way— we obtained that recognition through significant advertising and promotion since as early as 2000." The letter serves as a reminder of how effective a cease and desist letter can be not only in challenging infringement but also in projecting a brands character and values. (TL)
Amazon's accelerator program secretly helps it build its private-label brands – The Amazon accelerator program has been running for around a year, with brands that have signed up receiving marketing and sales support. In exchange these merchants and manufacturers sell exclusively on the tech giant's platform. However, Amazon has gained far more than just exclusive relationships with budding brands, reports Fool.com. The contract also gives Amazon the right to 'acquire a brand for a fixed price on 60 days' notice'. These buyout prices are often low, and as little as $10,000. It appears that the tech giant disproportionately benefits from this agreement, as it not only avoids building its own products, but it can buy successful brands at a low cost. As part of the terms, according to the article, the tech giant must source the product from the original owner for two years after the brand is purchased, but then the company is able to pursue different sources. This clause, notes the report, was likely added in to assist the company in building out its own private-label brands. In light of these terms, brand should be aware of the T&Cs of the accelerator program. (BD)
Hamleys sold to Reliance Brands – Reliance Brands' £67.96 million acquisition of Hamleys has been completed after an agreement was made in May of this year. Hamleys is one of the world's oldest retailers of toys and a famous British brand. It was bought from China's C.banner International after having experienced losses. C.banner International had originally purchased Hamleys in 2015 for £100 million. (BD)
Christian Book Company's name goes up in smoke – The CBD market is smoking hot right now – but the cannabis plant extract is not high on one company's Christmas card list. The Christian Book Distributors, otherwise known as CBD, has decided to change its name, reports The Guardian. Owner Ray Hendrickson was tired of being called up by people asking for CBD gummies, chocolates, and oils instead of a trust copy of King James' finest work. The US shop elected to changing its name to Christianbook to avoid brand confusion. With cannabis trademarks filed increasingly in the US, the move makes sense as the phone will not stop ringing anytime soon. (JW)
Study finds consumers' polyamoral approach to brands – A new study from Wavemaker and BuzzFeed has discovered that consumers are increasingly loyal to multiple brands in a single sector. The research spoke with over 3,000 US consumers, with 72% saying they consider themselves loyal to 2-4 brands when making a purchase, with 88% claiming they are open to switching brands. On what a brand can do to elicit consumer loyalty, 39% of respondents said they are more likely to "stick with a brand that gives back", with 38% saying they stay loyal to brands that are "socially responsible". It also highlighted how one marketplace, Amazon, can shape a consumers loyalty to brands. The study claimed that 61% of respondents "often purchase a brand that Amazon recommends instead of one they've purchased before and/or planned to purchase". Commenting on the key learning from the study, Ashmeed Ali from BuzzFeed said: "Today brands must treat all audiences as if they are first-time buyers and acknowledge the increasing demand for brands to remain continuously relevant as they face the expectations from consumers to be more personalised and customised than ever before." For trademark practitioners, it's a reminder of the challenge that marketing colleagues have – and why brands strength is increasingly important. (TJL)
Love Island a boon for brands – In recent weeks, sizeable UK audiences have been transfixed by the latest romance-based shenanigans on reality TV show Love Island (many of the remainder, such as this author, having to endure endless conversation about the show amongst office colleagues). Given the size of the audience, branded merchandise company Purplemoonpromo.com conducted a survey asking 1,210 Brits what their feelings were on the product placements they have seen on the show. The results illustrate the power of such product positioning, with 69% of respondents having never heard about the brand I Saw it First before watching the show (the brand gained almost 50,000 new social media followers in the month of June, when Love Island started).  However, with their interest piqued, 27% admitted to making a purchase from the site after watching the islanders wearing their clothing. Additionally, 41% said they were curious to find out more about a brand after seeing product placements, while 58% think a brand is more trustworthy if it's being promoted by a show or social media influencers. Clearly, product placement remains a powerful force. Perhaps more powerful than love itself – with 30% of responding viewers stating that participants on the show are there to boosting their careers rather than find 'the one'. (TL)
Creating a cool brand – New research from the University of Michigan has identified the characteristics that brands must strive for if they want to be perceived as 'cool'. In all, consumers indicated that 'cool brands' are some of the following: extraordinary, aesthetically appealing, energetic, high status, rebellious, original, authentic, subcultural, iconic and/or popular. The research notes that not all the characteristics are necessary for every brand to reach 'cool' status, but each one will increase a brand's 'coolness'. "Nike is widely seen as cool because its shoes are highly desirable, look good, signal energy, and have extraordinary quality," the study notes. "Apple shows positive autonomy by being original and authentic, even as it has grown to become very popular. Harley-Davidson became cool when a subculture of outlaw bikers, who lent the brand a rebellious, iconic image, adopted the brand." Of course, not every brand is striving to be perceived as 'cool' – but for those that are, the list could prove helpful to identify the factors that need refining. The full research will appear in an upcoming edition of the Journal of Marketing. (TJL)
Legal radar:
Store owner in Illinois charged over sale of counterfeits – After a six-week investigation Buffalo Grove Police seized more than 1,900 luxury counterfeit items (worth approximately $38,000) from a local store and arrested the owner. As reported by The Daily Herald, the police had received a call from Homeland Security which had been contacted by Louis Vuitton. The high-end retailer had received an anonymous tip that businesses were selling fake goods. Two items were purchased during the investigation that followed and these were verified as counterfeit products. Louis Vuitton, Gucci, Chanel and Burberry are among the brands affected. (BD)
Two counterfeit rings shut down in Hong Kong – Hong Kong customs have seized approximately HK$590,000 ($75,493) worth of counterfeit cosmetics in a five-day operation. Seven shops and three storage facilities were raided as part of the investigation, and about 6,400 skin care and other cosmetic products were confiscated. Hong Kong customs believe they have shut down two alleged counterfeit rings, and have arrested 13 people as a result. (BD)
Chinese customs seize fake fashion – A report from Xinhua has detailed a seizure from Shenzhen Bay Customs House, which secured a total of 3,038 pieces of trademark infringing goods earlier this week. According to the General Administration of Customs, the seizure included goods including shirts, trousers and footwear from brands such as Nike, Adidas, Diesel and Gucci. The fake products are currently held "in policy custody", the statement concludes. (TJL)
Office radar:
Turkey records 61,000 trademark applications in H1 – Trademark applications were up by 1.4% in the first half of the year from 2018 at the Turkish Patent and Trademark Office (TurkPatent), as reported by AA. In total,  61,278 trademark applications were received, 53,645 of them domestic. Last year saw TurkPatent receive 120,008 trademark applications in total. (JW)
USPTO offers audit guidance – The USPTO is hosting a seminar for those keen to learn more about  the Post Registration Proof of Use Audit program, titled 'What happens if my trademark registration is audited?' The seminar, which will live streamed for those that cannot attend in person, will explore what proof of use in commerce looks like and what happens during the audit process. It will also discuss what comprises good proof of use in commerce. Details of the seminar are available here. (TL)
Media watch:
WIPO's director compliments China's IP progress ahead of GII launch – WIPO director general Francis Gurry was quoted as being "optimistic" about China's position in the 2019 Global Innovation Index. As reported by Xinhua News, the Chinese state-run media outlet, Gurry was interviewed on the position of China in relation to its growing dedication to intellectual property. "We know that there is a strategic direction of innovation in the economy that is set from the highest level in China," Gurry said, adding "I'm sure there's a lot more growth still for innovation in China, but all of the indicators suggest that China will continue its upward movement in a very positive manner." Gurry also commented on the Belt and Road initiative calling it "good for intellectual assets." (JW)
Domain radar:
Nominet releases its annual domain disputes report – UK Domain name registry service Nominet, which runs the '.uk' domain, has released its annual report summarising the activity of its Dispute Resolution Service (DRS) in 2018. Nominet's DRS is set up to allow domain disputes to be mediated with minimal cost, the organisation estimating that offers a saving of £15,000 per complaint in legal fees. Against the 12 million '.uk' domain names registered by the end of 2018, Nominet dealt with 763 complaints, representing 0.0063% of their register. In total, 49% of complaints resulted in a domain transfer, a slight reduction from 2017's figure of 55%. There was also a slight reduction in the number of cases resolved upon receipt of the complaint, and an increase of cases resolved through mediation. The average length of time for a DRS case was reduced from 57 to 50 days. Only one appeal was lodged against an expert decision for which the original outcome was upheld (HM Revenue & Customs filed a complaint against a phishing website using the HMRC initialism). (JW)
An '.eu' about-turn – On WTR we have previously published analysis of the challenge facing UK owners of 'eu' domains once the United Kingdom exits from the European Union. Originally, any natural person who resides in the UK, or any undertaking/organisation established in the UK (but not also in a EU country) would not be eligible to register or renew '.eu' domains – with the registry able to revoke registered names on that basis. The European Commission has now issued a new notice, stating that undertakings and organisations that are established in the United Kingdom but not in the EU (as well as non-EU-27 citizens who reside in the United Kingdom) will no longer be eligible to register or new '.eu' domains. However, Union citizens living in the UK (or any place of residence) will now be able to register and renew such domains. This opens the door for UK organisations to keep '.eu' domains if they transfer them to an EU citizen – with The Guardian citing the example of pro-Brexit group Leave.EU. (TL)
Museums jump on .art gTLD – The Guggenheim, the Louvre, and the Pompido are among the first owners of the generic top level domain (gTLD) '.art'. Artistic institutes are following quickly in their footsteps. Artprice.com has rebranded as ArtMarket with their new domain 'artmarket.art'. (JW)
On the move:
Aon adds Joshua Walker to its IP solutions team – Joshua Walker has joined Aon as chief product officer for intellectual property solutions. Walker comes from Simpson Thacher & Barlett where he was the head of Silicon Valley IP transactions. He is also the co-founder of Lex Machina. (JW)
WBD acquires James Love Legal (JLL) – Womble Bond Dickinson (WBD) has bolstered its IP presence in the UK through the acquisition of boutique James Love Legal. The latter was set up a decade ago by James Love, the former head of Intellectual Property at Pinsent Masons, and his team will now be based in WBD's Leeds office. Throughout the UK and USA, WBD now has more than 150 specialist IP attorneys working across its 27 offices. (TL)
And finally…
Get the inside track on brand protection online – WTR is pleased to announce that, following a sold-out debut in Chicago, its Brand Protection Online event is heading to London on 14 October. A unique forum for brand professionals to discuss solutions to the challenges that arise when protecting trademarks online and share insight on how to prioritise enforcement efforts, the event programme will cover:
Developing a state-of-the-art online brand protection strategy
 Fighting infringement on e-commerce sites
Brand protection strategies for social networks and apps
Managing the changing domain name landscape
Data privacy and GDPR: working within the rules
Delegate places at the event cost £495 (excluding VAT) but – until 6 September – a saving of £100 is available when using the following code: BPO100. To register for Brand Protection Online Europe, click here.