Trademark practice during the year of covid: exclusive insights from Superdry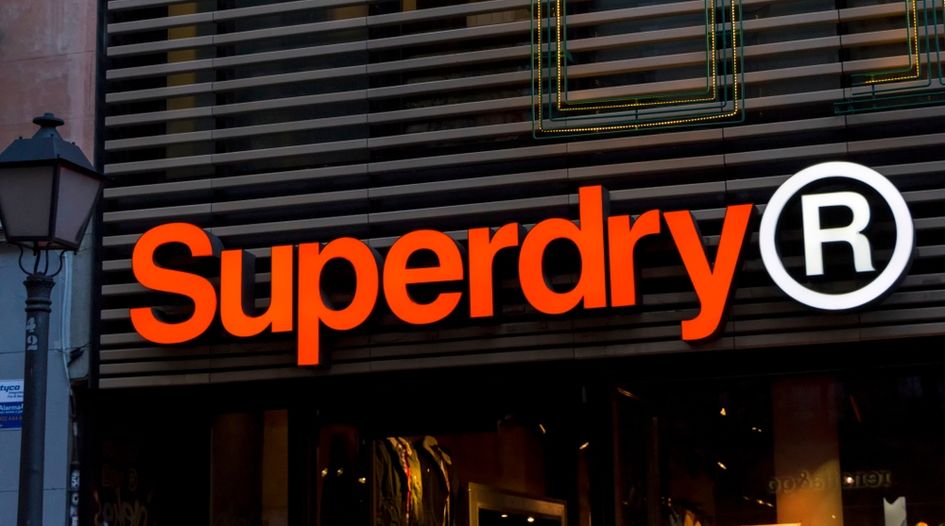 As 2020 draws to a close, IP practitioners from around the world share their experience of how the covid-19 crisis shaped their trademark practice – and how changes adopted this year could shape the future of the industry.
Today, in the first part of this new series, WTR presents exclusive insights from representatives of the brand protection and IP teams within the legal department of Superdry.
How have the events of 2020 impacted your trademark and brand protection practice?
The greatest universal challenge inflicted by Covid-19 upon retail sector businesses is financial, owing to the significant disruption to traditional offline shopping channels coupled with global lockdowns, store closures and continued social restrictions representing the greatest issues. In anticipation of these challenges, our team revised our strategic approach to the protection of Superdry's IP rights to help achieve a balance between cost-effective enforcement, with the recovery of counterfeit products, criminal sanctions and civil damage settlements.
As part of this strategic revision, we have proactively implemented agreements with investigative partners in a number of Superdry's key markets, which further serve to help protect legitimate trade. Furthermore, we have increased our interactions with numerous European customs authorities and delivered guidance on the identification of counterfeit Superdry products. This training has helped such authorities take a more proactive approach to the seizure of suspect 'Superdry' shipments, intercepting greater numbers of counterfeit products destined for key European markets in the process.
The continued shift towards online trade also necessitated our team diverting more time and resource to online monitoring, which Superdry currently performs in partnership with an external provider. With many investigators' movements restricted by lockdowns and safety concerns, we temporarily adapted our approach to be increasingly disruptive, particularly in response to smaller online infringers on popular online marketplaces and social media platforms. This ensured that our enforcement efforts continued to protect our legitimate e-commerce channels by reducing counterfeit visibility throughout the pandemic period.
What has been the most significant challenge caused by the pandemic, and how did you overcome it?
The most significant challenge was ensuring interaction with design continued to be conducted in an effective way. Pre-pandemic, our trademark department has always been comfortable with its physical proximity to its stakeholders in the business – design, marketing, sourcing, and e-commerce. We look at in excess of around 1,000 pieces of product each season, identifying new protectable IP for registration. However, during the pandemic that was no longer possible and we switched to viewing designs digitally. While this presented an opportunity to be able to view a larger volume of designs efficiently, it limited us to two-dimensional views and we couldn't holistically assess the look and feel of the product. What was previously a very visual and physical process, was now purely online.
We optimised the process by timing our interaction at Range Build, so we only needed to visit the showroom once per season when all designs were finalised. It left plenty of time to prepare filings before launch, but also not too early in the process where designs were still at the conceptual stage. This showed we were able to work in an agile way, and to adapt to challenges posed by the pandemic.
What have you learnt during the pandemic that will change your practice to work longer term, and post-pandemic?
It's clear that moving forward many companies will adopt a hybrid model of working for its employees, which has proven popular. This has come with a variety of new balancing acts, such as maintaining engagement levels and productivity, being alive to mental health implications of staff working from home. Leaders have grown to be more empathetic to their team, when their personal lives become more intertwined with work and at times on display on video calls!
Finally working an agile way also means we had to adapt to and utilising existing technology. At Superdry, we expanded on our capabilities to permanently roll out Microsoft Teams which allowed us to improve communication within internal team members, and Live Events which facilitated hosting large scale sessions or virtual events. These two changes are likely to continue into the long-term.
What are your thoughts on how associations and IP offices adapted to ensure continued service to members/customers?
 IP offices have started adapting by moving submissions of forms and correspondence to email, instead of fax. The UKIPO is a prime example. Pre-pandemic, many of the UKIPO forms such as TM16, TM21B and TM7 required to be faxed. Now the UKIPO has permanently set up an email outpost for submissions of all forms. This is a welcome move which has made UK trademark prosecution more convenient and accessible for rights-holders. The EUIPO, which has been a good adopter of technology, though curiously still requires certain communication by fax or post, for example submission of proof of use evidence if it exceeds the portal size limit.
This month the UKIPO has also launched a new AI tool to help applicants who had no previous trademark experience improve their chances of securing a trademark. UK filings have skyrocketed from on average of 8,000 filings per month in early 2020 to 11,000 per month from May 2020 to August 2020. With the increasing workload due to Brexit and congested phone lines, this AI tool was a helpful move to help educate applicants without necessarily consulting the UKIPO or any legal advice.
The practice of online/virtual hearings at the UKIPO has also started to settle in, something other offices in the world could start to adopt. Superdry's recent experience of one was largely positive.
Did you attend any trademark-related virtual events during the pandemic? If so, how did the content and networking compare to physical events?
Yes, throughout the pandemic our team has attended several virtual events, ranging from webinars, to panel discussions and training sessions which covered a plethora of brand protection matters. We were also kindly invited to speak at some of these sessions, on matters ranging from best practice on social media and online marketplace enforcement, to the challenges faced by legal teams in light of the covid-19 pandemic. These sessions were generally extremely useful as they performed the critical role of engaging us with our external partners, as well as connecting our team with a truly global audience of brand protection experts who faced similar experiences to ourselves and who may otherwise have been unable to attend an alternative physical event owing to cost and travel considerations.
As everybody's familiarity with video conferencing platforms grew in recent months, online sessions became steadily more engaging. A number of the more recent sessions encouraged audience participation through the use of live polls, Q&As and pre-submitted questions, allowing the discussions to operate with a greater degree of flexibility than many past physical events where it is trickier to gauge the issues which impact audience members most.
The CITMA Autumn Conference was a wonderful event where it combined the spontaneous nature of physical networking with digital interaction. Each delegate was able to create an avatar and move freely in a virtual MMORPG-like environment, speaking to people you meet without placing a call or to interacting on a chatbox. More events in this vein would definitely be in the right step.
Are there any improvements you'd suggest to make event content/networking more effective in the future?
Of the numerous virtual events we have attended this year, those which had the greatest resonance with our team encouraged audience participation through the use of technology, namely live polls and Q&As. The results of which were then used to shape discussions in real-time to the audiences' interests and concerns. The continued use of such technology at subsequent virtual events should be encouraged, as should the flexibility to adapt content to the results of the audience participation.
Looking to the future, do you expect to attend as many physical trademark-related events in future years as you did prior to 2020?
Optimistically speaking, yes we do hope to attend a greater number of physical events following the conclusion of the Covid-19 pandemic. Our team's experience of past events has been largely positive as they present important networking opportunities with diverse attendees, from which some of our strongest relationships with external counsel have been formed.
Attendance at physical events can also serve as a clear demonstration of a brand's commitment to working collaboratively to tackle Intellectual Property infringement and to assisting law enforcement agencies in the fight against organised criminality. In recent years, our team has benefitted significantly from conducting in-person training and education sessions, particularly with key UK enforcement bodies, namely: Trading Standards, Border Force and Police. We believe that physical training sessions play a crucial role, globally, in helping attendees to understand our brand, products and how to conduct product authentication exams. These sessions have resulted in greater numbers of proactive sightings and seizures.
How do you expect the covid pandemic will affect your trademark practice going into the future?
Covid has improved the workings of our trademark team. It has allowed us to conduct trademark prosecution in an agile manner, setting a routine physical clearance process, communicate with our external stakeholders effectively, and most importantly shaping a more open culture of communication.