Brand owners support Ukraine; exhibitors voice meeting success; looking ahead to Singapore – INTA 2022 final day report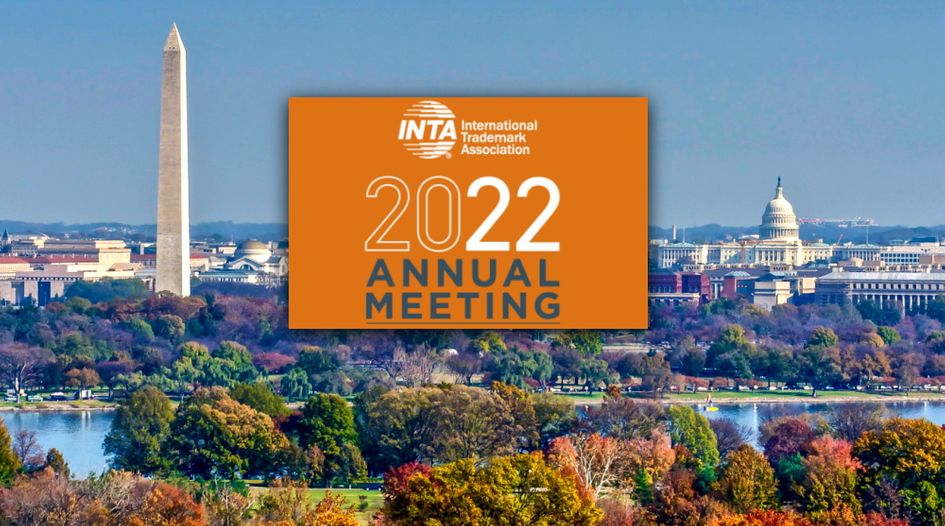 For many, suitcases are packed and thoughts are turning to what movies to watch on the flight home. For others, there are still many more meetings and networking events to attend before saying goodbye to Washington DC. Whatever the case, the WTR editorial team of Trevor Little (TL), Tim Lince (TJL), Victoria Arnold-Rees (VAR) and William New (WN) have the latest updates from the INTA Annual Meeting and bring you the latest stories and insights.
In case you missed it, you can read our highlights from this week's activities and sessions here (Sunday, Monday, Tuesday).
The trademark community shows up in support of Ukraine – A very special event took place in a packed Baby Wale bar on Tuesday night. WTR has been publicising the Brand Action for Ukraine initiative, which saw (in a matter of weeks) a group of trademark community volunteers pull together a reception designed to raise funds to help provide meaningful on-the-ground help to the people of Ukraine. In support of charities World Central Kitchen and Support Hospitals in Ukraine, the event was opened by a choir singing the Ukrainian national anthem. One of the founding volunteers, Phil Cox, founder of Phil Cox – Business Development for IP Attorneys, then revealed that $32,000 had been raised in ticket sales and a further $40,000 had been raised before the event. By the end of the evening, the combined figure had broken the $80,000 barrier. And Brand Action is still encouraging donations via its website. Cox reflected: "The trademark community is distinguished by its sense of comradery and far-reaching friendship. INTA people are good people." For the organisers, he noted that "we didn't know what an emotional journey it would be", before debuting a poignant video (available to watch here), which told the stories of Ukrainian IP professionals impacted by Russia's invasion of their country. To the volunteers – Cox, Taras Kulbaba, managing partner of Bukovnik & Kulbaba IP Guardians, Jackie Stelling, owner of JMS Legal, Bri Van Til, director of education at Alt Legal, and Alexis Winslow, founder of Twill Creative – WTR raises a glass in your direction. We are in awe of what you managed to achieve. (TL)
NFTs all the rage, but are concerns downplayed? – The subject of NFTs was – yet again – discussed at length in this morning's session, 'From Second Life to the Metaverse: What Have You Learned?'. The session opened with a video showing a snippet from a 1995 episode of The Late Show, in which host David Letterman is clearly perplexed and sceptical about the Internet, with then-Microsoft CEO Bill Gates trying to convince him that it might actually be rather revolutionary. The suggestion, it seemed, was that the metaverse and NFTs may be perplexing, but they will be similarly revolutionary. As we have detailed in previous round-ups, NFTs (along with the metaverse) have been a hot topic at this year's Annual Meeting. And it is clearly an issue that trademark practitioners need to be aware of. Speaker Kate Nye from GAP Inc revealed that the company "has an internal crypto team who are devoted to our NFT projects", which includes the 'digital collectable experience' GAP Threads. She added: "That team comes to us with infringing NFTs and other things that are of concern... It's our job as the legal team to adapt quickly, support the crypto teams, and get them to where they need to be." On the law firm side, speaker John Feldman from Reed Smith spoke passionately about NFTs, claiming that they are "imbued with an intrinsic value due to their uniqueness" and are "more like an experience – you're more like part of a brand" compared to physical items. Fellow speaker Sarah Bruno added that NFTs and the metaverse are an exciting prospect for legal counsel as they bring up new, intriguing questions. She explained: "For lawyers, it's extremely interesting because we're not only dealing with IP, but also dealing with advertising issues, and with things like fashion brands selling clothes and tailoring in the metaverse. There are all these new ways to engage." One prescient issue has been around goods and service classes. Bruno noted how many companies are now "choosing to expand into Class 9 to protect their brands in the metaverse". Looking ahead, Feldman predicts that standarisation will need to become a priority for brands to fully embrace the metaverse. "Brands don't like danger, and nor does the FTC, so I think there will be more standarisation," he said. "Rules of the road will need to be established, otherwise brands won't continue to participate... Further, what's also essential is transferability, as a virtual mall only works if you can go from store to store and pay with the same currency." Arguably missing from some of this year's panel discussions of NFTs have been the sizeable concerns and debate currently being voiced. The environmental impact was briefly mentioned by Nye during today's session (GAP Threads used the less-environmentally damaging Tezos blockchain), but few other concerns were raised. There is ongoing scepticism about NFTs in some quarters, with significant backlashes occuring when some brands have announced an intention to sell NFTs (including those experienced by Associated Press, Artstation, MeUndies, WWF, Discord, Team17). There are also experts claiming that NFTs are a "speculation boom", "a bubble waiting to pop", "a Ponzi scheme" and "a scam", with a recent viral video claiming that the NFT market primarily exists to get more people into the cryptocurrency space. This is not to say that NFTs are all bad. WTR has spoken with an expert at Lamborghini's NFT solutions provider about how NFTs can benefit customers and brand reputation, and there are indeed fascinating IP issues that all practitioners should be considering. However, the space is not just an opportunity; there are concerns that brand owners should be aware of. (TJL)
Exhibitors voice meeting success… – This year's exhibition hall – or 'Brand Marketplace' as it is now called – packed up this afternoon, after four days of client meetings, sales pitches, demos, giveaways and competitions. WTR spoke with numerous exhibitors, who praised the footfall (albeit unsurprisingly quieter than previous years) and the eagerness of the attendees. John Berard, CEO of Vox Populi (operator of the '.sucks' new gTLD), said that this year has been a success, with "more people committed to registering their domain name" (credited, he added, to a new board that showed tangible examples of '.sucks' websites in action). "We've seen more real customers this year than previous years," Berard added. "When we first came to INTA, it was more about raising awareness of the domain [infamously through the giveaway of '.sucks' branded condoms]. The last time, in Boston in 2019, we made the pivot to let people know what they can actually do with a '.sucks' domain." Unsurprisingly, then, Berard confirmed that plans are already underway for '.sucks' to make an appearance at the 2023 meeting in Singapore. "Our stand may not look exactly like this, but we won't abandon everything we are known and loved for at INTA," he said. From a brand owner perspective, Asics representatives were delighted with the interest that their stand had garnered. "We'd like to do more of these in future," one representative said, especially in Singapore. The hope is to encourage other brand owners to do the same. Elsewhere, the Equinox stand – which featured competitive model car racing – was regularly busy, a representative told us. "We were originally going to give away one Nintendo Switch at the end of the four days, but we shifted to giving away a Switch each day because it was so competitive," they added. Unfortunately, this reporter achieved nowhere near the required speed to be in line for a Nintendo Switch, with some skilled delegates managing to race 10 laps in less than 35 seconds. (TJL)
… but areas for improvement raised – While the general feedback from exhibitors was positive, there were a few suggestions for improvements. A repeated concern was that exhibitor-only registration ceased this year, meaning that all exhibitors had to have full registration badges for the event. That made it more costly to bring extra staff to man stands, one exhibitor stated. "If INTA is going to require us to be at our booth all day with longer opening hours, it would be nice if we could get cheaper exhibitor passes for interns, so we can attend sessions or meetings elsewhere," another told us. "My hope for next year, then, is the return of exhibitor-only badges." Elsewhere, another exhibitor suggested that INTA – which has had a significant (and unprecedented) financial hit due to the pandemic – was understandably "working harder on revenue raising", but that this had an impact. "Our booth was one-third smaller and we paid one-third more," they claimed. "I've talked to a number of fellow exhibitors that felt there was less flexibility and a tighter focus on the revenue side of the conference. In the past, we might have felt there was more of a commitment to the conversation." INTA CEO Etienne Sanz de Acedo told WTR that the association will be checking with exhibitors and sponsors to see "what worked with them". Crucially, though, any concerns should not take away from the benefits of the Annual Meeting. The same exhibitor concluded: "Whatever complaints I and others might have, this is still an essential meeting and we can't lose sight of that." (TJL)
Looking ahead to Singapore – So, as exhibitors pack away and those delegates who have not left DC yet make their way to the Grand Finale, all eyes are on Singapore 2023. There have been debates about what to expect from the turn out, though. One brand owner said that health and safety restrictions forced them to reduce their presence on the ground this year, but the company would be taking a larger team than ever to Singapore, to reap the benefits of being closer to key Asian markets. But hosting an INTA Annual Meeting outside the United States risks losing some of what is by far INTA's biggest group of delegates – US members. Whether all State-side attendees at this year's event will make the trip to Singapore remains to be seen. Travel restrictions are changing all the time, and many IP professionals are emerging from the pandemic with slashed travel budgets, now that they have proven they can be just as effective working remotely. On the other hand, this year's return to an in-person event has been praised by almost everyone in attendence, as people are excited to be reunited once more. With lockdown restrictions still in place across the Pacific, many Asian delegates will be hoping for the same high next year. "I'm expecting that next year will have way, way more people than this year's event," one service provider attendee told us. "I know that there were tons of trademark professionals from Asia who wanted to come this year but had visa issues, so next year we're expecting many more attendees from India, from Pakistan, from China – it's going to be a cluster-fuck!" (VAR)
Stay tuned – Don't forget you can keep up to date with the latest INTA Annual Meeting news and insights on our Twitter feed.