Trademark challenges and opportunities in the food and beverage industry: a boardroom discussion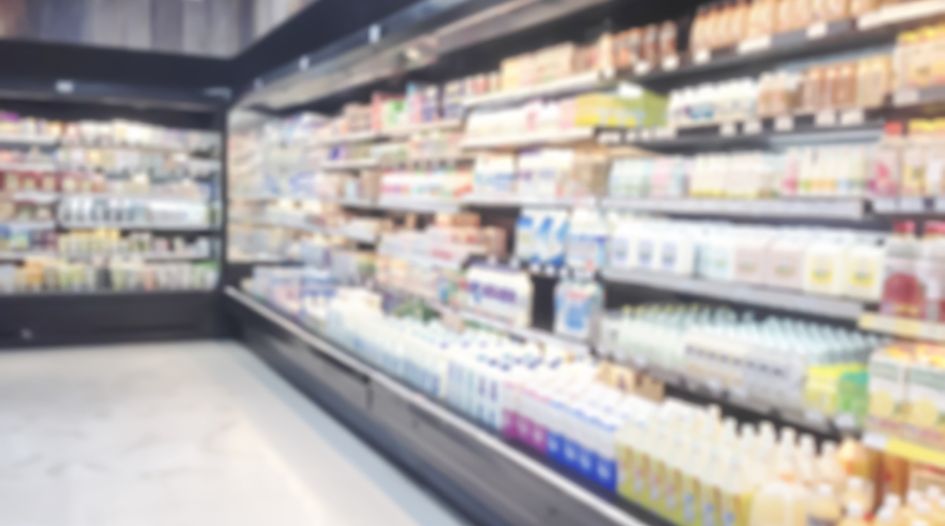 In October 2020 a number of senior brand professionals from the food and beverage industry sat down with Finnegan attorneys to explore the risks and opportunities facing companies in the sector. Here we present some of the practical takeaways.
2020 has been the year of unprecedented challenges, but also resilience and transformation. Although it has been a roller-coaster ride, we have all been forced to step up to the challenges, adapt, show courage and find solutions. For brand owners, this has meant fighting counterfeiting on a scale previously unseen, dealing with the cutting-edge intersection of trademark and advertising issues, and ensuring that brands reflect and stand up for their customers' social values. With that in mind, on 8 October 2020, during the WTR Connect event, a group of corporate counsel from the food and beverage industry joined Finnegan attorneys Danny Awdeh, Anna Naydonov and Nicholas Camillo to discuss recent trademark challenges and opportunities in the sector.
The participants discussed a wide range of trademark topics, including counterfeiting, the interplay of trademark and advertising law in the wake of the covid-19 pandemic, and the impact of social issues on brand clearance. While the exact nature of the afternoon's discussions, as well as who said what, was meant for only those present, Awdeh, Naydonov and Camillo have put together a special report detailing some of the key points discussed.
Finnegan and WTR are grateful to the following participants for their contribution, commitment and enthusiasm throughout the programme:
Michel Rorai, lead IP counsel, Unilever;
Jeremy Roe, senior marketing counsel, Unilever;
Thomas Hannickel, legal specialist, BRF;
Christa Cole, head, brand development, enforcement and licensing, Nestlé;
Anna Olsen, global director, intellectual property, Treasury Wine Estates;
Rachelle Andrews, senior attorney, trademark enforcement, Jack Daniel's Properties;
Livia Andermatt, senior counsel, intellectual property, Lindt;
Harpreet Thandi, senior legal counsel, Ferrero; and
Louise Butler, global head, brand protection, Diageo.
Navigating an increasingly complex and nuanced counterfeiting threat
Combatting counterfeit products in the marketplace has always been a challenge for brand owners, and the pandemic has exacerbated this. Counterfeiters have taken advantage of the panic surrounding the initial lack of masks (in particular, the N95 mask) and testing, which has instigated the sale of numerous counterfeit masks and testing kits. For example, in Autumn 2020 nearly 59,000 counterfeit masks and hundreds of fake covid-19 tests were seized at Mid-Atlantic ports. These masks displayed the trademarks of designer brands, sports teams, vehicle manufacturers and cartoon characters, among others. Further, according to US Customs and Border Protection, as of 1 June 2020, it had seized more than:
107,300 Food and Drug Administration (FDA)-prohibited covid-19 test kits in 301 incidents;
750,000 counterfeit face masks in 86 incidents;
2,500 Environmental Protection Agency-prohibited anti-virus lanyards in 89 incidents; and
11,000 FDA-prohibited chloroquine tablets in 91 incidents.
With much of the world entering lockdowns, the proliferation of online shopping has also resulted in a rise in counterfeit goods online. But even before the pandemic, brand owners had to deal with the rise of online marketplaces and social media platforms that facilitate the sale of counterfeit goods. Unlike bricks-and-mortar stores where consumers can view items in person to more easily identify illegitimate products, online marketplaces present challenges in detecting counterfeit goods where images of products are easily manipulated.
Moreover, online marketplaces provide counterfeiters (who are often based overseas) a way to protect their identity and finances when selling counterfeit products online. For example, in Nike  v Wu (No 13 CIV 8012 (CM), 2020 WL 257475 (SDNY 17 January 2020)), the court found that Nike could not require six Chinese banks to pay over $150 million in damages based on the allegation that the banks enabled the sale of counterfeit Nike and Converse products.
Nike had previously sued hundreds of online retailers, which resulted in a default judgment for $1.8 billion and an order that various Chinese banks freeze the assets of the alleged counterfeiters. In 2017 Nike assigned the judgment to Next Investments LLC for it to collect the award. The following year, Next asked the US District Court for the Southern District of New York for a contempt order against six Chinese banks for failing to freeze assets, contrary to court order, and for $32 million that was allegedly transferred out of the Chinese banks, as well as an additional $118 million in counterfeiting damages under the Lanham Act. The banks argued that the freeze order did not apply to foreign bank branches, and the court agreed. The case is currently on appeal before the US Court of Appeals for the Second Circuit.
Although counterfeit goods have become more rampant in the online marketplace, we should not ignore the counterfeiting that continues to regularly occur in bricks-and-mortar establishments, particularly in the food and beverage industry.
Less talked about are counterfeiting situations where products bear a counterfeit certification mark, as was the case in Chicago Rabbinical Council v Abdul Rehman Group (No 1:19-CV-08290 (ND Ill 9 June 2020)). In that case, the Northern District of Illinois found that a grocery store infringed a certification mark used by the Chicago Rabbinical Council. The certification mark is used to denote kosher food products. In 2011 the Chicago Rabbinical Counsel entered into a contract with the store that allowed it to use the counsel's 'cRc' certification mark. However, the store breached the agreement and the counsel ultimately terminated the contract. Notwithstanding, the grocery store continued to use the mark, which prompted the suit and a request by the counsel for an injunction and $2 million in statutory damages for counterfeiting. The store ultimately defaulted, and the court ordered the store to pay $1 million in statutory damages.
The interplay of trademark and advertising law in the wake of the covid-19 pandemic
With the pandemic raging across the nation, many brands have rushed to adopt trademarks, taglines or logos that relate to strengthening immunity and/or touting health-related benefits. However, any coronavirus-related prevention or treatment claims must be supported by competent and reliable scientific evidence, including, when appropriate, well-controlled human clinical studies.
Moreover, claims must be substantiated at the time that they are made. To combat covid-19-related fraud, the Federal Trade Commission has issued numerous warning letters to entities making unsubstantiated claims about preventing and treating the virus.
In addition to the threat of regulatory action (which has largely focused on the more egregious claims), risks for brand owners include class action litigation and competitor challenges in federal district court and before the National Advertising Division. Thus, it is more important than ever for brand owners to be mindful of claim substantiation requirements when clearing brands, logos and taglines that may include any express or implied health or immunity-related claims.
Rebranding and accounting for more than legal risk when clearing a brand
Over the past decade, the growth of social media use has also resulted in the growth of social awareness. Once left to private dinner table discussions and eyewitness accounts, the evolution of social media and mobile technology has facilitated the ability for individuals to express their opinions and share their viewpoints on various social issues.
This sharing of information is not left to words alone, though, as audio files and videos can now be shared in real time, which often provokes impassioned discussions about controversial social issues. Recently, the videotaped killing of George Floyd in May 2020 sparked protests across the United States. With those protests also came the resurgence of the Black Lives Matter movement. In a country that is more divided than ever, individuals' beliefs and values are being challenged on a scale previously unseen.
An individual or company can be persecuted at any moment when their beliefs enter the public domain and are contrary to majority public opinion. Some call this 'cancel culture' – the mass rejection of an individual, brand or company due to their views or actions. We have seen the effects of cancel culture time and time again, particularly in the food and beverage industry.
For example, in 2016 Pepsi Co pulled a controversial advertisement depicting Kendall Jenner joining a protest and handing a police officer a Pepsi soda at the front of the protest line. The advertisement was heavily criticised for being insensitive and for playing off the Black Lives Matter protests. Most recently, the parent companies of various brands have received backlash and undergone a change in branding in an effort to denounce any past or current representation of racism, including:
Aunt Jemima syrups and pancake mixes;
Mrs Butterworth's syrup;
Cream of Wheat cereal;
Darlie toothpaste;
Uncle Ben's rice; and
Dixie beer.
 The Pepsi controversy was a strong reminder of the serious risks that come with failing to account for social issues when clearing a brand or advertisement. Indeed, reports have shown that younger demographics want brands to align with them on values.
Writing on PR Daily, Ted Kitterman reflected on 5WPR's 2020 Consumer Culture Report, which found that 83% of young consumers want companies to align with their values, 76% want CEOs to be vocal about issues that are important to them, 65% alleged to have boycotted a brand touting an adverse stance on a given social issue and 62% favour products that highlight their social and political beliefs. In stark contrast, only 21% of consumers aged 55 and over favour products that align with their social and political beliefs.
These statistics describe a growing shift to a more value-oriented consumer. However, while brand owners must account for consumer values when advertising and/or rebranding, they also tread a difficult and thin line when trying to prevent 'cancelled' brands from becoming totally abandoned and appropriated by third parties where there is no use by the original owner.
Although some brands may be distasteful now, there is no doubt that consumers are quick to forget. And, in the future, certain legacy brands may be more socially acceptable to bring back in certain historical contexts. Moreover, unscrupulous actors may appropriate cancelled brands and use them in ways that cause consumer deception and harm.
Brand owners are thus faced with a conundrum: the need to distance themselves from 'cancelled' brands but, at the same time, find ways to maintain use in commerce so that now-cancelled brands are not adopted by bad actors who prey on unwitting consumers. Preventing nefarious actors from adopting cancelled brands (including bad-faith trademark filings) may require legislative intervention to provide brand owners with grounds to address these bad-faith tactics and filings without the need to continue to use certain brands.