Trademark blow for Drake; South Korea's livestream anti-counterfeiting swoop; BBQ dispute heats up – news digest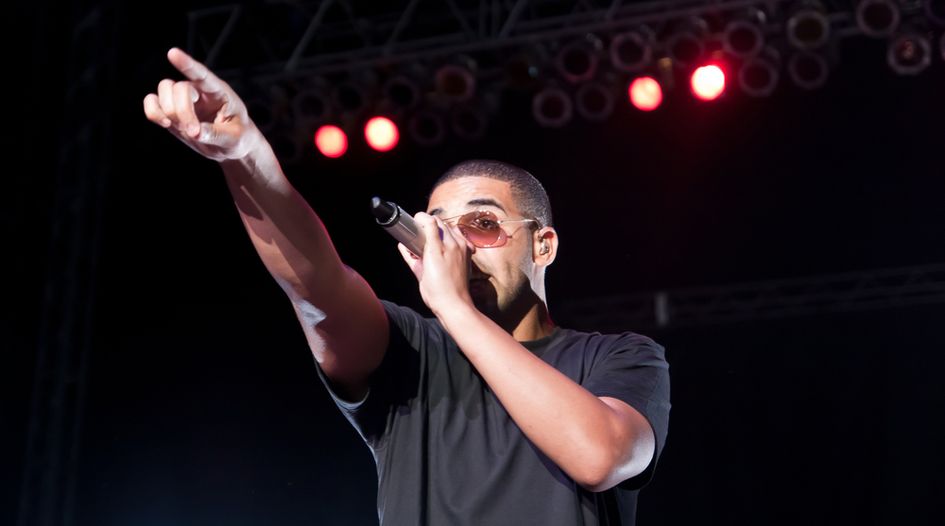 Every Tuesday and Friday, WTR presents a round-up of news, developments and insights from across the trademark sphere. In our latest round-up, we look at the Hyundai's dispute with Genesis BBQ, the acquisition of Modell's Sporting Goods intellectual property, a spike in counterfeit pills, and much more. Coverage this time from Trevor Little (TL), Bridget Diakun (BD), Joyce Ng (JN), Jonathan Walfisz (JW) and Tim Lince (TJL).
Market radar:
Thomson Reuters announces new acquisition – Thomson Reuters has acquired CaseLines, the cloud-based court document and evidence management platform. The CaseLines platform enables the legal community to securely manage, organise, share and present evidence between the courts and legal teams both remotely and in person.The press release announcing the move states: "The acquisition of CaseLines enhances Thomson Reuters offerings in the courts administration space and furthers the company's strategic approach to deliver innovative end-to-end solutions to its legal community partners internationally." CaseLines is established in the UK, and the acquisition further supports a recent agreement between Thomson Reuters and Ontario's Ministry of the Attorney General to provide CaseLines to support civil, criminal and family courts across the province. (TL)
DEA reports spike in counterfeit pills – Drug Enforcement Administration agents from the Minneapolis/St Paul District Office are reporting a significant increase in counterfeit pills entering Minnesota from drug trafficking organisations in California, Arizona and Mexico. In Minnesota, agents have recovered approximately 46,000 counterfeit pills during the first seven months of 2020, nearly four times the amount seized in all of 2019.  Agents note that the counterfeit pill trend took off in Minnesota in 2018, with pill numbers increasing each year. "There is no quality control in these counterfeit pills," Omaha Division Special Agent in Charge Richard Salter Jr, warned. "Drug trafficking organisations do not employ scientists or use professional laboratories to create these deadly pills and therefore they cannot create the safe chemical mixtures that their legitimate pharmaceutical counterparts do. Each time someone takes a counterfeit pain pill, they are playing Russian roulette with their life." (TL)
The IP famous speak – In May, our sister title IAM announced the announced the five inductees into the IP Hall of Fame for 2020. Alongside Arturo Alessandri Besa (a distinguished lawyer and politician who played an important role in discussions leading up to the passing of Chile's Industrial Property Law in 1991), Lord David Kitchin (the first specialist IP judge ever to be appointed to the UK Supreme Court) and Teresa Stanek Rea (the first woman ever to serve as under-secretary of commerce for intellectual property and director of the USPTO), were two trademark industry stalwarts: Professor Graeme Dinwoodie, an internationally-renowned trademark law scholar, and Louis Pirkey, one of the most accomplished trademark lawyers in the United States over the course of a career spanning more than four decades. In its current edition, IAM interviews all five inductees. One of the questions posed to both Dinwoodie was: "What are the most important legal or academic questions relating to trademarks today?". He responded; "As trademark protection becomes more expansive and trademarks are used by third parties for more diverse purposes, I think we are going to see even greater attention paid to exceptions and limitations. This is already happening – on both sides of the Atlantic. In the United States, the number of cases applying defensive doctrines has mushroomed in recent years and there are clear efforts in ongoing litigation and in academic scholarship to bring those various doctrines together as a coherent set of defences.". In terms of trademark industry challenges, Pirkey highlighted the threat posed by plain packaging, which he characterised as "an existential issue for brands,". He ended, however, on a positive note: "I am optimistic about the trademark system in the United States. There are fewer threats on the trademark side than on the patent side." The five interviews are available in full here. (TL)
Rural luxury bag counterfeiting operation halted, case valued at Rmb400 million – In a special campaign for cracking down on IP violations, codenamed "Kunlun 2020" (which WTR has previously reported on), police in Guigang city, of Guangxi province, uncovered a large-scale illegal production of luxury bags featuring brands such as Louis Vuitton, Gucci, Chanel and Hermes, for sale in China and overseas. After being tipped off by the public, the authorities spent three months investigating and planning the operation for 23 July, when over 200 police officers descended upon rural Guanqiao Village. They raided two counterfeit production sites and seized two warehouses and 10 production lines. More than 1,000 completed, and over 3,000 semi-complete, counterfeit products were found, amounting to Rmb400 million (over $57.5 million). In total, 13 suspects were arrested. The counterfeiters had illegally established an unregistered handbag processing factory in the village in 2017, with Mr Shi (at large) providing raw materials and exporting the goods. (JN)
New US rule relabels Hong Kong brands as 'Made-in-China' – After 25 September, US-bound exports from Hong Kong will be labelled as 'Made-in-China', though the country of origin remains 'Hong Kong' and the goods would not be subject to punitive tariffs. Affected brands include Dai Pai Dong (which produces local beverages like milk tea and coffee) and Kee Wah Bakery (which produces traditional Chinese pastries like pineapple shortbread and cookies). This decision, a reaction from the US over Hong Kong's new national security law, will "undermine efforts and attempts by Hong Kong manufacturers to venture into the US market, the city's second-largest export destination for locally made products", the South China Morning Post writes. (JN)
Retail Ecommerce Ventures scoops up the Modell's Sporting Goods brand – Retail Ecommerce Ventures (REV) has been on a buying spree as retailers struggle to survive in an increasingly dire economic climate. The Florida-based investment firm, which is run by a former NASA scientist and a serial entrepreneur, has just become the highest bidder for Modell's Sporting Goods intellectual property and other e-commerce related assets, according to NBC. The company made an offer of $3.7 million, and, should it be approved, it will be the firm's third major retail acquisition in the past eight months. It acquired Dressbarn in November, for an undisclosed sum, and Pier 1 Imports in June for a staggering $31 million. REV was launched by Tai Lopez and Alex Mehr just last year, as the pair sought to capitalise on the growing number of retailers closing stores and ultimately falling into bankruptcy. Lopez and Mehr's strategy is to buy up traditional brick-and-mortar brands, which possess strong brand equity, and flip these into lean e-commerce brands. REV focuses on paying a discount price for the intellectual property of "high-volume businesses with strong brand affinity", says Lopez, and eliminates the need to pay for expensive real estate by sticking the business online. REV is not the first company to purchase intellectual property assets of ailing retailers with the purpose of revamping these brands. It is also the strategy of Authentic Brands Group (ABG) which has made a number of high level purchases over the years, including buying the Forever 21 and Aeropostale brands. In fact, ABG has also been busy. On Friday it was announced that the firm, through its joint venture with Simon Property (SPARC Group), became the winning bidder to acquire denim maker Lucky Brand out of bankruptcy. The deal was priced at $140.1 million, and ABG will take ownership of Lucky's intellectual property assets as well oversee its licensing partnerships, and new business and brand development. Commenting on the deal, ABG founder and chief executive Jamie Salter said: "This acquisition will boost the value of our portfolio to more than $13 billion in global retail sales annually. Lucky Brand's DNA resonates strongly with today's youth and we see tremendous opportunity to unlock its value in key territories around the world". Notably, earlier last week SPARC Group also became the successful bidder for bankrupt Brooks Brothers with a $325 million offer. (BD)
Blow for Drake over trademark efforts centred on new album name – "Just hold on, we're going back to the USPTO" might not be exactly the name of one of the Canadian rapper's hit songs, but it could be pertinent advice, after the trademark application for his new album title 'Certified Lover Boy' was denied. Common Sense Counsel's Robert Kleinman applied for the mark on behalf of Drake in February, only for the USPTO to refuse the application as it may be confused with Michigan clothing company Lover's Lane or Canadian 80s rock band Loverboy. Reportedly, the news of the application's refusal hasn't dampened Drake's interest in keeping the album title as it is. (JW)
Legal radar:
Hyundai gets a grilling from BBQ brand – Hyundai has been embroiled in a trademark dispute with Genesis BBQ since the release of its Genesis brand of cars in 2015, reports The Korea Herald. The car manufacturer has demanded that the Korean Intellectual Property Tribunal cancels the BBQ companies trademark rights in multiple areas that it does not currently operate within such as bags, wallets, sweaters and other souvenirs. Hyundai has so far been successful in getting some of Genesis's goods and services removed from their trademarks, however, the car manufacturer still does not have the rights to GENESIS for use on goods such as sweaters and shirts. A company spokesperson said: "We have Genesis trademark rights related to automobiles. But we are suing for trademark rights because we cannot make various souvenirs bearing the Genesis brand, which has not been used for long." (JW)
Office radar:
(For more of the latest coronavirus-related updates from national IP offices, please read our dedicated article which is being continuously updated) 
KIPO identifies counterfeit-selling family members on livestream – The Korean IP Office (KIPO) has published details about an anti-counterfeiting operation centred on four family members streaming on Instagram. According to the agency, Korea's IP Special Justice Police "found four members of the family who promoted and sold counterfeit products through social media live broadcasts such as Instagram". Those arrested include the husband and siblings of the 'main offender', a 34-year-old female, and they are suspected of selling 26,000 counterfeit luxury goods (such as Chanel bags) in a 'secret workshop disguised as a home'. According to a representative: "They conspired for a crime with a family (husband and siblings) who would more easily keep a secret and were less likely to generate whistleblowers and gang members. In addition, it was revealed that they committed intelligence crimes, such as making it difficult for investigative agencies to access and prove the allegations." (TJL)
China briefs media on new IP rights policies – Concerned with furthering the development of domestic IP rights, the Chinese government released information on the latest policies at the China National Intellectual Property Administration (CNIPA). The first was a new channel aimed at reducing the time it takes for companies to obtain a patent. The goal is for the period to drop from around three years to one. A second policy aims to give businesses access to cheaper bank loans and financial support based on their patents' estimated revenue. Patent owners will be able to use their intellectual property as collateral in order to get their organisations up and running. (JW)
And finally... 
How WTR is connecting trademark leaders this October – WTR recently unveiled the first  participants for WTR Connect, a series of high-level online events taking place across two weeks in October. Experts from companies including Abercrombie & Fitch, Burberry, Novartis, Starbucks, Under Armour and Walmart joining the roster, with Christian Archambeau, executive director at the EUIPO, confirmed to deliver a keynote. The ground-breaking digital concept offers a series of individual interactive digital sessions organised around major themes. Comprised of a series of hubs, each session is designed to facilitate discussion, benchmarking and the sharing of best practice around key topic areas and challenges facing trademark and brand leaders. Each day will start with a keynote address from a major industry figure. This will be followed by live breakout discussions lasting for a maximum of 60 minutes. These will be in a variety of formats including masterclasses, open discussion forums, solution rooms and closed-door, invite-only boardrooms. To find out more and to secure your place at WTR Connect, click here.