Amending the Lanham Act, protecting Lamborghini in Brazil, and "a factory of ideas": news digest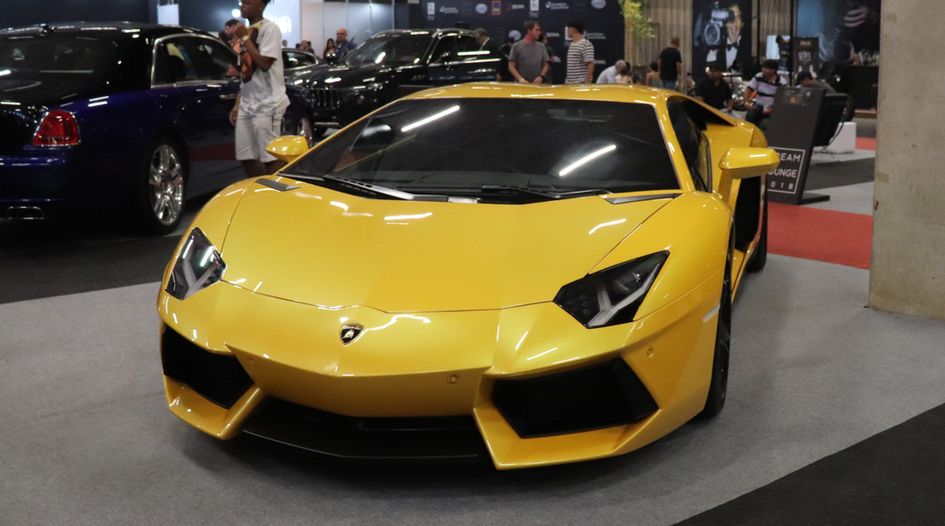 Every Tuesday and Friday, WTR presents a round-up of news, developments and insights from across the trademark sphere. In our latest edition, we look at Michael Kors launching a digital store on Alibaba's Tmall, a court decision that a pun trademark is an aesthetically functional element, Kazakhstan's new IP laws, China's IP transformation, and much more. Coverage this time from Trevor Little (TL), Bridget Diakun (BD) and Jonathan Walfisz (JW).
Market radar: 
INTA calls for Lanham Act amendment… – INTA has applauded the United States House Committee on the Judiciary for holding a hearing titled 'Counterfeits and cluttering: emerging threats to the integrity of the trademark system and the impact on American consumers and businesses'. The hearing took place before the Subcommittee on Courts, Intellectual Property and the Internet yesterday (18 July) and INTA was successful in its request to include issues related to the enforcement of the Lanham Act. Providing INTA's testimony was Peter M Brody, partner at Ropes & Gray, who advocated for legislation to amend the Lanham Act to restore what he called "an endangered but vital principle" - a presumption of irreparable harm. The moved followed a 2017 INTA Board of Directors resolution calling for the Lanham Act to be amended so as to provide that, when a claimant seeks injunctive relief under Section 34 of the Act, a rebuttable presumption of irreparable harm will apply where there has been a finding of liability, or in the case of a motion for a preliminary injunction, a finding of probable success on the merits of the claim. (TL)
… and offers IP office takeaways – Over the next few episodes, INTA's Brand & New podcast series is taking a look inside several intellectual property offices, providing practical illustrations and forward-looking insights that can help brand owners, legal professionals, and new stakeholders advance their own strategies. To date, Daren Tang, chief executive of the Intellectual Property Office of Singapore, and Andrei Iancu, Director of the USPTO, have been interviewed and future discussions will feature Benoît Battistelli, former President of the European Patent Office, and two members of the Kenya Parliament, David Ochieng and Alice Muthoni Wahome (who will focus on IP-related legislative, enforcement, and advocacy efforts in Africa). (TL)
Michael Kors launches presence on Tmall Luxury Pavilion – Michael Kors has become the latest luxury brand to establish a presence on Alibaba Group's Tmall Luxury Pavilion. The company has announced it will open its digital flagship store on Tmall, a development which marks the first third-party partnership for Michael Kors in China and will provide Tmall customers in China with exclusive access to special products launched only on the platform, in addition to the existing range of Michael Kors products. The move is a reminder of the reach of the platform, with Jiang Fan, president of Taobao and Tmall, stating: "This collaboration will bring both exciting products and elevated shopping experiences to the more than 700 million Chinese consumers on our platforms." (TL)
TRACIT report reveals toll of illicit trade on sustainable development goals – This week the Transnational Alliance to Combat Illicit Trade (TRACIT) and the United Nations Conference on Trade and Development (UNCTAD) co-hosted a meeting on the negative impact of illicit trade on the UN Sustainable Development Goals (SDGs). The meeting was designed to help governments understand the challenge of illicit trade and to consider policy measures that account for the negative impacts of illicit trade on the SDGs. During the meeting, TRACIT launched a report, Mapping the Impact on the Sustainable Development Goals of Illicit Trade, which maps the 17 UN SDGs against the following sectors: agri-foods, alcohol, fisheries, forestry, petroleum, pharmaceuticals, precious metals and gemstones, pesticides, tobacco, wildlife and all forms of counterfeiting and piracy. "From smuggling, counterfeiting and tax evasion, to the illegal sale or possession of goods, services, humans and wildlife, illicit trade is compromising the attainment of all 17 of the UN SDGs," stated TRACIT Director-General Jeffrey Hardy. "It is crowding out legitimate economic activity, depriving governments of revenues for investment in vital public services, dislocating millions of legitimate jobs and causing irreversible damage to ecosystems and human lives." (TL)
Man selling counterfeit drugs faces at least five years in prison – Colin Harle, from Portland, has pleaded guilty to selling counterfeit drugs as well as illegally possessing a firearm. He will face at least five years in jail as well as having to pay a $250,000 fine for the counterfeit drug charges. Harle was arrested for attempting to sell fake drugs, but later it was discovered that he kept a safe of counterfeit pills out in a wooded area. Within the safe was about 20,000 counterfeit pills labels as Xanax 2 as well as cash and a weapon. While many consumers may dismiss counterfeit products as a small crime, this arrest shows that there is a significant threat to public health and that offenders will not be let off lightly. (BD)
Legal radar:
You can't be pun-ished for nicking someone's pun? – The pun LETTUCE TURNIP THE BEET is registered with the USPTO by LTTB LLC for bags and clothing. Based on this registration, LTTB attempted to sue online marketplace RedBubble for selling user designed prints with the pun. The Northern District of California decided, however, that the products sold on RedBubble did not constitute an infringement because - although LTTB owns the trademark for LETTUCE TURNIP THE BEET - products merely displaying the pun instead of featuring on hangtags and labels does not mean consumers believe they are purchasing the items from LTTB. The pun's use as an aesthetic feature relegated the pun to an aesthetically functional element, the court stated, and not a signifier of the brand. LTTB invoked arguments that t-shirts bearing well known registered trademarks would be deemed infringing material if not produced by the owner of the trademark. However the court dismissed this, stating that LTTB has not established brand loyalty first and trades on the value of the aesthetic element independent of their reputation. (JW)
"Hard Candy" highlighters don't lose sweet of infringement suit ­– The Fashion Law has analysed an appeal to a US District Court in South Florida finding that there was no likelihood for confusion between Anastasia Beverly Hills' "hard candy" highlighter (registered in 2015) and 25-year-old beauty brand Hard Candy. Additionally, the court found that Anastasia Beverly Hills use of the term constituted fair use and that they were not using the term in a trademark capacity - noting that cosmetics companies regularly describe shades with non-literal colour descriptions. Hard Candy appealed the decision, arguing that it should have been given a jury trial because "it was seeking to recover Anastasia's profits as a 'proxy' for the damages it suffered due to infringement". However the US Court of Appeal for the 11th circuit disagreed and stated that "just because Hard Candy seeks a monetary recovery does not mean that it is entitled to a jury trial.". The Court of Appeal also found that there was no likelihood of confusion and that the court must consider the whole impression rather than just the sue of identical words. (JW)
Office radar:
USPTO highlights its efforts to fight back against threats to the trademark system – In her statement before the United States House Subcommittee on Courts, Intellectual Property, and the Internet Committee on the Judiciary yesterday, the USPTO's commissioner for trademarks, Mary Boney Denison, provided an update on the "very disturbing" recent rise in improper trademark submissions and bad faith behavior. In addition to the recent rule requiring foreign-domiciled applicants to be represented by US counsel, She highlighted the creation of a USPTO task force to focus on improper behavior related to trademark applications and registrations its aim being to develop and implement policies, procedures, and technology solutions to effectively address fake specimens, false use claims, unauthorised Trademark Electronic Application System (TEAS) submissions, and other efforts to circumvent the USPTO's Rules of Practice in Trademark Cases. She also highlighted A doubling of the number of trademark registrations it audits through its random audit program to 5,000 per year, and piloting programmes to allow third parties to provide evidence in examination and expedite inter partes non-use challenges. She added: "The US trademark system is a gold standard. It is a fundamental component of our economy and a driver of economic growth and job creation, and the USPTO is committed to maintaining its integrity. The USPTO is aggressively taking steps to combat the various threats to our trademark system." (TL)
Kazakhstan modernises its IP legislation – Over on Lexology, there is analysis of Kazakhstan's recently passed law aimed at improving the legislation for Intellectual Property. The changes include giving the ability to file a lawsuit to protect IP without having a prior registration, and that registration of IP will be filed exclusively through the National Institute of Intellectual Property. Formal examination of trademark applications will now take 10 working days. Substantive examination will be carried out within 7 months, while appellations of origin applications will be reviewed within 30 working days. Licensing rights have also been updated with a license deemed to last five years. Meanwhile counterfeits are now defined as "goods and their packaging on which a trademark or designation confusingly similar to it is placed without the right holder's consent". The law also now states that counterfeit goods, their packaging and the means of producing them will be removed from circulation and destroyed at the expense of the offender. (JW)
Media watch: 
Protecting Lamborghini in Brazil – UK media outlet The Guardian has reported on the Brazilian police's efforts to shut down a "clandestine luxury car factory" manufacturing fake Ferraris and Lamborghinis in the south of Brazil. During a raid on a garage, police found eight vehicles – two 'Ferraris' and six 'Lamborghinis' – in various stages of completion. While the exteriors imitated the luxury brands, the motors were taken from other, less powerful cars. Interestingly, no arrests were made (charges are reportedly to come) and the social media presence of the alleged infringers continues – with the individuals in question telling The Guardian that "We did not close. We are working normally. There are cars being made for customers there and our commitment is to finish these cars." On the other side are the legal representatives for Lamborghini, who dismiss the claim that the cars did not "100%" match industrial designs and therefore would be shown not to be replicas. File this under 'one to watch'. (TL) 
China seeks to become a 'factory of ideas' – A commentary piece in Xinhua has reflected on China's determination to transform itself from a "factory of the world" to a "factory of ideas and knowledge" – with the protection of intellectual property rights central to this effort. As part of this effort, it notes, as the latest executive meeting of the State Council, authorities vowed comprehensive measures of IPR protection, which included improving its examination system, advancing laws and enforcement, and ensuring the equal treatment of domestic and foreign-invested companies operating in the country. China has certainly ramped up its messaging on its IP environment, particularly since the trade war with the US escalated. Any efforts to further improve its IP ecosystem will, of course,  be welcomed by rights holders. (TL)
On the move: 
Eversheds Sutherland opens a new California office – A San Diego office has been launched as part of Eversheds Sutherland's efforts to expand further in the US. Three IP litigators will join this practice, Nicola Pisano, Joe Patino, and Christopher Bolten as partners. This is the second new US office that Eversheds has opened in 2019, having established a presence in Chicago in May. This means the firm now has a total of 69 offices, with eight in the US. (BD) 
Polsinelli boosts Houston IP group – Shareholder Jonathan R Spivey has joined Polsinelli's IP litigation practice. He will be working out of the Houston office. (BD)
Patent trial lawyer joins King & Spalding – According to a press release on King & Spalding's website, IP trial lawyer Brent Ray has joined the firm as a partner. Ray will work within the trial and global disputes practice group and will be based in Chicago. (BD)
DLA Piper welcomes six-partner group – A group of six partners has left Nixon Peabody to join DLA Piper across its offices and practices, according to the firm's website. Christopher Mooney and Maria Swiatek, partners within the IP and technology practice, will be joining the Silicon Valley office. (BD)
And finally…
Get the inside track on brand protection online – WTR is pleased to announce that, following a sold-out debut in Chicago, its Brand Protection Online event is heading to London on 14 October. A unique forum for brand professionals to discuss solutions to the challenges that arise when protecting trademarks online and share insight on how to prioritise enforcement efforts, the event programme will cover:
Developing a state-of-the-art online brand protection strategy
 Fighting infringement on e-commerce sites
Brand protection strategies for social networks and apps
Managing the changing domain name landscape
Data privacy and GDPR: working within the rules
Delegate places at the event cost £495 (excluding VAT) but – until 6 September – a saving of £100 is available when using the following code: BPO100. To register for Brand Protection Online Europe, click here.