Tom Brady mocked for trademarks; another '.brand' dropped; social purpose questioned – news digest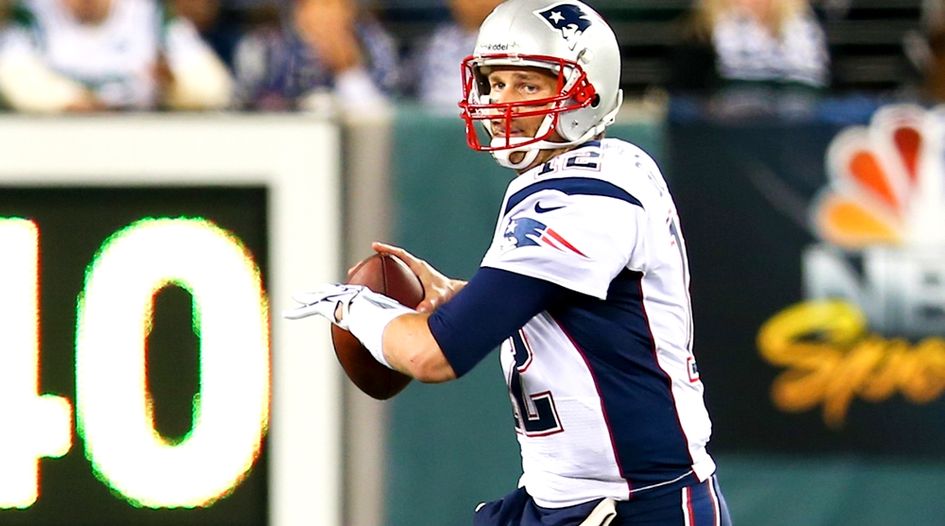 Every Tuesday and Friday, WTR presents a round-up of news, developments and insights from across the trademark sphere. In our latest edition, we look at further tributes being paid to Q. Todd Dickinson, Sonoma Brands acquiring KRAVE from Hershey Company, Acritas launching the latest UK law firm brand index, a fashion academia trademark spat, and much more. Coverage this time from Trevor Little (TL), Bridget Diakun (BD), Jonathan Walfisz (JW) and Tim Lince (TJL).
Market radar:
Further tributes paid to Q. Todd Dickinson – On Tuesday we reported on the passing of Q. Todd Dickinson, former under secretary of commerce for intellectual property and director of the USPTO. In the days since, the tributes have continued, with current USPTO director Andrei Iancu reflecting on Dickinson's achievements in the IP world, as well as the qualities that made him such "a warm person and a great friend to many", concluding: "I began working with Todd many years ago when I was in private practice, but that work relationship grew over time, particularly when I became USPTO director. Todd was a mentor, and he was a friend. I, the USPTO, and the entire IP community will sorely miss Q. Todd Dickinson. He is survived by his husband Robert Atkins and his brother John Dickinson, to whom we extend our deepest sympathies. May Todd's memory be an inspiration to all." Over on IAM, Joff Wild also paid tribute to a man who "leaves a legacy of achievement that very few will ever match", Wild notes that "'Been there, seen it, done it' was a phrase invented for Todd. No-one I can think of in IP comes close to matching his record." Wild concludes: "Sitting here today in lockdown in England, it is hard to get my head round the fact I will never see Todd at another event or get to speak with him again. His support from the moment IAM was launched through to today was unstinting. It is hard to overstate how much my colleagues and I owe to him. It is something that we will never forget." (TL)
Sonoma Brands acquires KRAVE from Hershey Company – Sonoma Brands has completed its acquisition of the jerky brand KRAVE, which it purchased from The Hershey Company for an undisclosed amount. KRAVE was launched in 2009, and was at the time owned by Sonoma Brands, which is an emerging private equity investor and incubator. The brand took the market by storm, growing a loyal following of jerky fans. It was then acquired by The Hershey Company in 2015. During its time under the Hershey helm KRAVE's portfolio of protein snacks was expanded, most recently launching a plant-based jerky. It is now back in the hands of its original owner, which is looking to continue growing its presence in the market. (BD)
Glossier's pink pouch pushes forward at USPTO, but lookalikes are cropping up – Glossier has filed a trademark application for registration for its use of a specific shade of pink on the bubble-wrap lined pouch that it sends out alongside purchases. The company was initially met with opposition from the USPTO on the potential lack of distinctiveness, but it has since been given the thumbs up to proceed to publication for opposition, reports The Fashion Law. The application was filed in May 2019, and since then another beauty brand, Sunday Riley, has introduced its own bubble-wrap pink pouch. This highlights some of the potential legal issues that Glossier may face, as the pink pouch has come to be an identifying feature of the brand given its ongoing use for the past five years. However, it is worth noting that Sunday Riley also sends out bubble wrap pouches in other colours like blue and yellow, which could be used as an argument against trademark infringement. Glossier exclusively uses pink bubble wrap pouches, and its consistency with using and promoting these bags gives it the possibility of a trademark registration. As many brands can attest to though, it is highly difficult to register unconventional marks, but the emergence of a beauty brand using similar pouches shows the risk for Glossier who uses the bags as an element of its branding. (BD)
Acritas launches UK Law Firm Brand Index 2020 – CMS has jumped nine places to the top spot of Acritas' UK Law Firm Brand Index 2020. With Brexit continuing to influence the UK legal market, law firm adaptability has been a key indicator of success in the listing. The Thomson Reuters company also identified the favourability to alternative legal service providers as a signifier of prowess in the ranking. David Johnson, UK account director at Thomson Reuters, said: "There are definite signs that both clients and law firms are starting to embrace the technology revolution in the UK after lagging behind other global legal markets. Firms who are adopting it and embedding it as part of their offer to clients are experiencing an uplift in satisfaction and advocacy from clients." Outside of CMS's meteoric rise in the rankings, the top 10 is largely unchanged from last year with the heavyweights coming out on top. The top 10 is as follows: CMS, Pinsent Masons, Eversheds Sutherlands, DLA Piper, Freshfields, Clifford Chance, Linklaters, Allen & Overy, Herbert Smith Freehills, and Slaughter & May. In the top 20, Dentons has also made its first ever appearance in the ranking. Acritas comments that in this time of uncertainty, it's likely that clients "want a safe pair of hands, with strategic knowledge and commercial thinking to help navigate growth". (JW)
Legal radar:
Fashion Institute of Design & Merchandising sues college over use of acronym – LA-based Fashion Institute of Design & Merchandising (FIDM) has filed a suit against Central Michigan University (CMU) over alleged trademark infringement, reports The Fashion Law. The issue at hand over the use of the acronym FIDM, which FIDM has federally-registered in connection with "its offering of an accredited college education with an emphasis on fashion design, merchandising, marketing, business, etc". The lawsuit claims that CMU has begun using FIDM in relation to its own "Fashion, Interior Design, and Merchandising" department, which is "identical" to the way that the LA-based institute uses the mark. FIDM sent a cease and desist letter to CMU in January of this year requesting that CMU stop using all FIDM marks as well as discontinue the Instagram handle @fidmcentral and other social media accounts in the same likeness. CMU's counsel refused to comply which led to FIDM filing a suit in New York federal court. (BD)
Office radar:
(For more of the latest coronavirus-related updates from national IP offices, please read our dedicated article which is being continuously updated)
Domain Radar:
Another '.brand' dropped – Over on Domain Name Wire, Andrew Allemann reports that '.Symantec' has become the latest '.brand' to be dropped by its owner. However, he notes that the reason for the decision is rooted in a brand move outside the domain space – namely that Symantec changed its name to NortonLifeLock last year, selling the Symantec brand to CA Inc. Therefore, ownership and use of the TLD was made redundant. (TL)
'.eu' is on the up – On Domain Incite, Kevin Murphy has reported that domain names in the '.eu' TLD grew from 3,579,689 to 3,623,050 domains during the first quarter of the year, an increase of about 43,000. While small in percentage terms, as Murphy observes, this is notable because Brexit means that British registrants will lose their right to register and hold '.eu' domains next year, leading to a growing exodus. UK-based registrations of '.eu' domains continued to decline in Q1, down 24% year over year. However, a 64% spike in registrations from Portugal has helped '.eu' return to growth. Whether that growth is sustained as more British registrants exit remains to be seen. (TL)
Media Watch:
Tom Brady gets flak for trademark filings – Trademarks reached the mainstream news again this week when American football star Tom Brady's latest filings were unveiled. Josh Gerben was first on the scene reporting on his Twitter account that Brady's company TEB Capital Management had filed for the marks TOMPA BAY and TAMPA BRADY. It was then revealed that TEB intends to sell clothing with the marks on. What followed this reveal was a stadium's worth of critics lightly ribbing Brady for his taste. Twitter user Mina Kimes wrote: "TOMPA sounds like a rejected Pokémon" while Robin Lundberg said: "Tompa Bay is the stupidest thing I've ever seen". All this goes to show the potential immediacy of brand impact after filing a couple of new marks. (JW)
Brands may be "overvaluing" authenticity – In a column on Business 2 Community, marketing expert Kyle Weber suggested that, in some ways, brands may be overvaluing two key measurements – authenticity and social purpose. In recent years, the two metrics have been promoted heavily by marketing and brand experts as key to creating a strong brand in the modern age. However, according to Weber, evidence suggests that consumers don't necessarily care about authenticity and social purpose as much as marketers would have you believe. For example, Ashley Madison – the dating service which enables married people to commit adultery – suffered a massive data breach in 2015, with the identities of customers leaked online. Those two elements, a data breach and an unethical brand offering, would suggest the company would be in trouble. That, however, is not the case, says Weber. "Things have never been better – Ashley Madison hit 60 million members last year; that's 10 million more than Tinder," he says. "That's right, a company built on zero social and ethical purpose grew stronger after breaking trust and potentially ruining the lives of every single customer." Pointing to Ashley Madison and other examples, Weber says that authenticity and social purpose are more of a "sweetener" for consumers, not necessarily a "priority", concluding: "While consumers demand authentic brands, they themselves aren't authentic in revealing what really drives their decision making. Don't get me wrong, I think both the world and organisations can benefit from authenticity and social purpose, but they'll never make up for a subpar product or customer experience." (TJL)
On the move:
DLA Piper adds IP partner in London – Deborah Bould has left Pinsent Masons to join DLA Piper's IP and technology practice as a partner in the London office. Bould has a strong scientific background and she specialises in tech patent litigation. (BD)
And finally...
Free-to-view anti-counterfeiting intelligence now available – WTR has published the 12th edition of Anti-counterfeiting: A Global Guide, which provides comprehensive guidance on anti-counterfeiting laws, procedures and strategies in key jurisdictions around the world. Presented in a simple, easy-to-use format, this indispensable publication analyses the anti-counterfeiting frameworks in place in 18 jurisdictions, with a regional chapter identifying wider trends and best practices in the Western Balkans. In addition, an industry insight section offers guidance on protecting brands in the digital world, as well as industry-focused pieces offering insight into anti-counterfeiting strategies and best practice in the electronics and consumables, and luxury goods sectors. To access the new edition, click here.