Tiger King trademark fight; USPTO AI use; Sakpatenti to launch mediation – news digest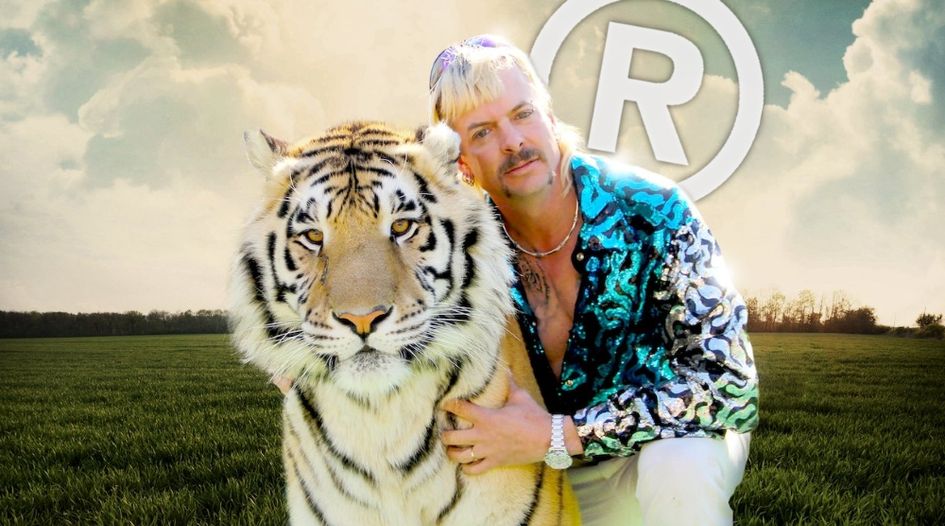 Every Tuesday and Friday, WTR presents a round-up of news, developments and insights from across the trademark sphere. In our latest round-up, we look at ICANN being requested to hit the pause button on WHOIS reforms, adidas and Peloton collaborating, and much more. Coverage this time from Trevor Little (TL), Bridget Diakun (BD), and Tim Lince (TJL).
Market radar:
INTA Moot Court Competition celebrates 30th anniversary – INTA's Saul Lefkowitz Moot Court Competition celebrated its 30th anniversary last weekend, with law school students from across the United States participating in the finals of the 2020-2021 competition. A three-person team from Northwestern University Pritzker School of Law, Chicago, Illinois, emerged victorious in the competition, which was hosted virtually for the first time. Nearly 70 teams participated in the 30th anniversary competition, which was named after Saul Lefkowitz, whose distinguished career was dedicated to the development of trademark and unfair competition law. For the competition, teams of students write a brief reflecting the issues in a set problem and then argue the case in six regional competitions before a panel of volunteer attorneys and volunteer judges from various districts and other courts. The two winning teams from each regional competition then argue the case in a national competition before TTAB judges. In second place this year was Emory University School of Law. The University of Alabama School of Law was named 'best oralist', while (Tuscaloosa, Alabama), while  Gonzaga University School of Law took the Dolores K Hanna Best Brief prize. "The competition, from start to finish, refined my legal research, writing, and oral advocacy skills - all of which I know will be continually important in my future legal career," said Anthony Khilkov, one of the members of the Northwestern University Pritzker School of Law team. (TL)
Brand radar:
Rocky Brands completes acquisition of brand portfolio from Honeywell – Rocky Brands has closed its acquisition of the performance and lifestyle footwear business of Honeywell International, reports Yahoo! Finance. Rocky Brands paid $230 million for the portfolio which includes The Original Muck Boot Company and XTRATUF footwear brands. "We are thrilled to have completed this transformative acquisition. The Original Muck Boot Company, XTRATUF, Servus, NEOS and Ranger brands are great additions to our existing portfolio while the total business nearly doubles the size of Rocky Brands' annual revenues," said Jason Brooks, president and chief executive officer of Rocky Brands. (BD)
Walmart ups its fashion game – Walmart has hired fashion designer Brandon Maxwell as the first-ever creative director for its Scoop and Free Assembly fashion brands, reports Bloomberg. Maxwell, who has dressed the likes of Lady Gaga and Michelle Obama, will oversee four seasonal collections a year for the two labels and will be involved in the marketing campaigns for both brands. Walmart is hoping the move will elevate its brands and make it more of a "fashion destination". The American retail giant has been developing its apparel business for a number of years having launched and acquired plus-size clothing brands, launched a dedicated online site to sell Lord & Taylor's higher end offering, and put fashion guru Denise Incandela in charge of its apparel and private brands. Walmart's strategy is in direct response to the rise of Amazon.com's clothing market. (BD)
adidas and Peloton team up to capitalise on at-home fitness demand – adidas and Peloton have collaborated to create a co-branded apparel collection, reports Bloomberg. The pair are hoping to tap into demand for athletic gear as pandemic weary people try to stay active. The "adidas x Peloton SS21 collection" will mark the start of their partnership, and items are expected to be available from March 25. (BD)
Do you have a few minutes to share insights about your trademark practice? WTR would really appreciate your help to build a picture of the trademark sector. 
Legal radar:
Tiger King trademark tussle continues – Last year, in the early months of lockdown, Netflix true crime documentary miniseries Tiger King: Murder, Mayhem and Madness become a global phenomenon, watched by more than 34 million viewers in just the first 10 days of its release. One of the subplots revolved around a trademark and copyright conflict, and this week on the Mandour & Associates blog the law firm reported that Carole Baskins, one of the central characters in the show, filed a notice of opposition with the Trademark Trial and Appeal Board (TTAB) on 8 March. Specifically, she is opposing an application for the phrase "hey all you cool cats and kittens", filed for use in relation to "shirts, hats and general consumer merchandise". While Baskin does not own a registration for the mark, she has used the phrase in commerce for a number of years and Mandour & Associate writes that the applicant has until 17 April to respond: "If he chooses to do this and continue his case, the fight over ownership of the phrase made popular in Tiger King could extend into 2022. It could even go on longer than that if the parties decide to face off in federal court. The case is unlikely to last that long, but if you've seen the story of Carole Baskins and Joe Exotic, you know crazier things have happened." (TL)
Office radar:
(For more of the latest coronavirus-related updates from national IP offices, please read our dedicated article which is being continuously updated)
Georgian IPO to introduce mediation – The Georgian IP Office (Sakpatenti) has partnered with the Georgian Association of Mediation to promote the positives of alternative resolution mechanisms. As part of the increased cooperation, Sakpatenti "will start working on the introduction of mediation as an alternative mechanism for resolving intellectual property disputes" in Georgia. Furthermore, the two organisations will carry out joint activities, including roundtables and conferences. (TJL)
USPTO expands on AI use and plans – On the USPTO blog, Drew Hirshfeld, performing the functions and duties of the under secretary of commerce for intellectual property and director of the office, reflected on its use of artificial intelligence tools. The focus was on the incorporation of AI into examination tools and processes: "Our objective is not just to deploy smarter technology, but to build a smarter organization by coupling the strengths of our workforce with the strengths of AI. This is the beginning of a whole new trajectory in how we leverage technology to transform patent and trademark operations for the better." As to what this means in practice, on the trademarks side Hirshfeld notes that the office recently completed market research in AI capabilities for image comparison and for checking the acceptability of identification of goods and services against the entries in the Trademarks ID Manual. He expands: "The USPTO team developed AI prototypes to compare trademark images, to suggest the correct assignment of mark image design codes, and to determine the potential acceptability of the identifications of goods and services. A beta test of these prototypes through a common user interface with approximately 10 stakeholders began in November 2020 and continues, with a larger beta possible later this year." Elsewhere, he highlighted that the office has tested solutions for false specimen detection capabilities using a software programme. "Finally, a prototype of an AI based chatbot for answering frequently asked questions via the USPTO website could be ready for beta testing later this year." (TL)
Ugandan IPO launches initiative to boost female entrepreneurship – The Ugandan Registration Services Bureau (URSB) has launched a 'Women in Business Club' to recognise the achievements of woman-owned small businesses. In a statement, the URSB explains: "Women across Uganda have been disproportionately impacted by the covid-19 pandemic with most women business owners saying they have been adversely affected. Even worse, the sectors hardest hit by the economic downturn like food, beverages and retail businesses are dominated by small scale women entrepreneurs who have since been left particularly vulnerable. Despite this however, recognising that female entrepreneurs continue to surmount so many obstacles to attain entrepreneurial successes and needed further support was the motivations starting the club. Women in business still face many challenges, such as limited access to financing, training and business networks, in addition to the uncertain markets and fluctuating prices shared with their male counterparts." As part of the initiative, the URSB donated 1 million Ugandan shillings ($272) to the club to help fund training and other activities. (TJL)
Domain Radar:
IPC asks ICANN to hit pause button on WHOIS reforms – Heather Forrest, president of the Intellectual Property Constituency (IPC), has written to ICANN to request a 'pause' in any further work on the standardized system of access and disclosure (SSAD) to WHOIS data proposed last year. On WTR we have reported at length on the SSAD, which seeks to offer access to non-public registration data but has been criticised in trademark circles for being little more than a ticketing system that doesn't fundamentally change current limited access. The IPC characterises the current proposals as "not yet fit for purpose" and, in addition to pointing to a lack of consensus on, argues that they are not in the public interest – stating that they do not sufficiently address consumer protection and consumer trust concerns and maintain a fragmented system. Further, the system  may impose financial conditions that place disproportionate costs on its users including those that detect and act on cyber security threats. The letter also points to the proposed directive on measures for a high common level of cybersecurity across the EU, which addresses "shortfalls in the current DNS on a range of issues, including access to accurate domain name registration data". Forrest concludes: "In light of these issues, the Board should remand the SSAD recommendations to the GNSO Council for the development of modified SSAD recommendations that meet the needs of users, with the aim of integrating further EU guidance." (TL)
On the move:
McDermott Will & Emery strengthens West Coast presence with new partner – Intellectual property litigator Douglas H Carsten has joined McDermott Will & Emery in the firm's Orange County office. "Doug is an incredible lawyer who understands being deeply invested in his client's businesses, and focuses on offering actionable recommendations to mitigate risk and capitalise on opportunity along every stage of the IP lifecycle," said Bill Gaede, global head of McDermott's intellectual property practice. "Doug brings additional first chair trial expertise to our life sciences patent litigation practice and clients will benefit from his multifaceted IP experience and his motivation to collaborate across practice groups to guarantee his clients are benefiting from all of McDermott's assets and resources." McDermott has been focused on expanding its intellectual property practice having made a number of partner hires including Jeffrey Toney in its new Atlanta office, as well as Michael Siekman and Jenny Chen in Boston. (BD)
Orrick boosts life sciences capabilities – Orrick has announced the hire of Gargi Talukder who joins the firm as a partner in San Francisco. Talukder will head Orrick's life sciences patent strategy and prosecution practice. "Adding top-notch patent prosecution expertise is the next step in the ongoing development of our life sciences offering," said Matthew Gemello, head of Orrick's global corporate practice. "We could not be more fortunate to do so with a leader and skilled practitioner of Gargi's caliber and technical pedigree. Our clients' innovation continues to outpace regulation and Gargi's market-leading expertise will be a game-changer for these innovative businesses." Talukder joins Orrick from Morgan Lewis where she led the firm's San Francisco IP practice. She is the eighth partner to join the firm's life sciences platform since 2019. (BD)
And finally...
Tracking critical industry trends and challenges: WTR needs your views –  WTR is inviting trademark professionals across the globe to participate in the latest benchmarking survey, which focuses on operational management to track the latest trends and identify how practice is evolving. There is no cost associated with taking part in the community project, which is designed to give brand experts – both in-house and in law firms – a benchmark for practice management. As well as revealing key trends in the organisation of the trademark function, including finance, structure and headcount, this year we will explore the impact of the covid-19 pandemic on trademark operations. Responses will be treated with full confidentiality. Only anonymised and aggregated information will be used for publication of the survey results by WTR, and your details will not be used for any commercial purpose, nor be shared with third parties.Completion of the survey should take around 15 minutes. The results will be presented on the WTR platform and respondents will receive key findings. The survey form is available here.