Thomas Cook brand relaunched; 'rip off' Teddy Fresh clash; Lady A legal fight continues – news digest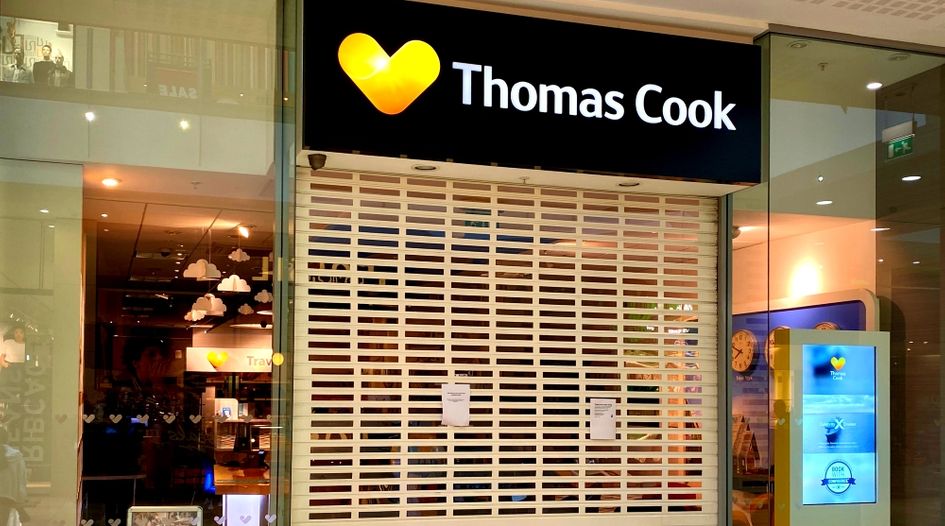 Every Tuesday and Friday, WTR presents a round-up of news, developments and insights from across the trademark sphere. In our latest round-up, we look at industry groups teaming up to fight pirates, call for fake pharmaceutical stories, IP Australia announcing a new indigenous knowledge initiative, and much more. Coverage this time from Trevor Little (TL), Bridget Diakun (BD), Joyce Ng (JN), Jonathan Walfisz (JW) and Tim Lince (TJL).
Market radar:
Industry groups team up to fight pirates – The National Intellectual Property Rights Coordination Center (IPR Center), the Motion Picture Association, the Alliance for Creativity and Entertainment, the US Chamber of Commerce's Global Innovation Policy Center and marketing organisation CTAM have announced a partnership designed to strengthen innovation and collaboration within the organizations' collective content protection efforts. The tie-up will result in activities designed to supplement HSI's digital piracy investigations and other intellectual property rights investigations related to the mission of the IPR Center. These include connecting resources and sharing information within the anti-piracy community. The collaboration was unveiled via a virtual ceremony, with a public service awareness campaign also launched. Derek N Benner, executive associate director for Homeland Security Investigations (a division of US Immigration and Customs Enforcement, which oversees the IPR Center), stated: "Now more than ever, collaboration and partnerships between content creative industries and law enforcement agencies are essential to combat digital piracy and protect consumers. Through this partnership, the IPR Center and its private sector partners will implement an aggressive multi-layered strategy to restore the digital ecosystem, educate consumers on the dangers of illegal streaming, enforce the nation's intellectual property rights laws, and dismantle criminal enterprises that operate on the internet – thinking they are untouchable and above the law." (TL)
Thomas Cook relaunched as online travel firm – China's Fosun Group purchased the Thomas Cook brand and online assets for $14 million after the travel firm collapsed last year. Now, reports Bloomberg, the UK brand has been resurrected as an online travel firm that will initially sell holidays to destinations on the UK government's safe travel corridor list. The company will be using a trust model to protect payments, and will only receive customers' money upon their return from holiday. Further, fees will not be charged for the rearrangement of trips should the government's rules change. (BD)
MOFO earns Mansfield Certification Plus for third year – Global law firm Morrison & Foerster has achieved Mansfield Certification Plus for the third year in a row as a result of successfully reaching at least 30% women, communities of color, and LGBTQ+ lawyer representation in a notable number of current leadership roles and committees. The firm is one of only 25 to have received Certification Plus for three consecutive years. The Mansfield Certification is administered by Diversity Lab, an incubator for innovative ideas and solutions that boost diversity and inclusion in law. Larren M Nashelsky, chair of Morrison & Foerster, reflected: "Diversity and inclusion have long been core values of our firm, and I am proud that Morrison & Foerster has continued to achieve the highest level of certification that Diversity Lab offers in the program. Having been an early adopter of the Mansfield Rule three years ago, it is encouraging to witness industry-wide improvements in talent practices as a result of its implementation." (TL)
Oatly considering a 2021 IPO – Oatly, the Swedish maker of vegan food and drink products, is contemplating a US listing in the first half of 2021. The company, which is backed by Oprah, Jay-Z, Natalie Portman and Blackstone, could be valued as high as $5 billion. WTR has previously covered the high-growth milk alternative market and the brands that support it. Oatly is one of the top non-dairy milk brands, drawing in consumers with its bold advertising campaigns. (BD)
CPA embeds new customer platform across the enterprise – CPA Global has fully embedded Gainsight NXT, a new customer success platform from Gainsight, across all its business units. The company states that the move, which centralises intelligence into one place, will deepen customer relationships and provide access to robust reporting, analytics and insights designed to help drive customer experience across the IP management lifecycle. The company states: "CPA Global customer service teams are now equipped with the latest relevant data at their fingertips, with tech-touch automated tools and services – such as customer 'health scores' – automatically triggering the ability for tailored interactions and enhanced relationship management. Customers will be served more efficiently, more frequently and more effectively." Reflecting on the move, Simon Webster, group CEO, addd: "Over the past five years, a core part of our strategy has included embarking on a customer success journey. This is an important next step, supported by the wider digital transformation of our business, and demonstrates the continuation of our commitment to put customer experience first... Gainsight NXT will be truly transformational for our teams and for our customers. We're excited to be at the forefront of organisations around the world deploying it fully across our business, helping customers to realise increased value from their partnership with CPA Global." (TL)
The key to raising awareness over fake pharmaceuticals – IP Key South-East Asia, a programme funded by the European Union and implemented by the EUIPO aimed at supporting IP rights protection and enforcement across Southeast Asia, has launched a call for the public to share their stories and experience of counterfeit medicines. The #YourHealthisPriceless campaign is designed to raise awareness of the harms that counterfeit pharmaceutical and healthcare products can cause. Tiago Guerreiro, IP Key SEA project leader, explains: "#YourHealthIsPriceless campaign emphasises the EU mission, through the IP Key SEA project, in raising awareness on IP rights on social media. We also believe that the stories shared will help… encourage customers to be fully aware of the product's authenticity and buy from legitimate sources" (TL)
Kraft Heinz to sell part of its cheese business for $3.2 billion – Kraft Heinz will be selling part of its cheese business to Lactalis, a French multinational dairy products corporation, in a $3.2 billion deal. Included in the deal are popular brands like Cracker Barrel, Breakstone's, Polly-O, Athenos, Hoffman's and Knudsen, which accounted for $1.8 billion in net sales over the last twelve months. As part of the deal Lactalis will also be licensing the Kraft cheese brand. The deal is expected to close in the first half of next year and is subject to regulatory approval. Should it go through Kraft Heinz will use the proceeds of the deal to pay off some of its debt. (BD)
Legal radar:
Lady A musicians lock horns – Blues singer 'Lady A' has countersued country rock band 'Lady A' over the trademark rights to the name. WTR first reported on the issue in July when the rock band Lady Antebellum changed their name to Lady A after the Black Lives Matter Protests – due to the word 'antebellum' referring to pre-Civil War architecture. At the time, the band were unaware of the blue singer Anita White who had performed under the moniker Lady A since the 90s. Talks between the two broke down when White demanded a $10 payment. The country band sued White with legal documents showing they'd owned a mark for the name since 2010. White is now countersuing claiming common law rights to the Lady A trademark and the effect that that band's name change has had to diminish her brand identity and ability to "distinguish her music in the marketplace". (JW)
Office radar:
(For more of the latest coronavirus-related updates from national IP offices, please read our dedicated article which is being continuously updated)
OAPI joins DesignClass – As previewed previously on WTR, this week the African Intellectual Property Organization (OAPI) enhanced its participation in the EUIPO's TMclass offering and also joined DesignClass.OAPI will now use and accept the list of terms from the harmonised database of goods and services in TMclass as well as the list of terms from the harmonised database of product indications in DesignClass. The addition of OAPI data in TMclass brings the total number of participating national and regional IP offices to 81. As for DesignClass, there are now 38 IP offices in the tool. (TL)
IP Australia announces new initiatives to protect Indigenous Knowledge – Australia's intellectual property office, IP Australia, has announced a update to its information on how to work respectfully alongside Indigenous Knowledge. The office is careful to ensure that all IP owners in the country are aware of the importance of Aboriginal and Torres Strait Islander art, culture and language and has issued new guidance on how to register intellectual property with links to Indigenous Knowledge. The initiatives are part of IP Australia's contribution to the government response to the 'Report on the impact of inauthentic art and craft in the style of First Nations peoples', made by the House of Representatives Standing Committee of Indigenous Affairs. (JW)
South Korea posts deficit in intellectual property trading during H1 – The Bank of Korea (BOK) recorded a deficit in South Korea's intellectual property trade during the first half of the year, reports Xinhua. The trade deficit in IP rights was actually reduced from $880 million in 2019 to $750 million, however the deficit in industrial property rights increased from $1.45 billion to $1.71 billion. The gains were made instead by the reduction of the patent deficit and a surplus recorded from copyright figures. (JW)
Domain Radar:
George Takei celebrates '.gay' domain – Star Trek actor George Takei has taken to Twitter to promote the new '.gay' gTLD. On 16 September, he tweeted: "I do love that there's now a Dotgay domain. Talk about cause for nerdy gay Pride. I grabbed George.gay and am excited to see where this goes." The '.gay' gTLD is intended to be used to host LGBTQ-friendly spaces on the internet through a rights protection policy and has already been adopted by brands such as Grindr, GoDaddy and Atari. (JW)
Media Watch:
YouTubers clash over 'rip off' Teddy Fresh designs – YouTube personality Ethan Klein, co-owner of the trendy fashion brand Teddy Fresh, has publicly questioned whether another YouTuber, James Charles, has copied the designs for their new merchandise. The product in question is a hoodie with soft pastel colours. On Twitter, Klein stated that he is aware the brand "didn't invent colorblocking" but added that he is "having a hard time with the new James Charles merch" because "it's the same exact design as [wife and Teddy Fresh designer] Hila's" (alongside comparison images). A key concern, he says, is that "many people will assume he designed it and start accusing us of plagiarism", noting that "it's possible it's all a totally cosmic coincidence but he used pretty much the identical colors". For the most part, responses on Twitter seem to agree that the designs are near-identical. One user, for example, says "it's practically the exact same thing, there's no way this is a coincidence", with another claiming it is "100% rip off". In response, Charles tweeted a claim that they're "never seen" the brand" and that they sent "the original photo that inspired my collection" to Klein the previous day. With both people known for often being involved in so-called 'YouTube drama', it is expected the public clash will continue. As one graphic designer noted, it's a situation that has significant IP implications: "James is about to make some big money once that drops so it's fair to bring that to the court of public opinion. It's stolen intellectual property and since [he has a] greater following, it will also impact Teddy Fresh as a brand." (TJL)
On the move:
Fiona Nicolson joins Keystone Law – Keystone Law has appointed Fiona Nicolson, formerly of Bristows, to partner. Nicolson is an intellectual property and commercial lawyer who is particularly experienced in international licensing transactions. (BD)
And finally...
How WTR is connecting trademark leaders next month – WTR recently unveiled the first  participants for WTR Connect, a series of high-level online events taking place across two weeks in October. Experts from companies including Abercrombie & Fitch, Burberry, Novartis, Starbucks, Under Armour and Walmart joining the roster, with Christian Archambeau, executive director at the EUIPO, and David Gooder, trademark commissioner at the USPTO, confirmed to deliver keynotes. The ground-breaking digital concept offers a series of individual interactive digital sessions organised around major themes. Comprised of a series of hubs, each session is designed to facilitate discussion, benchmarking and the sharing of best practice around key topic areas and challenges facing trademark and brand leaders. To find out more and to secure your place at WTR Connect, click here.