There's no day like World IP Day to prove US innovation is a priority: op-ed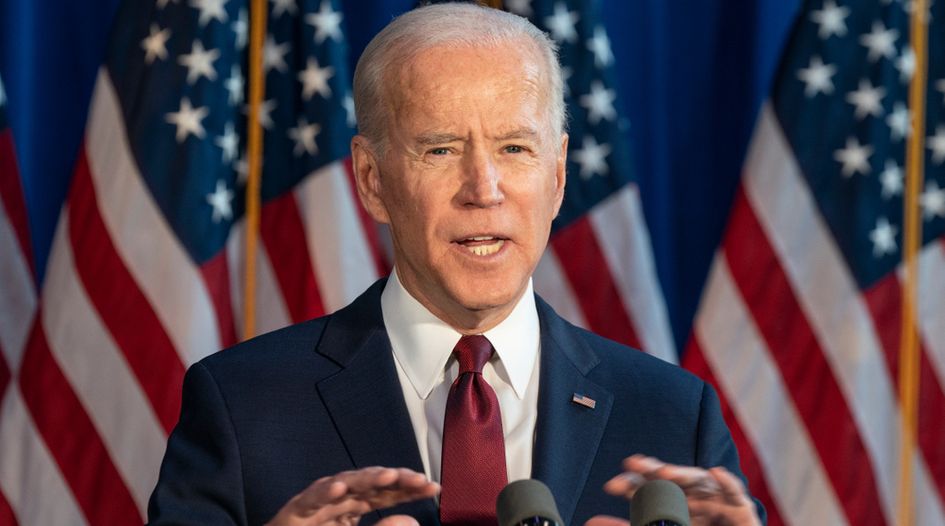 In our latest Saturday opinion column, ahead of World IP Day, Christina Mitropoulos, director, brand protection and manufacturing initiatives at the American Apparel & Footwear Association, calls on the Biden administration to seize the moment and send a clear message that it will prioritise and protect US creativity and innovation.
As President Biden nears 100 days in office, numerous high-priority issues remain, including the critical priority to strengthen the US economy. Efforts to date have appropriately focused on navigating the United States and its people through the ongoing pandemic. As the president and his team explore how to build upon these initial efforts, they must turn attention to areas that can set the stage for sustained economic growth. Innovation and creativity – supported by the country's IP systems – have long been the building blocks of US economic success. For that success to continue, President Biden must articulate a plan of action to safeguard the United States' valuable intellectual property.
On World IP Day the president has the opportunity to set the stage for his administration and send a clear message that he will prioritise and protect US creativity and innovation, especially for SMEs.
This year, World IP Day is putting a spotlight on SMEs and the role that intellectual property plays in helping to build stronger, more competitive businesses. The US Small Business Administration has found that SMEs account for 44% of US economic activity. Several studies analysing the United States, Europe, Latin America and more conclude that IP-intensive companies power economies in those regions. In particular, a recent report in Europe found that SMEs that use IP rights are more likely to be "high growth firms". In combination, these studies indicate that SMEs that leverage IP rights have greater chances of individual success across the short and long term and add significant value to local economies. Yet today's IP systems are not only outdated, they also fail to understand how SMEs operate, putting these high-growth and economically essential firms at risk.
As the Biden administration works to crystallise its IP policy, it should make sure that it addresses the following issues, which disproportionately affect SMEs.
Combatting fraudulent trademark filers
For many SMEs, their brand – their trademark – is their lifeblood. Unfortunately, we find that brands are increasingly facing challenges presented by fraudulent trademark filers. These filers – originating primarily from China – have become adept at flooding trademark systems around the world, including in the United States, with fraudulent trademark applications. A fraudulent trademark can effectively block a company's own expansion, confuse its hard-won consumers and hinder its ability to enforce its IP rights. This cannot continue.
This problem is only getting worse. Just recently, NYU law professors estimated that in 2017, 67% of Chinese-originating trademark applications for use on apparel-related products filed in the United States were fraudulent or in bad faith. The USPTO approved more than half of these applications.
The recently passed Trademark Modernisation Act is a good first step to address this issue. However, it puts the onus on third parties – not the USPTO – to challenge these fraudulent filings. SMEs struggle to carry this burden and need help. It is critical that the administration preserves the integrity of the US trademark registry and blocks any fraudulent attempt to gain IP registrations.
Protecting well-known marks
Companies that rely on innovative business models and connect with consumers directly or through non-traditional means (eg, through social media) often operate in ways beyond what was imagined when today's global IP framework was established. A brand can become globally famous overnight. And through e-commerce channels, a brand's products can be in the hands of consumers in a matter of days.
A modern analysis needs to understand something – any company born today will be first known by its digital impression, rather than a physical presence, paid-for marketing or even high in-market sales. Brand fame is no longer tied to bricks-and-mortar presence.
Unfortunately, the legal system envisioned to protect globally famous or well-known brands remains locked into 20th century principles. The Biden administration has a chance to change this and to lead the way in creating a framework that reflects the speed and breadth of today's global digital marketplace.
Deterring online counterfeiters
All companies struggle to protect and enforce their intellectual property in an increasingly digital market; this burden is especially onerous for SMEs. 
The foundation of our trademark system predates global, nearly instantaneous, e-commerce and is not equipped to address the online counterfeiting issues that we all face today. Under the current legal framework, online intermediaries are not generally responsible for the products sold on their platforms by third parties. If a consumer buys an unsafe or counterfeit product through an online marketplace, it is often 'tough luck'. There is little if any incentive for e-commerce platforms to proactively prevent the sale of counterfeits and other harmful products.
Instead, companies are left to police these marketplaces for fake, harmful products themselves. As consumers, we should all demand a balanced approach that encourages platforms to be equal partners in protecting us from harmful products.
Our laws here in the United States are out of touch with the current market. This administration must work with relevant agencies and members of Congress to address the significant imbalance in responsibilities and risks between brand owners and online marketplaces. An imbalance that grows at the significant detriment of brand owners, especially SMEs.
If the United States is to remain the global leader in IP protection, we must act now. Not only to get it right in our own market, but also to set the standards for others to follow. 
Christina Mitropoulos is director, brand protection and manufacturing initiatives at the American Apparel & Footwear Association, where she leads the organisation's brand protection priorities and Brand Protection Council. She is a regular speaker at IP and brand protection seminars, and regularly meets with members of government and representatives of global e-commerce platforms.
Take part in the conversation with #FightFakes #WorldIPDay.