From the WTR archive: the rush to capitalise on movements, tragedies and high-profile events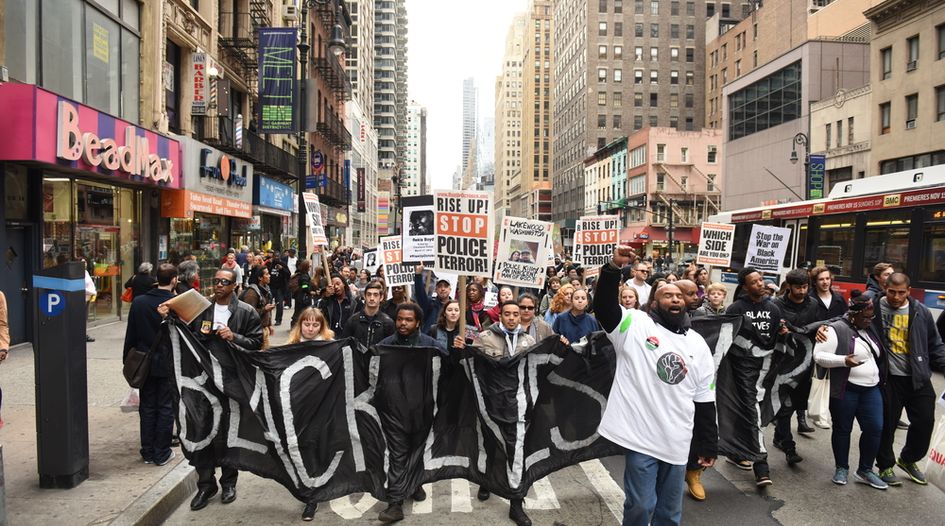 This week on WTR we spoke to Hawk Newsome, chair of Black Lives Matter's Greater New York chapter, about the organisation's application for a red, black and green BLACK LIVES MATTER NEW YORK trademark. The application is one in a flood of filings related to the movement. While for Newsome the application is designed to ensure that "people can't profit from it who haven't shed blood for this movement", not all such trademark bids are of legitimate intent. For this week's delve into WTR's unrivalled archive of trademark content, we present a selection of articles exploring the growing trend of third parties seeking to capitalise on tragedies, movements and high-profile events.
Defending against opportunistic marks (July 2014)
In 2014, within hours of Malaysia Airlines flight MH17 being shot down over eastern Ukraine, a number of trademark applications for the term 'MH17' were filed in Australia, the European Union and the United States. Despite it being the last thing that Malaysia Airlines would want to think about at such a time, the company moved to apply for defensive trademarks in a bid to fight off and deter rogue applications. As we wrote at the time, it is unfortunate that trademark strategy should play any part in discussions about disaster management, but those seeking to register marks and domain names in a bid to capitalise on a tragedy are sadly ever-present. Read more here.
Je suis an opportunist? (January 2015)
A trademark application filed at the Benelux Trademarks Office for JE SUIS CHARLIE, the slogan adopted by supporters of free speech and freedom of expression in the wake of the Charlie Hebdo magazine massacre in Paris quickly caused controversy – the application coming not from the publishers of the magazine but an individual seeking to register the term for goods spanning cleaning and toilet preparations, paper goods, clothing, games, drinks, advertising and telecommunications. Within a day of that report, other applications for the term came to light, with the French National Industrial Property Institute issuing a statement explaining that it had rejected more than 50 applications for the phrase outright, noting that they did not meet the criteria of distinctiveness. The development highlighted the important role that IP offices can play in the fight against opportunists. Read more here and here.
Applications are not always of nefarious intent (August 2015)
It was no surprise when trademark applications were filed in the United States relating to Cecil the lion, who was killed by dentist and big-game hunter Walter Palmer in Zimbabwe (who found himself the focus of outrage). However, one applicant told WTR that his intentions were good, as the application was a bid to stop third parties from marketing products that capitalised on the famous lion: "We are expanding on a tragic event to better educate people and help to get those who are not involved in conservation to step up and open their wallets through merchandising and entertainment, with proceeds going to help fund these incredible conservation efforts." His comments were a reminder that not every application for terms relating to a tragedy or high-profile event are nefarious in nature. Read more here.
The EUIPO stands firm on issue of public order and morality (June 2019)
In 2018 nerve agent Novichok hit the headlines after it was used in an attack by alleged Russian agents on Sergei Skcripal and his daughter Yelia in the United Kingdom. The Board of Appeal of the EUIPO subsequently upheld the rejection of an application to register NOVICHOK for alcohol, beers and non-alcoholic beverages – the decision taken under the rarely invoked Article 7(1)(f) of EU Regulation 2017/1001, which prevents the registration of marks that are "punishable under criminal law" and regarded as "vulgar and contrary to public order and morality". Following decisions to reject applications for BIN LADIN and MH370, the ruling confirmed EUIPO practice to reject applications for marks that are closely linked to violent or terrorist attacks on human life. Read more here.
Should there be a heading here?
This all brings us to 2020 and the spike in applications for terms related to the Black Lives Matter movement. In June we published an interview with a Manchester businessman who was seeking protection for BLACK LIVES MATTER and I CAN'T BREATHE at the UK Intellectual Property Office. Our story went global and led to significant backlash against efforts to secure the marks – the result being the withdrawal of the applications. That furore served as a reminder that, if IP office actions do not block an application for a term associated with a particular movement, sometimes the court of public opinion is a forum that will prove persuasive. Read more here and here.
Other instalments in the 'From the WTR archive' series: