From the WTR archive: brand creation and protection best practice tips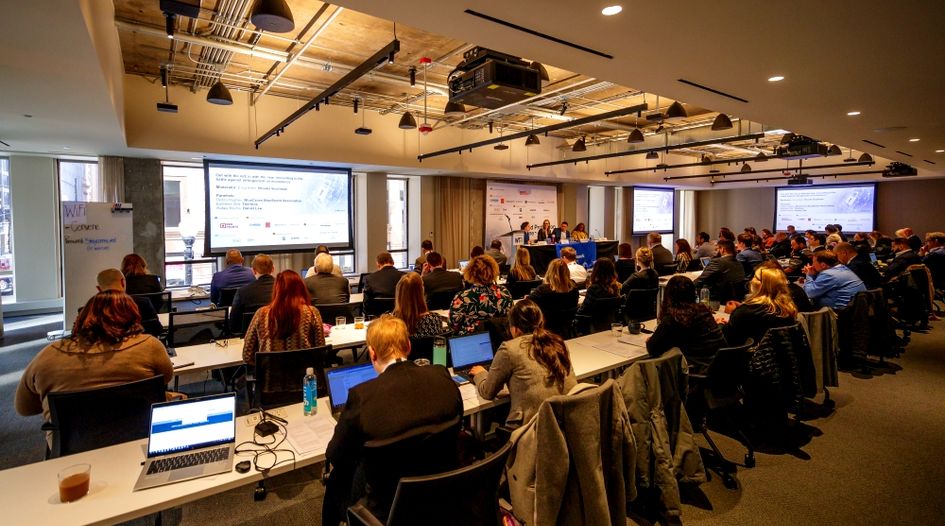 Next month we host WTR Connect, a series of high-level online events taking place across two weeks. To date we have over 380 attendees from almost 200 companies confirmed to participate, with more than 80 leading experts from the brand community leading the discussions. Kicking off each day will be a keynote or fireside chat, with the roster of participants including Christian Archambeau (executive director of the EUIPO), Graham Clemence (senior director, global IP enforcement and security at Alibaba Group), David Gooder (commissioner for trademarks at the USPTO), Allison Leader (director, legal counsel at American Red Cross) and Cristina Posa (associate general counsel and director at Amazon), For this week's delve into WTR's unrivalled archive of trademark content, we present a selection of takeaways from previous WTR events – focusing on just one conference from each of the past six years.
How to break down internal barriers (October 2015, New York)
The opening session of this Managing the Trademark Asset Lifecycle event explored strategies to boost the profile of the trademark function among other corporate stakeholders. Kenneth Cole's associate general counsel, Pamela Weinstock, advised that it is key to "make sure that other stakeholders in the brand know that you are on their side", and further stressed that 'legalese' should not be spoken outside the legal department. Turning to the messages that should be conveyed to colleagues in financial roles, the panellists recommended that these focus on metrics that show the value that the in-house trademark function creates for the company and how much money it saves. A single-page fact sheet profiling the trademark function, explaining how it supports the business and highlighting some of those key metrics is a simple tool that can be deployed towards this end. Read more here.
When and when not to litigate (April 2016, New York)
At WTR's Trademark Litigation: Practical Strategies event, participants pondered the considerations that come into play when deciding whether litigation is the right option. According to Amy Span Wergeles, senior trademark counsel at Henkel Corporation, a crucial question that should be asked from the outset is: 'Do we care?' Wergeles explained that if the trademark being infringed covers a product that the company spends little money on or that does not generate significant sales, then costly litigation often makes no sense. This decision "is sometimes difficult to explain to the business", but is ultimately worth taking from a legal and financial standpoint. That said, while a trademark may not be generating much revenue today, the company may have plans for it in the future. This factor must also be carefully considered before a decision is made, argued David Lilenfeld, legal counsel at Evocap. Read more here.
Building a brand book (March 2017, Munich)
At the Managing the Trademark Asset Lifecycle Europe gathering in Germany, the importance of a brand guidelines book for the business was debated. Oran Arif, in-house solicitor, marketing properties at Mars Incorporated, explained: "We have brand books for all our products and it is a marketing-led product. That is what we use to build our knowledge of the brands but they are also an opportunity to get involved in the brand's evolution. Rather than a separate 'do's and don'ts' legal document, if you have a brand document that encompasses everything, when it goes to local teams they have all the information they need." While the Telefonica brand books can stretch to 60 pages, Alec Cameron, senior legal counsel, IP and commercial digital divisions, noted that they can be shorter and available in different formats. Jennifer Chung, assistant general counsel at Time Inc, concurred: "We have information on the intranet site on brands – addressing things like where we have rights, how to use a symbol, etc. It's basic information, with a link to send a question to legal." Read more here.
Do your homework when litigating in China (December 2018, Shanghai)
A clear message from participants at Brand Strategy China was that pre-litigation strategising is key. Failure to do so could result in cases being lost causes before they even get underway. Michael Yu, head of brand protection, North Asia at Schneider Electric, explained: "The presiding judge needs to be well studied – we always examine the record of the judge and also the law firm, to see if they have had previous interaction with the court involved. That will have an impact on the actual movement of the case." Additionally, he noted that "the choice of defendant is also important in order to maximise damages". And – crucially – do not be afraid to change tact if the odds do not seem in your favour: "Often you need to make hard decisions. For instance, sometimes it is in your interest to withdraw the case and you then have to have discussions with the business."  Read more here.
Want staff to help fight infringement? Give them an app (January 2019, London)
One of the key benefits of fostering buy-in to the trademark function is to enlist colleagues to the pro-brand cause. For those who are not specifically tasked with brand protection duties, reporting suspected infringement needs to be as easy as possible. At Mondelez International, the team turned to technology to allow staff around the world to interact with them. Speaking at this Managing Trademark Assets Europe event, Mark Hodgin, chief counsel, trademarks, explained: "Your sales teams really are your eyes and ears around the world so we created an app where they could take an image of products on a shelf and send it to us to investigate. We also developed a training programme for business lawyers to conduct with their brand teams as we can't be everywhere." The initiative was a successful one, but Hodgin observes: "You really need to be ready to handle the volumes of work that follow." Read more here.
How to be canny in budget planning and deployment (March 2020, Chicago)
In March, WTR headed to Chicago to host events focused on the strategic management of trademarks and the protection of brands in the online environment. During the discussions, various approaches to budgeting were presented. At The Kraft Heinz Company, Sabrina Hudson operates on a zero-based budgeting approach, which means starting each year from scratch and justifying potential spend. She noted: "This is easy with renewals but it is harder to predict other areas, like oppositions work. It is a lot of guesswork in a way – we do strategise (eg, looking at how many searches or oppositions we have done in the last three years and estimating based on the average). I also base the renewal budget on how many renewals I have next year – I don't base it on how many I may actually renew as people change their minds." Rotary International's Jomarie Fredericks takes a similar approach, noting, though, that you need a little "wriggle room". If you start to get towards your limit, one way to prioritise spend is to ensure that work truly is needed, Fredericks joked: "There are times when people want more marks than we have budget to do – so we may have to say: 'If you want more than X number, you may have to pay for it.' It's incredible how many times, when you say that, the mark is no longer needed." Read more here.
Other instalments in the 'From the WTR archive' series: