The verdict on virtual exhibits at the 2020 INTA Annual Meeting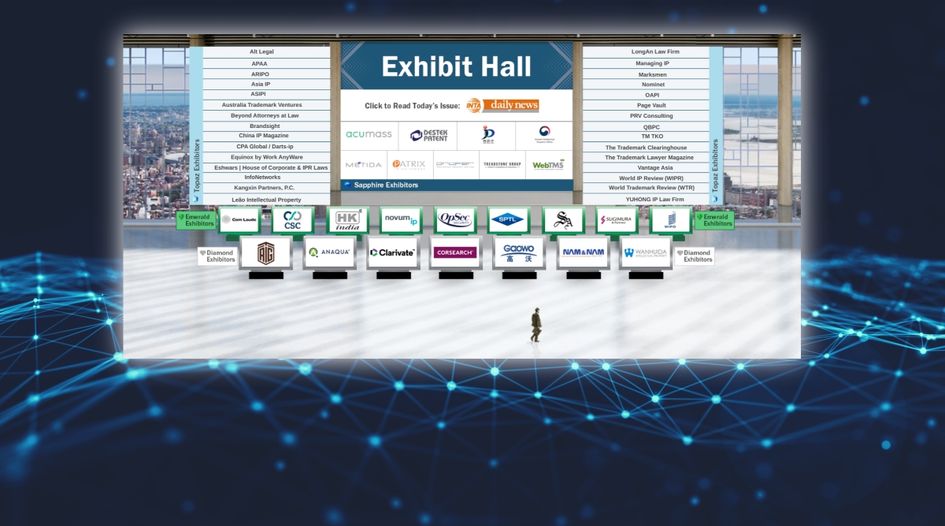 WTR speakers with exhibitors at this year's virtual INTA Annual Meeting
Positives: environmental impact and data "more convenient" than business cards
Hope for improvements at future events, such as direct URLs and avatars
With the 2020 INTA Annual Meeting in full swing, WTR speaks with exhibitors at the virtual event to see how their experience compares with previous years, whether it meets expectations and what changes they would like to see should digital conferences become a mainstay for the years ahead.
This week's INTA Annual Meeting is being hosted on a virtual platform due to the ongoing pandemic making it impossible to host an in-person event. Therefore, rather than the bustling exhibition hall found at convention centres of the past, this year features a dedicated 'exhibits' section for service providers. Instead of a physical stand stocked with freebies and manned for face-to-face interaction, each company has a page featuring – in most cases – an introduction video, a live chatroom, and links to arrange meetings or take out free trials of software.
Of course, some exhibitors are seeking to stand out with their offerings. For example, the Clarivate exhibit features daily caricature drawings (held on Zoom), while the Corsearch exhibit boasts a range of downloadables and raffles. Elsewhere, the Prüfer and Partner exhibit has a selection of giveaways (including a recipe for a kaiserschmarrn, a traditional Bavarian dessert), and there are fantastic production values and an inspiring story in the video posted in the Wanhuida IP exhibit.
It is clear, though, that there are limitations to what exhibitors can do on the platform. When WTR reached out to a range of exhibitors today about their experience so far, the feedback was mixed. Lei Yongjian, partner at Wanhuida IP, said that it has been "much better than my expectations", with positives being that INTA's support team has been "fabulous" and that it is "much easier to share electronic documents and avoid environmentally unfriendly hard copies". He also noted that it is "more convenient to collect visitor data than business cards at the physical booth" – something that is "helpful" for the firm's "future marketing strategy". That point was reiterated by Corsearch senior account manager Craig Bailey, who agrees that "having a record of everyone who has stopped by" is a definite advantage of this year's approach.
While digital information is a bonus, it has been a challenge to directly connect with delegates from the exhibit itself, claims Omkar Acharya, executive director at HK Acharya and Company. Ultimately, he says, "nothing can replace the charm of the physical booth" – although, nevertheless, he says the virtual experience is "unique" and "the response is really good". For Bailey, he says the exhibit booth "is nice as a visual but does not really work to start conversations with visitors".
What does work, Bailey added, is the innovative networking tool on the event platform, INTAConnect. "I know many people are hopeful this tool will be available in the future, even after live events are starting again," he says. "It has really helped me get meetings with people I am truly interested in talking to. However, it does seem to have one drawback; it appears that not everyone is signing into this tool, and I have the impression that some users are staying in the virtual experience and do not look at INTAConnect."
Looking ahead, and assuming that virtual events will continue in the future (be it as standalone conferences or alongside physical gatherings), a number of suggestions were given to improve virtual exhibits. A crucial one, said one exhibitor, was that each virtual booth should have a specific URL for sharing in marketing materials and on social media. At present, each exhibit can only be navigated via the event platform (via the 'exhibit' menu), with no way for exhibitors to directly connect clients to their virtual booth.
Furthermore, Acharya suggests that the virtual exhibition hall "should not be open 24 hours" as, presently, "it is tedious for exhibitors to lose a potential visitor" due to time-zones. He also claims that exhibits "could be designed in a more interactive way", such as implementing a feature so "anyone who visits a booth gets v-cards automatically downloaded into their briefcase". Yongjian suggests that INTA should "award the most visited booths" and "further beautify the interface of the exhibit rooms".
Indeed, the basic design of the exhibit web-pages was raised by other exhibitors. "Technology can not satisfy, we crave for more and more!" said Acharya. "I would love it if the booths were designed more 3D and if the visitors could get a chance to have a video-call (with exhibitor permission, of course) immediately from that platform." The idea of a more interactive, immersive experience was also raised by Bailey – who said another recent IP event could be used as an inspiration for future INTA virtual conferences. "The Annual Meeting might be a place to explore the use of avatars," he explained. "While I didn't attend it, the UK's Chartered Institute of Trademark Attorneys (CITMA) did this in their recent Autumn Meeting and I saw some posts about that and it seemed to go over well. I could even make myself thinner!"
Of course, no virtual offering will truly replicate the physical experience (if there was a solution that did, its tech developer would be rolling in money this year) and is clear that INTA has made a significant investment in the platform, seeking to make the best of a challenging situation. The mere fact that a major event like the Annual Meeting was able to be organised virtually in such a short time-span is to be commended. For exhibitors, there is room for improvement but everyone will be hoping that will be a moot point and that next time the community gathers for an Annual Meeting it is in person.