"The value of our work is misunderstood" – INTA signals focus on IP valuation at Annual Meeting opening ceremony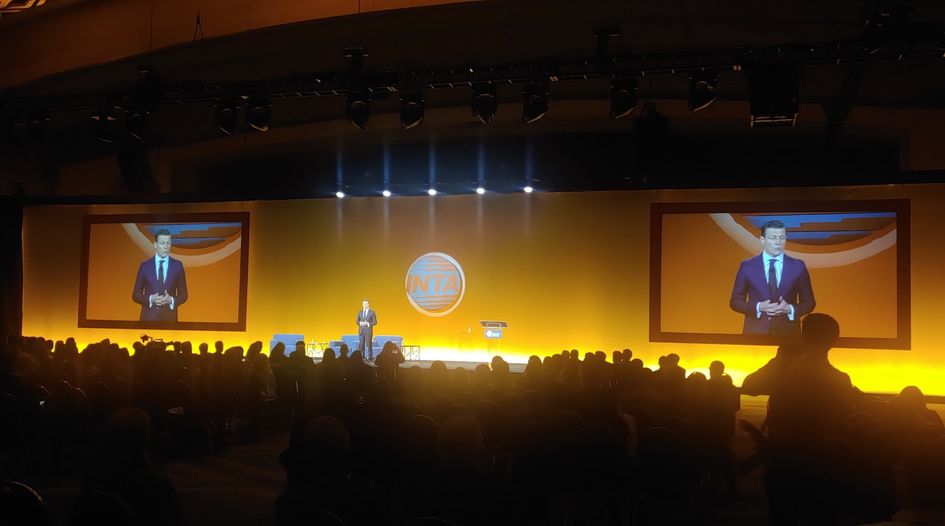 Opening ceremonies officially kick off this year's INTA Annual Meeting Live+
CEO reveals that Singapore will host the event in 2023
President expands on IP valuation focus, with association adopting new resolution 
The 2022 INTA Annual Meeting kicked off today in reflective mood, with INTA's CEO and past presidents looking back on how they navigated the pandemic. However, there was also a look to the future, as the location for 2023's Annual Meeting was revealed and speakers shared their insight into how the association intends to engage the financial community in a bid to transform IP value reporting.
This year's INTA Annual Meeting, the first major in-person trademark event in over two years, is being held in Washington DC from 30 April until 4 May. Today's opening ceremony, which was live-streamed to virtual delegates, featured a keynote speech from branding expert Andy Stalman, a special guest speech from WIPO director general Daren Tang and insights from INTA CEO Etienne Sanz de Acedo, president Zeeger Vink and Annual Meeting project team co-chairs Sergio Barragan and Stacey Watson.
The opening ceremonies started out in a reflective mood, with a minute of silence for those that lost their lives during the pandemic. "The pandemic has been hard on all of us. Many of us have suffered personal losses. These are challenging times, and there are wars and conflicts taking place in different places. Our sympathy today goes to our members and friends in Ukraine," Sanz de Acedo reflected.
He then invited 2020 and 2021 presidents Ayala Deutsch and Tiki Dare to join him for a look back over the past few years. Reflecting on her time as president, which commenced a couple of months before the pandemic took hold, Deutsch observed: "One thing the pandemic taught me is that sometimes preparation is not enough. I realised how important it was to be resilient and be comfortable dealing with whatever is coming at you." She continued: "Early in the pandemic, it was dark days. But I found inspiration. It was touching people everywhere. And I was inspired by the grace and courage I saw in people. I took hope from seeing that even in dark times, people had the ability to move forward."
The industry is indeed moving forward. "It is great to be back in person after two years," Sanz de Acedo declared. "It is time to be thankful… INTA is back on track. The fact that we have 6,775 attendees is a very good signal." In the spirit of looking forward, he then revealed that next year's INTA Annual Meeting will take place in Singapore from 16 to 20 May 2023. 
"The value of our work is misunderstood and undervalued"
Following Sanz de Acedo's opening remarks, 2022 president Vink took to the stage to provide insight into one of his key objectives while leading the association: to turn the perception of brand legal as a cost centre to that of a profit centre by transforming the conversation around (and understanding of) brand value and accounting.
He started by asking delegates a few simple questions: "How much value do you bring to your – and your clients' – brands? What is the true value of the brand you want to protect?" Simple questions that do not have a simple answer – in large part due to the complexities surrounding accounting rules.
Brand counsel know that "the ability to innovate is an essential driver of brand value". They also know that, in their role, they help to create and protect brand value. However, Vink noted: "The problem is that many companies don't actually know how valuable how their brands are." This is largely due to the fact that accounting rules do not allow for homegrown brands to be placed on the balance sheet. The result is that management and finance colleagues pay less attention to brand intellectual property. This, in turn, has a direct impact on the trademark profession. "The true value of brands and IP is misunderstood. As a result the value of our work is misunderstood and undervalued," Vink said.
INTA is looking to change that. The 2022 presidential task force is focusing on IP reporting for brands by looking to develop guidelines for internal and external reporting on IP valuation. What is more, Vink revealed that INTA's board of directors has approved a resolution, requested by the task force, which states: "Accounting standards should not require a blanket exclusion of trademarks and complementary IP from recognition as assets on corporate balance sheets."
The task force's request to the INTA board argued that "the exclusion of IP from balance sheets results in subdued management attention regarding trademarks and brands, and limited knowledge of IP among finance professionals. This maintains a negative feedback loop in which financial literacy among IP specialists also remains low."
With that resolution in place, the association can now reach out to the finance community and seek to facilitate a deeper discussion on current rules. In the meantime, Vink urged in-house brand professionals to engage with their financial colleagues, and for external counsel to explore the expansion of their services to include IP reporting. After all, he noted: "Your clients will need it."
"The future for brands, trademarks and IP, starts today"
Vink's speech was a rallying cry for the trademark community at a time when brand professionals can finally reconvene in person after two difficult years to strategise about the future of the industry.
And what better way to welcome everyone back than to encourage everyone to stand up and embrace their colleagues? That is exactly how Stalman, leading branding expert and co-founder and CEO of Totem Branding, ended his opening speech. 
Brands are no longer in the business of selling products, they are in the business of making the world better, Stalman said. More than 50% of people state that their trust in changing things for the better relies on business and companies. As such, brands are already playing a more complex role in society. Their position goes beyond economic impact to include social and environmental impact too. 
In that sense, companies of every size have the opportunity to build a brand that can create positive change, Stalman said. But to fully deliver on this, they must take concrete action. And that means improving the relationship between branding and marketing to take into account the human element – the only thing that cannot be automated in an increasingly digital world. 
"Ask yourself, if your brand isn't improving people's lives, what is it doing?" Stalman said. "We need to focus on possibilities, rather than fear… Are we optimistic or pessimistic?... The future for brands, trademarks and IP, starts today." And in a post-covid world, it starts with a hug.